The question on the table is whether left-handers have an advantage in the Masters at Augusta National Golf Club.
The quick answer is no. That golf course is as tricky as it is beautiful.
It treats all golfers the same: with grudging respect but with instant punishment for anything less than the perfectly struck shot.
And that punishment is administered with no consideration for what side of the ball a player stands.
Having said that, evidence has come forth in the last 10 years that might support suggestions that lefties have found something among those Georgia pines.
How about this tidbit in this week's edition of Global Golf Post?
The major championships, as we know them today, have been held 423 times.
Left-handers have managed to win just seven times, but five of those have come at the Masters. Mike Weir did it in 2003, Phil Mickelson in 2004, 2006 and 2010 and Bubba Watson in 2012.
So what do those victories tell us?
When Weir won in 2003, he became the first left-hander and first Canadian to ever win the Masters. It's natural to assume if you win a major championship, you did a lot of things very well and perhaps played the tournament of your life.
Mike Weir reflects on his 2003 Masters victory.
But that wasn't necessarily the case for Weir.
He was only 39th in the field in driving distance (271.2 yards), but he tied for 11th in accuracy (42 of 56 fairways hit) and fourth in total putts (104). But he was first in par-five scoring at 10-under par.
And that turned out to be one of the early insights into how left-handers just might have a bit of an advantage at Augusta. The second, eighth, 13th and 15th holes are the par fives at Augusta National, and all feature routing that favors a left-hander's cut shot. The second, 13th and 15th all bend right-to-left off the tee, while the second shot at eight favors that shot.
While lefties generally find that cut shot easy to hit, it's a bit tougher for right-handers to hit the little draw that's required from them.
Mickelson, obviously, has had the most success of the three winners and is not shy about his belief that there is something to be said about standing on that side of the ball. And he has the numbers to back that talk up.
Going into 2011, Weir and Mickelson had played the second, fifth, ninth, 10th and 13th holes better than the overall scoring average.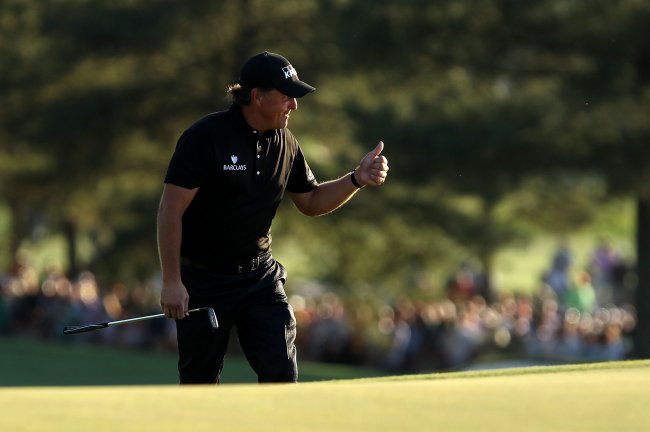 Streeter Lecka/Getty Images
On the second (4.35 to 4.8) and the 13th (4.08 to 4.8), the edge was significant.
Overall, the duo averaged 3.996 on those five holes while the rest of the field posted 4.468.
"I think there are a number of shots there where it is definitely advantageous for a left-hander's shot dispersion, where the misses fit the course," Mickelson told Steve Elling of CBSSports.com in 2011.
The newest left-hander, Watson, put his stamp of approval on the left-hander's advantage theory when he spoke on the annual Masters champion teleconference on Feb. 27.
"I think that for me, it sets up really good for my game. I like to cut the ball off the tee," he said.
"So really if you look at it as a whole, there's only three tee shots that really scare me, so it sets pretty well for my tee shots. That golf course is all about your tee shots. Really the whole golf course sets up well for me."
Add to all of that the fact that Steve Flesch, another talented left-hander who never reached the heights that the three Masters champions have, tied for fifth in 2008 and for sixth in 2009 and made five of six cuts at one point.
This recent run of lefties has opened the door for other talented left-handed golfers, but it doesn't mean that it's now easy-peasy for the southpaws.
For those players to take advantage of those right-to-left shots, they'll need to get those tee balls out there 300 yards or more with just enough cut to take advantage of the terrain to get the absolute most out of those shots.
And even if they are able to accomplish all of that, they'll still have to deal with those fear-inducing greens where many Masters are won and lost.
Another thing to keep in mind: Right-handers have won 71 of the first 76 of these little get-togethers in Georgia.
Maybe three left-handers, playing exceptional golf, have made statements for their fellow left-handers.
I don't think, however, that we have to worry about a gaggle of lefties being fitted for southpaws.
And there is that Tiger Woods fellow to consider.
I believe he's a right-hander.