3 New York Rangers Players Who Need to Get Hot in Home Stretch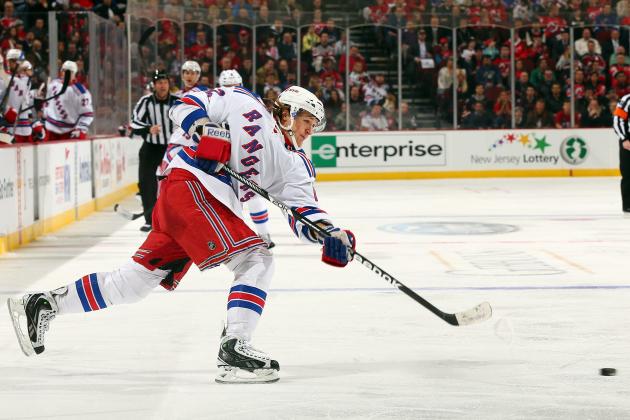 Elsa/Getty Images

The New York Rangers are in the midst of a playoff race.
They currently sit in seventh place in the Eastern Conference with just nine games remaining.
If they want to make the playoffs, then the Rangers have to be at their best. In particular, there are three slumping players who need to get hot in the home stretch. If they can, then the Rangers should make the playoffs with ease.
Which three players need to get their game together and get hot for the stretch run?
Read on to find out.
Begin Slideshow

»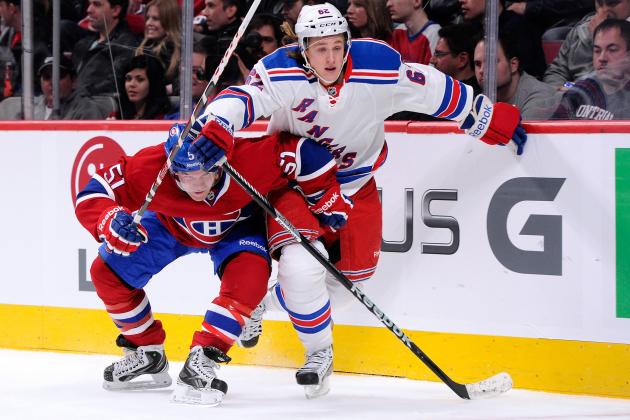 Richard Wolowicz/Getty Images

After a fantastic February in which he scored seven goals and had four assists, Carl Hagelin has just one goal and six assists since.
Simply put, that's not good enough.
At his best, Hagelin is a speedy havoc-causing winger who sparks the offense with his speed. He is, in most games, the fastest player on the ice. That allows him to get to pucks in the corner and start a cycle.
But he doesn't do much when his speed is neutralized by physical defenders. His speed is his greatest asset—he's not a pure finisher.
After the Marian Gaborik trade, Hagelin has moved from the top line—where he had his most success playing with Derek Stepan and Rick Nash—to the third line, with Derick Brassard and Brian Boyle.
In theory, that's a good line for him. Hagelin can use his speed to get the puck to Boyle in front of the net, or to Brassard, who is a skilled passer.
So far, though, it hasn't happened. He played just 10 minutes in the loss against the Toronto Maple Leafs and hasn't played over 20 minutes since mid-March.
Getting Hagelin to play well is key for the Rangers.
They are 6-1 when he scores. That's not a coincidence. Hagelin provides a secondary option to take the pressure off of Nash and Stepan.
If Hagelin can get hot in the waning moments of the season, then the Rangers will make the playoffs. When he's scoring, it takes more defensive pressure off the stars and leads to more goals for the team.
If not, then Nash and Stepan will have to be even better than they've been—a tall task considering how good they've been.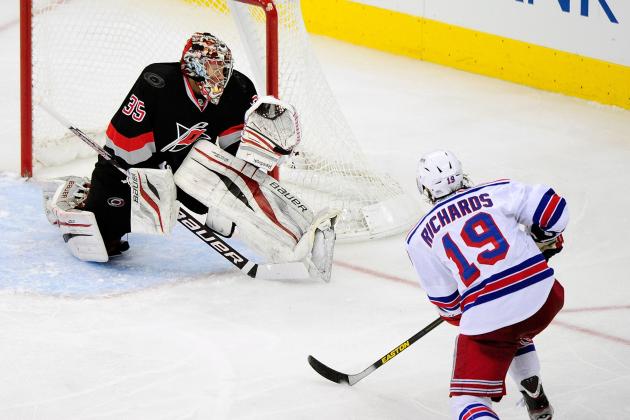 Grant Halverson/Getty Images

It sounds like a broken record, but it's true—the Rangers need Brad Richards to get going.
There are encouraging signs. Richards has one goal and four assists through April and has looked more comfortable with Ryane Clowe and Mats Zuccarello on his wings.
Still, six goals and 17 assists is not enough for a second-line center. Just three power-play points is not enough.
Richards needs to create more.
That means crisper passes and smarter, quicker decisions. It also means being unafraid to use his shot. He actually has a decent shot, both from the point and from the circles. If he can be more assertive, then eventually his shot will start to go in.
It doesn't seem like Richards has lost a step. If anything, he's just been unlucky. This season he's converted on just 6.8 percent of his shots. For his career, Richards converts on 8.9 percent of his shots. Last season, he converted on 10.9 percent of his shots.
That's why it makes sense for Richards to keep shooting. Eventually, the pucks will go in. Based on his career stats, it's just a matter of time.
Because Richards make so much money—$6.6 million per year, according to CapGeek—the pressure on him is magnified. He'll be under the microscope, and if he does not perform well there's a good chance he could be bought out.
If he can start converting on more of his shots and start to play to his capability, then he'll be a Ranger for a long time.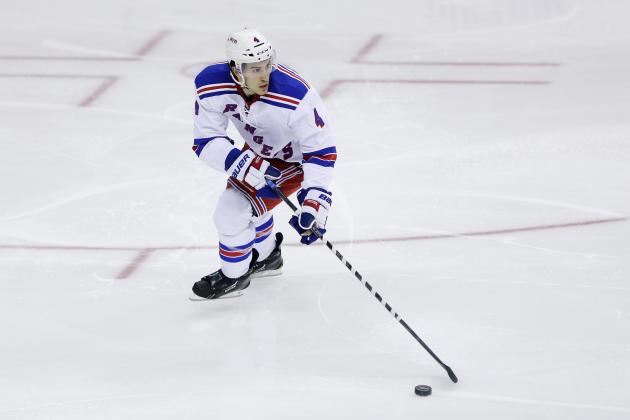 Rob Carr/Getty Images

Michael Del Zotto is the best offensive defenseman on the roster and in March he showed why. He had seven assists, including three on the power play and showed improved defensive poise. He handled the increase in minutes that came after the Marc Staal injury with relative ease.
For whatever reason, April hasn't been as kind.
He has just one assist and played poorly on defense against Toronto on Monday. In fact, a few defensive positioning mistakes led to goals for the Maple Leafs.
The more stout he can play on defense, the better it is for the Rangers. He's seeing increased minutes, averaging almost 26 minutes per game. But with that added responsibility comes added pressure. If he makes the mistakes he did against Toronto, then the Rangers are in trouble.
The Rangers are built from the net out, meaning they place increased importance on their goaltending and defense. Goalie Henrik Lundqvist has been solid, as have Dan Girardi and Ryan McDonagh. Del Zotto, on the whole, has been solid, but April has been a tough month. With Marc Staal out, Del Zotto has to step up. He showed flashes in March but hasn't hit his stride in April.
Additionally, the power play has improved since the Gaborik trade, but it hasn't been because of Del Zotto. The Rangers have scored five power-play goals, but Del Zotto has assisted on just one of them. His time on the point has been taken over by Mats Zuccarello.
The more Del Zotto can lead the rush, make crisp outlet passes and quarterback the power play, the more goals will be scored. The better his positioning is in his own end, the less goals will be scored.
Del Zotto is important because he contributes in so many ways. If he begins to falter, it will be a problem for the Rangers.
He needs to find his game from March to help the Rangers.