Matt Barkley: Video Highlights for Former Southern California QB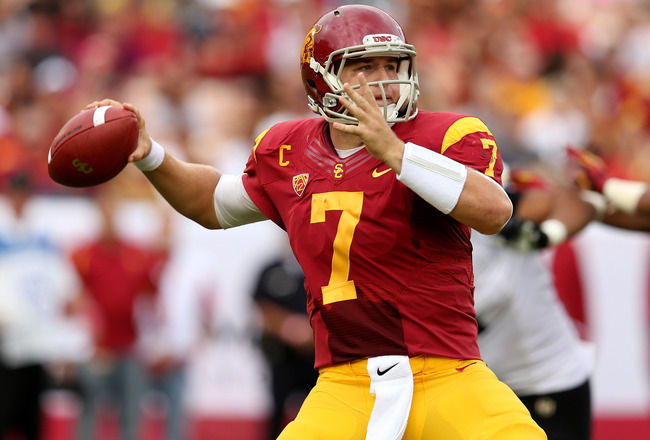 Stephen Dunn/Getty Images
Matt Barkley returned for his senior season in 2012 and left evaluators with more questions than answers regarding his NFL future. Regardless, it's hard to ignore his productivity over the span of his four-year collegiate career as a Trojan.
With 116 touchdowns on 1,500-plus collegiate throws, the former Trojan has his fair share of pelts on the wall. In a conference known for its offenses, Barkley flashed enough upside and ability over the years to have some NFL evaluators smitten. By the time draft weekend comes around, Barkley could end up being the first quarterback drafted.
Here's a look at some of the highlights of Matt Barkley's decorated collegiate career.
Barkley Beats Zone Coverage

Barkley finds his tight end for six

Matt Barkley has been described as one of the most NFL-ready QBs in this draft, and the number of snaps he's taken from under center is a big reason why.
In this play, Barkley takes the snap from under center and delivers a seed to his tight end in the end zone for a touchdown. The tight end ran a seam route straight down the middle of the field, and Barkley throws it on a rope just over the linebacker and in front of the safety.
The zip Barkley gets on this throw is notable because many evaluators question his throwing velocity, something a QB must have when fitting the ball into tight windows in the red zone.
Improv in the Red Zone

Barkley extends the play and finds Robert Woods for a touchdown

Evaluators want to see how quarterbacks operate when the play breaks down.
For a QB who will rely on timing passing to have success in the NFL, Barkley needs to show he can also extend the play if it initially fails and the timing is thrown off.
On this play, Barkley's first read is covered, and he wisely pump fakes rather than throwing into the coverage. He doesn't immediately go through his other reads and holds onto the ball, and the timing of the play is out the window. Barkley improvises and dodges a few Oregon defenders and shows he has the feet to avoid pressure.
Sometimes luck plays a part, and receiver Robert Woods is able to find a soft spot in the coverage. Barkley puts great touch on this throw for the touchdown, all while taking a big hit.
Pump Fake for a Touchdown

Barkley uses a pump fake to get his receiver open for a touchdown

Experienced quarterbacks understand how to use pump fakes to get their receivers open, and Barkley does just that on this play.
After taking the snap from under center, Barkley locks onto receiver Marquis Lee and pump fakes as if it's a quick slant play. The Syracuse defensive back bites and moves to defend in the direction of the pump, and Lee continues his route on past the defensive back for an easy free release into the end zone for a touchdown.
The throw is actually a tad behind the receiver, but Barkley's presence of mind to manipulate the coverage with a pump fake opened the play up enough for the touchdown.
Barkley's savvy and experience in this pro-style offense at USC shows through on a play like this.
Showing off Ball Placement

Barkley hits his tight end for a touchdown

Matt Barkley has shown in his collegiate career a great understanding for ball placement and throwing receivers open.
What's notable here is how Barkley throws to the open area in the back of the end zone, rather than right at the tight end. By throwing it to a spot, he ensured the defensive backs couldn't make a play on the ball and allowed his tight end to run under the ball and haul it in for six.
The fact that the ball was almost overthrown was actually a good thing. This play was either going to be a touchdown or an incompletion, which is the way to live in the red zone (no turnovers).
Converting on Fourth Down

Big completion on fourth down

Evaluators want to see how quarterbacks handle difficult, high-pressure situations. Fourth down and three against the Stanford Cardinal defense is about as high-pressure and difficult as it gets in the Pac-12.
Barkley is asked to throw out of shotgun here. He does a great job of reading the defense, and as soon as he recognizes zone, he hits his tight end, who gets a free release off of the linebacker.
There's nothing dazzling about this completion, and it isn't a scoring play, but getting a first down on a crucial early fourth-down play in any game can really deflate a defense.
You can tell a lot about a quarterback's poise on fourth-down plays, and Barkley shows he can handle the pressure here.
Converting on 3rd-and-Long

Barkley hits his back in stride for a third and long conversion

Third-and-long situations are inevitable in the NFL, and some quarterbacks have a more aggressive approach than others.
Matt Barkley shows poise and the presence of mind to quickly get the ball out so his running back can run in space and try to pick up the first down. Barkley made the smart decision here to give his playmaker a chance, rather than holding onto the ball hoping for something to open up deep with the rush bearing down.
The third-down conversion here wasn't all Barkley, but it was impressive to see him make a quick, smart throw on a tough down-and-distance.
Tough Completion off of Play-Action

Barkley makes a tough completion under pressure

Some plays USC's offense runs are exact replicas of plays run by teams in the NFL, and it's why Barkley is so highly coveted. This is an example of a common West Coast Offense play off of play-action.
Barkley sells the fake handoff well, rolls out and makes a quick completion with a defender in his face. The run fake is sold to the left, and Barkley's receiver runs across the face of the formation to the right side. The timing on this play is crucial, but also Barkley's confidence in his receiver to be in the right place is important for the play to work.
Plays like this can be deadly effective in the NFL, and there's no question Barkley will be asked to run something like this again at the next level.
Keep Reading

Philadelphia Eagles: Like this team?