Stock Up, Stock Down for Mets' Top 10 Prospects for Week 1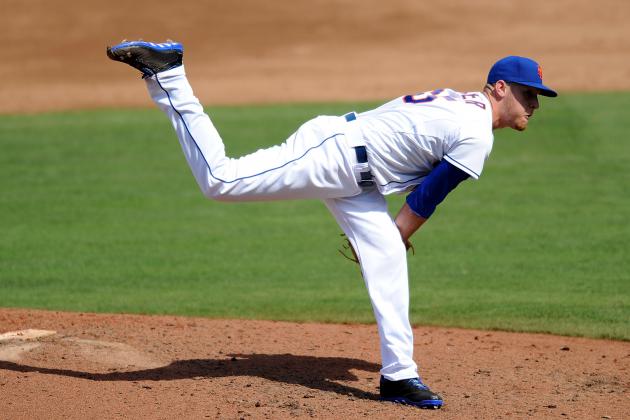 Steve Mitchell-USA TODAY Sports

The Mets' first week went quite well overall.
Despite playing two teams that are not expected to do well in the Padres and Marlins, the Mets nonetheless are 4-2 after the first week of the 2013 season.
David Wright and Daniel Murphy have been hitting well, while Jon Niese and Matt Harvey's starts have both been spectacular. A few of the new faces, such as John Buck, Marlon Byrd and Collin Cowgill, have all made significant contributions so far, which has been great to see.
If the Mets' current roster looks good as is, the Mets' top prospects should offer more hope for the future once they are fully developed.
Here is a look at how the Mets' most notable prospects have done in the minor leagues for the first week of their seasons.
Most statistics from baseballreference.com/minors and are current as of 4/7/2013. Noah Syndergaard's statistics were from milb.com and are current as of 4/7/2013.

Begin Slideshow

»
Steve Mitchell-USA TODAY Sports

Stats: 1 GS, 3.1 IP, 3 H, 2 R, 2 ER, 3 BB, 3 K
Stock: Down
Top prospect Zack Wheeler made his debut with the Las Vegas 51's of the Triple-A Pacific Coast League and gave up three hits and two earned runs in 3.1 innings pitched. Wheeler was likely removed so early because of a high pitch count in order to protect his arm over a full season.
This should not be too concerning for anyone, because Wheeler most likely was not going to get called up too soon anyway. A major league debut in June or July is most likely going to occur for Wheeler, unless the Mets suffer a serious injury in their starting rotation.
But with his first start going the way it did, it looks like it was a good idea to give Wheeler more time to develop in the minor leagues before he is ready for the major leagues. Wheeler had only made six Triple-A starts in 2012, and it was important for him to get more experience before the beginning of what could be a long major league career.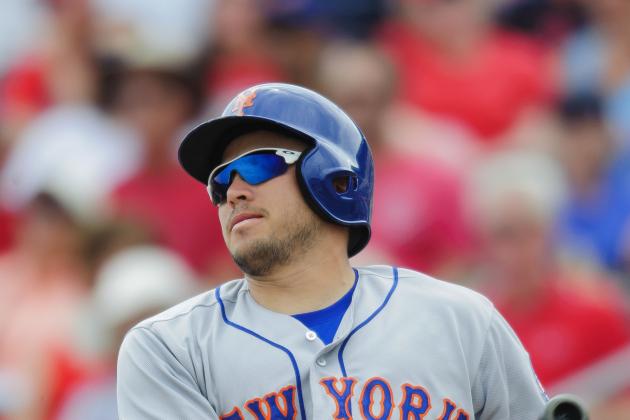 Steve Mitchell-USA TODAY Sports

Stats: 2 G, .600 BA, 1 RBI, 5 BB, 1.800 OPS
Stock: Up
Top catching prospect Travis D'Arnaud has continued his great spring with a hot start to his regular season. He has shown patience at the plate and has hit well in his first two games.
If D'Arnaud keeps hitting this well, a midseason major league call-up could occur sooner than expected. Nonetheless, D'Arnaud should get called up around the same time as Zack Wheeler, unless John Buck gets hurt.
Speaking of Buck, he has been off to a great start himself. Thus, as of right now, the Mets aren't necessarily desperate for D'Arnaud to get called up immediately. With the way Buck has hit, the Mets could make the most of it and let D'Arnaud develop a little longer in the minor leagues, so that when he gets called up, there will be no turning back.
The good start for both D'Arnaud and Buck is a good problem for a team to have.
The Mets have not had to deal with such a problem at catcher since 1998, when Mike Piazza was acquired while incumbent catcher Todd Hundley was recovering from elbow surgery. Hundley was temporarily moved to left field that season and was traded away the following offseason, while Piazza remained the Mets' catcher through 2005.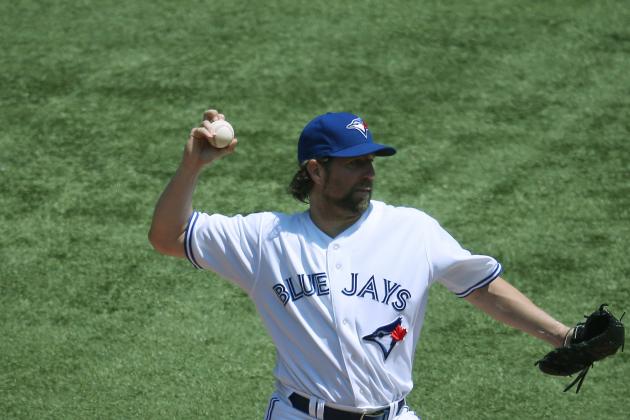 Tom Szczerbowski/Getty Images
The Mets acquired Noah Syndergaard in the R.A. Dickey trade.
Stats: 1 GS, 4.0 IP, 3 H, 0 R, 0 ER, 1 BB, 5 K
Stock: Even
If any Mets' pitching prospect has a lot of upside, it's Noah Syndergaard, whom the Mets acquired from the Blue Jays in the offseason. He was a big part of the blockbuster trade that sent reigning NL Cy Young Award winner R.A. Dickey to the Blue Jays.
In a few years, Syndergaard could be a difference maker for a Mets' rotation which already features Matt Harvey and Jon Niese, and will soon include Zack Wheeler. Syndergaard's first start of the 2013 season with Single-A St. Lucie was successful, despite pitching only four innings.
However, the Mets could be attempting to limit Syndergaard's innings to help him last the full season without any arm fatigue.
It's early in the season, but Syndergaard has a lot of time to really show what he is capable of doing this year.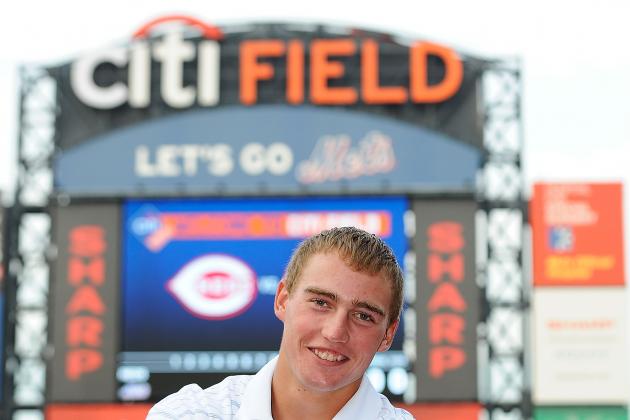 Patrick McDermott/Getty Images

Stats: 2 G, .444 BA, 2 RBI, 1 BB, 1.167 OPS
Stock: Up
The Mets' top outfield prospect, Brandon Nimmo has gotten off to a great start this year at Single-A Savannah. He has a good bat, good power and can run well. Nimmo could even be a possible five-tool player in the near future.
Nimmo is still two or three years away from having an impact on the Mets, but when he finally gets there, he could be a fixture in the Mets' outfield for many years. The Mets have not had such a staple in their outfield since Carlos Beltran from 2005-2011.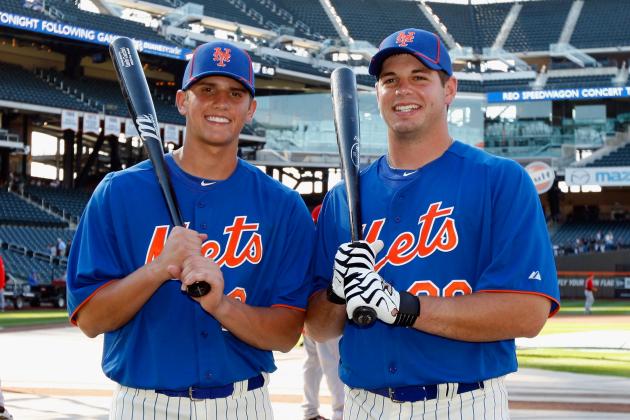 Mike Stobe/Getty Images

Stats: N/A
Stock: Even
Gavin Cecchini was the Mets' 2012 first-round draft pick, but the young shortstop has yet to play in a game because the Brooklyn Cyclones' season does not begin until June.
Please check back in the future.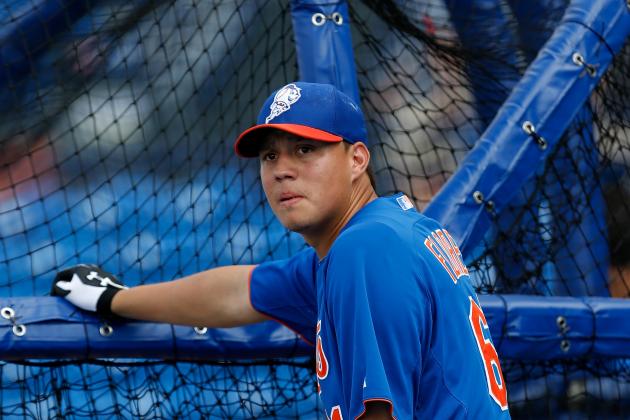 Chris Trotman/Getty Images

Stats: 2 G, .500 BA, 3 RBI, 2 BB, 1.167 OPS
Stock: Even
Flores will be the Mets' third baseman at Triple-A Las Vegas to start the year, despite playing all over the infield in 2012. He has hit well to start the season, but has yet to hit a home run or steal a base. Flores is a natural shortstop, but his tall 6'3" frame is a big reason why he is now playing third base.
Flores' biggest problem in the Mets' organization is the fact that the Mets are now committed to David Wright for the next eight years. This means that as of right now, there really isn't a spot for Flores to be a regular on the major league roster.
With that being said, look for the Mets to try and trade him in the near future for a similarly talented outfielder or two. The Mets' infield depth is much stronger than their outfield depth, so such a move would definitely benefit the franchise.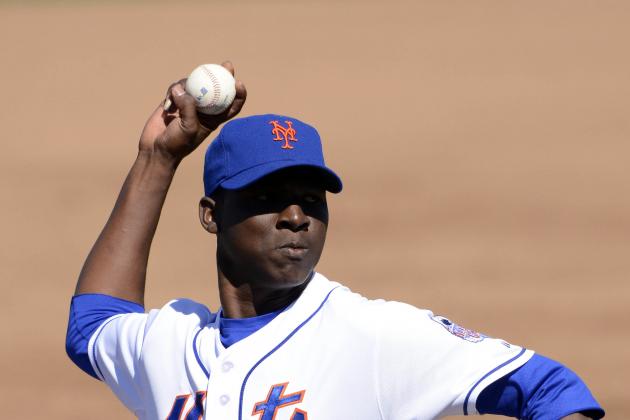 Brad Barr-USA TODAY Sports

Stats: 1 GS, 5.2 IP, 2 H, 1 R, 1 ER, 0 BB, 8 K
Stock: Up
One player who caught a lot of eyes in the Mets' spring training this year was Rafael Montero, who is one of the Mets' top pitching prospects.
Montero, who is starting the year in Double-A Binghamton, threw very well in his first start. In 5.2 innings pitched, the hard-throwing right-hander gave up two hits and one earned run with no walks and eight strikeouts.
Montero did very well in 2012, which was split between Single-A Savannah and Single-A St. Lucie. He had an 11-5 record and a 2.36 ERA in 20 starts and 122 innings pitched. He should be able to have an even better 2013 season, as he continues his growth and develops further through the Mets' minor league system.
Steve Mitchell-USA TODAY Sports

Stats: 1 GS, 3.1 IP, 5 H, 2 R, 2 ER, 0 BB, 6 K
Stock: Even
The 2012 NY-Penn League ERA leader did not fare particularly well in his first 2013 start. In 3.1 innings pitched, he gave up two home runs and left the game with a no-decision.
Despite this, Robles has a lot of potential, with great control and a developing fastball. He should be good enough for a promotion to Double-A Binghamton later this year.
For now, he will have to put together a few strong starts in order for his stock to rise.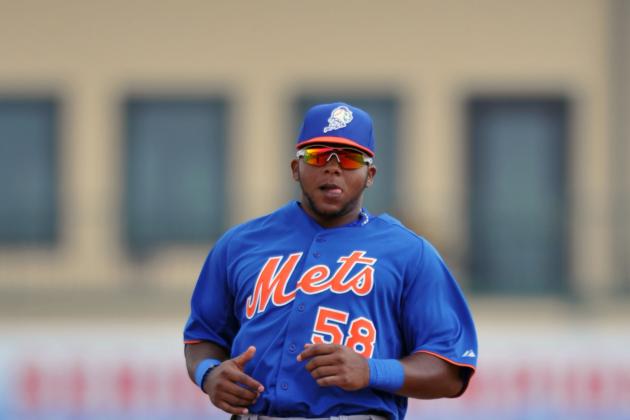 Steve Mitchell-USA TODAY Sports

Stats: 2 G, .333 BA, 2 SB, .833 OPS
Stock: Even
After a 2012 season in which he only appeared in 66 games, Puello is off to a good start in his first two games. However, it's too early though to really evaluate his season with such limited games and plate appearances.
Puello has a lot of speed and could be a future leadoff-hitting center fielder for the Mets. He will begin this season in Double-A Binghamton and could possibly get promoted to Triple-A Las Vegas if he hits particularly well.
With all the uncertainties in the Mets' current outfield, it would be nice to see Puello really develop and maybe even become a long-term fixture in the Mets' outfield down the road.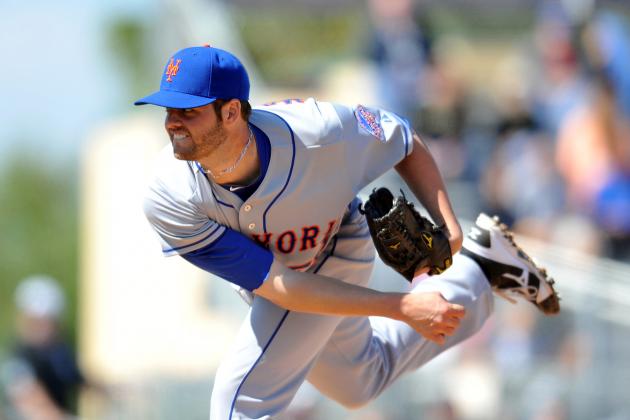 Steve Mitchell-USA TODAY Sports

Stats: 1 GS, 5.0 IP, 4 H, 1 R, 0 ER, 1 BB, 7 K
Stock: Up
One of the more overlooked Mets' prospects is Cory Mazzoni, who pitched well in four spring training appearances this March and had a very good first start as a member of the Mets' Double-A Binghamton team.
Mazzoni was the Mets' second-round draft pick in the 2011 MLB draft. His fastball is one of his better pitches, and if he can develop his secondary pitches more with time, he could be a solid middle-rotation starter in the future.