With just nine games remaining in the 2012-13 NHL season, the Washington Capitals are suddenly sitting in the driver's seat in the race for the Southeast Division crown.
After a pair of critical wins over divisional rivals over the weekend, Adam Oates' squad is two points up on second-place Winnipeg and holds a game in hand over the Jets as well.
Given how explosive the team's top offensive weapons have been, along with the steady improvement in goal and on the blue line, a postseason berth no longer seems like a far-fetched hope—it's a probability.
So, heading into the final few games of what has been a roller-coaster campaign for the Caps, here's a look at the keys to making the playoffs for Alex Ovechkin and company.
Continued Production Out of the Big Guns
Obviously, the Capitals will always end up going as far as the team's trio of homegrown offensive dynamos in Alex Ovechkin, Nicklas Backstrom and Mike Green can take them.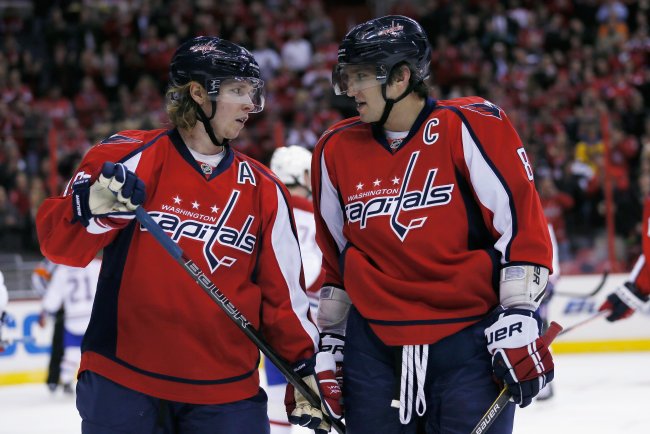 Rob Carr/Getty Images
As of late, all three have raised their games, and that's been the biggest reason why the Caps have been able to climb back into the postseason chase; it'll also be the biggest factor in deciding whether this team is playing deep into May.
Ovechkin is playing at a level he hadn't reached since the 2010 Olympics in Vancouver, and that's why he's out of nowhere tied with Tampa Bay's Steven Stamkos for the league lead in goals with 25.
And it's no accident that Ovechkin's scoring surge has coincided with a nine-assist week out of his newly reunited setup man in Backstrom.
From the blue line, the goals have been starting to come for Green, which is an important development to keep an eye on, because when he gets hot, the Caps are virtually unstoppable.
A Steady Holtby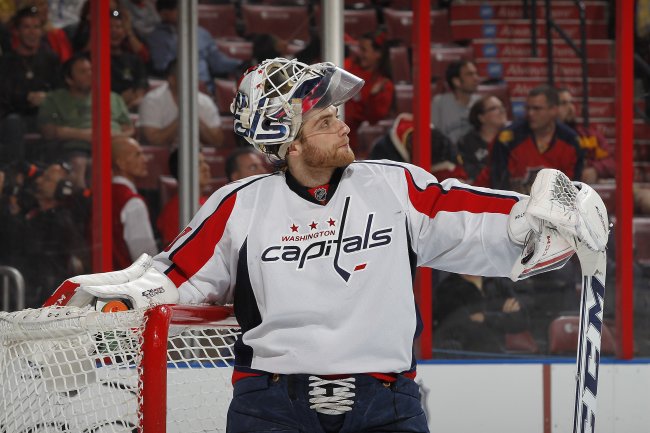 Joel Auerbach/Getty Images
In addition to the improving offense, stability out of Braden Holtby in net has been critical to the Caps' success, as the 23-year-old has wins in four of his last five starts and has taken advantage of the opportunity Oates has given him to be the team's unquestioned starter.
With a quality No. 2 option in Michal Neuvirth, Holtby knows he's got to continue to play like a starting goaltender in order to keep the job, but he's been cool, calm and resilient down the stretch for Washington.
Now, with Holtby set to start at least seven of the final nine games, he'll likely have to win five of those to lock up the Caps' division title.
Healthy Stars and Foot Soldiers
Neither Brooks Laich nor Martin Erat will play vs Tampa Bay. Laich to see specialist in Detroit Tuesday, Oates said. #Caps

— Katie Carrera (@kcarrera) April 7, 2013
Presently, it appears that Washington will be without both Martin Erat and Brooks Laich for at least the immediate future, according to Katie Carrera of the Washington Post.
With two top-six forwards out, the Caps will need continued consistent production out of Mike Ribeiro, Marcus Johansson, Joel Ward and Troy Brouwer, as well as a better final nine games from Jason Chimera.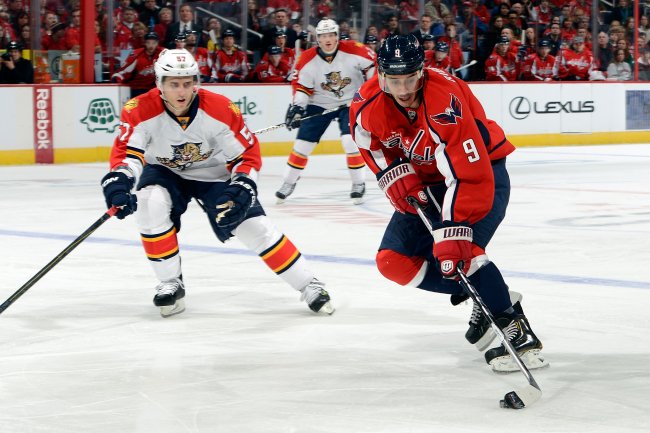 Greg Fiume/Getty Images
All season long, Ribeiro and Brouwer made up for the absence of offensive contributions from Backstrom and Ovechkin, but with the first line firing on all cylinders, the team should be icing a more balanced offensive attack.
But first and foremost, the Caps cannot afford to lose another top-four defenseman or top-nine forward, because even if the team does make the postseason, it won't last long if more key players go down.
Commitment to Defense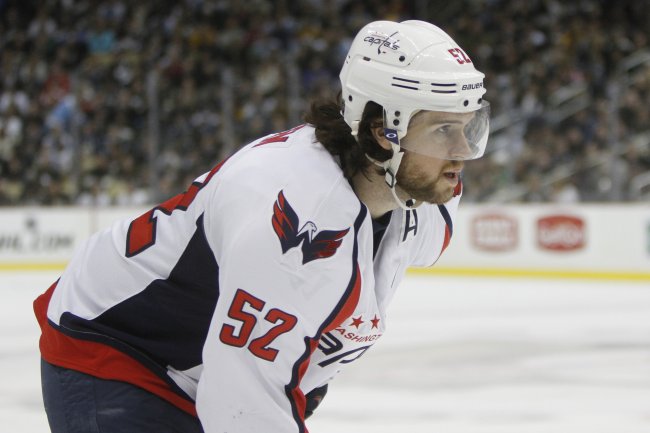 Justin K. Aller/Getty Images
Green, John Carlson, Karl Alzner, Steve Oleksy and Jack Hillen have all improved as of late, and that has been a big help to the Caps' postseason hopes as they've served as an adequate top five in front of Holtby.
Sure, it would be nice to get Tom Poti back, but Oleksy's emergence has offset his absence. For the winning to continue, getting the entire team to put emphasis on defensive awareness has to be the priority.
The Power Play
The Caps' power play has been red-hot this season, which is partly why Ovechkin, Backstrom and Ribeiro all find themselves among the NHL's top 20 scorers heading into the final few games.
Going forward, the Caps have to continue to stay active with the extra man and move the puck around quickly enough to keep the opposition guessing and moving around.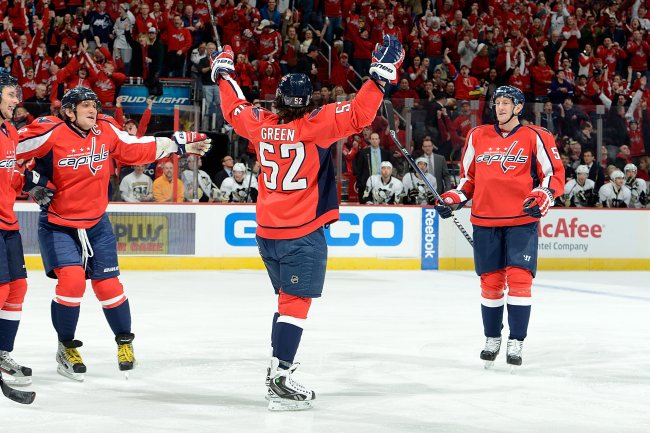 Greg Fiume/Getty Images
Lately, the league's most dangerous power-play unit has been deadly; in particular, the backdoor play for Ovechkin has been working, which is usually a dead giveaway that the Caps offense is in sync.
When a team has a power play that is clicking, its usually means the club is very difficult to beat. With the amount of skill that the Caps have on the first unit, if they're all on the same page, they'll be virtually unstoppable.