Stock Up, Stock Down for Atlanta Braves' Top-10 Prospects for Week 1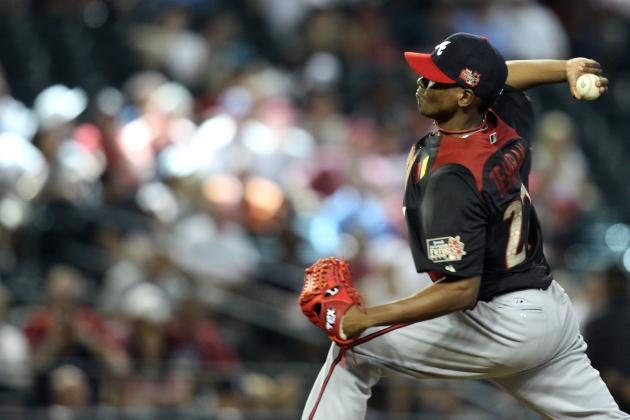 Christian Petersen/Getty Images

Winning five out of six games to start the season should have Atlanta Braves fans excited for the present state of the franchise.

Justin Upton, Freddie Freeman and Andrelton Simmons represent potential stars under club control for years.

If the minor league system can continue to provide depth, Atlanta will have a chance to challenge in the National League for a long time. That depth can be used to plug holes on the major league roster or, as in the case with acquiring Justin Upton and Paul Maholm, used to make impact trades.

Through one week of 2013 baseball action, here's a snap shot of the future Braves stock market using Atlanta's top-10 prospect list from the indispensable Baseball Prospectus.

All statistics from MiLB.com and current as of 4/7/2013.
Begin Slideshow

»
Scott Cunningham/Getty Images

Stats: 5 IP, 8 H, 5 R, 5 ER, 2 K, 1 BB, 2 HR, 9.00 ERA

Stock: Even

Despite a 1.04 ERA in six spring starts, Teheran is a work in progress. Especially when it comes to his secondary pitches and navigating through a major league lineup for the second and third time in a game.

His inconsistent off-speed pitches hurt him on Saturday night against the Chicago Cubs when Anthony Rizzo crushed a belt-high curveball over the right-center field wall in Turner Field.
The Atlanta bats, led by Justin Upton's two home runs, bailed Teheran out of a loss in his first outing of the season.

It's too early to bail on Teheran's 2013 stock. It's too early to bail on his overall stock.

He's a work in progress for Atlanta that should pay off as the season progresses.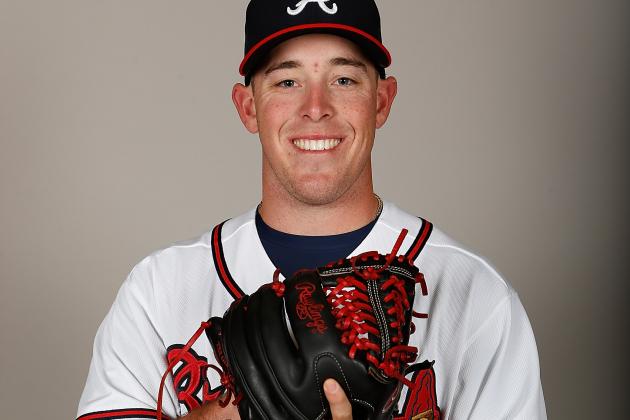 J. Meric/Getty Images

Stats: 2 IP, 0 ER, 0 R, 1 K, 0 BB
Stock: Up

Coming off seven scoreless innings in his first spring training at the big league level, Graham continued his stellar performance to begin his Double-A season in Mississippi.

It's still undecided as to whether the 23-year-old right-handed prospect will profile as a starter or reliever for Atlanta, but his stuff can play in either role.

Last month, Braves GM Frank Wren was bullish on his velocity and future when speaking to MLB.com:


The last guy he struck out, he was at 97 and he was pretty much 95-98 all night long. He maintains his stuff. He's athletic and strong. Those are all the hallmarks of a starter. There's a lot of guys who can light up a gun for an inning or two and then their stuff starts to diminish to the point where it is just average when you get deeper into a game. He's not one of those guys at this point.
Regardless of his future, expect Graham to be talked about as an arm that can help out the Atlanta pen in August and September of this year.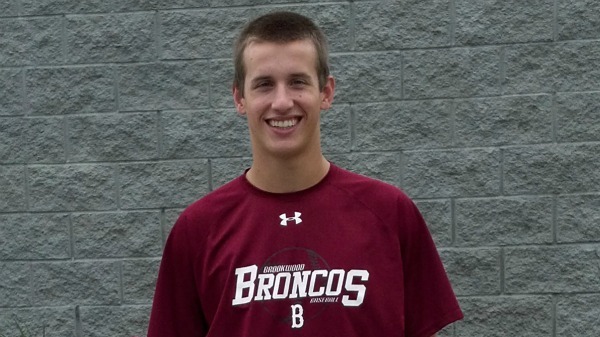 CBS Atlanta
Stats: 1 G, 1.2 IP, 2 H, 4 R, 4 ER, 4 BB, 1 K, 21.60 ERA

Stock: Down

Control was an issue for Sims, 18, in his first outing with the Rome Braves of the South Atlantic League.

During his 2012 short-season rookie ball outings for Atlanta, Sims posted a 39-13 K-to-BB ration. For a kid just a few months out of high school, the 3:1 ratio was impressive.

Last year's first-round pick will be given plenty of time this summer to work on his arsenal, control and command before being projected further in the Atlanta system.

As Baseball Prospectus pointed out before the season, Sims is a very good athlete. It's important to remember his age and athletic ability over his statistics at this point. If he has the tools, the past has shown Atlanta's ability to make him into a serviceable big league pitcher.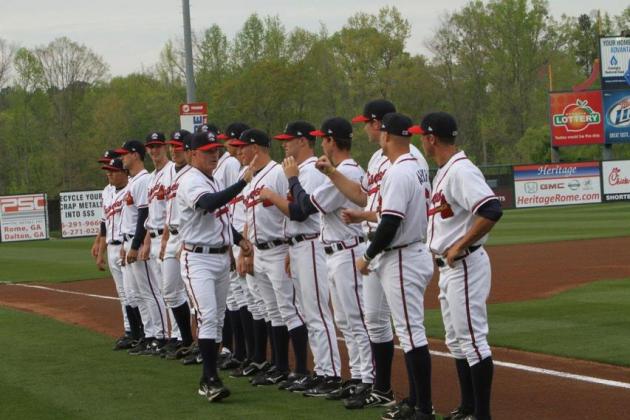 hometownfirstalert.blogspot.com
Stats: 1 G, 1 GS, 2.2 IP, 4 H, 6 R, 3 ER, 5 BB, 1 K, 10.12 ERA

Stock: Down

The first outing of Cabrera's season wasn't pretty for the Rome Braves of the South Atlantic League.

Control was an issue for the 20-year-old pitching prospect from the Dominican Republic. Of course, that's a problem for many hard throwers, especially young throwers learning how to pitch.

In 2011, Cabrera walked 4.1 batters per nine innings. Last year, he cut that number down to 3.6. If the first outing was a precursor to the rest of this season, the downtrend won't continue.

On the other hand, there are few that would doubt the future potential of his arm. If he can continue to hit triple digits on the radar gun, Atlanta will have patience with their prospect amidst his control issues.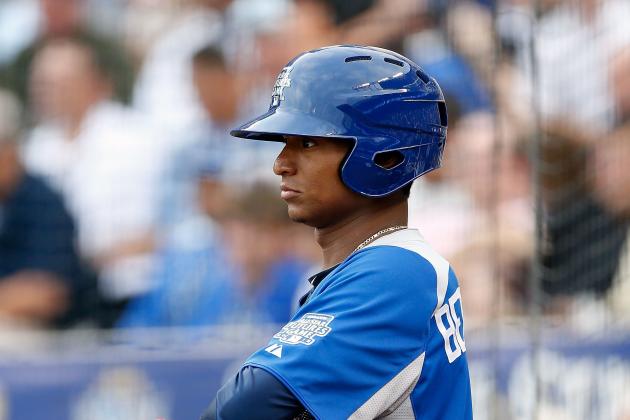 Jamie Squire/Getty Images

Stats: 13 AB, .308/.308/.462, 1 R, 4 H, 2 2B, 2 K, 0 BB

Stock: Even

It's hard to get excited over any prospect that profiles strictly as a backup catcher, but Bethancourt brings a unique skill set to the table that could land him in the big leagues for years.

His strong throwing arm can slow down the opposition's running game quickly and swiftly. His raw power could translate into extra offense on days he gets starts.

Of course, he'll have to earn his way into that role one day. Due to a lack of plate discipline and swing-first mentality, Bethancourt will have to prove that he can hit for decent pop this year in the minor leagues.

While home runs would raise his profile, keep an eye on the four doubles early on that have led to a .462 slugging percentage. If he can hold that kind of number against Double-A pitching, Atlanta fans will take notice.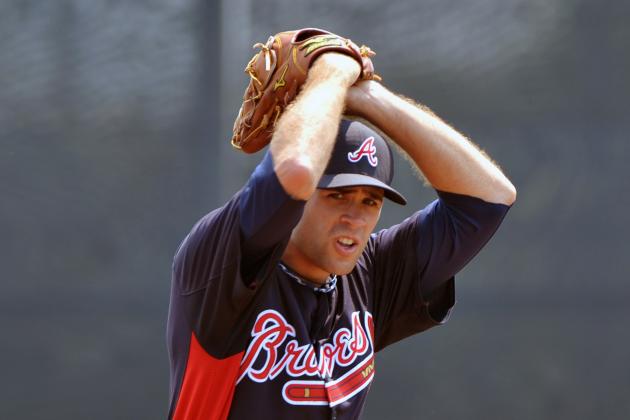 Al Messerschmidt/Getty Images

Stats: 1 G, 1 GS, 5 IP, 6 H, 1 R, 1 ER, 2 BB, 4 K, 1.80 ERA

Stock: Up

In Gilmartin's first start of 2013, the 22-year-old lefty was every bit the prospect Atlanta thought they were getting in the first round of the 2011 draft.

While his fastball isn't overpowering, it's good enough to sneak by hitters. More importantly, it sets batters up for his very effective change-up.
Considering the scouting reports by Baseball Prospectus, Gilmartin isn't the type of prospect that will you away with a radar gun reading or overpowering swing-and-miss stuff. Instead, it's his ability to feel his way through a game is what has his as a top prospect in the Atlanta system.
Don't expect a strikeout-per-inning in the International League this season, but don't let that fool you on this lefty's future.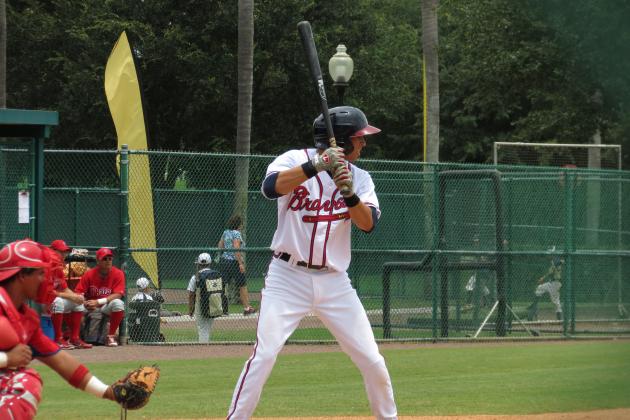 www.flickr.com
Stats: 11 AB, .182/.231/.273, 1 R, 2 H, 1 RBI, 1 BB, 5 K, 1 SB

Stock: Down

With Andrelton Simmons seemingly entrenched at shortstop in Atlanta, the Braves organization is hoping Peraza's bat develops enough to give them a difficult decision in the long-term future.

While Simmons' defense has been compared to Ozzie Smith, the 18-year-old Peraza is tremendous in the field as well. After holding his own in rookie ball last summer, Atlanta is hoping for more progress with the bat this year against higher competition.
Through one week, it's been a struggle for Peraza. With five strikeouts in only 11 at-bats, he's simply not making enough contact to be a productive hitter.

His range at short is above his years. Now Atlanta will wait to see if the bat can catch up.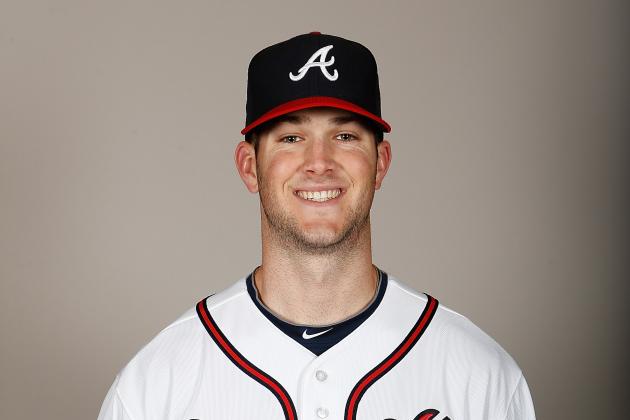 J. Meric/Getty Images

Stats: 1 G, 1 GS, 0 R, 0 ER, 1 H, 1 BB, 6 K, 0.00 ERA
Stock: Up
The 22-year-old University of Georgia product pitched to a 2.22 earned run average at Low-A Rome last season. If his first start of 2013 was a sign of things to come, he's more than up to the task of retiring Double-A Southern League hitters.

Over five sharp innings, Wood struck out six, only allowed a hit and maybe most importantly, didn't walk a batter.

While projections have him as a left-handed reliever if/when he makes the big leagues, Wood can pitch his way into future starter conversations with more outings like his first of this season.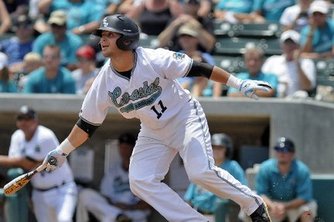 NJ.com
*2012 Stats: 85 G, .299/.389/.466, 5 HR, 56 RBI, 90 H, 22 2B, 13 SB
Stock: Up

*La Stella's 2013 team, the Lynchburg Hillcats, will open their season on April 9.

Considering his age, 24, and current level, Class-A, it's hard to project La Stella as a big league star down the line.

Of course, of his prospect tools, hitting remains the second baseman's best attribute.

Lynchburg hasn't laced up their cleats yet for 2013, so this stock is based off of a .302 batting average in 2012. It's going to take even greater production across higher levels to put La Stella on the Braves' radar moving forward.

If he continues to hit, making it to the big leagues isn't out of the question. Hitting is being shut down by great pitching all around the sport. A second baseman with .300 potential is something to keep an eye on.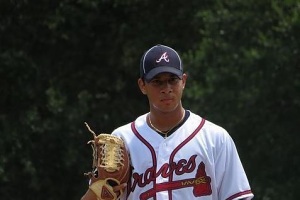 Badoo.com
2012 Stats: 0-5, 4.61 ERA, 10 G, 8 GS, 41 IP, 38 H, 25 R, 21 ER, 1 HR, 9 BB, 53 K*
Stock: Up

*Merejo's 2013 team hasn't debuted.

At only 19 years old, Merejo has a long way to go before reaching his ceiling or coming close to the Atlanta pitching staff.

The quickest way there: Showing his 53 K's in only 41 IP in 2012 wasn't just the product of playing in the lower levels of the minor league system.

If that swing-and-miss ability is real, there will be a place for this left-handed pitcher on any roster in baseball.

Furthermore, a better than 5:1 strikeout-to-walk ratio is even more encouraging. The hitters can't hit his best stuff, but he's also not allowing hitters to reach base without earning it.


Are the Braves deep enough for a long-term run of greatness in the NL East?

Comment below, follow me on Twitter @JoeGiglioSports or "Like" my Facebook page to talk all things baseball.