Johnthan Banks: Video Highlights for Former Mississippi State CB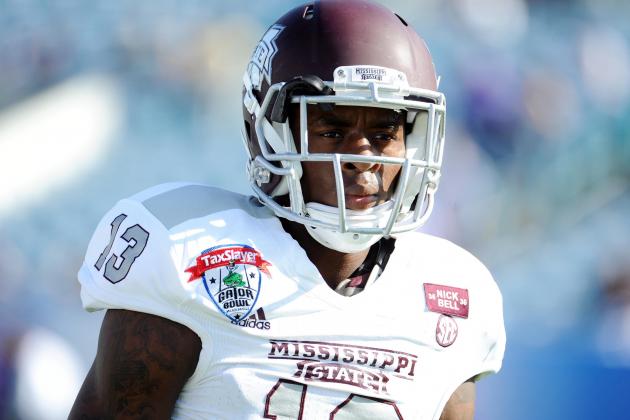 USA TODAY Sports

Johnthan Banks won the Jim Thorpe Award in 2012 as the nation's top cornerback, and he enjoyed a productive career with the Mississippi State Bulldogs.
He made the switch from safety to cornerback as a sophomore, and he set a school record with 16 career interceptions.
The 6'2'' and rather lanky but wiry 185-pound cornerback is considered one of the best defensive backs in the 2013 NFL draft class.
Here are the top plays of Johnthan Banks' collegiate career.
Begin Slideshow

»
On this play, Banks did a marvelous job getting off his block and stripping the football from the Tennessee runner as he neared the sideline.
Banks then fell on the ball for quite an unassisted forced fumble/recovered fumble turnover.
Banks spotted an open Middle Tennessee State wide receiver and closed on him as the pass was being thrown his way.
Banks' timing was perfect, and he delivered a loud and clean hit, which jarred the ball loose.
Banks was physical in coverage with his assigned receiver who made a break to the inside down the field. The pass was slightly behind the intended target, and Banks was there to rip it away for the interception.
He then bolted 47 yards before being taken to the turf.
This wasn't the flashiest play of Banks' career at Mississippi State, but it's the type of play NFL coaches want to see.
Giving about eight yards of cushion at the snap, Banks recognized the hitch route and blanketed his wide receiver.
As the pass approached, Banks slid his body and hand around the left side of the intended target and forced the incompletion.
Banks, in tight coverage, was the beneficiary of a Middle Tennessee State wide receiver falling down as the ball neared.
He was essentially gift-wrapped an interception.
After the pick, Banks demonstrated his deceptive return ability, as he scampered 46 yards before being tackled.