Boise State Football: 3 Things Critics Don't Like About the Broncos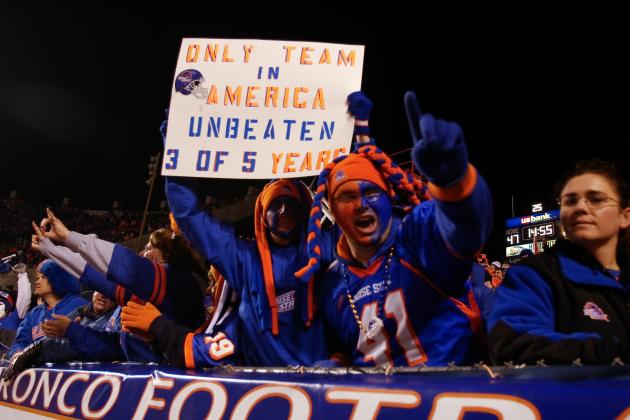 Otto Kitsinger III/Getty Images

Love them or hate them, the Boise State Broncos have carved out a niche for themselves in the college football world.
For over a decade now the Broncos have been winning at the highest level and making friends and foes along the way.
Since the year 2000, BSU football has won 147 games and lost only 21 times. That is good enough for an .875 winning percentage, which is also best in the nation during that time period.
Along the way the Broncos have had some huge victories and heartbreaking defeats. But through it all, the program and the school continue to rise.
With success comes criticism, however, and with a lot of success comes a lot of criticism. It seems Boise State has amassed a fair amount of both.
It also appears that those who love the Broncos do so for many reasons, but the critics seem to center on three arguments that tend to be repeated.
Let's look at those three criticisms, check the validity and what each one of them means for the Boise State program as a whole.
Begin Slideshow

»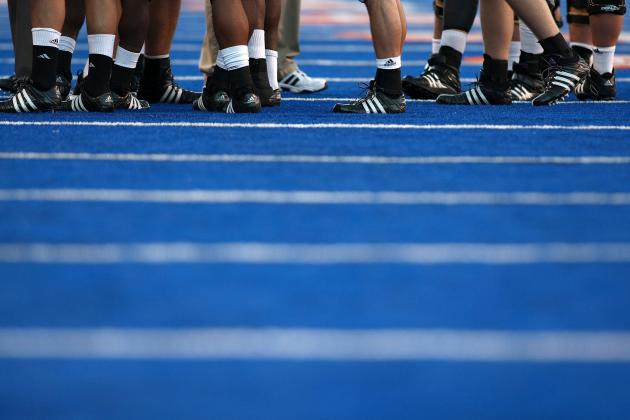 Jonathan Ferrey/Getty Images

Bronco fans are familiar with the constant criticism of their beloved blue turf.
Known as "The Blue," it was installed in the 1980s as a way to bring attention to the program and the school.
Well, it seems to have worked.
However, there are many people out there who dislike the blue turf. Bronco fans often hear the criticism that it is an unfair advantage or that it is impossible to watch on television.
On the first point; the unfair advantage, it is highly unlikely that a blue field gives the Broncos an unfair advantage. The argument is that the players blend into the field when they wear their blue-on-blue uniforms.
But anyone who has played on any playing surface knows this is a ludicrous idea. If it were true, wouldn't the Bronco quarterbacks have an impossible task of locating their own receivers?
The game is played at field level,not television camera level, and for critics to continue to use this argument shows a lack of creativity.
The second argument can at least be understood.
Some people say they hate watching the blue turf on television, yet the ratings say the Broncos still draw decent viewer numbers when home games are televised.
Not only that, but ESPN was happy to sign Boise State to a new home television deal through the Mountain West Conference. If the blue turf was so horrible to watch on television, it is doubtful the sports giant ESPN would pen a deal with unwatchable material.
The most likely reason people dislike the blue turf is simply because they dislike the Broncos. Therefore, there are probably many who are annoyed by the sight of the familiar blue turf of Bronco Stadium.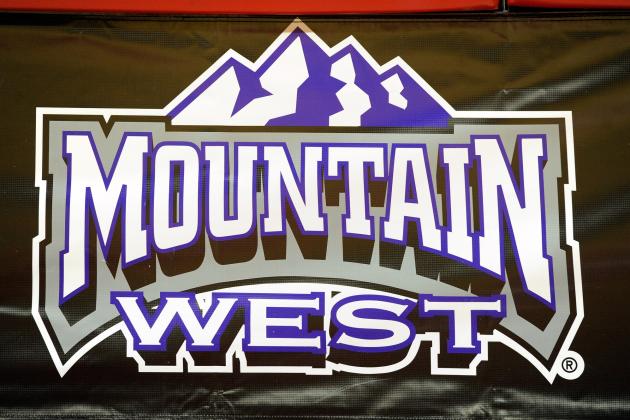 Ethan Miller/Getty Images

Boise State has continually stepped up its competition over the years, but it still needs some stepping.
It is a valid critique when critics harp on the fact that Boise State doesn't play in a premier conference. The Mountain West is not considered one of the "elite" college football conferences, and chances are it never will be.
However, you can't really blame the Broncos. They have done everything they can to raise their game.
Over the years they have sought to climb the ladder of the college football world. They went from Division I-AA (FCS) to Division I-A (FBS). They did so by joining the Big West Conference, then the Western Athletic Conference and then the Mountain West Conference.
The Broncos then showed they were willing to try to reach even higher levels by joining a conference on the other side of the nation just to do so. However, the Big East crumbled and the Broncos made the best of a bad situation by remaining in the MWC with additional perks.
Boise State is all about getting better, and you have to believe that if a conference such as the Pac-12, Big 12 or even the Big Ten came calling, you know that the invitation would be signed so fast the ink wouldn't dry before the party began.
The Broncos and their fans are looking, hoping and dreaming of the day that they pick up a paper or turn on their computer or television and hear the news that their school has finally gotten the big invite.
Until then, all Boise State can do is play the teams in their conference and continue to schedule teams from elite conferences to enhance their quality of opponents. This is something the Broncos have proven they are willing to do.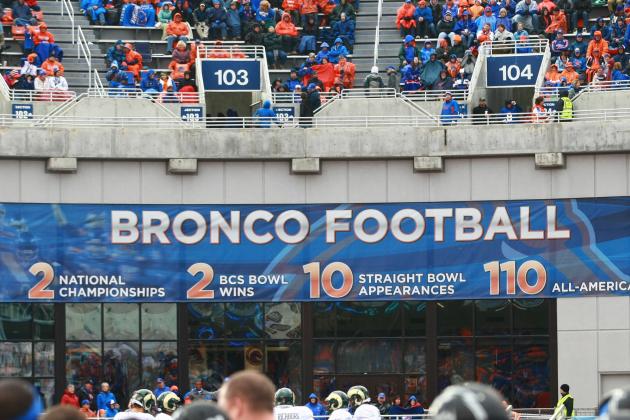 Brian Losness-USA TODAY Sports

If it were just one year or even two or three, the critics would have a valid critique. However, to continue to say the Broncos are overrated is an extremely lazy argument.
The critics point to all the weak conference games and complain about Boise State never playing anyone "big" enough. But, a closer look at the record doesn't add up.
First, if it were so easy for a so-called mid-major team to win all the time with such a weak schedule, then why don't more of them do it?
Boise State, as noted in the first slide, has won 147 games since the year 2000. They have only lost 21 times, and along the way have accumulated 10 conference championships, two BCS bowl game victories and six other bowl game wins.
During that time period they have had wins against Oregon, Oregon State, Washington, Arizona State, TCU, Georgia, Virginia Tech and Oklahoma.
With Chris Petersen as coach, the Broncos have gone 9-2 against BCS teams with six of those games being against ranked opponents. Petersen also has the highest winning percentage of any active coach with at least five seasons under his belt.
Of course the critics say that anyone can beat a team in just one game, but it is the whole season that counts. However, that argument is frail at best.
The problem is, Boise State plays most of those BCS teams in the beginning of the season or in a bowl game. In each case, both teams have adequate preparation time and time to heal up and get healthy.
If anything, those games show a truer measure of where a team is at, how well they are coached and how well their talent plays together as a team.
The critics say that Boise State couldn't win consistently over the course of a season in a major conference, but that is impossible to judge without an invite.
If the Broncos could become part of one of the "Big Five" conferences, their money would skyrocket and their resources would be far greater. If they can do what they are doing now on a budget far less than most of the BCS schools, imagine what they could do if they were put on a more equal footing.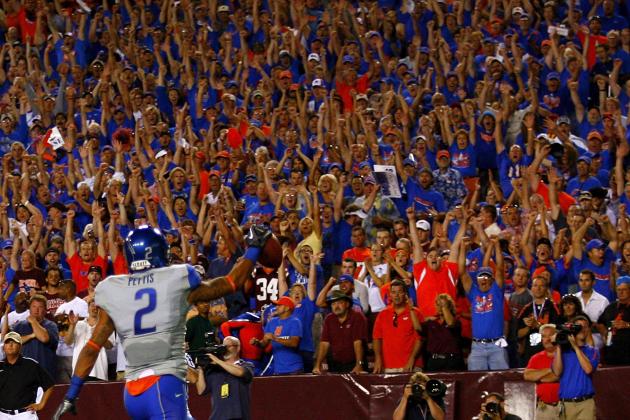 Geoff Burke/Getty Images

Many critics have watched, waited and even predicted that the Broncos would fall flat on their face.
However, year after year and season after season those critics are disappointed, yet still seem to elevate their voices.
The bottom line is that Boise State is a quality program with a winning tradition.
If the Broncos ever get an invite to a major conference, it will either prove they belong or prove the critics right. Either way, it can only happen if a "Big Five" conference comes calling.
Bronco fans dream of that, but it may not happen for a long time, or it may never happen. But that won't stop the continual rise of a program and a fanbase that doesn't give up.
In a 1910 speech at the Sorbonne in Paris, Theodore Roosevelt said:
It is not the critic who counts, not the man who points out how the strong man stumbled, or where the doer of deeds could have done better. The credit belongs to the man who is actually in the arena, whose face is marred by dust and sweat and blood, who strives valiantly, who errs and comes short again and again, who knows the great enthusiasms, the great devotions, and spends himself in a worthy cause, who at best knows achievement and who at the worst if he fails at least fails while daring greatly so that his place shall never be with those cold and timid souls who know neither victory nor defeat.
Boise State is a good program that strives for greatness.
The program has a long history of excellence at every level, and it is much bigger than one person, one year or one conference.
The day may come when Boise State takes another step up, but until then don't expect the climb to wait.