Breaking Down Tampa Bay Lightning C Steven Stamkos' Case for 2013 Hart Trophy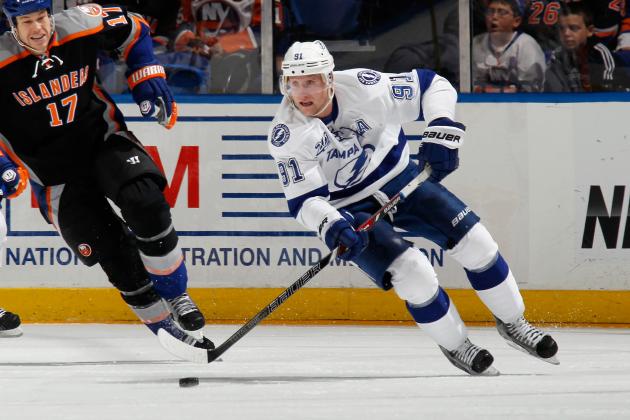 Bruce Bennett/Getty Images
A Hart Trophy finalist last season, Steven Stamkos is making his case for a repeat trip this season.
In almost every season since he was drafted in 2008, Steven Stamkos has been in the conversation for the Hart Memorial Trophy for the league's most valuable player. Stamkos leads the league in goals for the second consecutive season and has worked himself into the MVP talks again.
Last season, Stamkos was a finalist for the trophy—which ended up going to Evgeni Malkin of the Pittsburgh Penguins. His 60 goals were the highlight of the Tampa Bay Lightning's season. Stamkos is making his case for the Hart Trophy again this season and here is why.
Begin Slideshow

»
Steven Stamkos was a finalist for the Hart Trophy last year after scoring 60 goals in 82 games. That is a goal every 1.4 games. This season, Stamkos has 25 goals and leads the league for the second consecutive year. His 25 goals have come in 38 games—a career-high goal every 1.52 games.
There are only a few players in the league that could even come close to topping the Lightning superstar. Alex Ovechkin, John Tavares and Jeff Carter are giving Stammer a run for his money this year. But, if Stamkos finishes the year leading the league in goals, he deserves to have a shot at the Hart Trophy.
One of the criticisms of Stamkos in his young career is that he is purely a goal scorer. This season, he has improved his production outside of goal scoring.
In 2010-11, he picked up a career-high 46 assists. This season, he already has 24 assists in 38 games. That 0.63 assists-per-game ratio is the highest of his career. Stamkos is in the top 25 in assists for the first time in his career.
The Hart Memorial Trophy is an "annual award given to the player judged to be the most valuable to his team (via NHL.com)." Stamkos' value to the Lightning is indisputable.
The 24-year-old has scored a goal in 11 of the Lightning's 16 wins this season. He also has 15 power-play points this year—just two points behind Pittsburgh's Sidney Crosby.
The Lightning don't have a good record, but imagine what they would look like without Stamkos. If the Hart Trophy is supposed to go to the player judged to be most valuable to his team, Stamkos deserves to have his case heard again this year.