South Carolina Football: 10 Things to Look for in the Spring Game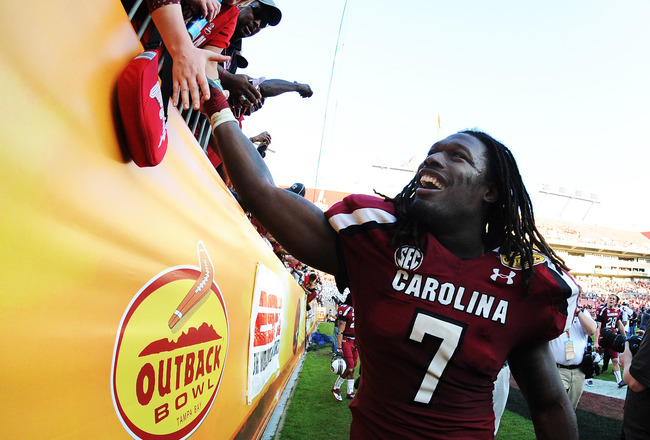 Jadeveon Clowney will probably sit out during the spring game, but there is plenty more to see at this year's spring game.
Al Messerschmidt/Getty Images
The annual Garnet and Black Spring Game takes place on Saturday April 13 and features a very intriguing South Carolina Gamecocks team for 2013.
South Carolina is considered to be a top team in the country who will compete for the BCS National Championship and will showcase its players' progress so far this spring during the game.
While the Gamecocks' superstar player Jadeveon Clowney is unlikely to suit up for the game, there is still a whole lot to watch for when the team takes the field at Williams-Brice Stadium on Saturday.
Here are 10 things to look for in the 2013 Garnet and Black Spring Game on April 13.
1. The Running Back Competition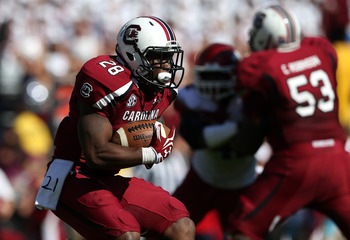 Mike Davis has been a standout at running back so far this spring.
Streeter Lecka/Getty Images
With Marcus Lattimore leaving for the NFL, South Carolina is reassessing the running game and it all starts with who will take lead roles at running back.
Sophomore Mike Davis has had an impressive series of practices and should receive some early snaps during the spring game. Davis is the most complete combination of speed and power that the Gamecocks have at the position, so his balance and performance this spring has him sitting at the No. 1 running back slot.
Davis is in a position battle with redshirt sophomore Brandon Wilds who has experience at running back during his freshman year. Wilds is a very patient runner who works best between the tackles.
Both of these players may not receive too much playing time during the spring game, so look out for redshirt freshman Kendric Salley. Salley has a similar skill set and build to Davis and will try to stand out during the spring game.
Redshirt sophomore Shon Carson would be another player to watch, but he is busy playing in the outfield for the baseball team.
The running back competition will be heating up despite Davis separating himself from the pack. Look out for Wilds and specifically Salley to make their mark on the spring game.
2. The Running Styles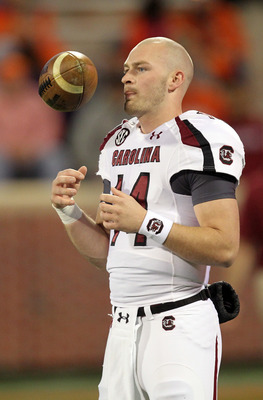 Connor Shaw is out after undergoing surgery on his left, so the Gamecocks may not be able to show the zone-read running offense.
Streeter Lecka/Getty Images
Head coach Steve Spurrier wants to shift to a power running game especially when Dylan Thompson is in the game.
Since Connor Shaw will be out for a while after foot surgery, Spurrier may test out the power running game in the Garnet and Black Spring Game.
Redshirt junior fullback Connor McLaurin should see some playing time, so make sure to look for his ability to make lead blocks. In a power rushing attack, a fullback is key in making blocks in the gaps. McLaurin will be an integral part of this running style.
Shaw typically runs the shotgun and zone-read rushing plays. With Thompson, redshirt freshman Brendan Nosovitch and freshman Connor Mitch as less mobile, pocket-passer quarterbacks, the under-center power running game should be on display in the spring game.
Watch out for a shift in running style this season and especially in the spring game since Shaw will be out and the power running game fits these other quarterbacks' offensive styles.
3. Connor Mitch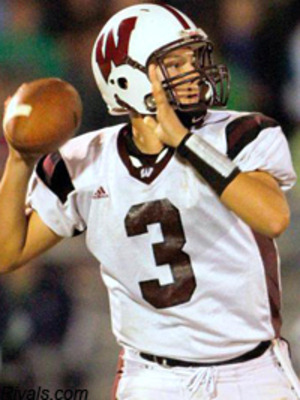 Connor Mitch has a bright future in the Garnet and Black. (Via Rivals.com)
South Carolina has stability at the quarterback position the next two seasons with Connor Shaw this year and Dylan Thompson next season, though the Gamecocks may also have their quarterback of the future.
Freshman Connor Mitch is regarded as the quarterback of the future.
Mitch is the highest rated quarterback recruit during Spurrier's time with South Carolina, so the pressure is on Mitch, but he will be ready for the challenge.
As a freshman, Mitch has the time to develop and will probably get a fair amount of reps at quarterback in the spring game.
He is a pocket passer who has the arm strength and pure quarterbacking skills to have a great career with the Gamecocks.
Mitch will be a fun player to watch in the future, so make sure to watch for him in the 2013 spring game because this kid is quite the talent.
4. D.J. Park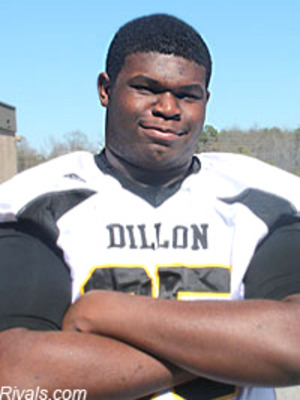 D.J. Park is just a freshman but could have a huge impact on the team in the near future. (Via Rivals.com)
South Carolina is trying to put together a sturdy offensive line that can protect its quarterback and establish blocks for the running game and the Gamecocks have young talent on the line.
Freshman D.J. Park is huge at 6'6" and 335 pounds. Not only is Park a lineman of huge proportions, but he also has the power and experience in run-blocking to provide depth at right guard.
Park can overpower defensive lineman and this should be on display at the spring game.
Watch for Park's mobility as a blocker and how well he gets out of his stance. If he can hold his own as a freshman and show some confidence at the position then these are good and promising signs for the future of the South Carolina offensive line.
5. The Linebackers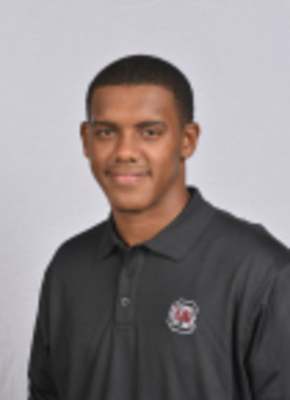 T.J. Holloman is impressing in the film room and will look for that translate to on-field success during the spring game. (Via GamecocksOnline.com)
South Carolina is searching for the right combination of linebackers and will shift around a lot during the spring game.
Redshirt freshman T.J. Holloman has huge potential due to his film room success and football intelligence.
Holloman should see some significant time in the spring game, but there are plenty more linebackers to look for on Saturday.
Sophomore Kaiwan Lewis and Holloman will split time shifting between the "Mike" and "Will" linebacker positions as the team searches for options while redshirt sophomore Cedrick Cooper recovers from a knee injury.
South Carolina will also test out redshirt junior Sharrod Golightly and redshirt freshman Jordan Diggs for the "Spur" linebacker position. Golightly has the early edge this spring to start, but a strong spring game performance from either player could make or break the decision for who receives the nod as the starter this fall.
These linebackers are all young and need experience at their positions, so watch for these youngsters to try and establish themselves as linebackers during the spring game.
6. The Shaq Roland and Shamier Jeffery Competition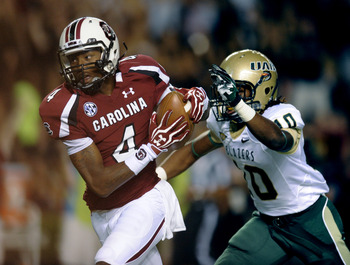 Shaq Roland lacks experience, but is impressing his coaches so far this spring.
Mary Ann Chastain/Getty Images
Spurrier has expressed that sophomore Shaq Roland is making catches and playing well in practice.
Roland is trying to earn the title of No. 1 wide receiver, but is amidst a heated competition with redshirt sophomore Shamier Jeffery.
Jeffery is having a good spring so far and will look to make some big plays that tighten up the position battle with Roland.
Regardless of their spring game performances, Roland and Jeffery will have significant roles in the passing game in the fall.
These two young receivers are fighting back and forth at practice, putting in all of the hard work and ready to show their skills in the spring game.
Watch out for Roland to separate himself from Jeffery as one of the team's top receiving options.
7. Kick Returners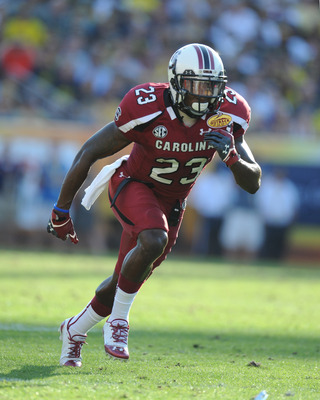 Bruce Ellington could be one of the team's top returners in the fall.
Al Messerschmidt/Getty Images
Special teams is an essential component of the game and when a team can get some help from its returners, it can go a long way.
South Carolina has multiple options for kick returners this season.
According to The Times and Democrat, "Bruce Ellington, Victor Hampton and Brandon Wilds did some light work at kickoff return. The first two did the returning and Wilds was blocking. Roland also got a few reps at return late in the drill."
Ellington and Hampton have the speed to stand out as return men, but Roland could also be a strong option.
All of these guys should get some reps during the spring game and maybe junior Damiere Byrd will also try a few returns because he is an elite speed player and a track and field star.
8. Kelvin Rainey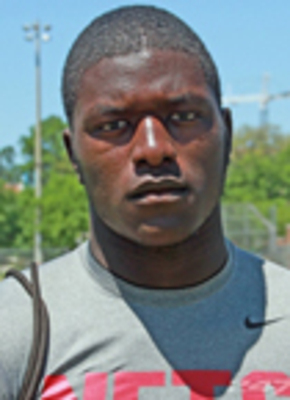 (Via GamecocksOnline.com)
Redshirt freshman Kelvin Rainey was expected to play tight end, but with the need for linebackers, Rainey has been shifted to play either the Mike or Will linebacker position.
Rainey is very athletic and has the size and instincts to match up with tight ends and bigger receivers due to his offensive experience.
He is a raw player though with little experience on defense. Rainey has showed promise in practice, but the spring game is a bigger stage and he will need a good performance to maintain his track of snagging some playing time at linebacker this fall as needed.
Rainey is one of the more interesting players to watch in the spring game because he is inexperienced and unproven, but with a lot of upside.
9. Tight End Usage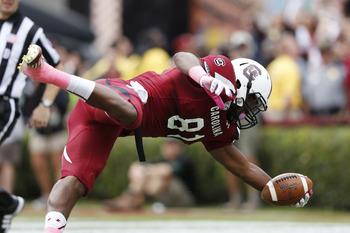 Rory Anderson is huge and has great hands, which is a deadly combination for a tight end.
Joe Robbins/Getty Images
Junior tight end Rory Anderson is long at 6'5" and has great big play ability.
Anderson is the ideal red-zone receiver since he can jump up and snatch the ball while out-muscling smaller defensive players.
The Gamecocks also have sophomore Jerrell Adams who is 6'6" and adds to the matchup issues that he can create for opposing defenses.
These two tight ends can create impossible mismatches throughout the 2013 season and need playing time in the spring game where they can show their talents.
Anderson and Adams are extremely talented and can be key parts of the offense if used properly.
Keep an eye on these two during the spring game in the receiving game as well as their blocking.
10. The Depth Players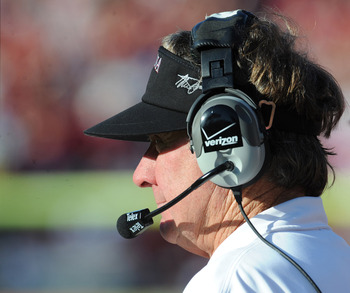 Spurrier knows that depth is a key factor in competing for a national championship.
Al Messerschmidt/Getty Images
The spring game is a time for players who do not receive as much playing time because they are further down the depth chart.
Injuries and other factors can take their toll on a team, so the players that are further down the depth chart need to be able to step up.
The spring game is the opportunity for third and fourth string players to make their case for more playing time and to show that they can play when needed.
Keep an eye on lower depth chart offensive lineman, linebackers and defensive backs as these are positions where depth may be needed throughout the season.
The Garnet and Black Spring Game is a great opportunity to see what the Gamecocks have accomplished this spring and a chance to look forward to the 2013 season. It is also a glimpse into the future of South Carolina football, so look out for these 10 things on Saturday.
Keep Reading

South Carolina Football: Like this team?