Texas Football: 10 Greatest Wins of the Mack Brown Era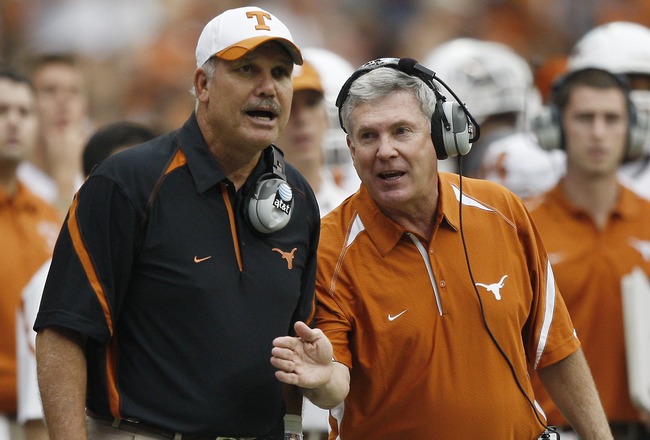 Bob Levey/Getty Images
Since Mack Brown first took the reins for the Longhorns in 1998, he has turned Texas into the brand-name program into what it is today.
Despite the recent bumps in the road stemming from the Colt McCoy Era, Brown has made the necessary and extensive moves to reform the Longhorns into a perennial powerhouse again.
From Major Applewhite to Chris Simms to Vince Young to McCoy, Brown has had a number of legitimate quarterback options leading the charge. Accordingly, all managed to reel off a flurry of memorable victories, some better than others.
A national championship performance obviously tops the charts, but what other triumphs make the cut?
No. 22 Texas A&M, Nov. 2000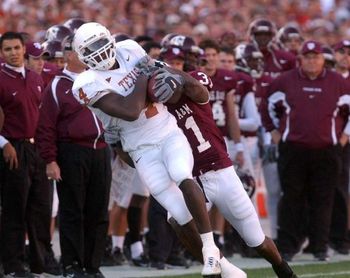 http://ww4.hdnux.com/photos/04/14/70/1101367/3/628x471.jpg
In what was one of the truly dominating wins against the Aggies in the Mack Brown Era, the Longhorns used a 27-10 third quarter advantage to finalize a 43-17 rout.
In the third quarter alone, Roy Williams scored twice while Sloan Thomas and B.J. Johnson caught 55-yard and 70-yard touchdown catches, respectively.
Chris Simms, meanwhile, overcame two interceptions and threw for three touchdowns in what was, at the time, the first landslide victory over the Aggies during the Brown Era.
No. 6 Texas A&M, Nov. 1998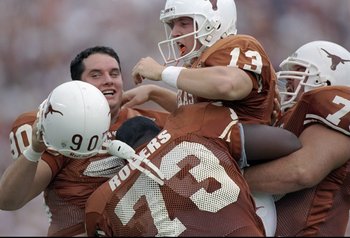 Brian Bahr/Getty Images
Thanksgiving night in college football became synonymous with Texas versus Texas A&M, and although that tradition has since vanished, the memorable rivalry still lives on.
The Longhorns have been no strangers to late-game heroics, and Kris Stockton's 24-yard, game-winning field goal with five seconds left is a prime example of clutch performances.
In Mack Brown's first season in Austin, he recorded his first win over the Aggies.
A stiff Texas defense held Texas A&M to negative seven rushing yards and only eight first downs.
No. 10 Ohio State, Jan. 2008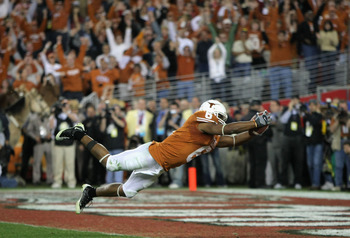 Doug Pensinger/Getty Images
The 45-35 win over then-No. 1 Oklahoma earlier in the season easily provided a strong argument for a national championship appearance, but that was all history.
The Longhorns earned a Fiesta Bowl berth that year, meeting an Ohio State team laced with great talent like Terrelle Pryor and Beanie Wells.
But behind a Colt McCoy-led spread offense, Texas engineered a late, 78-yard drive finished with a 26-yard touchdown pass to Quan Cosby to grab a 24-21 lead with just 16 seconds to play.
Texas ran for only 54 yards on the night, but the 414 yards passing on 41 completions was just enough to have the 'Horns come from behind on the BCS stage.
No. 21 Washington, Dec. 2001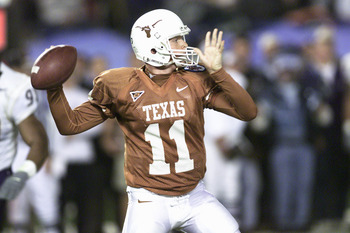 Stephen Dunn/Getty Images
An epic 27-7 fourth quarter rally provided the impetus for Texas to come from behind to snatch a 47-43 Holiday Bowl victory over Washington.
Major Applewhite, currently the co-offensive coordinator for the Longhorns, was the figurehead at quarterback who led the comeback.
Applewhite threw a pair of touchdowns, and Ivan Williams rushed for two more scores in the final frame, including a three-yard touchdown with 38 seconds to play.
In the annals of the Mack Brown Era, this was the first significant come-from-behind victory on such a big stage.
No. 3 Nebraska, Oct. 1999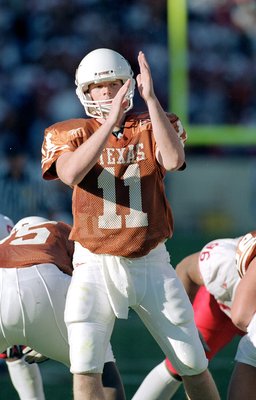 Brian Bahr/Getty Images
Receiver Mike Jones caught one pass on the day, but it proved to be the most critical.
A 17-yard touchdown catch from Major Applewhite made it 24-20 with less than six minutes to play as the 'Horns squeaked past the No. 3-ranked Cornhuskers in Austin.
Texas managed just three points in the first half, but a 21-7 advantage in the second half was just enough to seal the victory.
The Longhorns rushed for just 62 yards, but in recovering three of Nebraska's five fumbles, they were able to control a strong Nebraska team.
No. 7 Nebraska, Oct. 1998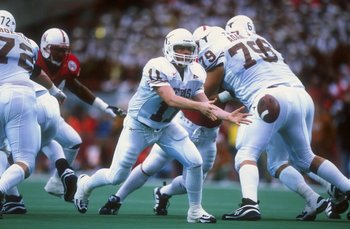 Brian Bahr/Getty Images
Nebraska had become a perennial powerhouse, and winning in Lincoln was never easy.
With less than three minutes to go, Major Applewhite's two-yard touchdown pass to Wane McGarity finished a 14-play, 85-yard drive to make it 20-16, a lead that the 'Horns would keep until the final whistle.
It was Mack Brown's first season in Austin, and he made a huge statement with a win away from home against the No. 7 team in the country.
Texas A&M, Nov. 2011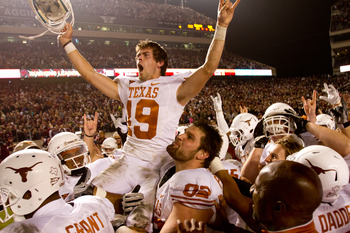 Darren Carroll/Getty Images
Justin Tucker provided the final boot in what was the end of a storied rivalry between the Longhorns and Aggies.
While Tucker's 40-yard, game-winning field goal was part of a very mediocre 8-5 Texas campaign, the win was every bit as emotional as a postseason bowl win, as it closed the door on a traditional rivalry with big implications on state politics.
The 27-25 triumph on Thanksgiving night made Texas' 8-5 season that much more enjoyable, despite the struggles the program had suffered in recent years.
No. 1 Oklahoma, Oct. 2008
Ronald Martinez/Getty Images
In a season where the Longhorns were arguably robbed of a BCS National Championship appearance, their 45-35 win over No. 1 Oklahoma was the center of controversy.
Colt McCoy threw for 277 yards, 234 of which were split between Quan Cosby and Jordan Shipley, en route to one of the more exciting Red River Rivalry games in recent memory.
Oklahoma appeared to jump out in front early, grabbing a 14-3 lead after a Ryan Broyles touchdown early in the second quarter. But a subsequent 96-yard kickoff return for a touchdown from Shipley started a trading wave of scoring shots with the 'Horns finding the end zone twice within four minutes to seal the contest.
Although the Longhorns would lose their No. 1 ranking less than a month later in Lubbock, the win over the Sooners was a huge stepping stone in Texas' pathway to the Fiesta Bowl later that season.
No. 13 Michigan, Jan. 2005
Jed Jacobsohn/Getty Images
In the 2004 Rose Bowl, Vince Young gifted audiences with a thrilling performance that would set the stage for a national championship run the following season.
Five total touchdowns on 372 total yards was just enough to give Dusty Mangum a shot at a 37-yard field goal attempt to win the game. Needless to say, the senior kicker converted the game-winner as time expired, giving the Longhorns a landmark victory over one of the nation's premier programs at the time.
Against the likes of Chad Henne, Michael Hart, Braylon Edwards and Steve Breaston, Texas was able to get the best of the Blue and Maize with the likes of Young, Cedric Benson, Romance Taylor and Bo Scaife.
No. 1 USC, Jan. 2006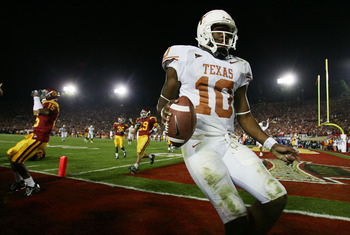 Donald Miralle/Getty Images
Arguably the greatest individual performance in a national championship game, Vince Young carried the Longhorns to a 41-38 victory over the top-ranked Trojans at the Rose Bowl.
In the peak in the Mack Brown Era, Young's 200 rushing yards and 267 passing yards lifted Texas to its first national championship since 1970.
Young's 8-yard touchdown run on 4th-and-5 forever will resonate in the annals of college football history.
To this day, the 2005 National Championship win ranks as the top victory during the Brown era.
Keep Reading

Texas Longhorns Football: Like this team?