Jimmie Johnson dominated from start to finish on Sunday, leading 347 laps at Martinsville Speedway to win the 2013 STP Gas Booster 500. The victory was the eighth of Johnson's career at the half-mile track.
The Sprint Cup event featured plenty of thrilling moments, including a 12th-place finish from Danica Patrick.
Let's take a look at how Sunday's race unfolded.
Two of NASCAR's most recognizable faces were battling for the lead early on as pole-sitter Jimmie Johnson and Kyle Busch looked to be the two fastest early on at the Big Paper Clip:
PHOTO: Enjoy this inside look at the battle for the lead @martinsvilleswy #NASCAR twitter.com/NASCAR/status/…

— NASCAR (@NASCAR) April 7, 2013
ESPN NASCAR researcher Matt Willis tweeted out these interesting statistics as Johnson and Busch went back and forth:
Since start of 2008, @jimmiejohnson has 10 wins from the pole, @kylebusch has 5 and no other driver has more than 2. #NASCAR

— Matt Willis (@MattWillisESPN) April 7, 2013
ESPN The Magazine senior writer Ryan McGee pointed out a surprising milestone Johnson achieved during Sunday's race and also makes a very good point:
Jimmie has now led more than 14,000 laps i his career. I don't care what you're doing, 14,000 of anything is a lot. #NASCAR

— Ryan McGee (@ESPNMcGee) April 7, 2013
As Johnson's domination continued, Hendrick Motorsports was quick to acknowledge its driver's accomplishments:
Cool stat from the @nascaronfox broadcast - this is the 11th time @jimmiejohnson has led 100+ laps @martinsvilleswy. #NASCAR

— Hendrick Motorsports (@TeamHendrick) April 7, 2013
As the race wore on, rubber began building up on the track causing issues for some of the drivers:
#NASCAR … Talk on radio channels that track is slightly taking on rubber.

— Dustin Long (@dustinlong) April 7, 2013
At a short track like Martinsville, blocking becomes that much more important, as pointed out by Joey Dennewitz:
Interesting how blocking has been a topic lately and how much of it has been going on all through the field today.. #NASCAR

— Joey Dennewitz (@Spinnawitz) April 7, 2013
Johnson looked to have the strongest car in the field all day long, and about midway through the race, LardZeppelin tweeted what many of us were thinking:
Martinsville is a one groove track again today. Hard to pass. With a car as good as Johnson is, it may be hard to beat him. #nascar

— LardZeppelin(@LJoines) April 7, 2013
One of the day's biggest surprises was Jamie McMurray, who was running up front throughout on Sunday, which earned him a few shoutouts from those following the action on Twitter:
I've been most impressed by McMurray today. Really good day for him so far. #NASCAR

— Whitney Richards (@Whit_R) April 7, 2013
While McMurray ran toward the front, fan favorite Dale Earnhardt Jr. fell off from the leaders, fading toward the middle of the pack, and NASCAR writer Chris Hughes may have the reason for Junior's slide:
Earnhardt dropping back."Real tight in the middle, spinning the tires coming off". He's now in P10. #NASCAR @speedwaydigest

— Chris Hughes (@ChrisHughes151) April 7, 2013
Junior, who came into the day as the Sprint Cup points leader, brought out a caution after spinning out late and would go on to finish 24th.
Late in Sunday's race, Ryan Newman, who won at Martinsville last April, was hit with a harsh penalty from NASCAR for bringing out the caution flag intentionally, according to The Sporting News' Jeff Owens:
Newman gets popped with big penalty - 3 laps - for intentionally causing a caution. He slowed on track with flat tire. #nascar

— jeffowensSN (@jeffowens_SN) April 7, 2013
With fewer and fewer laps remaining, the action began heating up and drivers pushed the pace making for some intense racing late. Kurt Busch's car caught fire with 13 laps to go, bringing out a red flag and putting the finish on hold for a bit.
Business picking up at Martinsville. Drivers all over each other. #nascar

— LardZeppelin(@LJoines) April 7, 2013
Kurt Busch's day is ended with his car in flames. #NASCAR

— FOX SPORTS: NASCAR (@NASCARONFOX) April 7, 2013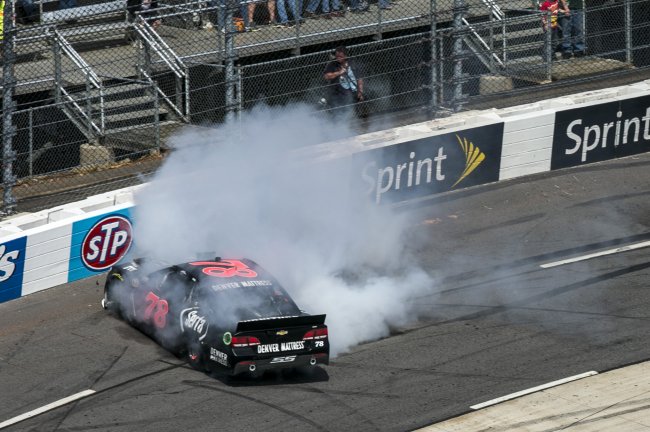 USA TODAY Sports
After they got the track cleaned up, the green flag finally dropped for the final time with just eight laps to go. Yet despite some nervous moments late, Johnson would take the checkered flag after leading more than 69 percent of Sunday's race.
He'll take home yet another grandfather clock for his effort.
Race Leaders
Sunday's top finishers, via NASCAR.com.
| Place | Driver | Car |
| --- | --- | --- |
| 1 | Jimmie Johnson | Chevrolet |
| 2 | Clint Bowyer | Toyota |
| 3 | Jeff Gordon | Chevrolet |
| 4 | Kasey Kahne | Chevrolet |
| 5 | Kyle Busch | Toyota |
| 6 | Brad Keselowski | Ford |
| 7 | Jamie McMurray | Chevrolet |
| 8 | Marcos Ambrose | Ford |
| 9 | Greg Biffle | Ford |
| 10 | Mark Martin | Toyota |
Recap and Analysis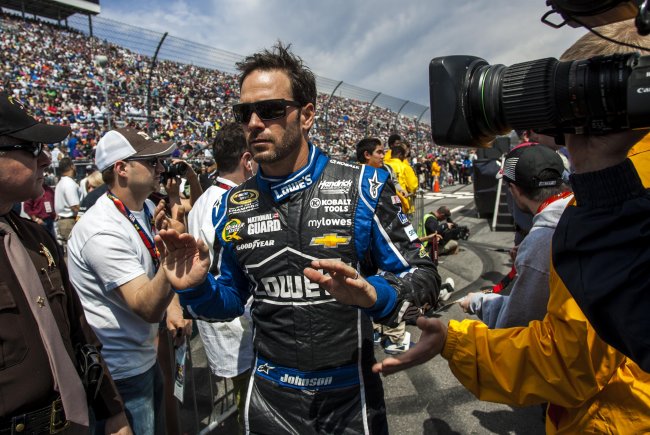 USA TODAY Sports
While Clint Bowyer, Matt Kenseth and Kyle Busch were all strong on Sunday, Jimmie Johnson had far and away the best car, leading 347 of 500 total laps.
Even when Bowyer and Busch looked ready to overtake Johnson, he just got faster.
Johnson's performance shouldn't come as that big a surprise, though, as he had the fastest car in qualifying and was dominant in practice this weekend. Plus, he had won 10 previous races in which he started on the pole coming in, setting up No. 11 on Sunday.
The five-time Spring Cup champion's victory is impressive, but given his decorated past at Martinsville, we shouldn't be all that stunned at his dominance there this weekend.
Follow Bleacher Report Featured Columnist Patrick Clarke on Twitter.