USC Trojans Football: 6 Things to Look for in the Spring Game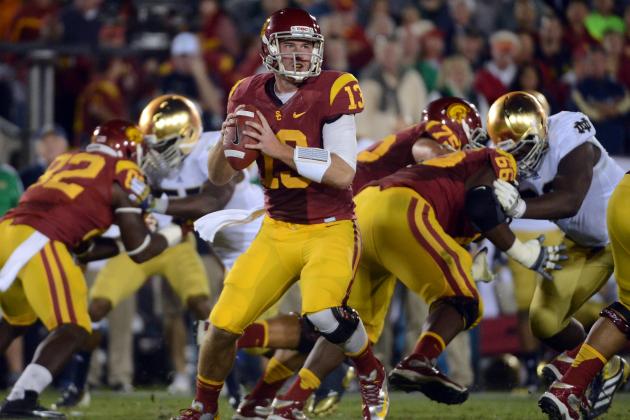 Harry How/Getty Images

USC fans will get their first glimpse of how Trojans football might unfold in 2013 when their men of Troy take the field for their spring football game at the Coliseum on April 13.
On that day, the future becomes now for a team looking to wash away the stain of a disappointing 7-6 ledger from 2012.
In order to accomplish this, wholesale changes were made by head coach Lane Kiffin, which culminated in the replacement of several coaches and a revamping of the defense, including installing a whole new scheme on that side of the ball.
For Kiffin and his staff, these changes must result in a significant improvement for the cardinal and gold, or it is likely that more changes will take place following the season, this time featuring a new set of coaches.
With this in mind, what should Trojans fans be looking for in the spring session game?
This slideshow will offer some areas that bear scrutiny for those who follow the program, and while there are certainly other things to keep an eye on, here are the ones I will be following closely.
Begin Slideshow

»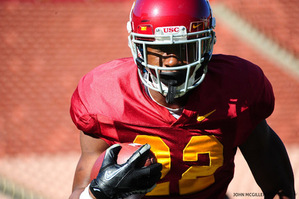 photo from usctrojans.com
When USC welcomed its seven high school players who enrolled early, it was widely assumed that the youngster who would make the most impact would be quarterback Max Browne, safety Su'a Cravens or perhaps defensive tackle Kenny Bigelow.
And while all of the above mentioned players have been great, it has been running back Justin Davis who has turned the coaches' heads.
After running for 116 yards in 17 carries and a touchdown in USC's Saturday scrimmage, Davis has made a believer out of his head coach to be certain.
According to Garry Paskewitz of ESPN.com, Kiffin had this to say about his precocious, young running back, "I can't imagine a guy (Davis) having more of an impact in just a month of practice. He is so natural; he sees things really well running our offense. It's possible for him to be the number one tailback."
Heady praise for such a young player and a great reason to keep an eye on him in the spring game.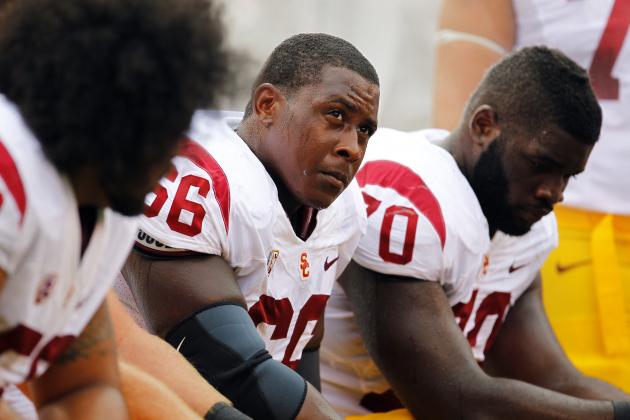 Rich Schultz/Getty Images
Aundrey Walker
"What the Trojans need is to return to smash-mouth football!"
This is the mantra being sung by disgruntled fans who believe the "big uglies" of the offensive line have lost their physical edge in the last couple of years.
To remedy this, these same fans will be looking for the O-line to physically dominate their opponents and, in doing so, bolster a running game that will be needed to take pressure off of a passing game that welcomes a new permanent starter at quarterback.
It won't be easy, though, and fans should pay attention to the performance of two players in particular in this unit.
Left tackle Aundrey Walker will need to finally live up to the promise expected of him after a spotty 2012 season saw him lose his starting gig to true freshman Max Tuerk late last year.
Walker has looked good so far in camp, and he will have to maintain that effort as the new season approaches.
The other player to pay attention to is new center Marcus Martin, who will attempt to fill the enormous shoes of the now-departed Khaled Holmes.
Martin appears to be a natural at the position, and he will have to be with this position being the "general" of the offensive line.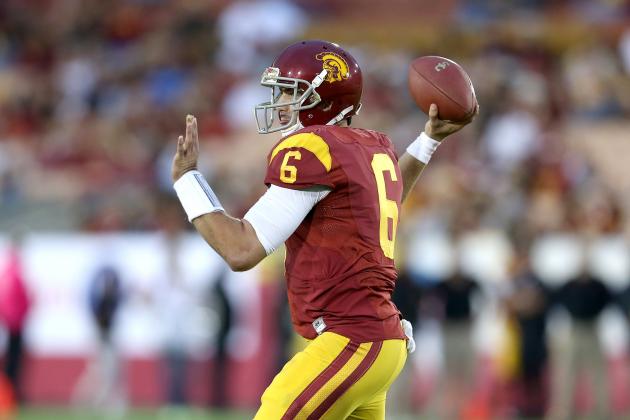 Stephen Dunn/Getty Images
Cody Kessler
As the quarterback battle continues between Max Wittek, Cody Kessler and true freshman Max Browne, the first session of the two practice camps will culminate with a mini dress rehearsal known as the "spring game."
While Lane Kiffin is not expected to name a starter until at least mid-way through the fall, this game may provide a glimpse into his thought process as he attempts to find the guy to lead the USC offense in 2013.
So far this spring, Kessler has been impressive, but Wittek and Browne have shown flashes as well.
This makes the quarterback unit a squad to keep an interested eye on during the spring game.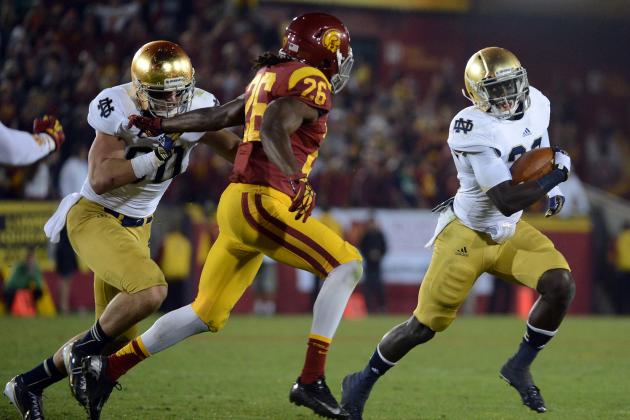 Harry How/Getty Images

With a USC defense looking to answer significant questions in 2013, the biggest query will involve the effectiveness of a beleaguered pass defense that saw the Trojans finish a disappointing 52nd in the nation last year.
The troubling news for fans of the program is that so far, the secondary has looked even worse in the spring.
This is particularly true of the cornerbacks who have struggled to cover USC's talented cadre of receivers.
With new defensive coordinator (and secondary coach) Clancy Pendergast having to replace the entire backfield, close scrutiny will have to be paid attention to this unit.
Fans should also do the same to see what progress is being made by this shaky unit before the season starts.
Harry How/Getty Images

With each passing practice, an already bloated injury roster grows, and as it does, the furrow lines of concern spread across Kiffin's and his coaches' faces.
Already operating with a squad that has 10 less scholarship players due to the NCAA sanctions, USC can ill afford to absorb a multitude of injuries, yet this is where the Trojans stand so far in the spring practice session.
The larger concern is that substitution rotations will be significantly affected as players lower on the depth chart are forced into action.
And though most of the injured players will be back for the fall camp, these players pressed into action now will be the guys USC counts on for depth for the 2013 season.
To what extent these players are effective is a question that needs to be answered and thus should preoccupy fans attention during the spring game.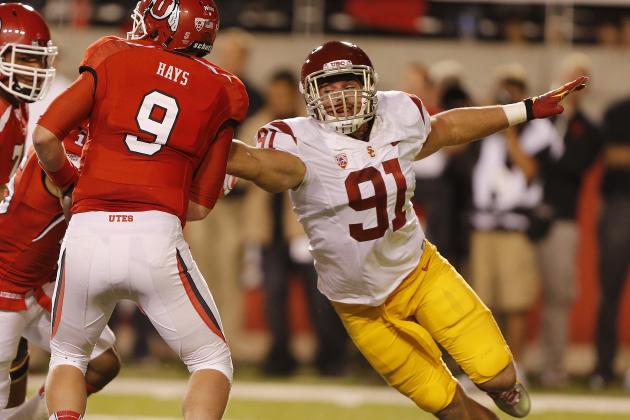 George Frey/Getty Images
Morgan Breslin
Beyond the questions surrounding the suspect secondary is a greater focus on Clancy Pendergast's new 3-4 defense.
Sometimes taking on the look of a 5-2 alignment, the move from USC's familiar 4-3 base defense has been instituted in response to the abundance of spread offenses found in the Pac-12 these days.
So far in spring—with the exception of the aforementioned problems with the cornerbacks—the move looks productive especially in the performance of the front seven.
As a matter of fact, the defensive line and linebackers appear to be very comfortable with the new scheme, as they have been dominant during recent practice sessions.
With the defense being the focus of the coaching staff's attention, fans should do the same when watching the spring game.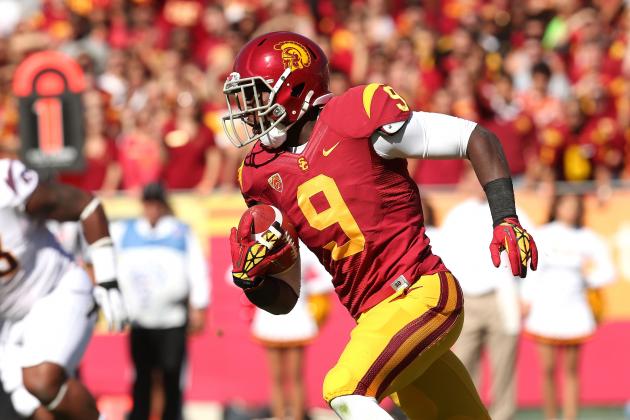 Stephen Dunn/Getty Images

Of course, in addition to the variety of concerns profiled here, there are other things Trojans fans should monitor when watching the game on April 13.
Position battles will abound, and fans should pay special attention to the "Will" linebacker spot—where Anthony Sarao and Lamar Dawson are neck-and-neck for the starting gig—and the tussle at receiver, where Nelson Agholor appears to have locked down the spot opposite Marqise Lee but uncertainty abounds as to who else will enter the rotation.
But more important than any individual battle will be the overall "look" of a team that must find its swagger in order to return as one of the nation's elite programs.
For all concerned, USC needs to find its mojo as soon as possible, and that will only happen by gaining confidence in the offseason.
A big step toward that goal begins in the spring game where fans of the program will watch with rapt interest.