Iowa Football: 6 Things to Look for in the Hawkeyes' Spring Game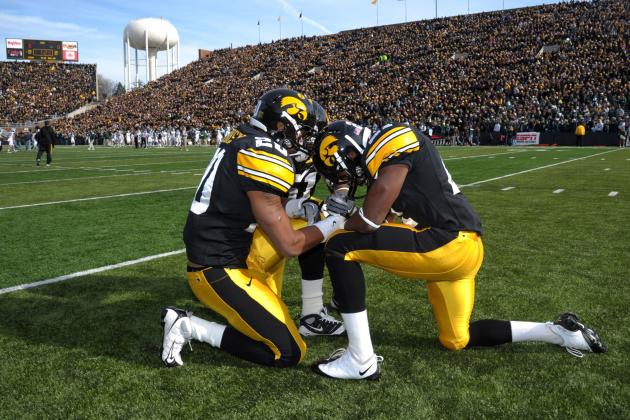 Kirby Lee-USA TODAY Sports

This Saturday, Kirk Ferentz and the Iowa Hawkeyes will hold the spring...ahem...game for those fans who will venture to Kinnick Stadium to see their team suit up for the last time until August.
As Iowa fans know, the Hawkeyes hold a "controlled scrimmage," which is a fancy phrase for glorified practice.
Typically, the team stretches and does calisthenics for 30 minutes, does drills for 30 minutes, skeleton drills for another 30 minutes and then a highly controlled situational scrimmage for the final half hour.
Sure, it's not going to bring in 81,000 fans a la Ohio State's 2012 spring game (per sportsbusinessdaily.com), but it's unlikely anyone gets hurt.
Besides there is still plenty to watch for, as the following will report.
Begin Slideshow

»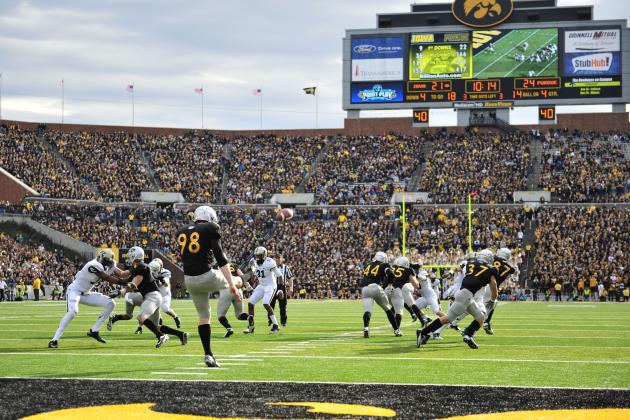 Byron Hetzler-USA TODAY Sports

Punting may be boring, but for a team that relies on field position as much as Iowa does, punting is pretty important.
Last season, true freshman Connor Kornbrath was 97th in the country with a 37.92 average. This was despite not taking pooch punts, which was a job that fell to senior quarterback-turned-pooch-punter John Wienke.
Kornbrath will need to be more consistent in 2013, and according to FightforIowa on Iowa blog Blackheartgoldpants.com, Kornbrath looked good in the open Des Moines practice.
In fact, even thus-far-disappointing Australian transplant punter Johnny Mullings had his moments in Des Moines.
Punting may be boring, but it is no small part of Iowa's overall gameplan.
Jake Rudock via Jim Slosiarek of KCRG
The three candidates for the starting job are sophomore Jake Rudock, JUCO-transfer Cody Sokol and redshirt freshman C.J. Beathard.
None of them have taken even one snap of FBS football.
Per Kirk Ferentz (via Scout.com), the quarterbacks have rotated every two plays throughout the spring.
Over the course of the offseason, multiple writers and analysts—such as Hawkeyegamefilm on Hawkeyenation.com—have said the same things about the three signal-callers: Rudock has the best grasp of the offense and is the most consistent. Beathard has the highest ceiling but is raw. Sokol is the best athlete and most physically mature of the bunch.
Rudock was slightly better than the others at the Des Moines open practice. According to Marc Morehouse of the Cedar Rapids Gazette,
Rudock looked the most comfortable. He seemed to see the field a little better than the other two and was a touch more accurate.
However, Beathard previously had the hot hand, as evidenced by the Big Ten Network's Gerry DiNardo tweet following an Iowa practice:
@mitchiniowa79 @hawkeyegold03 Hard to say watching one practice but I thought Beathard had the best day today

— Gerry DiNardo (@gerrydinardo) April 12, 2013
Meanwhile, Sokol has remained quietly in the running.
In the final spring practice, is any one quarterback definitively better or getting more reps? Has one quarterback fallen out of the running?
In 2012, the Iowa rush defense allowed 4.11 yards per carry—its worst performance since 2000, Kirk Ferentz's second year at the helm.
The defense also had 13 sacks, tied for 115th in the country. This last statistic played no small part in the Hawkeyes allowing their opponents to convert 43.43 percent of their third downs (47.50 percent in conference play).
The last time we saw the defensive line—albeit in a controlled situation—it was getting consistently beaten by the offensive line.
Since then, the line has had more practices and more time to grow.
Have any playmakers emerged, particularly off the edge? Is there anybody in the front four who will terrorize opposing quarterbacks the way past Hawkeyes linemen Matt Roth, Mitch King and Adrian Clayborn did?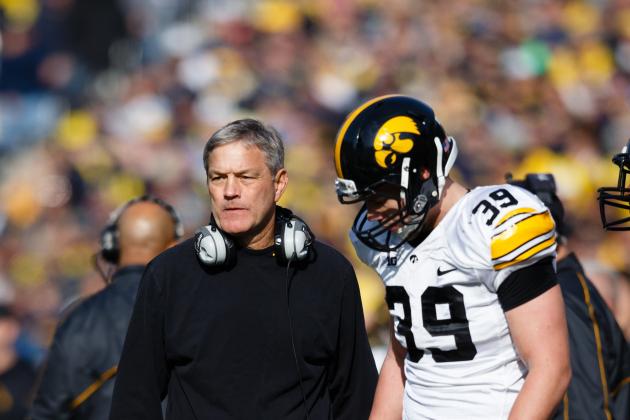 Rick Osentoski-USA TODAY Sports

For better or worse, the first team linebackers are a known quantity at this point.
Middle linebacker James Morris has been a starter for three seasons. Strong-side linebacker Christian Kirksey will be a three-year starter. Weak-side linebacker Anthony Hitchens will finish as a two-year starter.
However, they are all seniors. In effect, the backups' development is key for 2014.
According to the depth chart, junior Quinton Alston is No. 2 in the middle, and sophomores Cole Fisher and Travis Perry backup the weak side and strong side.
Versatile linebackers are imperative to Iowa's defense, and as Adam Jacobi recently brought up on Blackheartgoldpants.com, a large part of the defensive failures over the last two years has been the linebackers' lack of improvement.
Looking forward, how do the backups look? Would any of them be ready if a starter were injured tomorrow? Are they ready to lead the defense?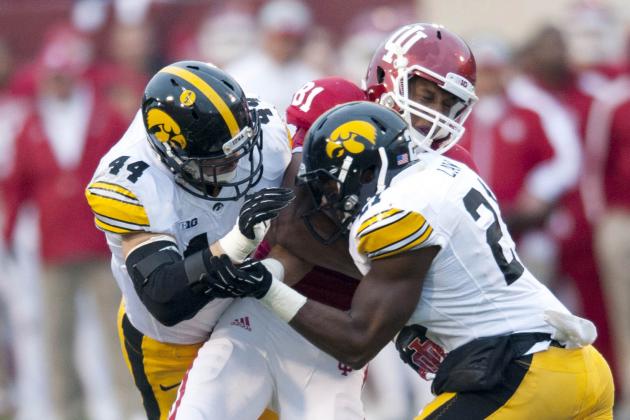 Jerry Schultheiss-USA TODAY Sports

Starting strong safety Nico Law missed the Des Moines open practice due to a minor injury.
Hopefully, he will be back for the open practice.
Strong safety is a key element to Iowa's leverage-dependent defense, and the defense has been best when it has had all-conference-caliber strong safeties such as Bob Sanders and Tyler Sash.
Last year, the safeties looked lost for much of the season.
Law, who started the final four games, was the Hawks' most athletic safety, and he was solid in run support, but he had issues in coverage.
Does he look better this year? Has his development been aided by defensive coordinator Phil Parker's return to coaching the secondary?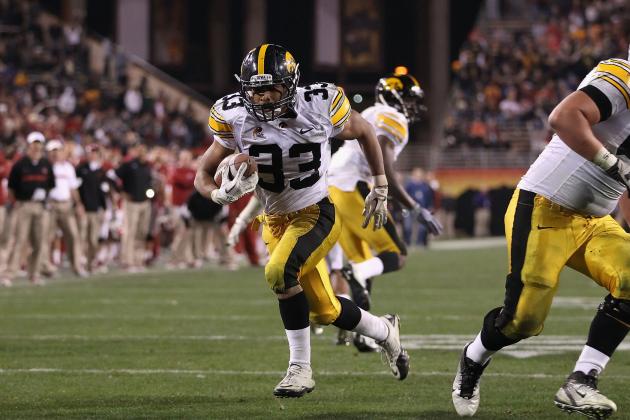 Christian Petersen/Getty Images

The big change on the spring depth chart was the addition of a Y-back and the omission of a fullback.
However, the fullback seemed and seems to be as much a part of the offensive scheme as it ever was. It would be a shame if it does come to pass, as the fullback severely limits what the offense can do.
Nevertheless, Iowa has a good amount of versatile talent at running back and tight end.
How does the offense employ that talent?
Is Iowa operating mostly out of the I-formation or are there more ace sets with multiple tight ends and receivers?
How often is Mark Weisman working out of the fullback position and how often is he at tailback? Are Damon Bullock and Jordan Canzeri operating out of the backfield or the slot? How often are two or even all three of them on the field at the same time?
This question, as much as any other, will determine Iowa's offensive success in 2013 and going forward.