Georgia Football: Is Hutson Mason Ready to Be Aaron Murray's Heir Apparent?
Use your ← → (arrow) keys to browse more stories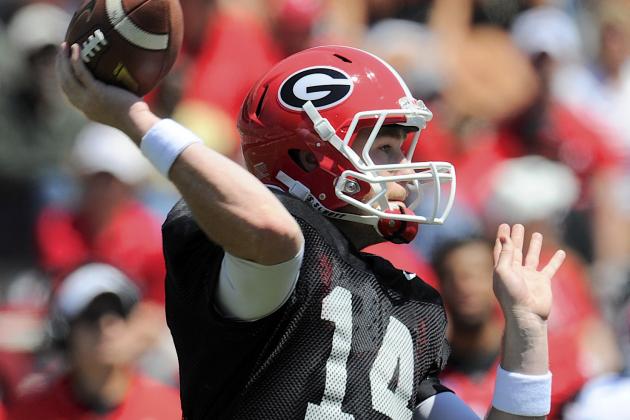 Dale Zanine-USA TODAY Sports

The 2013 season for the Georgia Bulldogs will be Aaron Murray's final season and he could very well break every major SEC passing record by the end of the year.
This season also means that the coaches have to get another quarterback ready to take over in 2014 so the Bulldogs will be in contention to win the SEC East.
Hutson Mason has been the backup for Murray and he is slated to be the starter next season. The question is, is Mason ready to be Murray's heir apparent?
Based on how Mason has looked in limited action the last few years as well as this spring, there is no question Mason is ready to take over once Murray leaves.
The coaches got Mason ready at the start of the 2012 season. They gave Mason a redshirt so he would be a year behind Murray and they would give him at least one year to be the starter. Mason did play in the G-Day game last year and was 9-of-12 for 133 yards and one touchdown.
He was able to have the same results in this year's spring game as he went 16-of-27 for 191 yards, threw a touchdown and led the Black team to a 23-17 win.
Mason has seen minimal action in 2010 and 2011, but he has completed nearly 60 percent of his passes, thrown three touchdowns and zero interceptions.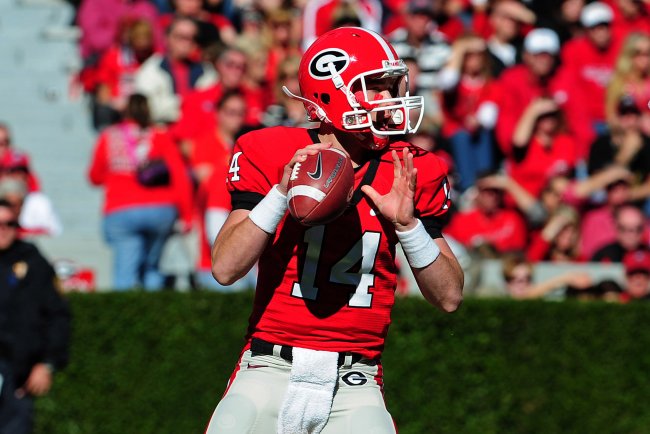 Scott Cunningham/Getty Images
But it's not so much what he has done in mop-up duty or in the last two spring games that make Mason ready to take over as UGA's signal caller next season.
The players really started taking notice of Mason this spring. The two scrimmages the Bulldogs played in were Mason's time to shine, and he did just that. In the first scrimmage, Mason threw for 186 yards and one touchdown. In the second scrimmage, Mason was 8-of-14 for 154 yards and two touchdowns.
The players liked the way Mason took control of the huddle, and they also like the way he doesn't back down from anybody. According to the UGA newspaper, the Red and Black, Mason and linebacker Amarlo Herrera got into a little scuffle during the first scrimmage. Linebacker Jordan Jenkins was impressed by how Mason stood up for himself.
Head coach Mark Richt said that Mason did a good job in the first scrimmage and he is more than capable of running the show.
This scenario is similar to what David Greene and D.J. Shockley went through almost 10 years ago. After Greene left UGA in 2005 as one of the most successful quarterbacks in school history, Shockley took over and led the Bulldogs to an SEC title and an appearance in the Sugar Bowl.
Will Mason have the same success? Only time will tell, but like Shockley was in 2005, Mason will be more than ready to be the leader for the Bulldogs once the Murray era comes to an end.