Giovani Bernard: Video Highlights for Former North Carolina RB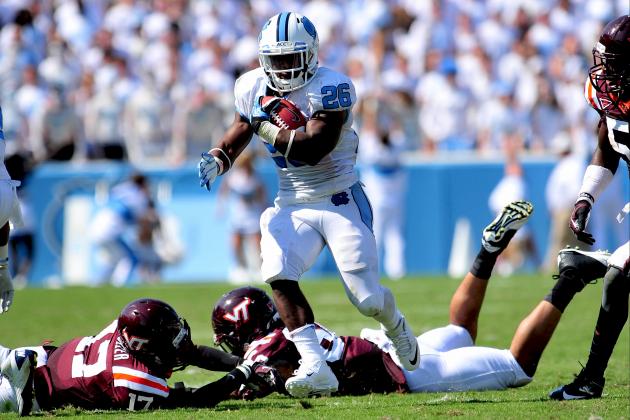 Lance King/Getty Images
Giovanni Bernard could be the most dangerous weapon out of the backfield in this year's draft.
Former North Carolina running back Giovani Bernard could be the most dangerous prospect at the position in this year's draft. Not only is he a threat on the ground, he is also a great option as a receiver.
Bernard does have some durability concerns after sustaining multiple injuries during his collegiate career. However, his sheer athleticism and raw talent have him pegged as a potential early second-round selection.
A running back with this kind of explosiveness has a long history of highlights. Here are some of his best performances from his tenure at North Carolina.
Begin Slideshow

»
This run encompasses everything that Bernard is as a runner.
He gets a quick pitch to the weak side of the field. He is very careful to keep his eyes locked up the field and follow his blockers toward the sideline.
Once the edge has been sealed off, he quickly accelerates around the corner while keeping his balance to stay inbounds. He then hits a second gear and scampers up the sideline into the open field.
From there, it is just a footrace and Bernard's speed wins out against Elon's secondary.
Yet another aspect of Bernard's game that makes him such a weapon is his ability to return.
On this punt return, he benefits from some nice blocking. However, he maintains the same technique that he uses coming out of the backfield.
He allows his lead blocks to develop in front of him before he chooses his lane. He patiently runs behind them while keeping his vision locked upfield.
Once his blockers are settled in, he makes a quick decision to bounce to the outside and uses his great acceleration to get there before the coverage unit can react.
By the time Bernard is hitting full stride up the sidelines, he simply outruns everyone on the field.
This play is very simple to diagnose.
It is a complete sellout on both the offensive and defensive sides. Each has all 11 players stacked up in the box.
The things to highlight in this run, however, is Bernard's insanely fast acceleration through the line and his ability to sustain his speed throughout a long run.
Bernard gets great blocking by his offensive line here and does not get touched on this run, but still shows why he is a threat every time he touches the ball.
This punt return is not much different from the one he broke off against Elon.
However, it goes to showcase Bernard's consistency as a ball-carrier. He still waits for his blocks to develop, picks his lane, accelerates quickly and beats everyone with his straight-line speed.
This punt return may in fact be more impressive than the last. Bernard breaks this one with only about 20 seconds left in the game. This goes to show what kind of stamina he has after playing an entire football game.
This is a very unique highlight from Bernard, but it may also be his best.
When the ball is snapped, watch Bernard peel off slowly to the weak side of the field as he looks for the ball in the flat.
Bernard is not running at all when the ball is caught by a North Carolina receiver 20 yards downfield. After running another 20 yards (40 total yards now), the ball is stripped by a defender.
Just as the ball comes out, Bernard pops up on the screen and sacrifices his body to go for the recovery. He stabilizes his balance and scoops up the ball for the touchdown after running 60 yards down the field.
He never gives up on the play and his effort pays off to the fullest extent.
This compilation of Bernard against Miami from the 2011 season touches on all aspects of his game.
First, he showcases his ability to be an inside rusher. He is very capable of following blockers and running successfully between the tackles. He keeps a good, low pad level and keeps churning his legs to finish runs with authority.
Next, we see how dangerous he can be in the passing game. He takes a screen pass, allows his blocks to develop and gains positive yardage with his speed in the open field.
When Bernard catches the football, he is easily seen to be a natural hands catcher. He does not catch with his body and his soft hands allow for high completion percentages.
Also, Bernard showcases his ability to bounce to the outside and beat defenders to the edge with his acceleration. He shows very nice cutback ability as well.
In one game, Bernard showcased his ability to be a very complete and dangerous running back.