UFC on Fuel 9: Live Results, Play-by-Play and Fight Card Highlights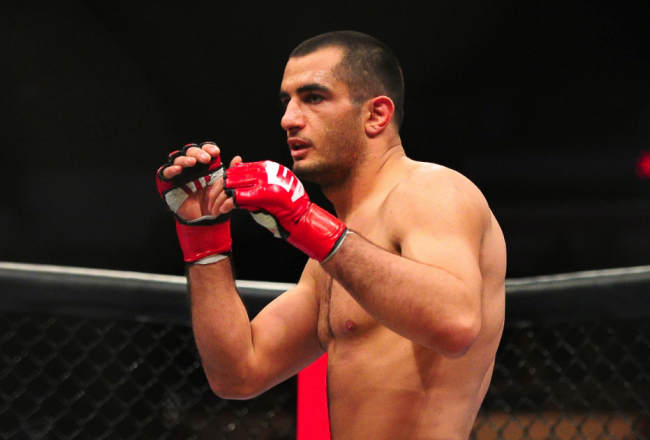 UFC on Fuel TV 9 is upon us.
With preliminary action beginning on Facebook at 10:30 a.m. EST, the UFC's latest work promises to begin your weekend with a healthy dose of mid-morning violence.
Mmm.
Stick around for live results, play-by-play and fight card highlights as the action unfolds.
See you then.
Main Card Results:
Gegard Mousasi defeats Ilir Latifi via unanimous decision
Ross Pearson defeats Ryan Couture via TKO, Round 2
Matt Mitrione defeats Phil De Fries via KO, Round 1
Brad Pickett defeats Mike Easton via split-decision
Diego Brandao defeats Pablo Garza via arm-triangle choke, Round 1
Akira Corassani defeats Robbie Peralta via unanimous decision
Preliminary Results:
Papy Abedi defeats Besam Yousef via split-decision
Tom Lawlor defeats Michael Kuiper via guillotine choke, Round 2
Ryan LaFlare defeats Ben Alloway via unanimous decision
Conor McGregor defeats Marcus Brimage via KO, Round 1
Adlan Amagov defeats Chris Spang via unanimous decision
Tor Troeng defeats Adam Cella via rear-naked choke, Round 1
Reza Madadi defeats Michael Johnson via anaconda choke, Round 3
I love the UFC, and I respect what they do, but I'm going to close this by saying that was an awful main event. Yes, the injury ruined a much better matchup, but that was borderline inexcusable. Worst main event of 2013, by far.
Thanks for following along, ladies and gentlemen. Feel free to shoot any questions or comments to my Twitter account, @HunterAHomistek. I'm always happy to talk MMA (or anything else for that matter).
So...That was really a #UFC main event in 2013.

— Sean Smith (@SeanSmithMMA) April 6, 2013
Adios, friends.
No question, Mousasi won that fight easily, but I really expected better from him. What do you think? He certainly doesn't look like a worthy challenger for Chael Sonnen, that's for sure.
Round 3
I can only type "Mousasi jabs Latifi" so many times, so from here on out, assume that is happening unless I say otherwise.
Latifi tries a spinning high kick, and it actually looked pretty smooth. Props to the big man. Too bad he was 12 feet short on the attempt.
Mousasi is starting to land with his jab and his straight right at will. This could get ugly.
Nice right hand counter from Latifi. That was definitely his most significant strike of the fight for him. Still, Mousasi ate it without a problem. The jab game resumes.
Quick note, Latifi's cardio has impressed me thus far. For a short notice fight and him being such a stocky, muscular dude, I assumed he would be done after Round 1, but he's still moving well as Round 3 comes to a close.
Mousasi throws a leg kick, and drops to his back in an attempt to work his bottom game. Latifi postures and throws some bombs, but none land, and Mousasi looks for an armbar as the round ends. It was a welcome change of pace, but nothing of much significance went down.
10-9, Mousasi
Official Decision: Gegard Mousasi defeats Ilir Latifi via unanimous decision (30-27 x3)
Round 2
Mousasi looks slightly more engaged in the early going of Round 2, and he continues to jab Latifi. The Swede counters with looping punches that don't land.
Latifi is getting more and more active as the round progresses, and the crowd roars with every strike he throws. Mousasi's jab is still sharp, but Latifi's counters are honing in.
Guys, Ilir Latifi is making his UFC debut in front of his home crowd in the night's main event. He's never fought anybody of recognition (Emmanuel Newton, maybe?), but here he is. Just making sure that set in for you.
More jabs from Mousasi. It looks like the wily veteran will be content to jab his way to victory in this one, and it's working. Latifi's face is busted up, but he has not slowed or relented.
Mousasi jabs his way into Round 3. That was pretty much a carbon copy of Round 1, and the big-time upset is looking pretty unlikely at this point.
10-9, Mousasi
Round 1
Well, this is fun...in a Couture/Toney kind of way.
Mousasi establishes control early, and he looks sharp in the early going. Latifi is one stocky dude, and he's coming up short on everything he throws so far. Mousasi is carrying his hands low, but Latifi hasn't capitalized yet.
One minute gone.
Latifi shoots for a takedown, but it is stuffed by Mousasi. The two continue to trade jabs, and Latifi throws one of the craziest haymakers I've ever seen. He missed and almost fell because of how completely he threw his weight into it. Wow.
Two minutes left in the round. Mousasi doesn't look too interested in pursuing a finish or really pouring it on Latifi yet. The Swede, to his credit, doesn't look as outmatched as many expected thus far.
Mousasi's jab is finding a home on Latifi's mug, and Latifi beings to taunt Mousasi in an attempt to bait him into a brawl. Mousasi does not care. What a calm man.
Round 1 ends with some more jabbing and taunting.
10-9, Mousasi
Gegard is about to fight in the main event of his UFC debut. Or, judging by the looks of it, he's also waiting for the bus. Can't tell.

— Luke Thomas (@SBNLukeThomas) April 6, 2013
Mousasi looking PUMPED.
Where does Latifi sit in the division if he pulls this off?
Main event: Ilir Latifi vs. Gegard Mousasi up now
Latifi out to the "Rocky" theme. Original.
Ross Pearson says he thinks he broke his foot warming up in the back with his coach. Still got the KO. Very impressive #UFC

— Damon Martin (@DamonMartin) April 6, 2013
Pearson reveals that he thinks he broke his foot warming up for this fight. Kudos to him for fighting through it and securing the big victory.
Ross Pearson secures the big win over Ryan Couture. Is Pearson primed for a run in the division, or is he just a talented gatekeeper?
Bold proclamation by B/R's Matt Saccaro.
Ryan Coutoure is like Alexander Emelianenko. We wouldn't know about them if not for their last names. Average fighters.

— Matt Saccaro (@MattSaccaro) April 6, 2013
Agree?
Round 2
Pearson looks more comfortable in Round 2, and the round opens with the two trading hands. Pearson lands a nice left hook, and Couture forces the clinch against the cage. Smart. They break, and Couture lands a nice combination that ends in a head kick.
Pearson lands a couple nice right hands in succession, but Couture walks through them. An attempted takedown from Couture is easily avoided. More circling and stalking, and the crowd is getting a bit restless. Nice left hook from Pearson, but Couture takes it in stride.
More standup in this round, but Couture is fighting smartly.
Until that.
Pearson trips Couture, follows him to the ground and cracks him with a hard punch as they scramble. Couture is wobbled, and Pearson's killer instinct takes over, resulting in a furious finish.
Couture can take a punch, but not 20 in a row.
Official decision: Ross Pearson defeats Ryan Couture via TKO, Round 2
Round 1
How good is Ryan Couture? We will soon find out.
A quick takedown from Couture is shrugged off by Pearson, and the two clinch against the cage. Couture landing some knees, but none of his strikes are doing any damage yet. Couture drops for a takedown, but Pearson again defends.
More clinch work from Couture. Pearson has been forced to fight on the defensive so far, and that is definitely not his specialty. Nothing's happening.
Nothing's happening...
Nothing's happening...
Couture secures a quick takedown, but Pearson pops right back up. They clinch briefly but separate. Now we get to see some striking. Couture utilizing his movement and reach to stay away from Pearson. This is a smart fight for Couture, but it's not fun. Spinning back kick to the thigh from Couture.
More movement, more jabs from Couture, more stalking from Pearson. Pearson lands a knee, but Couture grabs him and they clinch against the cage. Pearson lands a big left hook on the break from the clinch.
Pearson opens up a bit more as the round ends, but the horn interrupts the action.
Couture by emulating his dad in the first...

— Earache (@stlhdh2o) April 6, 2013
10-9 Couture
Ross Pearson vs. Ryan Couture up now
They could have fit a whole other event in the break between the last fight and this one. People in the arena must be asleep.

— Bloody Elbow (@BloodyElbow) April 6, 2013
Early finishes are fun, but this break is not. Plus, it subjects us to repeated showings of that damn UFC 159 promo.
Ugh.
Alright, a Steak-Umm and a Sam Adams Dark Depths has satisfied my nutritional needs for the time being. Let's hop back into the action on Fuel.
Another filler fight, this time Michael Johnson vs. Reza Madadi. If you haven't seen it, it's a good 'un. Enjoy. I need some nourishment. See you in a bit.
Flawless. RT @ryanloco So here's the plan. Mix Dr Pepper 10 with NOS energy drink. Then do 50 spins and watch the UFC 159 promo.

— Ben Fowlkes (@benfowlkesMMA) April 6, 2013
Any of you want to vomit and then wallow in shame for three days? If so...
Official decision: Matt Mitrione defeats Phil De Fries via KO (body bump), Round 1
Oh, and get De Fries out of the UFC.
Replay shows that Mitrione landed a quick right hand as De Fries shot for the takedown, leaving De Fries stunned. From there, some vicious ground-and-pound polished off the effort.
Did Mitrione just knock him out with his chest?

— Joe Ferraro (@ShowdownJoe) April 6, 2013
Needless to say, the beginning of the end in that one was strange, but Mitrione handled De Fries exactly as anticipated. That was brutal.
Round 1
Both fighters come out quickly, and De Fries looks for a takedown eight seconds in.
And it's over.
De Fries knocked himself out going for a takedown. I can't make this up. He is even worse than I thought.
Oh my.
Here's hoping De Fries is okay in all seriousness, because Mitrione ruined him once he went down.
Harsh alert: I don't think very highly of Phil De Fries' skills at this level. I will give him his due credit if he exceeds expectations, but I will also be harsh if (when) he performs as he has in the past.
Matt Mitrione vs. Phil De Fries up next
I'm leaning heavily toward Mitrione. I don't see how De Fries wins this one aside from a stray punch or a drastic lapse in concentration from Mitrione on the ground.
Hmmm. Somebody scored that fight for Mike Easton? Interesting.

— Jeremy Botter (@jeremybotter) April 6, 2013
B/R's Jeremy Botter and I are definitely on the same page here. I don't know how you give two rounds to Easton in that. It was close, sure, but...
This article is
What is the duplicate article?
Why is this article offensive?
Where is this article plagiarized from?
Why is this article poorly edited?