Invicta 5 Results: Ranking the Top 15 Females in Each Division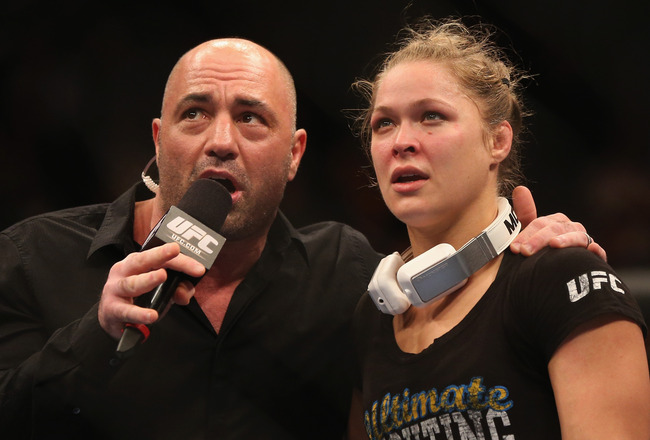 Jeff Gross/Getty Images
Women's MMA had a big shakeup in the rankings this month, as Invicta 5 brought a number of highly entertaining female bouts. Two champions were crowned, and fans who paid to watch the fights got their money's worth.
Michelle Waterson and Barb Honchak earned the gold around their waists with their respective victories. Waterson tapped out champion Jessica Penne, while Honchak won the vacant title with an impressive outing against Vanessa Porto.
In the aftermath of Invicta 5, here are the top 15 women in each division.
Featherweight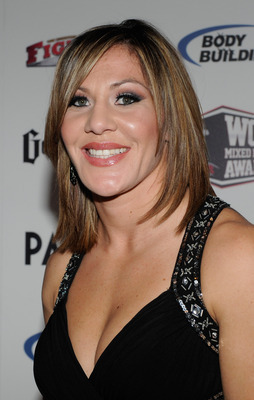 Ethan Miller/Getty Images
1. Cristiane "Cyborg" Justino
2. Marloes Coenen
3. Ediane Gomes
4. Julia Budd
5. Elaina Maxwell
6. Milana Dudieva
7. Germaine de Randamie
8. Romy Ruyssen
9. Hiroko Yamanaka
10. Yana Kunitskaya
11. Amanda Lucas
12. Veronica Rothenhausler
13. Tamikka Brents
14. Ashley Sanchez
15. Katalina Malungahu
Cris Cyborg has made her return, and the featherweight division looks to be back in her grasp. The former Strikeforce queen returned at Invicta 5 to score a brutal knockout over Australian grappler Fiona Muxlow.
She will probably meet Marloes Coenen in her next fight to crown the Invicta featherweight champion. Coenen's last win also came over Muxlow, so a rematch with Cyborg will hopefully prove prosperous, as she was defeated by her a couple years ago.
Further than that, not much has shaken up the division. Surging Canadian Julia Budd continued her dominant ways, choking out Mollie Estes at Invicta 5 in the third round.
The division is becoming relatively light in talent now that 135 pounds is the prosperous division. That being said, the top five in the division are all extremely talented and are making waves in the WMMA community.
Bantamweight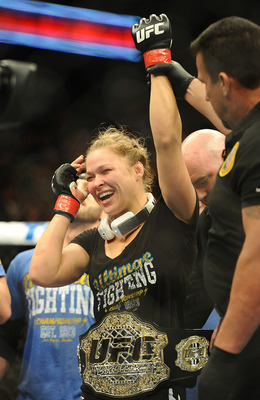 Jayne Kamin-Oncea-USA TODAY Sports
1. Ronda Rousey
2. Miesha Tate
3. Sara McMann
4. Sarah Kaufman
5. Cat Zingano
6. Alexis Davis
7. Liz Carmouche
8. Shayna Baszler
9. Sarah D'Alelio
10. Leslie Smith
11. Amanda Nunes
12. Hitomi Akano
13. Lauren Taylor
14. Rin Nakai
15. Julie Kedzie
The bantamweight division is the most spotlighted division in WMMA, and it's all thanks to media darling Ronda Rousey. The top-ranked female has really brought a great amount of attention to the ladies with her mouth and impressive performances.
After her, there are a number of ladies jockeying for position in the wide-open division. Miesha Tate and Cat Zingano will meet next week, with the winner getting a coveted spot as a coach on The Ultimate Fighter and a title shot.
Sarah Kaufman won an exciting, yet controversial split decision over Leslie Smith at Invicta 5. Both ladies have proven to be among the best in the world.
Expect to see more of these top-rated females migrating over to the UFC.
Flyweight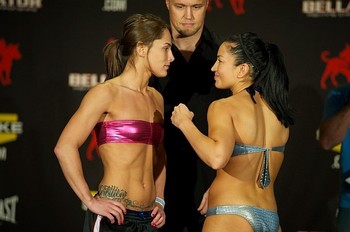 realcombatmedia.com
1. Jessica Eye
2. Barb Honchak
3. Vanessa Porto
4. Rosi Sexton
5. Sheila Gaff
6. Jennifer Maia
7. Michelle Ould
8. Aisling Daly
9. Munah Holland
10. Zoila Gurgel
11. Tara LaRosa
12. Marianna Kheyfets
13. Julia Berezikova
14. Kalindra Faria
15. Tonya Evinger
The flyweight division may be the forgotten division of WMMA. Despite this, it is home to some of the best and most exciting female fighters in the world.
Bellator employs top-ranked Jessica Eye, who recently backed out of a fight with Munah Holland due to injury. Her biggest win to date came against 10th-ranked Zoila Gurgel, who continued her decline at Invicta 5 with a loss against Jennifer Maia.
Barb Honchak took the Invicta 125-pound championship with her workmanlike decision over Brazilian Vanessa Porto. She now has a claim at the top spot in the division, and a fight down the road with Eye, if possible, would be fantastic.
Rosi Sexton and Sheila Gaff are top-five talents in the division, but they will move up to bantamweight in their next fights, as they are now employed in the UFC. Gaff meets Sara McMann in her debut, while Sexton scraps with Alexis Davis in her bout.
This division is really strong and deserves more spotlight.
Strawweight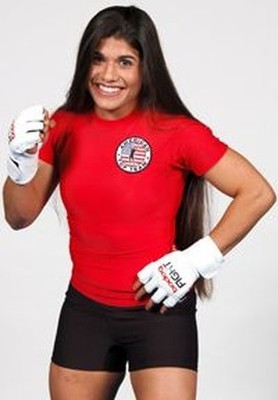 prommanow.com
1. Jessica Aguilar
2. Megumi Fujii
3. Carla Esparza
4. Ayaka Hamasaki
5. Felice Herrig
6. Katja Kankaanpaa
7. Joanne Calderwood
8. Seo Hee Ham
9. Mei Yamaguchi
10. Bec Hyatt
11. Tecia Torres
12. Stephanie Eggink
13. Rose Namajunas
14. Mizuki Inoue
15. Patricia Vidonic
The strawweight division is heating up, as talent is developing nicely and fights are entertaining the masses.
Atop the division is Bellator's Jessica Aguilar, who looked flat in her latest outing against 15th-ranked Patricia Vidonic. That win solidified her top position, but it did not turn many heads.
Invicta champion Carla Esparza is ranked third and is currently awaiting a top contender to challenge her for the belt. Her wrestling and developing striking have made her a serious threat for the top spot in the division.
Felice Herrig moved up the ladder with her latest win over Heather Clark. She out-struck and out-grappled the Greg Jackson product after a disaster of a first round.
The rest of the division is filled with promising up-and-comers. Notably, 13th-ranked Rose Namajunas moved up the rankings following her 12-second flying armbar at Invicta 5.
Atomweight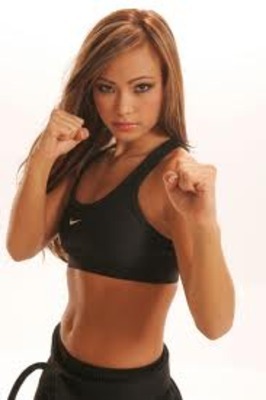 knuxx.com
1. Michelle Waterson
2. Jessica Penne
3. Lisa Ellis
4. Simona Soukupova
5. Alex Chambers
6. Naho Sugiyama
7. Cassie Rodish
8. Jodie Esquibel
9. Lacey Schuckman
10. Stephanie Frausto
11. Amy Davis
12. Nicdali Rivera-Calanoc
13. Kikuyo Ishikawa
14. Diana Rael
15. Yasuko Tamada
The atomweight division has a new No. 1 and a new Invicta champion. Michelle Waterson won an amazing fight via armbar when she took the 105-pound title off of Jessica Penne.
Simona Soukupova and Alex Chambers make their debut on the 105-pound rankings after successful bouts at Invicta 5. Soukupova submitted Cassie Rodish with a guillotine choke, while Chambers earned a tap via rear-naked choke against Jodie Esquibel.
The rest of the division is up for grabs. Atomweight has the least amount of fighters competing in it, so one win will likely propel a fighter up the list.
Keep Reading