Michigan Football: 5 RS Freshmen Impressing in Spring Ball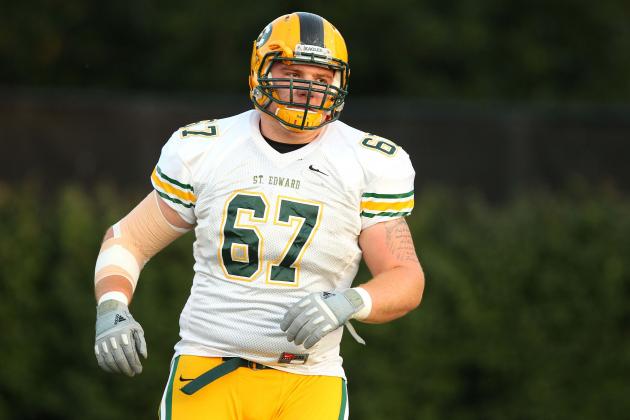 Danny Wild-USA TODAY Sports

This Michigan team has plenty of youngsters who are loaded with potential and can't wait to make an impact.
Spring ball has been a good opportunity for us to see which redshirt freshmen are ready to step up and let their presence be known.
To qualify for this list, the player has to specifically be a redshirt freshman, so true freshmen won't be included. Again, these five names aren't only impressing this spring, but are expected to make a big impact in the fall as well.
All information and reports were found at thewolverine.com.
Begin Slideshow

»
Even though Michigan will have Derrick Green and Fitz Toussaint in its backfield this fall, expect Drake Johnson to see plenty of touches as well.
Johnson is extremely fast, yet has the ideal body type, standing 6'0" and weighing 212 pounds. If it didn't mean his year of eligibility would have been wasted, Johnson would have seen action in the Outback Bowl.
However, his redshirt stayed intact and here he is half a year later, looking better than ever.
Johnson should certainly be able to provide this offense with explosive plays, seeing playing time early and often.
This one is a no-brainer. Obviously nothing is set in stone, but it will be very surprising if Braden isn't starting along this offensive line when the upcoming season begins.
He is absolutely massive, standing 6'6" and weighing 314 pounds, and one would assume he'll be an anchor on this line for years to come.
Whether he plays left guard or right guard remains to be seen, but regardless he is in very good position to win a starting job.
I think Tom Strobel is one of the most intriguing young players on this team. Why? Because Michigan is absolutely loaded at defensive end, but by the sounds of it Strobel will still be a crucial part of the D-line rotation.
What does that tell you about not only this kid's talent level, but work ethic as well?
Michigan may play as many as seven or eight defensive ends regularly this year, but it's not out of necessity.
It's because the talent level has risen so much at the position, that some of these backups are too good to keep off the field.
That is precisely the case with Strobel.
It's not surprising to see Kyle Kalis on this list either. Most assume he will be a starter this season at one of the guard spots.
Again, nothing is for sure, though. It will be a surprise if somebody beats out Kalis for a starting job, but it certainly could happen.
If he does wind up starting as a redshirt freshman, he will also be an anchor on this line for years to come.
Heck, some people thought he was good enough to play last year and were actually quite surprised that he did redshirt.
Kalis should see success in 2013, but you have to remember that he is still only a redshirt freshman.
I've already talked about one young defensive lineman on this list in Tom Strobel, but one that may be even better is Chris Wormley.
This kid would have played last year as a freshman if he hadn't gotten hurt and been lost for the season.
Now seemingly fully recovered, Wormley is ready to wreak havoc on opposing offenses. He is also very versatile and could see some time at tackle as well.
Wherever he plays, Wormley should see plenty of time this fall.
The young talent Brady Hoke and this staff have assembled is astonishing, and we will begin to see the first big glimpses of it here in 2013.