Texas Football: 4 Reasons Not to Put Too Much Stock in the Spring Game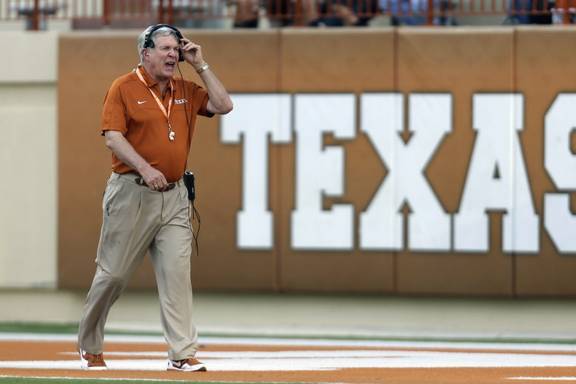 Eric Gay/Associated Press
So the Texas Longhorns played a yawner of a spring game. So what? It is just the spring.
Following an unconvincing showing in the Orange-White Scrimmage, fans and experts are already lowering their BCS-level expectations for this 2013 Longhorn squad. This is understandable given the past three years of utter disappointment, but it is way too early to jump ship.
The new up-tempo offense is still relatively new, the team has been ravaged by injuries and we saw some unexpectedly great performances come out of nowhere. And in case you forgot, it is only the spring.
Begin Slideshow

»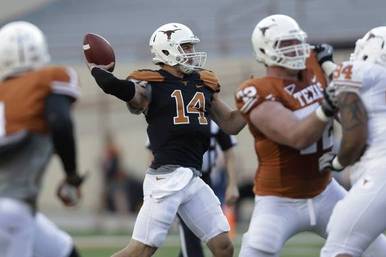 Eric Gay/Associated Press
Longhorns fans will look at David Ash's two-interception performance and groan, "Here we go again." But given how little time this offense has had to learn Major Applewhite's scheme, Ash's performance alone should not have them changing their expectations.
If you include bowl practice, Major Applewhite has only had 25 practices to get his team up to speed on his up-tempo attack. The Longhorns are still learning how to execute this attack, and mistakes like Ash's two picks are to be expected. There is too much that has to happen in the 20-25 seconds following the spot of the ball for the 'Horns to have this already down-pat in such a small time frame.
That is not to say there has not been obvious progress. Ash still completed better than 70 percent of his passes for two touchdowns and his top skill players are ahead of the curve. Especially running backs Malcolm Brown and Johnathan Gray, who combined for 78 yards on just eight carries.
When addressing his record-breaking UCLA basketball teams, coach John Wooden frequently stated his mantra, "Be quick, but don't hurry." Right now, the Longhorns are hurrying at times in an effort to be quick. By the time the falls rolls around, they will be much more accustomed to this pace.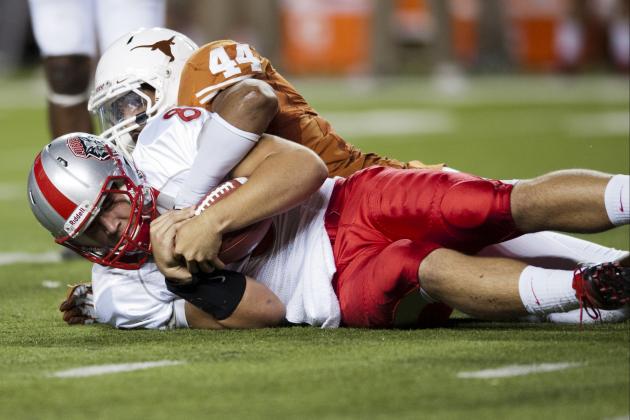 Cooper Neill/Getty Images
Defensive end Jackson Jeffcoat was one of many Longhorns who did not play in the spring game as the result of injury.
Whether it was because of injury or cautionary holdout, many of Texas' top players did not see the field in the Orange-White game. These issues should be alleviated by the fall since improved conditioning is a by-product of an up-tempo offense.
Injuries are as much a part of football as touchdowns and no player is ever fully healthy. But this Texas team has been hit uncharacteristically hard by them this off-season, forcing the 'Horns to use a bevy of backups and walk-ons in their spring game.
Texas was missing three of its five returning starters along the offensive line, held out its best route-runner in Jaxon Shipley, played Quandre Diggs sparingly and shelved its best defensive player in Jackson Jeffcoat. And that is roughly half of the players that were inactive or limited.
Were this an actual game, many of these players would have been on the field, though some in a limited capacity. The spring game is not the time to test your players' toughness, so the coaches made the right choice. After a full summer of conditioning and scrimmaging in an up-tempo attack, most of these players will be back and the team as a whole will look much better.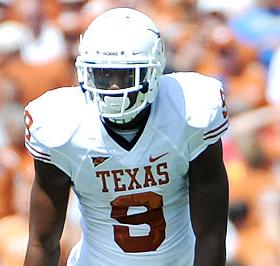 Cal Sport Media via AP Images
On the bright side of Texas' spring injury troubles is the depth that was allowed to prove itself, especially on the defensive side of the ball.
The best example of this from the spring game was defensive end Caleb Bluiett, who directly benefited from the absence of Jackson Jeffcoat and Reggie Wilson. The redshirt freshman turned his opportunity into the best defensive outing on the team, racking up two tackles for loss that cost the offense 14 yards.
The same could be said for wide receiver John Harris, who had the strongest outing of any Texas receiver with four catches for 94 yards. Even Duke Thomas, able to play both ways given strong play in the secondary, had a strong showing in catching three passes. Had Jaxon Shipley not been out or Cayleb Jones not been suspended, neither would have gotten the chance.
This type of depth is crucial for the Longhorns. On offense, the starters are going to need frequent breathers given the pace of play. The same goes for the defense, which struggled mightily to keep up with the similar paces of Oklahoma and West Virginia.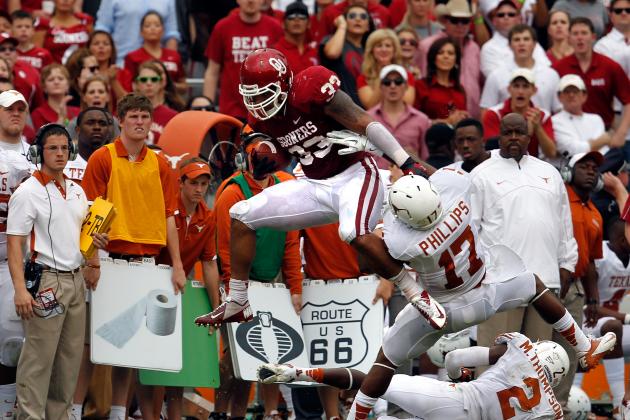 Tom Pennington/Getty Images
Worry about this happening again when it actually happens. Not in the spring.
The final reason Longhorn fans should not rush to judgment following the spring game is because, after all, it is still just the spring.
In 2012's spring game Connor Brewer was the team's most impressive thrower, Jeremy Hills was the team's best running back and David Ash threw the ball six times. During the season, Ash threw the balls over 25 times per game, Hills was fourth on the depth chart and Brewer never saw the field.
The point being that the spring game is hardly indicative of what we see on the field during the season. In truth, it is really just a glorified practice. Yes, it is a great opportunity for young players to show what they have, but there is still five months of practice left before the lights go on.
So take note of the guys like Tyrone Swoopes that made the most of the game, and mark down areas of needed improvement. But do not discount this team's ability to win the Big 12 because of a game it played against itself in March.