The Positives and Negatives of the Buffalo Sabres' Trade Deadline Moves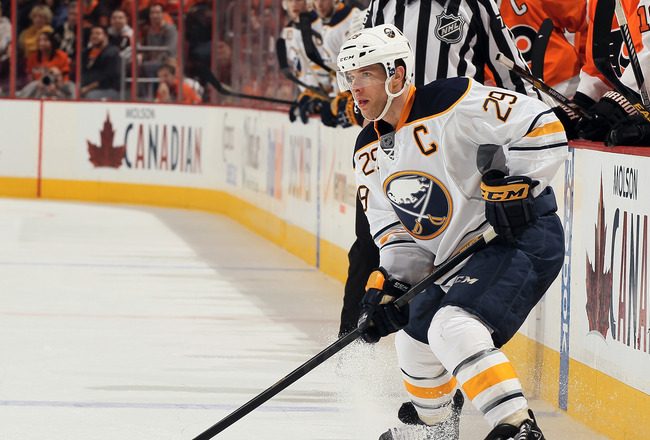 Elsa/Getty Images
The Buffalo Sabres entered a new phase yesterday after their captain Jason Pominville was traded to the Minnesota Wild.
As the Sabres begin to look more and more like the Rochester Americans, it means that not only are the young players going to get more responsibility but that the Sabres are likely to miss the playoffs for the second year in a row.
With three pieces leaving in the past few days, what were the positives and negatives for the Sabres' trade deadline moves?
Positive: Darcy Regier's Haul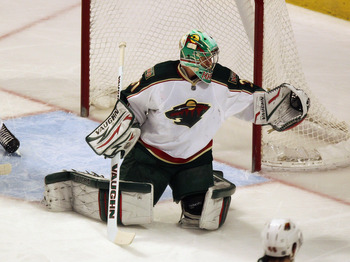 Jonathan Daniel/Getty Images
When a team says that they're going to move three veteran players, fans typically aren't expecting much in return. A few mid-round draft picks and a throw-in player or two is the typical expectation for such a situation.
Not for the Sabres.
General manager Darcy Regier was able to pull an impressive amount from the three teams he dealt with in the days leading up to and at the trade deadline. The Sabres received a top goaltending prospect, a talented two-way center-wing hybrid, a first-round pick in 2013, a second-round pick in 2013, two second-round picks in 2014, a second rounder in 2015 and a fifth-round selection in 2013.
Essentially they received what will equate to seven high-level prospects for two pending unrestricted free-agent defensemen and their captain. Not bad.
Matt Hackett, who was slated as Minnesota's netminder of the future, gives the Sabres some goaltending depth—and a potential tandem for the future if Ryan Miller leaves sooner rather than later.
Jonas Larsson is a talented two-way player that doesn't possess Pominville's scoring touch yet but has shown some talent in the offensive zone. He's scored 37 points in the AHL with the Houston Aeros in 62 games at the age of 20.
The bevy of draft picks gives the Sabres the chance to select four players in the top-60 this year and next year. While draft picks are certainly not "sure things," it allows the Sabres to add to their prospect pool in a significant way.
Negative: Trading Your Captain Is Never a Good Sign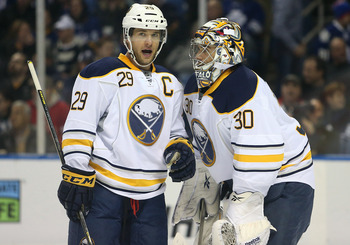 Tom Szczerbowski/Getty Images
If there was ever an admission that the Sabres weren't heading in the right direction, you can be sure that this is it.
Pominville was minted captain last season by since departed head coach Lindy Ruff. He was not your typical "rah-rah" guy in the locker room, but he lead by example, which earned him the respect of his fellow teammates.
But regardless of what you may think of Pominville's leadership skills, he was the team's captain. When a captain gets moved, it means big changes are either under way or imminent. Look at the Calgary Flames and Jarome Iginla and the Dallas Stars and Brenden Morrow. Neither of those teams are coming anywhere near the playoffs this year and rightfully so.
No matter what the Sabres got for Pommers in return, one can argue that they lost on the deal because they traded their captain.
Positive: The Cupboards Are Getting Pretty Full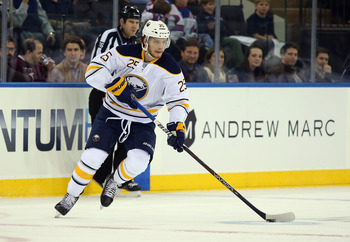 Bruce Bennett/Getty Images
If these trades did anything, they certainly ensured the Rochester Americans are going to be very happy for a long time.
With 10 picks in the top 60 in the next three years, the Sabres have a lot of talent about to enter the organization. Add that to the acquisitions of Hackett and Larsson and Darcy Regier has ensured the Sabres have a lot to work with in the coming years.
And that doesn't even consider what is already in the cupboards.
Mikhail Grigorenko has been even better than he was pre-lockout in the QMJHL since his demotion a few weeks ago. In seven games he has scored 16 points and has led the Quebec Remparts to a first-round victory in the QMJHL playoffs.
Joel Armia has impressed in what will likely be his final season in the Finnish Elite League with Assat Pori, scoring 19 goals in 47 games. He will almost certainly be in North America next season with either the Rochester Americans or the Sabres.
Corey Tropp is back from his ACL injury suffered in the Amerks' first game this year and has looked steady. Mark Pysyk has played well in his emergency stint with the Sabres. Brayden McNabb shook off a shaky start and arguably became the Amerks' best defenseman (he's out for the year with a knee injury).
Needless to say, the Sabres' future is full of some good young players.
Negative: An Uncertain Future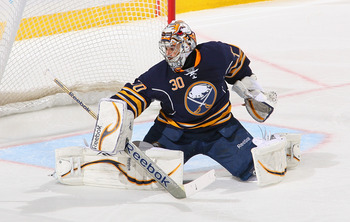 Rick Stewart/Getty Images
While the Sabres hung onto two of their "big three," the writing seems to be on the wall for at least one more of them.
Thomas Vanek and Ryan Miller survived the deadline, but it seems like more than a couple teams were kicking the tires on both of them as well. As one could expect, the prices were high, and that was likely the sole reason a deal wasn't completed for one or both. Teams tend to be more willing to entertain and pull the trigger on team-changing trades during the draft.
While Vanek and Miller still have a year left on their contracts, the writing seems to be on the wall for Miller at least. The acquisition of Hackett is likely a precursor to Miller leaving town sooner rather than later, especially with a vastly improved Jhonas Enroth in the mix.
Vanek is a tougher call because it's no secret that the Sabres' top brass, regardless of whether or not Regier is the GM next season or not, wants to keep him in the fold. He has strong ties to Minnesota (that only got stronger with Pominville's arrival there) but has played his entire career in Buffalo.
A betting man would likely put money on one of them moving in June. The return would and should be large and would further set the Sabres up for the future even more, but that would usher in a period of that dreaded "R" word that Regier refused to say last night.
In reality, we can't know exactly where the Sabres will be on the rebuilding-contending spectrum next season right now.
Overall Impression
Rick Stewart/Getty Images
Overall, the trade deadline can be looked at in two ways for the Sabres.
Short-term, it was really bad for the team. They were clearly sellers, losing their captain and two of their veteran defenseman that surely doubled as veteran leaders in the locker room. There is no question that the Sabres are rebuilding, but the extent to which is still to be answered, likely at the draft.
Given the roster-stripping that has occurred over the past few days, it's a lot more likely that the Sabres will see a top-five pick in the draft than a playoff spot. A top-four pick would guarantee them one of Seth Jones, Nathan MacKinnon, Jonathan Drouin or Aleksander Barkov, any of whom would likely start on the NHL roster in October.
Long-term, the Sabres look great for the future and not Edmonton/Pittsburgh "I was really bad for10 years and got five number one picks" great. There are still some great pieces in place, even ignoring Vanek and Miller. There are a lot of young guns coming through the pipeline in Grigorenko, Zemgus Girgensons and Armia.
While this deadline may be hard to swallow now, hopefully it still won't be in a year or two, but that's the thing isn't it; you just can't know.
Follow me on Twitter for NHL and Sabres news all season: @SwordPlay18.
Keep Reading