Marquette Basketball: Final Report Card for Golden Eagles' 2012-13 Season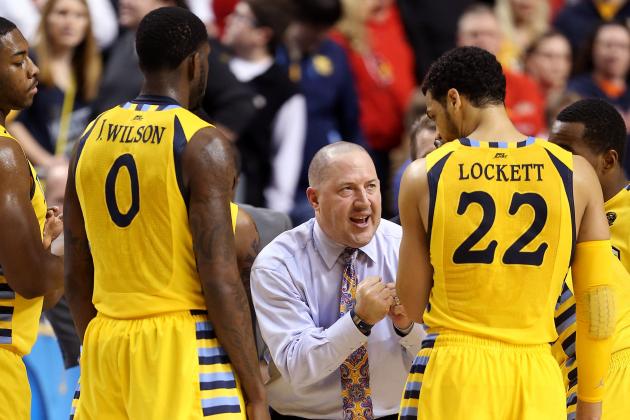 Andy Lyons/Getty Images

Marquette was projected to be a middle-of-the road potential NCAA Tournament squad in 2012-13, according to experts prior to the 2012-13 season. I, on the other hand, thought quite highly of the Golden Eagle's chances, as evident in this article. http://bleacherreport.com/articles/1311893-5-reasons-marquette-wont-miss-a-beat-despite-losing-crowder-and-johnson-odom
Marquette did not miss a beat despite losing two NBA Draft picks following the 2011-12 season, in the form of Jae Crowder and Darius Johnson-Odom. Instead, Buzz Williams's team was even better than the year before, winning a share of the Big East and advancing to the Elite Eight.
This was Williams' third straight Sweet 16 appearance, but only the first time he got over the hump by winning and advancing to the Elite Eight. You can be sure he'll want to take that a step further in 2013-14 though, as he returns a very capable squad hungry for a Final Four appearance.
Nonetheless, this past season far exceeded nearly everyone's expectations for Marquette and offers a bright glimpse of this program's future under Williams. Here is a look back at this season's rotation players, and what they brought to the table.
Begin Slideshow

»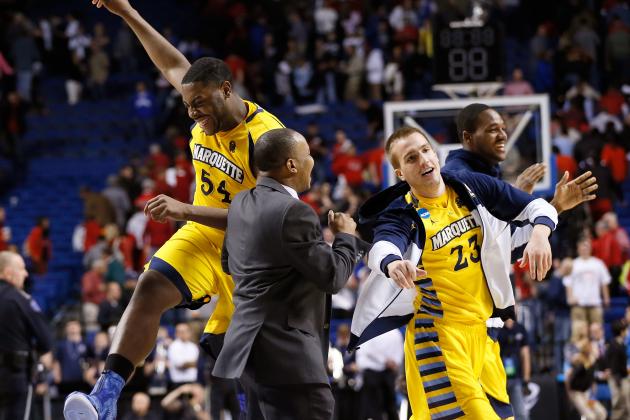 Kevin C. Cox/Getty Images

After sitting out the entire 2011-12 season due to transfer regulations, Jake Thomas suited up this past year for the Golden Eagles in what turned out to be his only season dressing for them. As of earlier this week, it was confirmed that the redshirt junior Thomas will be transferring from Marquette.
Thomas came to Milwaukee from South Dakota, where he averaged over 13 points during his two seasons there. As a Golden Eagle, Thomas only averaged 1.8 points, while struggling from behind the arc at a 27 percent clip, way down from his shooting averages prior to coming to Marquette.
Thomas's two season highlights were a four-point play against Syracuse and a put-back and-one against Butler in the Maui Invitational during Rotnei Clarke's epic buzzer-beating game. Best of luck to Jake in his final endeavor next season as a collegiate basketball player.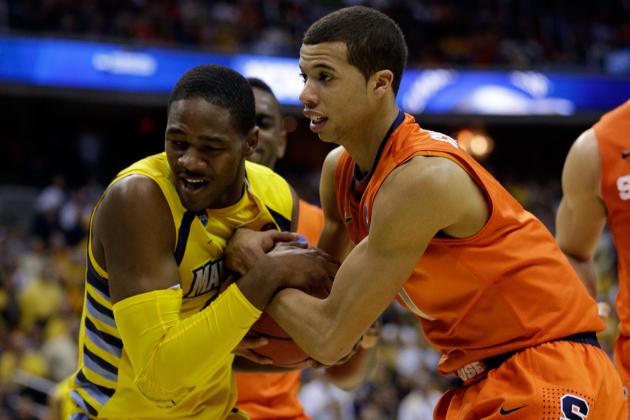 Rob Carr/Getty Images

Having played alongside arguably the nation's top recruit, Simeon's Jabari Parker, in high school, Taylor Jr. was accustomed to winning when he found his way onto the Marquette campus during his initial season there.
Taylor averaged three points and two rebounds in 8.6 minutes of playing time for the season. He reached double figure scoring once and at 6'7" and 200 pounds he is between a small forward and power forward, position wise.
Taylor's role will likely be that of reserve again in 2013-14, though his playing time will increase significantly. Taylor is not an outside shooter but he's not a back-to-the-basket player either. I expect his role to become more defined early next season based on improvements in his game this summer.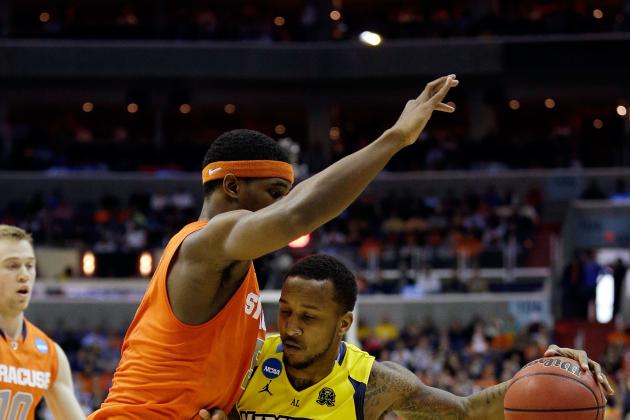 Rob Carr/Getty Images

Mayo's sophomore season was a bit of a disappointment, considering he averaged nearly eight points in 21 minutes as a true freshman. Due to an academic issue last fall, Mayo only became eligible to play this season once winter break began.
The younger brother of the NBA's O.J. Mayo, Todd also does a majority of his work from the perimeter and behind the arc. During the season though, he only shot 28 percent from deep and never got into a real flow, possibly due to his early season absence.
Mayo scored in double figures on three occasions, though he did not record a point in any of Marquette's four NCAA Tournament contests. Look for Mayo to play like his old self next season, assuming he'll be available to play all year long.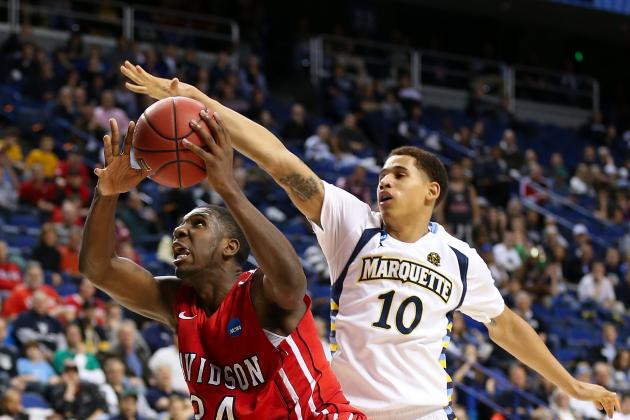 Andy Lyons/Getty Images

As a sophomore, Anderson was the team's starting power forward nearly all season, despite only averaging 2.7 points and 2.9 rebounds in 13 minutes of action. For Anderson though, this was a huge improvement from his freshmen season where he was not a part of the team's rotation.
Anderson also struggled during the NCAA Tournament, often looking confused on the offensive end of the court or facing a mismatch at the four position on defense. At 6'6" Anderson is not a prototypical power forward, though he exclusively played that position in Buzz Williams' system.
While Anderson could see himself as a starter once again next season, his minutes should remain similar. With a returning frontcourt including Davante Gardner, Jamil Wilson, Taylor Jr. and potentially Chris Otule, Anderson could be caught in a logjam as a junior.
Kevin C. Cox/Getty Images

As a sophomore reserve point guard, Wilson averaged 1.1 points, 0.9 rebounds, 1.6 assists and 0.7 steals. Though it may sound cliche, Wilson's numbers truly do not define the role he plays for Williams' squad.
Whether it will be Wilson or soon-to-be freshman Duane Wilson to fill the void of Junior Cadougan at point guard next season is still unknown. What we do know is that Wilson can thrive as a backup but can also rise to the occasion if he wins the starting job, despite his offensive deficiencies.
Wilson would often sub Cadougan out in the late moments of close contests as a defensive specialist, as Wilson plays relentless on-the-ball defense. Though not much of a scorer, Wilson won't force shots either, as he only attempted 55 shots all season long.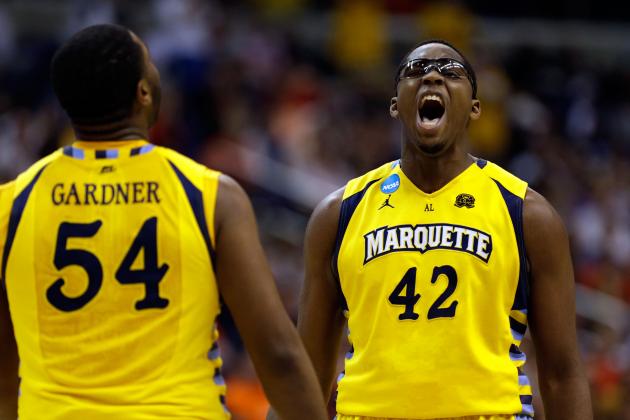 Win McNamee/Getty Images

With Jake Thomas's recent farewell announcement to Marquette, does that mean Otule will return to Milwaukee for a sixth season? While there are times that Otule struggles on the offensive end of the court, I would like to see him back on the Golden Eagles next year.
Otule's career has been injury plagued. This for a guy who is already completely blind in one eye. So despite some the the physical problems Otule has faced, his fifth year at Marquette was his most successful.
Otule is technically the team's starting center, though Davante Gardner actually sees more minutes at that slot. Otule's dominance of Notre Dame's Jack Cooley on Senior Day, where Otule was ironically not honored, was the highlight of his season/career. Only time will tell if that's all she wrote for Chris.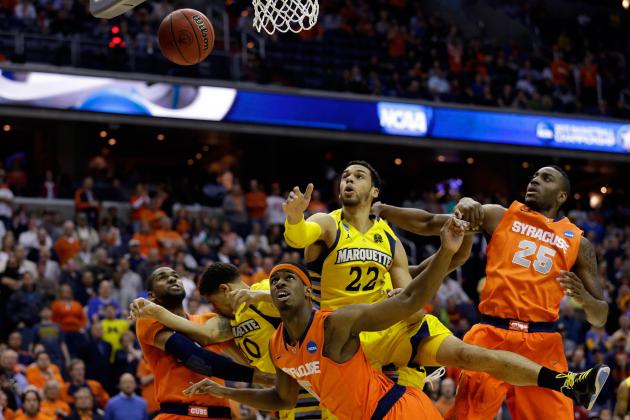 Rob Carr/Getty Images

Prior to the season, I truly thought Lockett would come straight in from Arizona State and become the Golden Eagles' best player. It didn't take long to realize that that would not be the case, though not for lack of effort.
Instead of playing the star player role Lockett held in Tempe, he instead switched to the glue guy that Marquette desperately needed. Lockett scored in double figures six times, while notching double digit rebounding on three occasions, twice of which came in the NCAA Tournament.
Lockett rose to the occasion in March Madness, something he never experienced at ASU. He made athletic slashes to the hoop and putback dunks that were nowhere to be seen up until that point of the season. While maybe not meeting my initial lofty expectations of him, Lockett's season was a success.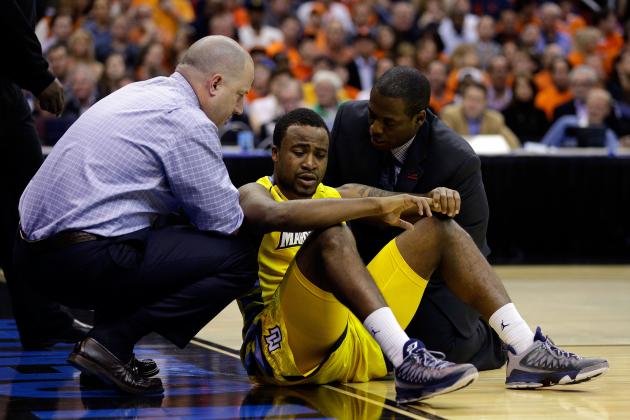 Rob Carr/Getty Images

The senior from Toronto, Cadougan played a key role in Marquette's three straight Sweet Sixteen appearances, finally getting over the hump and advancing to the Elite Eight this March before falling to former Big East rival Syracuse.
Cadougan had games where he was Marquette's most important player and others where he didn't seem suited to be playing major Division I basketball. On the whole however, an average 8.5 points, 3.8 assists and 2.9 rebounds are nothing to hang your head over as the team's floor general.
Fans will always remember Cadougan's game-tying three-point heave against UCONN on New Year's Day. This started their conference season off right by starting 1-0 and continued the Golden Eagle's current home winning streak, which is the nation's second longest active run.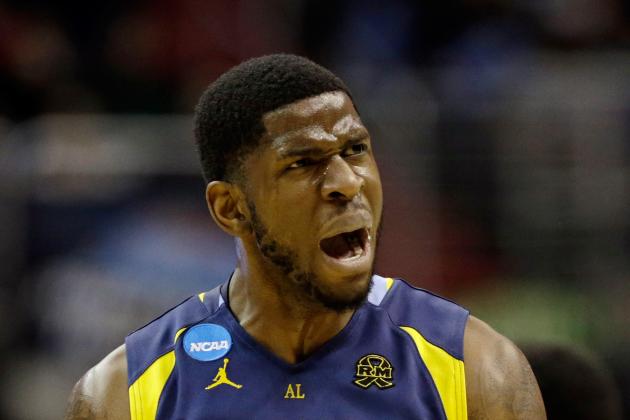 Win McNamee/Getty Images

Wilson had a hot and cold redshirt junior season, though by years end he was in top form. For the season, the backup forward Wilson averaged 9.7 points and 4.9 rebounds, while shooting 36 percent from behind the arc as the team's best long range threat.
Before a disappointing shooting performance in the season ending loss to 'Cuse, Wilson had scored in double figures in eight straight games, hitting 13 three-pointers during that same stretch, including three made triples in the team's upset win over Miami in the Sweet Sixteen.
The 6'7", 225-pound Wilson is a stringy forward who doesn't care to mix it up down low often. Wilson averaged 25 minutes of playing time, even off the bench. This leads me to think that Wilson's role can increase next season, regardless of whether he starts the game on the court or on the pine.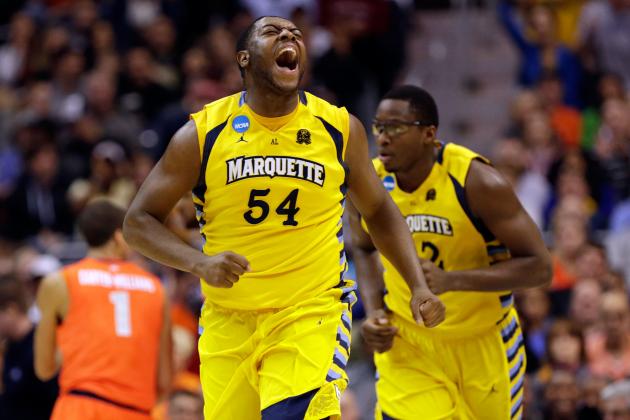 Win McNamee/Getty Images

The 6'8" 290-pound Gardner was elected as the Big East's Sixth Man of the Year and was an Honorable Mention All-Big East selection as a junior. On the season, Gardner averaged 11.5 points and 4.8 rebounds in 21 minutes of playing time.
Gardner's efficiency ratings are through the roof, as he shot 59 percent from the field and 84 percent from the charity stripe, an incredibly high mark for someone his size. At no point in the season was this more evident than when Gardner connected on 12 of 13 free throws in MU's win over Syracuse, as Marquette fans chant "Automatic" as he steps to the foul line.
In the win over Syracuse, Gardner scored 26 points on perfect 7-for-7 shooting. Gardner's chances of starting next season hinge on Otule's decision on whether to exercise his sixth year option or not. Regardless of that decision is the realization that Gardner needs to see a steady dose of playing time, as he has shown that he's capable of big time minutes despite his heavy set, as evident after playing 33 minutes in both Syracuse matchups.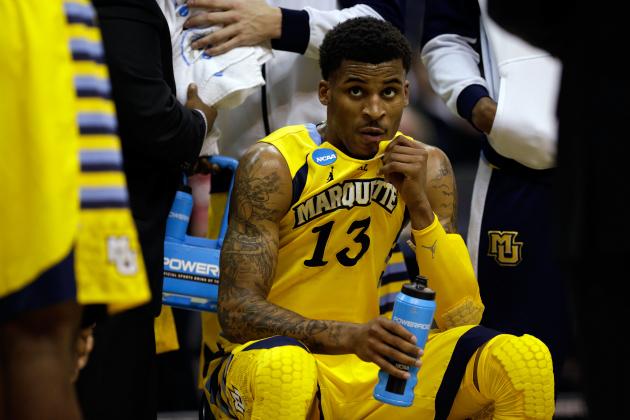 Win McNamee/Getty Images

Marquette was doubted all season long. They were tri-champions of the Big East Conference, alongside Georgetown and Louisville, and received a three seed in the NCAA Tournament. In all four NCAA Tournament games though, Marquette took an underdog approach to prove their doubters wrong.
Even more, every analyst during the regular season stated how Marquette lacked a star player. That was until Vander Blue's breakout performances during March Madness, as he put up Dwyane Wade like numbers during the tournament.
Blue ended the regular season with a buzzer-beating layup to beat St. John's, before reenacting that move in the come-from-behind victory over Davidson. Blue's 29 points in the Eagle's two point win over Butler turned many heads and should give NBA scouts a reason to keep an eye on Blue as he returns to Milwaukee for his senior season.
Blue was honored as a Second Team All-Big East selection, with averages of 14.8 points, 3.2 rebounds, 1.8 assists and one steal. Blue lived up to the hype he received out of high school in Madison, as he originally committed to his hometown Badgers. This is Blue's team next season. The Golden Eagles will potentially return eight rotation players while adding four four-star recruits to the roster.
It may be safe to say that Buzz Williams and company won't be shocking anyone with their success a year from now.