WrestleMania: WWE Championship Matches' Facts, Stats and Streaks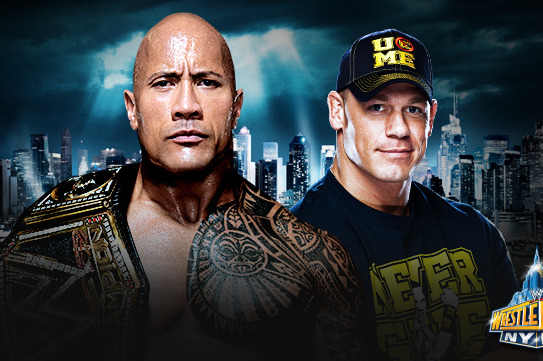 Photo from WWE.com
The statistics surrounding WrestleMania's WWE Championship bouts reveal how having a manager affects one's chances of winning, which stars are winless in those types of matches and how often new champions were crowned at the event.
Matches for the WWE title have been the highlight of many a WrestleMania, and John Cena and The Rock will look to continue that tradition at WrestleMania 29.
John Cena has been in six WWE title matches at WrestleMania. He won three straight from WrestleMania 21 to WrestleMania 23. He has been in six of the last eight WrestleMania WWE title matches.
His opponent on April 7 hasn't done as well at The Showcase of the Immortals. The Rock twice ran into a Texas Rattlesnake at WrestleMania.
Digging into the wealth of information at TheHistoryOfWwe.com one finds quite a few intriguing numbers, some of which give fans some insight on what might happen at WrestleMania 29.
Begin Slideshow

»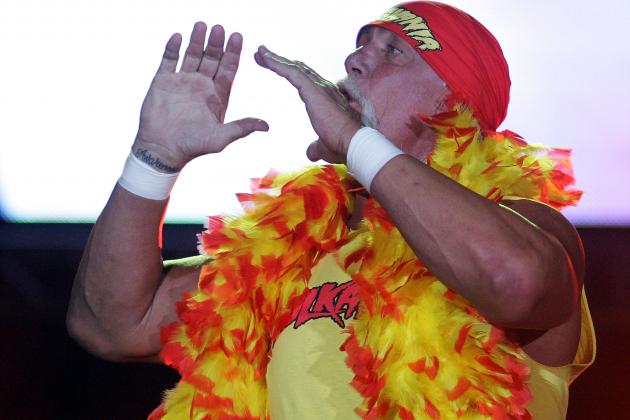 Paul Kane/Getty Images

The most prestigious championship in the company is almost as always a part of WrestleMania's final match. WWE's top guy is usually holding or in pursuit of that title. The WWE title, though, wasn't even defended in the first WrestleMania.
That night, the WWE champ teamed with Mr. T to face Paul Orndorff and Roddy Piper.
It didn't matter that Hulk Hogan wasn't defending his gold, the event still had plenty of buzz. It's a booking move, though, that most fans wouldn't go for today. We expect to see the WWE champ in singles action at WrestleMania.
There have been seven other WrestleManias that didn't end with the WWE title match.
Last year, The Rock and John Cena took center stage sans championship. In other years, another match, whether it was Hulk Hogan vs. Sid Justice or Undertaker vs. Shawn Michaels, pushed the WWE title match down the card. WrestleMania VIII, XI, XX, XXI, XXIV, XXVI and XXVIII all fall into that category.
Having the WWE title change hands, having a new star hoist the belt above his head is an exciting story, so it's no surprise that it has happened so many times at The Show of Shows.
Counting the impromptu WWE title match at the end of WrestleMania IX, there have been 28 WWE title matches at WrestleMania. Eighteen times out of 28, a new champion was crowned. That's only a 35-percent success rate for champions going into the event.
That is not great news for The Rock's fans.
The longest stretch of consecutive WrestleManias where the WWE champ retained is three. From WrestleMania 22 to WrestleMania XXIV, the challenger failed. Two out of three of those years, it was John Cena who kept his championship. Again, not great news for Rock fans.
WWE fans saw an impressive stretch of new champions in consecutive WrestleManias from WrestleMania IV to WrestleMania X. It wasn't until Diesel successfully defended against Shawn Michaels at WrestleMania XI that the run ended.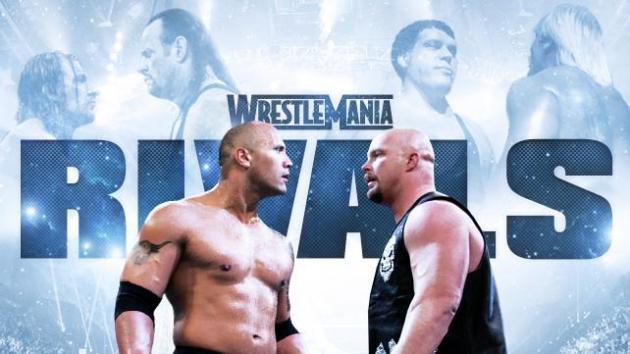 The Rock vs. Steve Austin (Photo from WWE.com)
Despite being his "Mr. WrestleMania" moniker, Shawn Michaels doesn't have the greatest record when it comes to the WWE title at The Granddaddy of Them All. Michaels is 1-3 in those matches.
He can at least find solace in the fact that he isn't winless like Chris Jericho (0-2) and Kurt Angle (0-2) are at WrestleMania. Triple H is a solid 3-2 and Randy Savage is 2-1.
It will come as no surprise that the two guys tied with the most wins in WrestleMania WWE title matches are Hulk Hogan and John Cena. Hogan is 4-1 while Cena is 4-2 heading into WrestleMania 29. Cena's opponent hasn't done as well.
The Rock is winless at 0-3, in part thanks to Steve Austin.
Fans should have no problem remembering who battled in the longest WrestleMania WWE title match ever. Shawn Michaels and Bret Hart fought over an hour in an Iron Man match that went into overtime. Sixty minutes passed without a pinfall or submission, and so those two continued their war.
Michaels finally knocked Bret to his back with Sweet Chin Music after a match that lasted just a shade under 62 minutes.
The shortest match belongs to the unschedueled, impromptu match between Hulk Hogan and Yokozuna at WrestleMania IX. Yokozuna only lasted just 22 seconds against Hogan.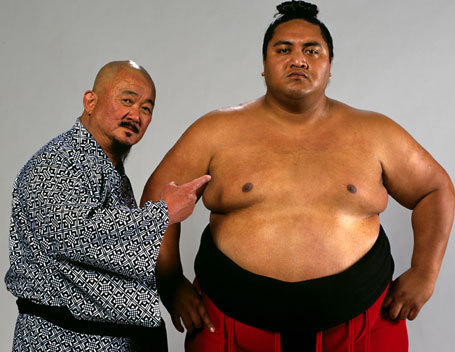 Mr. Fuji with Yokozuna (Photo from WWE.com)
One would assume that having a motivator and mentor in one's corner would translate into an advantage. It seems, however, that despite the best efforts of managers, cheating or otherwise, have failed.
The numbers show that having a manager in one's corner is a recipe for losing.
Wrestlers with managers have a 4-11 record in WrestleMania WWE title matches. Several of those losses went to the wrestlers who hired Bobby Heenan and Mr. Fuji. Fuji's men have a 1-2 record while Heenan's guys went 0-2 at the big event.
That's of course, more of an indication that heels lose more often than faces—especially during the '80s and '90s—and Fuji and Heenan resided on the dark side.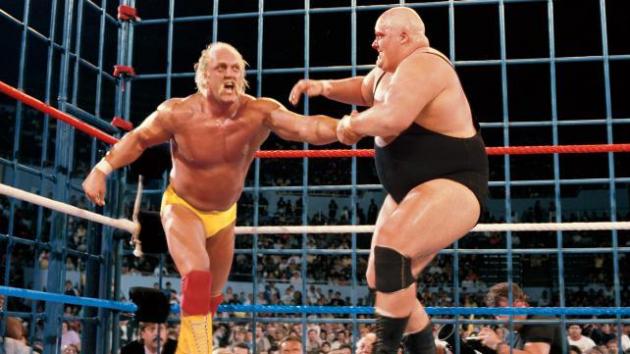 Hulk Hogan vs. King Kong Bundy (Photo from WWE.com)
Most WrestleMania WWE title defenses have been wrestled under standard rules. The gimmick matches are more often reserved for the undercard.
There have been 10 times where WWE strayed from the standard match for its WWE title match.
Hulk Hogan retained against King Kong Bundy in a steel cage at WrestleMania II. Bret Hart and Shawn Michaels fought in an Iron Man match. There have also been two multiple-wrestler matches for the WWE title at The Show of Shows.
Randy Orton battled both Triple H and John Cena in a Triple Threat match at WrestleMania XXIV. Triple H retained his title in a four-man elimination match at WrestleMania 2000, fending off Mick Foley, The Rock and Big Show.
The two most common stipulations make for an interesting juxtaposition. Three times the title was defended under no disqualification rules and three times the champion fought under the stipulation that if he was disqualified, he would lose the title.