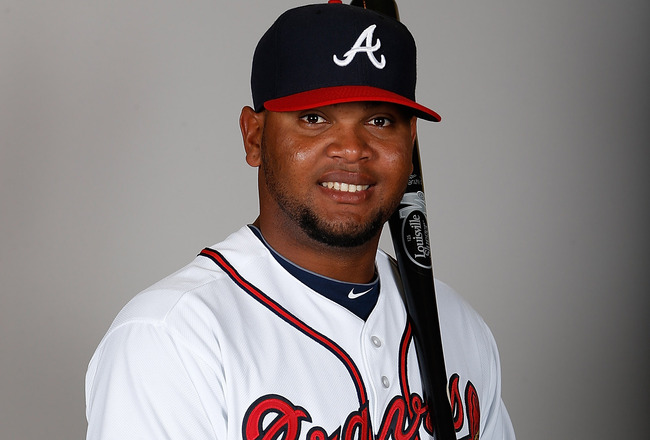 J. Meric/Getty Images
Unlike many teams at this point in the season, the Atlanta Braves are a team that have almost every spot pretty locked up. Sure, there are a few spots where the starter needs to produce to keep his job, but most of the jobs are pretty safe right now.
This article takes a look at the four positions that have the biggest chance of seeing someone lose their starting job this season, excluding injuries. Since this is for starting jobs, the bench and bullpen are not included.
Juan Francisco/Chris Johnson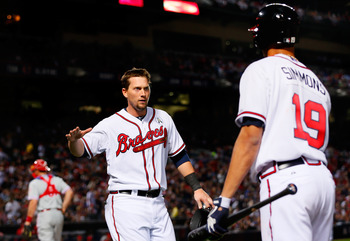 Kevin C. Cox/Getty Images
Right now, the Braves third base job is being split between Juan Francisco and Chris Johnson. Each player is coming off a strong showing in the spring, and manager Fredi Gonzalez has been saying all the right things so far. The hope is that they will be pushing each other to get the most production out of both players.
What happens in a month or two if one of these guys struggles a little? What would happen if one of the two starts to emerge and the other one is just solid?
It's going to be hard for these guys to share one job for a full season. With the odds that one or both of these guys struggle because of limited playing time, or one guy manages to emerge, there is a chance that one of these two ends up as the full-time starter and the other becomes a key part of the bench.
Brian McCann/Gerald Laird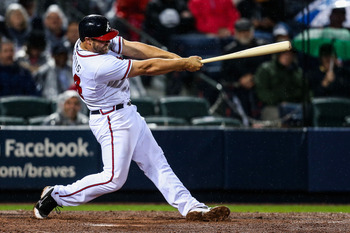 Daniel Shirey/Getty Images
As strange as this is, Brian McCann may be in danger of losing his job. Coming off the worst season of his career, offseason shoulder surgery and in the last year of his contract, McCann will need to produce at the plate to fend off rookie slugger Evan Gattis.
Gerald Laird may be the starter until McCann returns at the end of April, but he's not exactly a run producer. If the rookie known as "El Oso Blanco," who hit a home run in his first big league game tonight, gets on a roll, he could take over the job until McCann returns. Then when McCann returns, he could challenge for at-bats if he keeps hitting the way he has been ever since he started his professional career.
Julio Teheran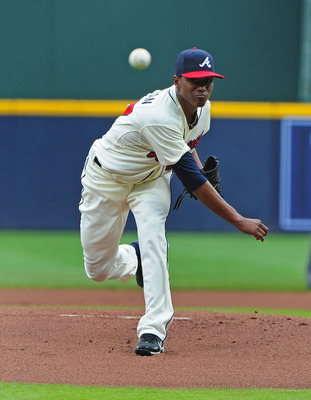 Scott Cunningham/Getty Images
Julio Teheran makes this list for a pair of reasons. The first one is that he's a prospect who hasn't proven anything at the big league level during the regular season. If he struggles early on, the Braves will be forced to send him back to the minors to give Sean Gilmartin a shot.
If Teheran pitches like he has all spring, this isn't going to happen.
The other reason why Teheran is in danger of losing a spot is because the Braves have great depth in their rotation, especially once Brandon Beachy returns. Veterans like Tim Hudson and Paul Maholm have locked up jobs, while Mike Minor is a left-hander and Kris Medlen proved to be a potential ace down the stretch last year.
Dan Uggla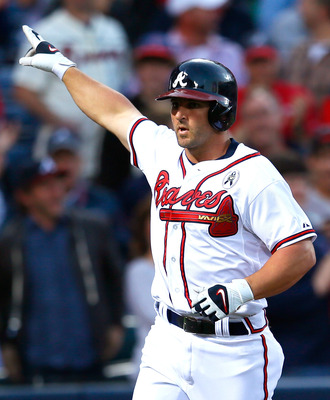 Kevin C. Cox/Getty Images
After being a major disappointment in each of his first two seasons with the Braves, Dan Uggla could potentially play himself out of a job if he does not produce something this season.
Uggla's lack of offense could be accepted if he was decent with the glove, but since he has struggled with the bat and the glove in Atlanta, there isn't much of a reason to keep him in there everyday if he doesn't produce this year.
Uggla may be the safest of the guys on this list, even if he doesn't produce, in part due to the lack of options the Braves have. The other internal options the Braves have would include Ramiro Pena, Tyler Pastornicky and Paul Janish, along with prospect Tommy La Stella.
Pena and Janish aren't going to provide much at the plate, Pastornicky isn't great with the glove and La Stella still needs more time in the minors to see if he is really an option. That means that to be replaced, Uggla would need to be really bad, something that could potentially happen based on what we have seen over the last two years.
Keep Reading

Atlanta Braves: Like this team?
Load More Stories