Syracuse surprised many by making it through to the Final Four of the NCAA tournament this year, knocking off some very strong teams in the process.
It beat the No. 1 seed in the region in Indiana before turning on Marquette in the Elite Eight, dominating the Golden Eagles en route to victory.
The Orange will play against the streaking Michigan Wolverines in the Final Four this year for a chance to take home college basketball's greatest prize. And as we're about to see, the numbers certainly point towards that being a distinct possibility.
Read on to see the key stats that will lead Syracuse to victory in the Final Four.
Incredible Three-Point Defense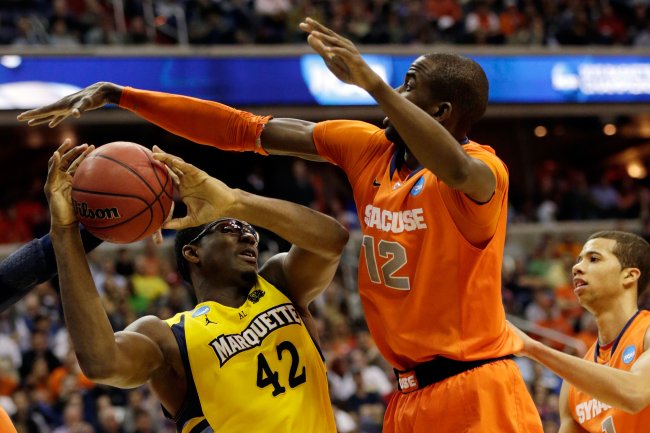 Win McNamee/Getty Images
There's been no denying the potency of Syracuse's defense all year, but the reality is that it will be the defining factor in this Final Four game.
Michigan possesses some very strong scorers in Trey Burke and Tim Hardaway Jr., but against the Orange, the key is knocking down shots from outside. If you can't do that successfully, then you will struggle to beat Syracuse—as the tournament has shown so far.
| | |
| --- | --- |
| Opponent | Three-Point Shooting |
| Montana, Second Round | 4-31 (0.129 percent) |
| California, Third Round | 4-21 (0.190 percent) |
| Indiana, Sweet 16 | 3-15 (0.200 percent) |
| Marquette, Elite Eight | 3-24 (0.125 percent) |
Look for that to again come to the fore here, as the Orange's gritty perimeter defense forces Michigan into taking three-point attempts that really aren't ideal.
If Syracuse's defense can dominate early, it'll be primed for a big night.
Michigan's Defense Will Help Syracuse's Offense Thrive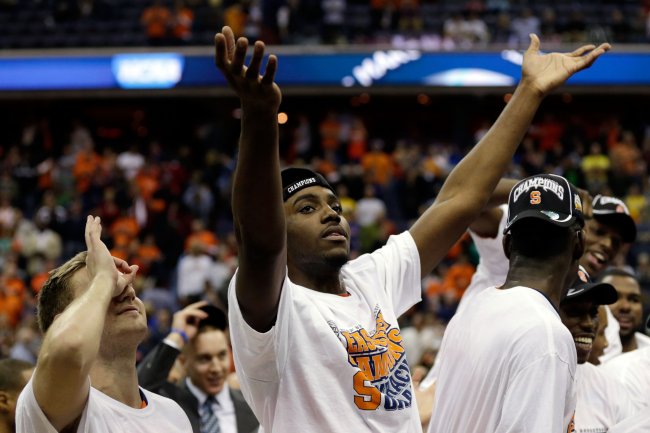 Win McNamee/Getty Images
Michigan's defense has been very strong throughout its four games in the tournament thus far, but the numbers do suggest a bizarre trend that could well help the Orange's offense.
The Wolverines' opponents have averaged nearly 0.460 percent shooting against them this year, and whilst that might not seem like a lot, the reality is that a field-goal percentage like that would win you most games.
Especially with the defense that Syracuse has to back it up.
Let's play those numbers out for a minute.
Say that the Orange make 12 free throws in the game—not an unreasonable amount to suggest given their performances so far in the tournament.
Let's then say that the Orange attempt 60 field goals against Michigan—again, not an unreasonable number to suggest given what we've seen.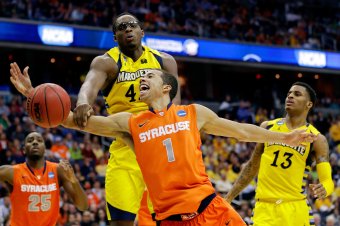 Rob Carr/Getty Images
Even if they only shoot two-point shots, 60 field goals and 12 free throws is good enough to see the Orange emerge with 67 points for the game.
Given their defense, 67 points would probably be enough to win this one and they would no doubt be delighted to average that mark here.
Syracuse doesn't have the strongest offense around, so we can round that down to around 60 points in this one. It averages 71.3 points per game on 0.440 percent shooting for the year, so rounding that down to 60 points isn't at all out of the equation. Still, 60 points on the board with one of the best defensive schemes in the country?
The Orange would seemingly be tough to stop then.
Obviously, games aren't won and lost on paper and the statistics we've seen from both teams in the tournament so far could be completely different from what we see in the Final Four.
If the numbers are right, though, then the Orange could be headed to the title game.
Hit me up on Twitter for more sports: Follow @dantalintyre