Will Marian Gaborik Trade Cost New York Rangers Coach John Tortorella His Job?
Paul Bereswill/Getty Images
There was a plethora of late movement in the NHL prior to the trade deadline.
A lot of maneuvering by teams with playoff aspirations. There were surprising moves, such as the Nashville Predators sending Martin Erat to Washington (per Josh Cooper of The Tennessean) and Jason Pominville going from Buffalo to Minnesota (per John Vogl of The Buffalo News).
However, there was one shocker. The Rangers traded Marian Gaborik, a player who has exceeded the 40-goal mark three times in his career, to the Columbus Blue Jackets (per Darren Dreger of TSN).
A year ago, the Rangers were the best team in the Eastern Conference and they made a run at the President's Trophy. The Columbus Blue Jackets were by far the worst team in the NHL.
This year, the Blue Jackets could make the playoffs while the Rangers could miss out.
If the Rangers don't make the playoffs, it may be difficult for Rangers head coach John Tortorella to hold on to his job.
Poor Relationship with Gaborik
John Tortorella has had issues with Marian Gaborik since he came to the Rangers in 2009-10 (per Brian Stubits of CBS Sports).
In the video above, Tortorella criticized and questioned Gaborik for his inability to backcheck.
Any player who works for Tortorella has to play all three zones of the ice. If a player does not do that, he incurs Tortorella's wrath.
When the Rangers were rolling last year and Gaborik was lighting the lamp regularly, it was not as big an issue as it had been in the past.
Gaborik has scored nine goals this year. That means he has not been sufficiently productive. That means he has attracted Tortorella's ire once again.
Where Will Rangers Get Their Goal Scoring?
The biggest problem the New York Rangers have this season is an inability to put the puck in the net.
Going into their Wednesday night game against the Pittsburgh Penguins, the Rangers had scored 82 goals. No team in the NHL had scored fewer goals this season.
While the Rangers acquired Ryane Clowe from the San Jose Sharks prior to dealing Gaborik, that's not likely to help. Clowe has not scored a goal this season.
The Rangers picked up Derick Brassard, Derek Dorsett and defenseman John Moore (and a sixth-round pick) for Gaborik. Those players are not likely to light up the scoreboard, either.
Do they expect Rick Nash—another ex-Blue Jacket—to score all the goals?
Watch Out for What You Ask For, You Just May Get It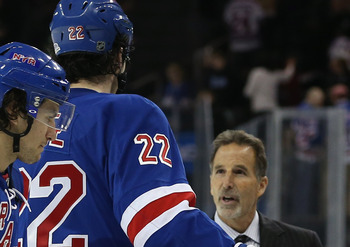 Bruce Bennett/Getty Images
John Tortorella is not a complicated man.
However, he is a very demanding man. If you do everything the way he wants it done, he is going to leave you alone and let you do your job.
However, if he doesn't think you are as committed to the team because you don't cover defensively or block shots, you are going to feel his wrath.
He is not the kind of coach who will hide his feelings.
So, Gaborik certainly knew that he was not always pleasing his coach with his play. Now he's playing hockey in Ohio State country.
Gaborik gave a heartfelt goodbye to Rangers fans:
Wanted to thank Rangers,my teammates and great fans in NY for almost 4years in NYC. Had an awesome time.. New challenge ahead of me in CBJ!

— Marian Gaborik (@MGaborik10) April 3, 2013
You wonder if Tortorella may soon be giving a goodbye of his own.
New York Islanders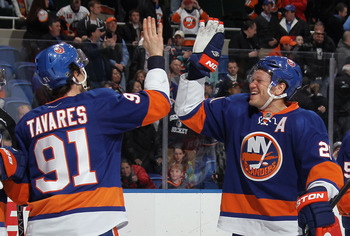 Bruce Bennett/Getty Images
There's a lot of trouble at hand for the New York Rangers.
They can't win. They can't score. They may have a serious problem making the playoffs.
A look at the standings shows they are in ninth place in the Eastern Conference (April 3 game versus Pittsburgh pending), two points behind the upstart New York Islanders.
If the Rangers fail to make the playoffs, that would make it awfully tough for Tortorella to hold on to his job.
But if they fail to make the playoffs because the Islanders beat them out, that would make it impossible.
If the Rangers are the third-ranked team in the New York metropolitan area behind the Devils and the Islanders, that is simply unacceptable.
A Goal Scorer Blooms in Columbus
Marian Gaborik is a proven goal scorer.
He has slumped this season, but he could break out of it at any time. If he feels a bit less pressure and that unlocks his goal-scoring talent in Columbus, how will that play in New York?
If the Rangers and their fans see the Blue Jackets scoring four or five goals a game, while the Rangers struggle to score more than two, how will that play out on Broadway?
It will make Tortorella's hot seat that much hotter.
Tortorella did not pull the trigger and officially make this trade. Rangers general manager Glen Sather made the deal.
Sather feels pressure as well. However, it's Tortorella who is behind the bench, and he will feel the heat unless his team unexpectedly turns it around.
Keep Reading