Notre Dame Football: Will Tyler Eifert or Manti Te'o Be Harder to Replace?
Use your ← → (arrow) keys to browse more stories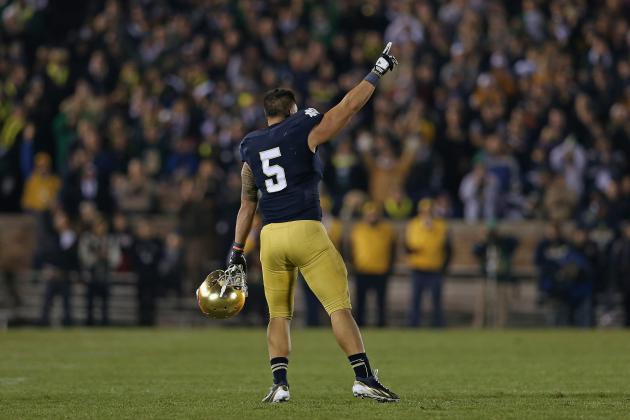 Jonathan Daniel/Getty Images

The records have been written, the history books forever changed and the luster of unforeseen accomplishments still aglow in the shadow of the golden dome despite the advancement of two of the program's all-time greatest players to the NFL.
Linebacker Manti Te'o and tight end Tyler Eifert, two captains of the Irish's 2012 squad that advanced to January's BCS National Championship Game, are currently preparing for this month's NFL draft, while their former team is in the midst of identifying their successors.
Notre Dame head coach Brian Kelly and his staff won't waste even one millisecond reminiscing on what Te'o or Eifert brought to the table, though the production of each player will be sorely missed by the 2013 Irish squad.
Which player will be missed more is a valid question and one worth dissecting, for it is the first time the program has lost two record-setting players in one offseason since Brady Quinn and Jeff Samardzija—who won his Opening Day start for the Chicago Cubs on Monday—graduated in spring 2007.
Sticking with the offensive theme here, discussing the value of Eifert is only appropriate.
The 6'6", 250-pound Fort Wayne, Ind., native, who is projected as the 26th overall pick in the NFL draft, per WalterFootball.com, was the trump card of a 2012 Irish offense that preferred to run the football.
Because of Eifert's versatility, the Irish coaching staff was able to line him up wide as a receiver or move him down into a three-point stance on the line as a true blocking tight end.
Opposing defenses keyed in on Eifert because of his imposing presence as a target in the vertical passing game, which, essentially, transformed him into a decoy of sorts.
With the attention drawn to Eifert so often, quarterback Everett Golson was left with multiple options downfield, particularly receivers T.J. Jones and DaVaris Daniels.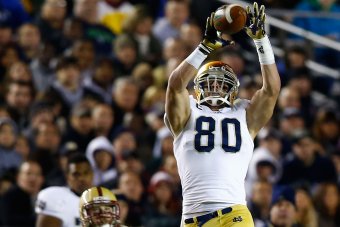 Jared Wickerham/Getty Images
But with Eifert now gone, no receiver—including Jones and Daniels—presents a physical mismatch to steal the attention of opposing defenses, meaning that the Irish passing game may take a step back in 2013. The state of flux that the slot receiver position is currently in doesn't help matters, either.
In terms of production, Eifert will also be sorely missed.
He set school records for receptions and receiving yards in a single season for a tight end, both of which were previously held by Ken MacAfee. Matching that production is an accomplishment highly unlikely to transpire in 2013.
Eifert's absence is likely to lead to an even heavier emphasis on the ground game for the Irish, who are auditioning George Atkinson and William Mahone at the position this spring, while Amir Carlisle is out with a broken collarbone.
On the defensive side of the ball, Te'o's absence will have a similar macro-level feel, though the nature of replacing parts within a 3-4 scheme isn't as daunting as that of replacing a once-in-a-generation pass-catching tight end.
The Laie, Hawaii, native was the type of attacking, ball-hawking linebacker that shows up on the highlight reel time and time again.
What made Te'o such a unique talent was his ability to diagnose plays prior to the snap and his ensuing ability to react accordingly the diagnosis. That mental capability resulted in the 6'2", 255-pound linebacker leading the Irish in tackles in 2012 with 113, which was 36 more than any other player on the roster.
Yet it was the intangibles Te'o offered that made him such a dynamic presence both on and off the field.
Will Notre Dame miss Tyler Eifert or Manti Te'o more?
Embraced by his teammates as the "alpha dog," Te'o was often the emotional leader and rallying point for a team that fed off emotion. His personal life, which came under fire in the weeks following the Irish's 42-14 loss to Alabama in the title game, was most certainly a theme of the 2012 season and will now be forever tarnished.
Replacing an emotional leader, while a part of the "process," isn't a menial task.
Who replaces Te'o in that regard still remains to be seen, though the effective functioning of defensive coordinator Bob Diaco's 3-4 scheme will keep on humming without Te'o.
Because the loss of Te'o doesn't present an altering effect on the philosophy of the Irish defense, it's fair to say that the loss of Eifert will be more damaging to the Irish in 2013.
Disagree? Feel free to leave your thoughts in the comments section below. Appropriate, PG-rated discussion is encouraged.