Submission of the Year Watch: April 2013 Edition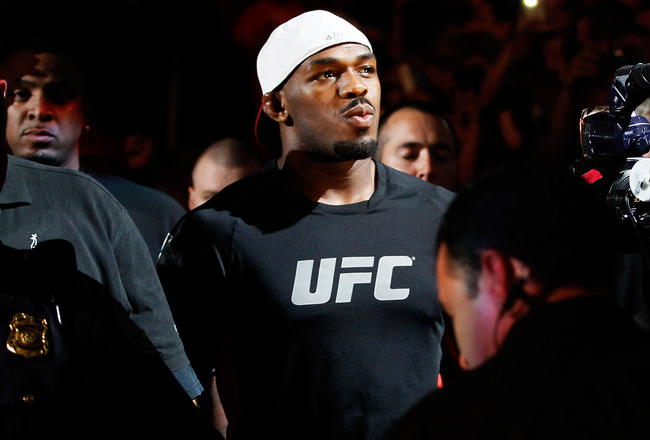 Kevin C. Cox/Getty Images
The UFC amazingly went without any submissions in the month of March, leaving the Submission of the Year watch unchanged heading into April's fights.
With four UFC events and a Bellator featherweight title fight coming, though, the race is sure to heat up by May.
Soon, Urijah Faber will step into the Octagon for a bout with Scott Jorgensen. Faber's standing rear-naked choke of Ivan Menjivar fell just short of being a candidate for Submission of the Year last month, but forcing Jorgensen to tap could put "The California Kid" in the hunt for the award.
However, the greatest potential for a Submission of the Year candidate in April could come from the UFC 159 main event, which features light heavyweight champion Jon Jones and Chael Sonnen. Jones has become one of the more dangerous grapplers in MMA, while Sonnen has been prone to submissions throughout his career.
Heading into a packed month of big fights, let's take a look at the current top candidates for 2013 Submission of the Year.
5. Ronaldo Souza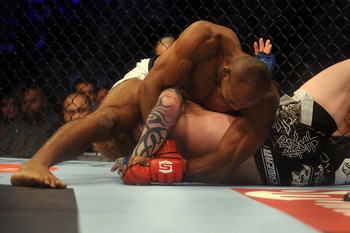 USA TODAY Sports
Event: Strikeforce: Marquardt vs. Saffiedine
Opponent: Ed Herman
Submission Method: Kimura
Ronaldo Souza's final Strikeforce appearance provided him with a look forward to what his opposition could be like inside the Octagon.
In need of an opponent for Souza, matchmakers asked Ed Herman to make the move from the UFC to Strikeforce for the latter promotion's final event. A UFC veteran with a number of wins against high-level opposition, Herman was expected to give Souza a good taste of what was ahead for him.
If Souza's performance against Herman was any indication, the former Strikeforce champion could have a very bright UFC future.
Utilizing his world-class jiu-jitsu, Souza took Herman down twice in the opening minutes of the fight and didn't have much trouble finishing the fight with a kimura from side control.
4. Michael Chandler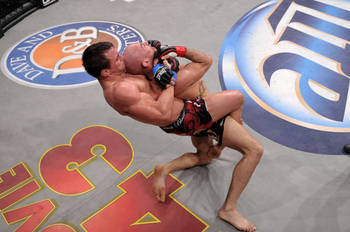 Bellator.com
Event: Bellator 85
Opponent: Rick Hawn
Submission Method: Rear-naked choke
Michael Chandler's wrestling played a significant role in his rise toward becoming Bellator lightweight champion. However, a fight with Olympic judoka Rick Hawn was supposed to test Chandler's ground game in a new way.
Instead, Chandler took Hawn down repeatedly, using explosive single-legs and double-legs to avoid getting into an upright clinch with an opponent who has such a strong background in judo.
Once he dragged Hawn to the ground, Chandler was in complete control. After softening Hawn up in the first round, Chandler brought the fight to the canvas again in the second and eventually locked up a rear-naked choke to retain his lightweight championship.
3. Renan Barao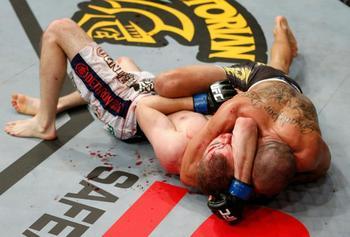 Josh Hedges/Zuffa LLC via Getty Images
Event: UFC on Fuel TV 7
Opponent: Michael McDonald
Submission Method: Arm triangle choke
Initially, after becoming interim bantamweight champion with a win over Urijah Faber, it looked as though Renan Barao would wait for fellow 135-pound champion Dominick Cruz to return before fighting again. However, as Cruz's recovery persisted, it was eventually decided that Barao would have to defend his interim belt against Michael McDonald.
As two of the youngest and most talented bantamweights in the world, Barao and McDonald are expected to be a big part of the future of the 135-pound division. Therefore, their title fight at UFC on Fuel TV 7 had the potential to greatly impact the future of the bantamweight class.
In the end, Barao set the tone for what could be the first of many fights between himself and McDonald.
The Brazilian champion started off cautious of McDonald's knockout power, but he was able to take the fight to the ground frequently. Eventually, a Barao takedown turned into a submission opportunity as he locked up an arm triangle choke in the fourth round that forced McDonald to tap.
2. Ronda Rousey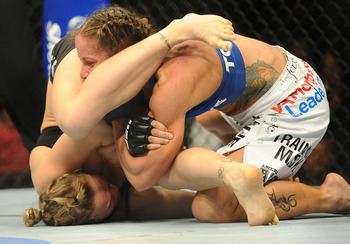 Jayne Kamin-Oncea-USA TODAY Sports
Event: UFC 157
Opponent: Liz Carmouche
Submission Method: Armbar
A former Olympic judo medalist, Ronda Rousey rose to the top of the women's MMA world quickly by taking opponents to the ground and quickly catching them in her dangerous armbar.
Rousey became so skilled at securing the same submission over and over, though, that her opponents began focusing almost the entirety of their training camps on defending against that hold. That was the case with Liz Carmouche, but Rousey still found a way to lock up an armbar in the first round of their bout at UFC 157.
Carmouche did give Rousey a scare, taking the champion's back and threatening with a neck crank. However, Rousey found a way to free herself and kept her amazing streak of first-round armbars going by breaking through Carmouche's rehearsed submission defense.
1. Kenny Robertson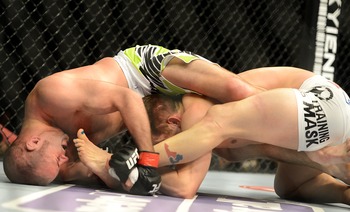 Jayne Kamin-Oncea-USA TODAY Sports
Event: UFC 157
Opponent: Brock Jardine
Submission Method: Ham ripper
It takes something special for a preliminary card fighter to be mentioned in Submission of the Year talks, and Kenny Robertson really pulled off a jaw-dropping submission at UFC 157.
After taking Brock Jardine's back in the first round, Robertson sunk in his hooks. However, where most people would have begun pounding away with punches or trying to sink in a rear-naked choke, Robertson decided to do something completely different.
Seeing Jardine's leg extended outward, Robertson grabbed near the ankle and began to extend his opponent's leg, causing immense hamstring strain. It was the first ham ripper ever used inside the Octagon.
Keep Reading