How Newcastle United Can Build for 2013-14 as Season Nears Its End
Use your ← → (arrow) keys to browse more stories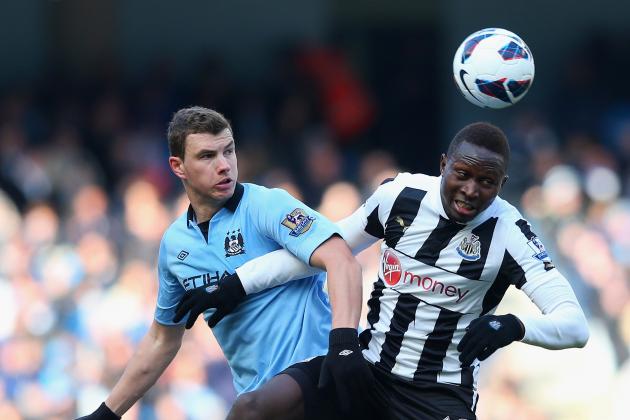 Alex Livesey/Getty Images
Mapou Yanga-Mbiwa is just one of the players who arrived from Ligue 1 and performed well for Newcastle.
There's no other way to look at Newcastle United's season than as a disappointment, but there were positive signs that affect the way the team builds for next season.
The Europa League campaign has been a success, but it's not as if they've had to overcome giants of Europe at any point. The Premier League season has been a bitter disappointment, hamstrung by the failure to sign players in the summer transfer window.
The second half of 2012 is something Toon fans will want to forget. Injuries, defensive catastrophes, an ineffectual midfield and some of the worst football in the league. Coming off a fifth-place finish, that's not anywhere near good enough.
However, the board of directors realised their mistakes, and come the January window they allowed Alan Pardew the money to strengthen his team. Pardew raided Ligue 1 and brought in Mathieu Debucy, Mapou Yanga-Mbiwa, Yoan Gouffran, Moussa Sissoko and Massaido Haidara.
Almost immediately, the team looked better. The attacking threat was renewed, which had a galvanising effect on the rest of the team. Suddenly they played better football and scored more goals.
This is a good omen for 2013-14, as if the recent arrivals can continue their ascent, there will be much more to celebrate next season.
The work isn't finished, though.
What's Newcastle's biggest area of need going into 2013-14?
In order to continue to thrive, steps must be taken to plug gaps that still exist within the squad. Fabricio Coloccini is likely to depart at the end of the season, and it's vital that a player of similar quality is brought in to replace him.
When Mike Williamson was regularly starting games—alongside Danny Simpson—the team looked vulnerable against every attack. Although Yanga-Mbiwa has turned in some good performances, the departure of Coloccini leaves the team lacking an experienced player.
Steven Taylor's return gave some grit back to the defence, and they will need him to remain free of injury throughout next season. Depth was a real issue this year, and the team will likely suffer injuries again in 2014.
Learning from last year's mistakes would allow them to remain competitive and create strength in depth. The Magpies' scouting network is among the best in the league—if not the world—and they should have no trouble finding promising players who could get the job done in the English league if called upon.
Along with adding depth, Newcastle must ensure they keep their marquee players. Owner Mike Ashley has already stated that none of the club's top players are for sale, which should help to set some minds at ease.
Although the team will wish to finish as high as possible by the season's end, it could also be worth putting some of the young players to the test as the games die down.
Papiss Cisse could still use some support, so why not give Adam Campbell a small run in the side and see if they develop some chemistry? It's understandable that Pardew will wish to protect his young striker, but as the club isn't playing for silverware or a European place, it would make sense to let him gain experience at the end of the year.
Campbell is a very bright prospect, and he needs to be eased into Premier League life. In more competitive fixtures, defenders will try to bully him off the pitch, dominate him physically and make him unsure of himself. Games where there is less at stake seem perfect.
The derby with Sunderland would not be an appropriate time to throw him in, but the West Ham game the following week would be suitable enough—likewise the fixture with QPR. The Toon play Arsenal in their final game, and depending on the state of the Gunners' European aspirations, he could play in that game, too.
Newcastle's season has been on an upward trend since the arrival of new players in January. They are not living up to last year's finish, but they have their eyes on the top end of the table again.
Continuing this forward momentum is essential.