Wichita State Shockers' Blueprint to Beat Louisville Cardinals in Final Four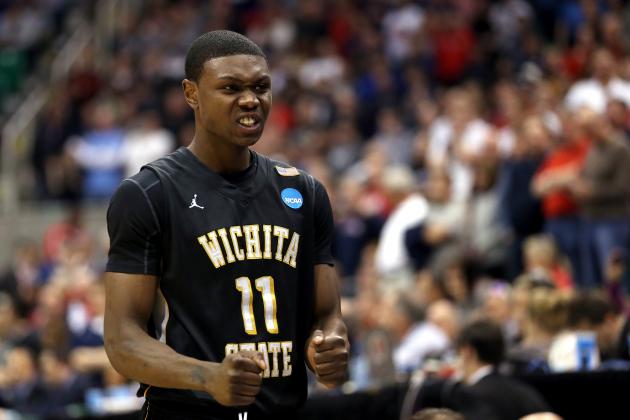 Streeter Lecka/Getty Images

Wichita State head coach Gregg Marshall has been telling his team throughout the tournament to "play angry."
The Shockers have used this motto to focus their energy and attention on defeating one foe after another in this year's March Madness.
Starting with beating Pitt, continuing on to Gonzaga, La Salle and Ohio State, WSU has earned their way to Atlanta to play for the 2013 NCAA championship.
Mark Cannizzaro of the New York Post captured Marshall's perspective on his team's Final Four status:
I don't think we're Cinderella at all. Cinderellas usually are done by this stage. If you get to this point, you can win the whole thing. You beat a No. 1 seed and a No. 2 seed. ... I think Cinderella just found one glass slipper. I don't think she found four.
Ever since Sunday, Marshall and his staff have been devising their plan of action to take down the tournament's overall No. 1 seed Louisville.
Here is a blueprint for beating the Cardinals in the Final Four this Saturday (6:09 PM ET).
We'll look at three defensive and three offensive keys that could enable Wichita State to pull off a shocking upset.
Begin Slideshow

»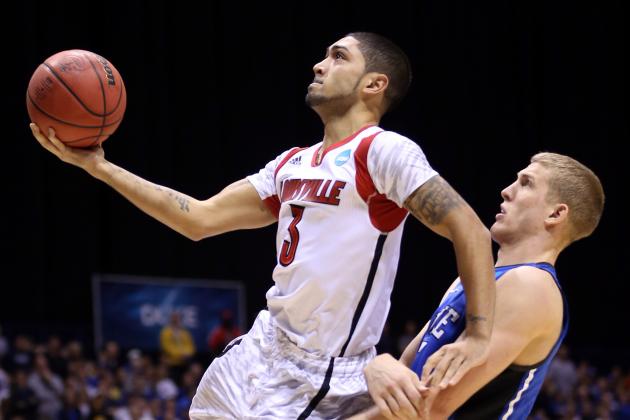 Streeter Lecka/Getty Images

From the time that Peyton Siva touches the ball in the opening moments of the game, someone on the Shockers needs to be harassing him non-stop.
Because the senior PG runs the show for Louisville, the Shockers need to be doing everything they can to make him work hard for every move, every drive and every shot.
The purpose is not to shut him down but to throw him off his game as the trigger man for the Cardinals attack.
Siva has drastically reduced the stretches of games where he plays out of control. Wichita's goal needs to be pushing him into an erratic mode where he will commit an above-average number of turnovers.
Andy Lyons/Getty Images

Louisville has shot a sizzling 55 percent from the field in their first four March Madness games.
Their accuracy is even more impressive when you consider that they are shooting 63 percent from inside the arc.
Wichita State needs to lock the lane.
Reducing the amount of dribble penetration from the point or the wing is a must. Denying the entry pass to the block is a necessity.
Wichita State's PF Carl Hall needs to put a body on Gorgui Dieng, who has shot 20-24 (83.3 percent) from the floor so far in the tournament.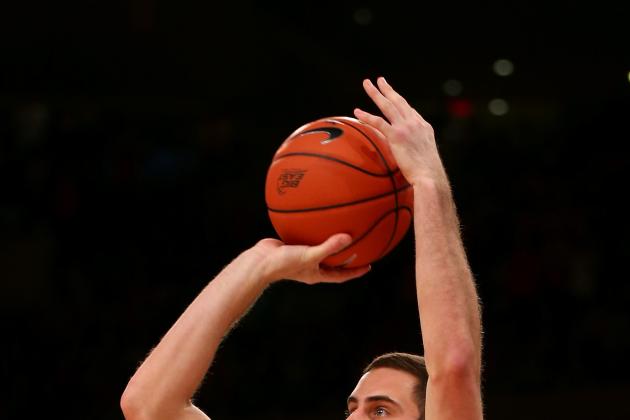 Elsa/Getty Images

The Cardinals have not shot the ball well from three-point range all season.
Their 32.8 percent from beyond the arc ranks them at No. 230 in the nation. Oh, boy!
But Louisville has dropped even further during March Madness. They have only connected on 29.4 percent of their three's.
Why not attempt to lure Louisville into launching as many shots from downtown as possible. Not talking about clear open threes, but wouldn't it be better for the Shockers to take your chances?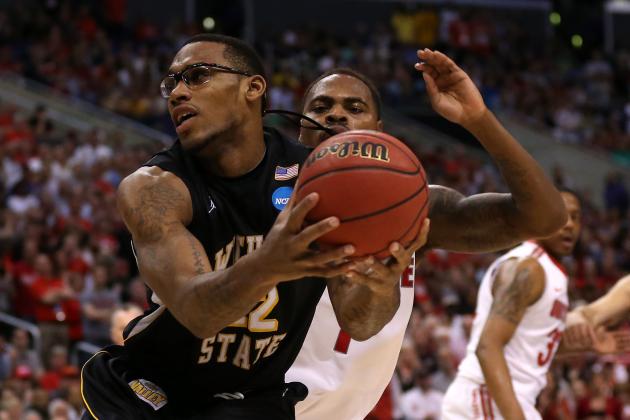 Jeff Gross/Getty Images

Wichita State's 498 offensive rebounds is the fifth most in the nation this season. This accounts for grabbing 38 percent of the Shockers missed shots.
Gregg Marshall's squad needs to be relentless on the offensive glass. They need to look for every opportunity to put points on the board and draw fouls.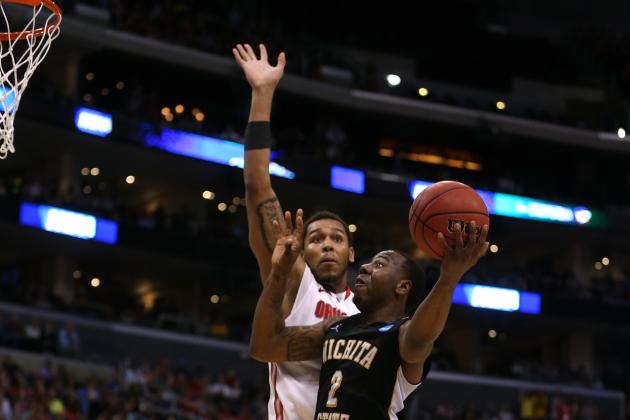 Jeff Gross/Getty Images

In spite of Louisville's shot-blocking prowess, the Shockers need to take the ball strong to the rim, draw fouls and get to the line as often as possible.
The focus of this strategy is about making the Cardinals pay by knocking down their free throws.
Wichita State was 33-for-41 (80.5 percent) against Pitt in their opening round game. That's a bunch of freebies.
If WSU can draw that many fouls, somebody on Louisville is going to be in foul trouble—the secondary benefit of going strong to the rack.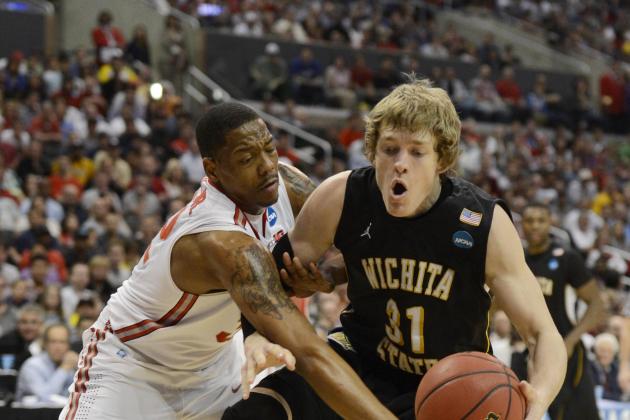 Richard Mackson-USA TODAY Sports

One of the ways that Wichita State beat Gonzaga in their round of 32 game was to hit a bunch of threes—14-for-28 to be exact.
In order to have the best shot at knocking off the Cardinals, the Shockers need to be ready to fire away.
Ron Baker (pictured), a 6'3" freshman SG, knocked down four shots from beyond the arc against the Zags, and he could be a key player in a Shocker upset.