San Diego Chargers Mock Draft: Post-Free Agency Predictions for Every Round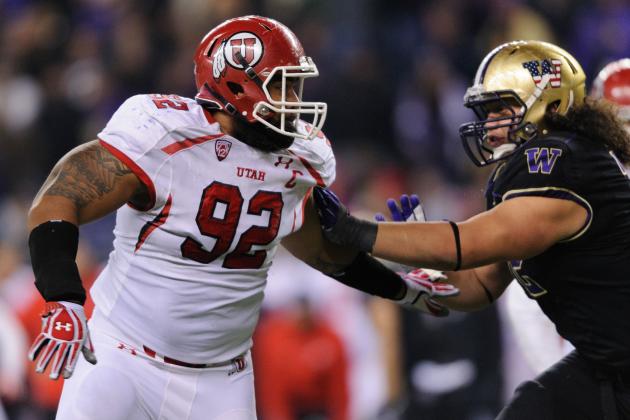 Steven Bisig-USA TODAY Sports

With free agency now on the backburner for most teams, the time has come to really start focusing on the upcoming draft.
Tom Telesco's San Diego Chargers have made just a few slight adjustments in free agency so far, making the draft a feature event that the team will hope to cash in on as the rebuilding process continues.
Even though little changes were made to the team's roster, San Diego's draft approach has altered slightly. However, similar concepts are still in place.
Here are some predictions for what the San Diego Chargers will do in the 2013 NFL draft based on what has happened in free agency thus far.
Begin Slideshow

»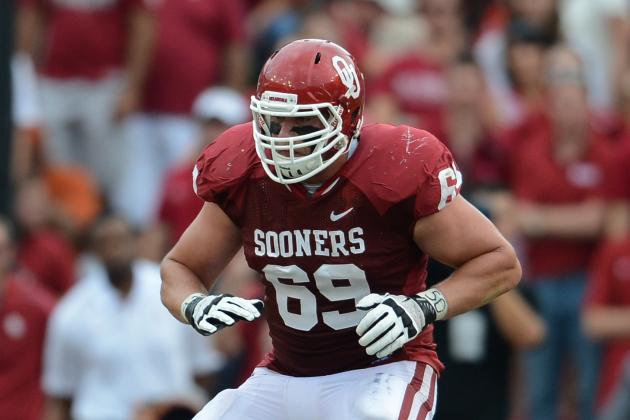 Matthew Emmons-USA TODAY Sports

Free Agency Impact: Since the 2012 season concluded, it's safe to say that almost every expert out there was predicting that a left tackle would be San Diego's first pick in April, but free agency has made things a bit complicated.
For starters, there's only three prospects with first-round potential at the left tackle position in 2013. You've probably already heard the names before—Texas A&M's Luke Joeckel, Central Michigan's Eric Fisher and Oklahoma's Lane Johnson—but what some people tend to forget is that these guys have become so popular on draft boards that none of them may even be available when San Diego goes on the clock at pick No. 11.
Next, there's the issue of what the Chargers lost in free agency. On the offensive line, San Diego is not only devoid of a starting left tackle, but now, they are also without a right guard thanks to the departure of Louis Vasquez to Denver.
Then take a look at the defensive line. The Chargers lost three big contributors in Antonio Garay, Aubrayo Franklin and Vaughn Martin this offseason. That leaves Corey Liuget, Kendall Reyes and Cam Thomas as San Diego's starting defensive linemen in 2013—not a terrible showing, but it could be better.
Those are all pretty big losses that are going to require some immediate attention in the draft, which is why free agency has made some changes to what San Diego might do in Round 1.
Prediction: If Joeckel, Fisher or Johnson is there at No. 11, then it's a no-brainer; take your franchise left tackle and give Philip Rivers the protection that he so desperately needs.
However, if all three are off the board, then it's time to make a decision. Either you opt to move back in the draft and possibly find another starting left tackle while accumulating more picks or you opt to select another position of need—which in my opinion would be a guard or defensive lineman.
ESPN's Bill Williamson discussed this similar scenario on his blog, but he believes West Virginia quarterback Geno Smith will be the deciding factor in who San Diego lands with the 11th overall pick. It's a crazy equation but it makes sense.
Personally, I see Johnson being the pick if he's still on the board. Otherwise, I like Utah's Star Lotulelei as a fit to replace the hole left in the middle of the defensive line or Alabama's Chance Warmack to come in and play right guard.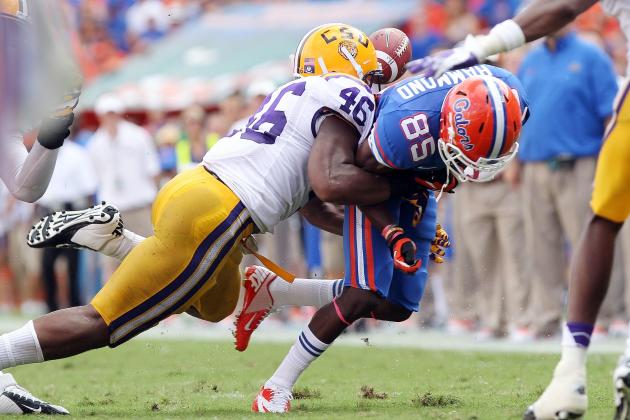 Kim Klement-USA TODAY Sports

Free Agency Impact: In Round 2, San Diego should look to replace some key losses on defense, specifically at the cornerback and inside linebacker positions.
The Chargers lost Antoine Cason to the Arizona Cardinals in free agency and opted not to re-sign Quentin Jammer (at least at this point). However, Telesco did manage to bring in help with the addition of former Jacksonville Jaguar Derek Cox, who looks like he can lock up one of the starting slots from Day One.
As for inside linebacker, the team has to take into account the loss of veteran Takeo Spikes. In San Diego's 3-4 scheme, Donald Butler will need a running mate to help stop the run. Jonas Mouton is the expected replacement, judging from the team's depth chart, but I could see a rookie coming in to compete for the job as well.
Prediction: Bleacher Report's own Matt Miller is predicting that the Chargers will take cornerback David Amerson out of North Carolina State in the second round in order to help lessen the blow of losing two starters in the defensive secondary to free agency. He would be a solid pick considering the team's pressing need at corner.
However, I would urge the Chargers to really take a hard look at that huge hole at inside linebacker. It would be difficult to replicate the defense's run stopping success again this year without the pieces that they had in place last year, which included Spikes, who racked up a good chunk of those tackles.
LSU's Kevin Minter, who is being compared to Spikes on NFL.com, is a perfect fit to tag-team with Butler in the middle. He's exactly what you would look for in a linebacker whose main duty will be filling the running lanes and stuffing the run.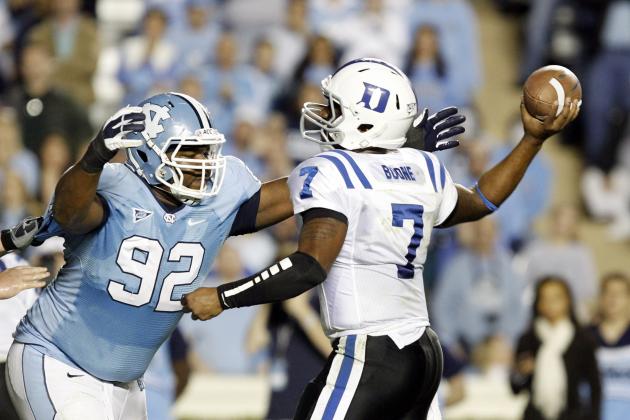 USA TODAY Sports

Free Agency Impact: As San Diego approaches the middle rounds, I see it fitting to look at positions where the team still lacks depth—that is of course if they've already satisfied the immediate needs along the offensive line. Wide receiver and the defensive line still need help when Round 3 approaches.
San Diego failed to add any new receivers this offseason, and restricted free agent Danario Alexander's future with the team is still up in the air. The depth at receiver is pretty good when everyone is healthy, but the Chargers still lack a true No. 1 receiver. Alexander could fill that role, but he's endured his share of injuries in the past, and while Malcom Floyd has played well in the No. 1 role after Vincent Jackson's departure, he still hasn't broken out as "the guy" for Philip Rivers.
On the defensive line, there is still the issue of the Chargers needing a defensive tackle. Defensive end could also use more depth considering Liuget and Reyes are third- and second-year players, respectively.
Prediction: With such a thin lineup along the defensive line, I see the Chargers looking to grab more help to partner with their already young group. Some defensive tackles that pop out to me in this slot are Johnathan Hankins out of Ohio State and North Carolina's Sylvester Williams.
Both guys are big, wide loads that are capable of clogging the middle and forcing a collapse of the pocket. San Diego is beginning to develop some pass-rushers in Reyes and Liuget, so the need here is for a space-eater.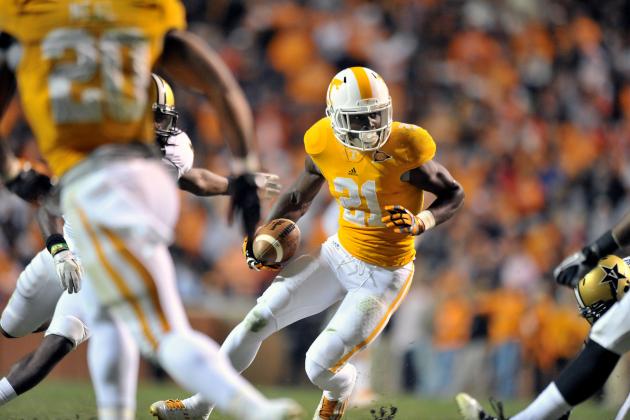 Jim Brown-USA TODAY Sports

Free Agency Impact: In Round 4, San Diego needs to look at addressing the wide receiver and cornerback positions after handling the issues with its offensive line and defensive line in the earlier rounds.
There's still room for a corner here, even though incumbent starters Marcus Gilchrist and Shareece Wright have played well in limited appearances. And again, like I mentioned in Round 3, a lack of a true No. 1 receiver is preventing San Diego from getting over the hump.
Prediction: In his most recent mock draft, Matt Miller projects Tennessee Tech receiver Da'Rick Rogers going to the Chargers in Round 4. I love the pick, but I have some concerns.
Rogers is an impressive athlete and has the size that scouts love, but his rap sheet makes me think he comes with baggage. Before he even began his freshman year at Tennessee, Rogers was charged with disorderly conduct and resisting arrest outside a bar. Then, in 2012, he was dismissed from the Tennessee football team, forcing his transfer to Tennessee Tech for his senior season. (NFL.com explains the incident a little more in depth here.)
If the Chargers don't like the attitude that Rogers brings to a team, then I see the team opting for a corner here. San Diego State product Leon McFadden is one player that I like because of his complete skill set at the position.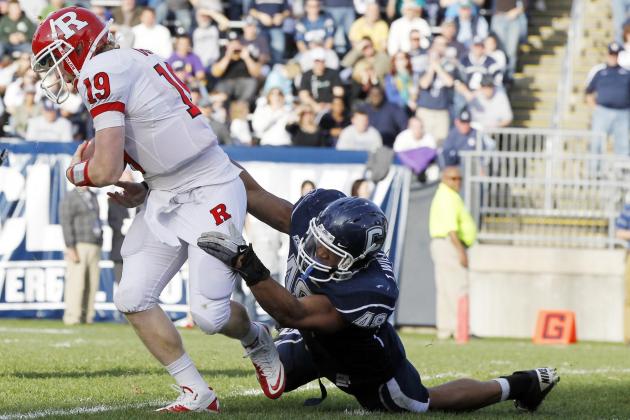 David Butler II-USA TODAY Sports

Free Agency Impact: Coming into the later rounds, there's still some holes to fill on defense, particularly at outside linebacker. San Diego's pass-rush got better in 2012, but it's still currently a work in progress.
The team lost two pass-rushing linebackers in Antwan Barnes, who signed with New York, and Shaun Phillips, who is doubtful to return to the team. Both players excelled in the 3-4 defense, playing the role of a situational pass-rusher and run-stuffer.
The Chargers need to find more pass-rushers in the draft at some point, but they need players who fit the specific mold of an undersized defensive end with the agility and quickness to hold down assignments in coverage.
Prediction: Players that fit this specific mold are guys like Connecticut's Trevardo Williams. He is a 6'1", 241-pound defensive end who finished his senior year with 11.5 sacks. Williams also ran a 4.57 40-yard dash at the Combine.
From the way he plays, it seems like a transition to outside linebacker would be a natural fit for him.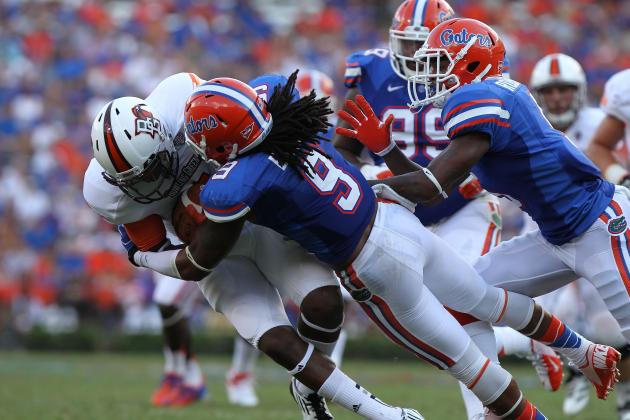 Kim Klement-USA TODAY Sports

Free Agency Impact: The release of safety Atari Bigby freed up cap space for the Chargers, but it also subtracted yet another veteran starter from the roster. Brandon Taylor is expected to get the opportunity to take the starting job, but he's still in the process of recovering from a major knee injury.
In case Taylor's recovery times limits his availability to the team early in the season, San Diego will have to compensate by adding another player through the draft.
Prediction: Once again, Matt Miller nails the pick of a player who fits the Chargers just right—Florida safety Josh Evans. He's got the cover skills to patrol the defensive backfield with Eric Weddle, but he's no stranger to coming up in the box and making a play on an unsuspecting running back.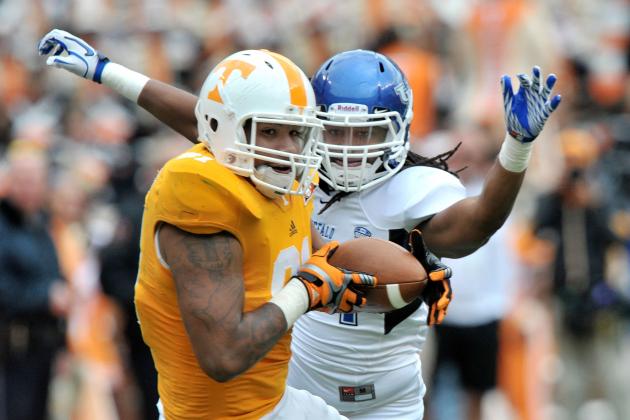 Jim Brown-USA TODAY Sports

Free Agency Impact: In the concluding round, it's always best to add a last bit of depth to a unit that needs long-term help. Two units that come to mind are the offensive line and tight end.
Telesco managed to cut the dead wood at each position when he released offensive tackle Jared Gaither and tight end Randy McMichael earlier this offseason. He replaced them with younger, cheaper options with the hope that one of them would blossom into a starting role.
King Dunlap and Chad Rinehart were added to the offensive line, while former Dallas Cowboy John Phillips was picked up to slide in behind Antonio Gates. Here in the last round, I would continue adding depth to those positions, even with the new talent that was already brought in via free agency.
Prediction: Among the lower-ranked offensive lineman, I like Colorado State's Joe Caprioglio. A torn ACL in 2011 might give off major warning signs when evaluating his NFL potential, but Caprioglio has experience playing tackle and guard. That demonstrates the type of versatility that San Diego covets.
Then, there's Tennessee tight end Mychal Rivera, who may go a round or two earlier. He's a very athletic player that relates more closely to the hybrid-tight end position, similar to New England Patriots star Aaron Hernandez. Philip Rivers can always use another pass-catcher.