Invicta 5 Preview and Predictions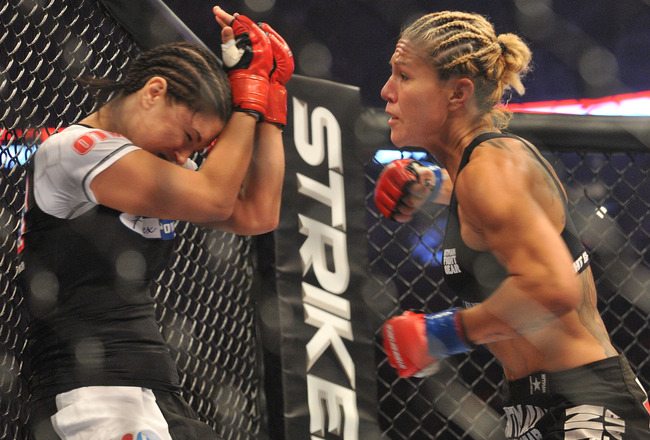 Jon Kopaloff/Getty Images
The world's premiere organization for women's MMA returns this weekend, as Invicta 5 comes live on pay-per-view. This $9.99 will be money well spent and provide great entertainment to fans hardcore and casual alike.
At the top of the card are two title fights. In the co-main event, flyweights Barb Honchak and Vanessa Porto will compete for the vacant 125-pound title, while atomweight champion Jessica Penne defends her title in the main event against the immensely popular Michelle Waterson.
Also featured on the card is long-time MMA assassin Cris "Cyborg", fresh off her suspension following last year's failed test for performance enhancers.
Here is a preview and prediction for the entire card.
Prelims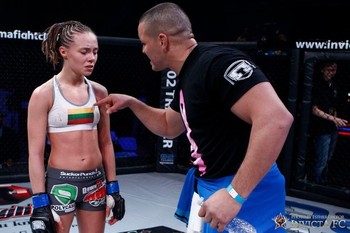 www.mixedmartialarts.com
Rose Namajunas vs. Kathina Catron
The card kicks off with an underrated strawweight bout between Kathina Catron (2-1) and Rose Namajunas (1-0), girlfriend of Pat Barry. Both of Catron's wins have come by submission, but they both came against Amber Powell via rear-naked choke. The difference in this fight may be that Namajunas has solid striking, especially learning under Barry. She will win the standup exchanges before dropping Catron, earning a tapout on her dazed competitor.
Namajunas, Submission, Rd. 2
Jodie Esquibel vs. Alex Chambers
Australia's Alex Chambers (3-1) makes her Invicta debut against a product of Team Jackson in Jodie Esquibel. Overseas, Chambers put on some impressive performances, but faltered in her toughest fight against Japanese prospect Mizuki Inoue. Esquibel is going to be the smaller fighter, but she will come in with a solid game plan and refined skills. She should earn the decision here.
Esquibel, Unanimous Decision
Katja Kankaanpaa vs. Juliana Carneiro Lima
Undefeated international flyweights collide, as Finland's Katja Kankaanpaa (7-0-1) meets Julia Carneiro Lima (5-0) with a first career loss on the line. Kankaanpaa is a proven contender, as she has defeated notables Aisling Daly, Mei Yamaguchi and Karla Benitez while showcasing solid all-around skills. Lima has spent her entire career in Brazil, but has beaten some tough girls including Kinberly Novaes. This will be an interesting bout, but the more experienced Finn will earn the judge's approval.
Kankaanpaa, Unanimous Decision
Jessamyn Duke vs. Miriam Nakamoto
Two young guns in the bantamweight division collide, when Jessamyn Duke (2-0) and Miriam Nakamoto (1-0) throw down. Duke is a unique physical specimen, possessing a 5'11" frame and long limbs to keep her opponents at bay. Nakamoto is the unknown commodity here, but is noted for her standup skills. Duke is too big and promising to bet against here, however.
Duke, Submission, Rd. 2
Cassie Rodish vs. Simona Soukupova
The lightest of weights is on display here, as UK striker Simona Soukupova (3-2-1) steps up on late notice to scrap with Cassie Rodish (4-3). Soukupova is known for her striking, as displayed in her fight against Felice Herrig and her two career knockouts. After starting out 0-3 as a pro, Rodish has won four straight, including her most recent win over Stephanie Frausto. She should do enough to win a thriller by decision.
Rodish, Unanimous Decision
Bec Hyatt vs. Jasminka Cive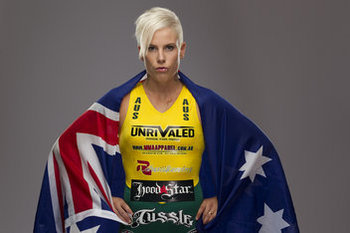 fighterjournal.com
To kick off the main card, Australian strawweight Bec Hyatt (4-2) meets Austrian counterpart Jasminka Cive (5-0) for a chance to move up the ladder.
Despite taking her last fight on late notice (a title bout against Carla Esparza), Hyatt showed a competitive spirit and solid striking chops even in a losing effort. Previous to that loss, she was on a four-fight win streak on the Australian fighting circuit.
Further than her her sharp striking, she owns two of her four wins via submission. Her two tapouts and one knockout show that she is a finisher in the cage.
Cive is an undefeated prospect, but is taking on her biggest challenge to date in Hyatt. The Austrian powerhouse has finished four of her five opponents via knockout, a testament to her stopping power.
The more well-rounded fighter will likely come out on top here. In this case, Hyatt will be the one to spoil Cive's perfect record.
Hyatt, Unanimous Decision
Julia Budd vs. Mollie Estes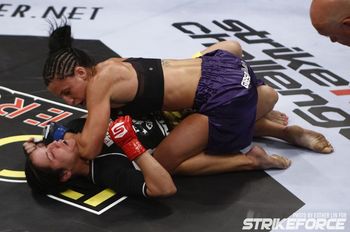 allelbows.com
In a featherweight bout, Canada's Julia Budd (4-2) will meet late-notice replacement Mollie Estes (1-1). Previous to this matchup, Budd was slated to meet Fiona Muxlow and Estes was to meet Veronica Rothenhausler (Muxlow moved up to fight Cris Cyborg, Rotherhausler was injured in training).
Budd has been one of the best featherweights in the world in her somewhat young career. She is a lethal striker that has added takedowns and ground-and-pound to her toolbox.
The high-level Canadian owns wins over Germaine de Randamie, Elina Nilsson and Danielle West in her last three outings. In those bouts, she has used takedowns and nasty elbows to soften up her victims.
Estes is a relative newcomer, although she has an impressive amateur record (7-1). The talented grappler is a submission specialist, as seen in her amateur career.
The discrepancies come in experience and Estes' last outing. Budd is vastly experienced in combat sports, and in Mollie's last fight, she was ground-and-pounded to a stoppage against Randi Miller.
That should be a similar performance.
Budd, Knockout, Rd. 1
Kaitlin Young vs. Lauren Taylor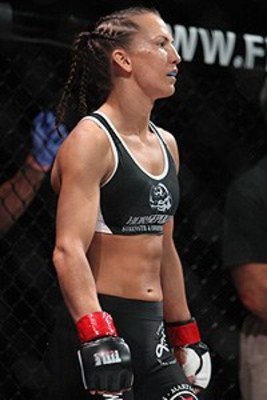 sherdog.com
Moving on, bantamweight counterparts Kaitlin Young (7-7-1) and Lauren Taylor (5-0) meet, with Taylor stepping up on late notice for Amanda Nunes.
Young is a very experienced fighter, having 15 pro bouts against some top names such as Gina Carano, Liz Carmouche and Miesha Tate. She is a striker first-and-foremost, owning six of her seven wins with her hands, feet and knees.
As for Taylor, all five of her wins have come via knockout. Although she has solid striking on the feet, she has good ground-and-pound, as seen in her latest win against Jennifer Scott.
This should be an interesting one, as Young will want to stand and bang. Taylor should, and will, look for the takedown and batter Young to score the upset.
Taylor, Unanimous Decision
Zoila Gurgel vs. Jennifer Maia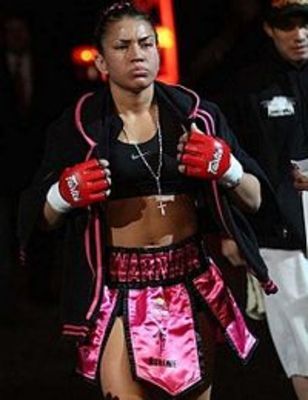 www.fighters.com
Former Bellator champion Zoila Gurgel (12-2) makes her debut for Invicta in the next bout when she takes on underrated Brazilian Jennifer Maia (6-2-1).
Gurgel makes her debut on the heels of a knee injury that kept her out over a year and a 1-1 run with Bellator before she left the company. Although she has just one knockout, she is a technical striker with good movement and a developing ground game.
A list of her victims includes Rosi Sexton, Megumi Fujii and Jessica Aguilar.
However, many fans have forgotten "The Warrior Princess" because of her latest bout, which was a loss to Jessica Eye and her long time away from injury. A win over Maia would thrust her back up into the spotlight.
Maia is a member of Chute Boxe and is a top-notch grappler. Her best chance in this fight is to get Gurgel on her back and fish for submissions.
Gurgel has solid takedown defense and the striking to keep Maia at bay. She should earn the judge's nod here.
Gurgel, Unanimous Decision
Sarah Kaufman vs. Leslie Smith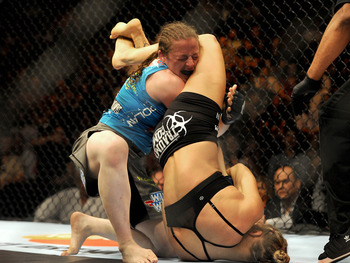 Jayne Kamin-Oncea-USA TODAY Sports
Strikers meets at 135 pounds, when former title challenger Sarah Kaufman (15-2) meets rising contender Leslie Smith (5-2-1).
Kaufman is fresh off her loss to bantamweight queen Ronda Rousey who quickly submitted her with a patented armbar. Previous to that, she was on a three-fight win streak, including victories over Liz Carmouche and Alexis Davis.
She is a top-notch boxer with 10 career knockout wins. The biggest chink in her armor has been submission defense, as both of her losses came via tapout.
Smith is the less experienced of the two but has been an exciting addition to the sport. Her two bouts with Kaitlin Young (a draw and knockout win) earned her a solid fanbase, as have her three career knockouts.
This may be the best fight of the night. In a slug fest, Kaufman prevails slightly.
Kaufman, Unanimous Decision
Cris Cyborg vs. Fiona Muxlow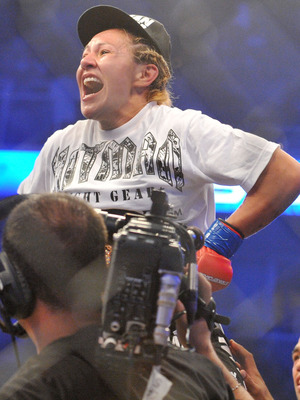 Jon Kopaloff/Getty Images
In the return to competition for the first time in over a year, Brazilian Cris Cyborg (10-1) meets late replacement Austalian Fiona Muxlow (6-2).
Cyborg is considered the most powerful striker in women's MMA today, as she uses devastating Muay Thai to send opponents into a deep nap. Her knockout resume includes such notables as Marloes Coenen, Gina Carano and Shayna Baszler.
Her last outing against Hiroko Yamanaka got her suspended for performance enhancers. A win for Cris here could earn her a title shot at 145 in Invicta.
As for Muxlow, she takes an extremely tough fight on short notice. The submission specialist lost her most recent outing against Marloes Coenen via submission, but takes on a whole different animal in Santos.
I believe somebody is going to sleep (and it won't be the one nicknamed "Cyborg").
Cyborg, Knockout, Rd. 1
Vanessa Porto vs. Barb Honchak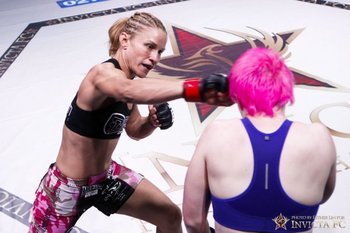 invictafc.com
In the co-main event of the evening, American Barb Honchak (7-2) and Brazilian Vanessa Porto (15-5) meet for the 125-pound strap.
Porto is coming off the most impressive win of her career when she dominated Tara LaRosa with leg kicks and a solid sprawl. The submission specialist owns victories over top fighters such as Jennifer Maia, Kalindra Faria and Germaine de Randamie.
As for Honchak, she is riding a six-fight win streak that has seen her defeat Aisling Daly, Roxanne Modafferi and Felice Herrig. She utilizes technical striking and a solid top game to stifle opponents and dominate matches.
I think this will be a close fight, but it may come to takedowns. Honchak has the advantage there, so will earn a very close decision.
Honchak, Unanimous Decision
Jessica Penne vs. Michelle Waterson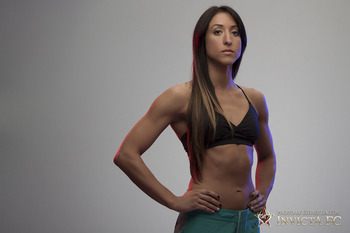 invictafc.com
In the main event of the evening, atomweight champion Jessica Penne (10-1) puts her title on the line when she meets top contender Michelle Waterson (10-3).
Penne won her title in dominating fashion when she grounded, pounded and submitted Naho Sugiyama (triangle choke). Penne is a well-rounded individual who has enjoyed great success since dropping to 105 pounds.
Six of her wins have come via submission, including tapouts of Sugiyama, Amy Davis and Angela Magana. Her lone loss came at strawweight when she dropped a decision to the much larger Zoila Gurgel.
Waterson is popular for her karate style and physical attractiveness (she is a model), but she is no joke in the cage. Although she is a striker first, six of her wins have come via tapout (only two are via knockout).
A list of her victims include Lacey Schuckman and Diana Rael.
Waterson will look to strike, which Penne will have no problem with. Eventually, Penne will drag Waterson down and find a submission to retain her belt.
Penne, Submission, Rd. 2
Keep Reading