WWE Raw: Top 7 Questions Left Unanswered After WrestleMania 29 Go-Home Show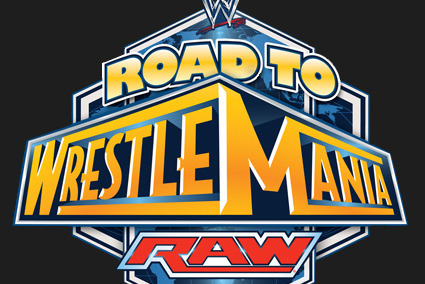 photo courtesy of www.unlv.edu
WWE Raw has been riding down the New Jersey Turnpike the last few weeks, but took Exit 16 for MetLife Stadium with the go-home episode.
The final Raw before WrestleMania 29 addressed a number of situations. We learned who will induct Trish Stratus into the Hall of Fame, as well as one match for the YouTube Pre-Show.
However, a number of questions remain unanswered with less than a week until the grandest pay-per-view of the year.
Why hasn't Antonio Cesaro been booked for a WrestleMania match? Why was Stephanie McMahon chosen as Stratus's inductor?
Here are the top 7 questions left unanswered after the WrestleMania 29 go-home episode of Monday Night Raw.
Begin Slideshow

»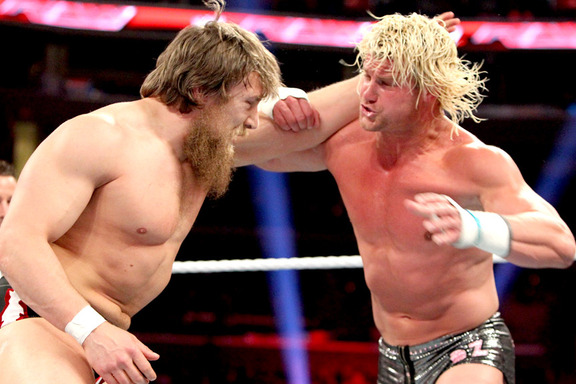 photo courtesy of wwe.com
The WWE tag team title match at WrestleMania may appear random, but Dolph Ziggler and Big E Langston have been very dominant lately.
On Raw, Ziggler was victorious over Daniel Bryan, but the action didn't stop there. When Kane attempted to help his partner, Langston had other thoughts. Big E was able to break out of Kane's chokehold and deliver his own finisher to the Big Red Machine.
Could we see new tag team champions at WrestleMania?
No team has been able to dethrone Team Hell No, but Ziggler and Langston have begun to show their worth.
Although the Internet Wrestling Community may want to see Ziggler leave as World Heavyweight champion, he may leave with multiple titles.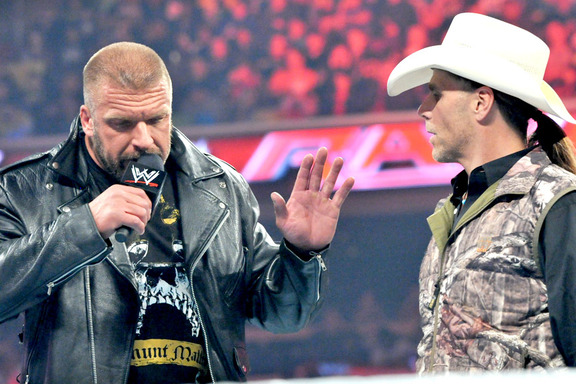 photo courtesy of wwe.com
On Raw, the Heartbreak Kid Shawn Michaels announced that he would be in Triple H's corner on Sunday when he faces Brock Lesnar.
Michaels was attacked by Lesnar prior to Triple H's SummerSlam match so it is not so surprising that Mr. WrestleMania will be involved. Plus, Michaels was the special guest referee of Triple H's WrestleMania match last year.
However, the question that remains unanswered is how involved Shawn Michaels will be.
One scenario could see Michaels turn on Triple H and cost him the match. However, this outcome is very illogical. Triple H and Shawn Michaels are portrayed as best friends. Michaels will most likely never appear more than once in a while. Therefore, there is little chance that he makes a huge impact.
Then again, who knows?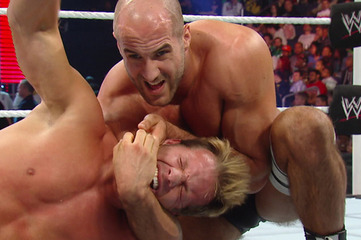 photo courtesy of wwe.com
Once again, WWE United States champion Antonio Cesaro had a meaningless match. He faced Chris Jericho in order to help hype Jericho's match with Fandango. However, Cesaro continues to lack any opponent for WrestleMania. WWE has yet to address Cesaro and the United States title.
If Cesaro were to be left off the card, it could arguably be the biggest mistake of the night. However, I expect WWE to hold a Battle Royal during the one-hour pre-show. It is just baffling that WWE has yet to announce it.
Cesaro has brought prestige to the United States title, but WWE seems to misuse the young Superstar.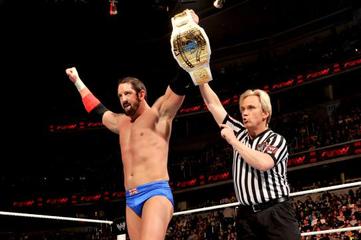 photo courtesy of wwe.com
You may not be surprised to learn that the Intercontinental title match between Wade Barrett and The Miz will be on the pre-show. However, the decision is questionable if WWE were to have any thoughts of making the midcard title what it should be.
The Intercontinental Championship used to be a stepping stone to a World Title. WWE has not used the belt that way in a long time.
It's a bit surprising that this match was announced for the pre-show, but the eight-person tag match was not. Team Rhodes Scholars and the Bella Twins will face Tons of Funk and the Funkadactyls. I would have thought this would be the first match announced for the pre-show.
But the Intercontinental title? Why?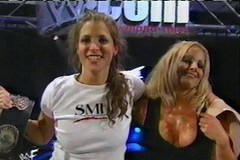 photo courtesy of www.oocities.org
One of the most surprising announcements on Raw was that Stephanie McMahon would be the one to induct Trish Stratus into the WWE Hall of Fame.
Although McMahon certainly had moments with Trish Stratus throughout the Attitude Era, former WWE Diva Lita was widely expected to induct Stratus. Lita and Trish were the top two Divas in WWE throughout the Attitude Era.
This could be a part of Stephanie using her power to be involved at the Hall of Fame, but Lita seemed like a more appropriate choice.
The choice of Stephanie McMahon remains a question unanswered with less than a week until WrestleMania 29 and less than a week until the Hall of Fame ceremony.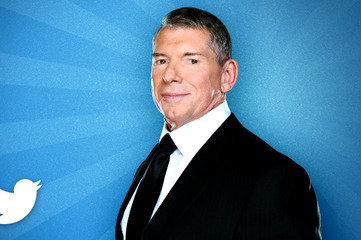 photo courtesy of wwe.com
Mr. McMahon has joined the WWE Twitter Universe and used his first tweet to announce that a big reveal is coming. McMahon's tweet told WWE fans that the big reveal would be coming Friday night. Now, there are a number of questions left unanswered surrounding this situation.
What will the big reveal be?
Will we find out during SmackDown?
Will we find out from Mr. McMahon on Twitter?
The big reveal could be anything from the WWE Network to pay-per-view news and everything in between.
What do you think will be the big reveal?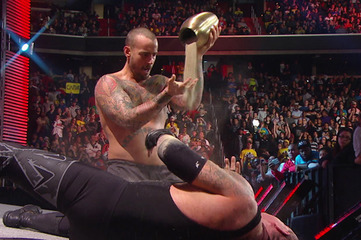 photo courtesy of wwe.com
Raw's final segment involved The Undertaker, CM Punk and Paul Heyman, who was dressed up as Paul Bearer. Punk also dressed up, but as one of Undertaker's druids. Punk continued to gain a lot of heat for mocking Undertaker's manager, who passed away just a few weeks ago.
Is it enough for Punk to end the streak?
This is by far the most difficult match to predict of all the Undertaker's WrestleMania matches. Personally, I think Undertaker wins and faces John Cena at WrestleMania 30. Then again, Punk broke a streak by holding the WWE title for over 400 days. Perhaps Punk will break another streak in 2013.
What questions were you left with unanswered after Raw? Please share your questions and thoughts in the comment section below.
Follow me on Twitter (@sethgutt), and check out my site guttwrenchpowerblog.com.
Like GuTTWrenchPowerBlog on Facebook here.