Final Four 2013: The Biggest Mismatches in the National Semifinals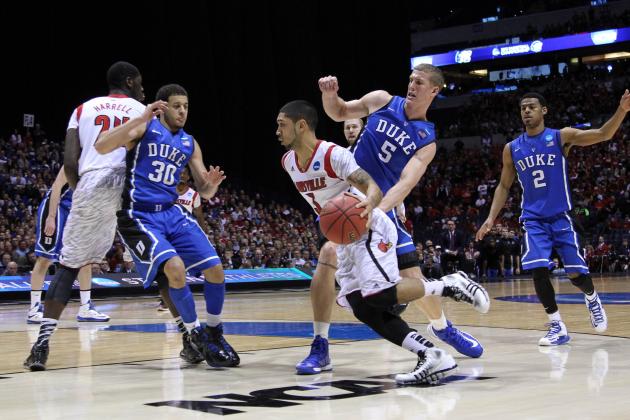 Brian Spurlock-USA TODAY Sports
How big of a mismatch will Louisville's backcourt be against Wichita State?
Mismatches are the key to winning basketball games. Exploit them effectively, and your team could very well find itself playing for the national championship.
Next weekend's Final Four matchups—No. 1 Louisville vs. No. 9 Wichita State and No. 4 Michigan vs. No. 4 Syracuse—provide a number of fascinating variances within each team's style of play.
How will Syracuse's zone affect Michigan's offense? How will Louisville's speed impact the Shockers?
We break down the three most glaring mismatches in each game and assess which team will ultimately have the advantage.
Begin Slideshow

»
Not many NBA prospects have seen their stock rise as fast as Gorgui Dieng, the 6'11'' Cardinal center.
He's fast, agile, has excellent anticipation and has developed an outstanding mid-range game. He's made 20 of 24 shot attempts throughout the tournament and, save for some late-game free throws in the rout over the Blue Devils, hasn't gotten to the line a lot. That's indicative of his vastly improved jump shooting.
He's a tremendous shot-blocker and should give Malcolm Armstead fits if the guard can manage to beat Peyton Siva or Russ Smith.
The Shockers have an exceptionally strong and adept shot-blocker as well in 6'8'' Carl Hall. The heart and soul of the Wichita State team lies with the senior, who's averaged around 10 points, five rebounds and three blocks per tournament game.
He's not as tall as Dieng, but he's just as strong and has a knack for getting big rebounds.
Don't discount 7'0'' backup center Ehimen Orukpe for the Shockers, who hauled in a game-high nine rebounds in just eight minutes of action against La Salle. If nothing else, the reserve provides size and spare fouls. He could play a big role, as could Montrezl Harrell, a tenacious rebounder off the Louisville bench.
Cleanthony Early, the Shockers' 6'8" stretch forward (14.2 points, seven rebounds in four games) oozes with potential, and his three-point shooting could give Louisville's less-mobile forward, Chane Behanan, trouble.
Advantage: Shockers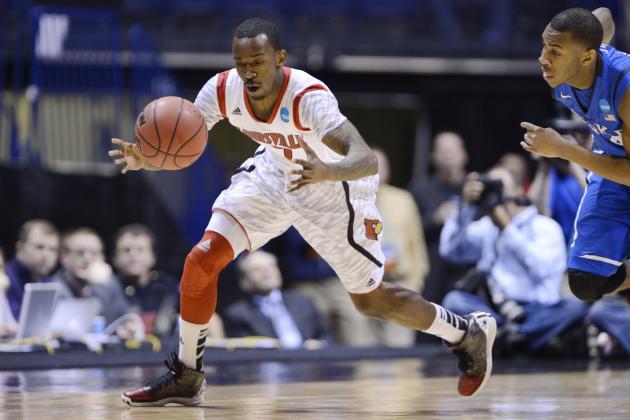 Jamie Rhodes-USA TODAY Sports

Even with the gruesome loss of backup point guard Kevin Ware, the Cardinals still have an advantage—albeit less decided—over the Wichita State guards.
Russ Smith and Peyton Siva are terrific in the open court, and each player's speed is uniquely devastating. Smith will drive right at the basket, attacking without a second thought. Siva, on the other hand, will penetrate, draw attention and dish through tight seams to big men Gorgui Dieng or Chane Behanan.
Few guard combinations can match their offensive production (Michigan comes to mind), but when combined with their defensive efforts, Louisville's backcourt is unparalleled.
Wichita State's only real attacking guard is Malcolm Armstead, the senior who averages 10.9 points per game on nearly 10 shots per contest. Although he's consistently able to get into the lane, he sometimes gets reckless with the ball and throws bad turnovers or forces low-percentage shots. He's shot just 21-of-59 (35 percent) from the field in the tournament and has made just 28 percent of his three-point attempts.
Fellow guard Ron Baker is somewhat of an X-factor for the Shockers, as he can hit from outside and stretch the Louisville guards to the perimeter. Tekele Cotton isn't a huge scoring threat (even though he hit the biggest three-pointer of the game against Ohio State), and the glue guy is much more of a defensive threat on Siva or Smith.
The silver lining for Wichita State is that its guards only had seven turnovers against the defensive pressure of Ohio State. Expect that to be ratcheted up a notch or two against Louisville.
Advantage: Cardinals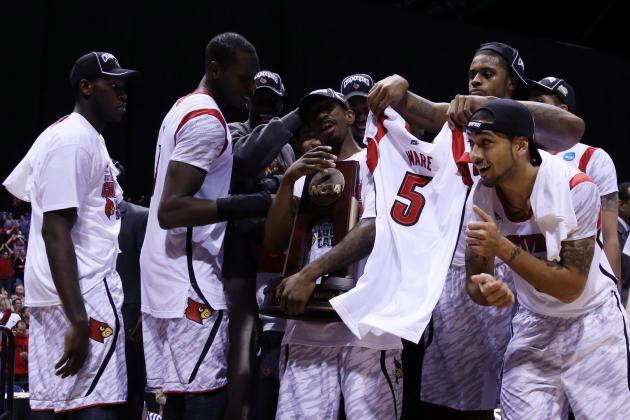 Brian Spurlock-USA TODAY Sports

Louisville's won 14 in a row, the Shockers just four. The Cardinals are headed to the Final Four for the second straight year. Wichita State's last trip came in 1965. The Cardinals stormed through the Big East tournament. The Shockers fell to Creighton in the MVC title game.
As overwhelming a mismatch as Louisville-Wichita State might seem (Vegas says it's 10.5 points), nothing can compare to the intangible momentum that Louisville received from Kevin Ware as he was writhing on the ground in pain, his tibia split at a devastating angle.
"Just go win this game for me. Don't worry about me. I'm fine. Just go win this game," he told his teammates (via SI).
Still numb to what had happened just minutes before, the Cardinals somehow remained composed enough to take a three-point lead into halftime against Duke. A little over four minutes into the second half, the Cardinals turned on the burners and executed one of their trademark game-changing runs.
First Russ Smith scored, then Peyton Siva, then Gorgui Dieng; by the time the six-minute run was over, Louisville had built a 15-point lead on the strength of a 17-2 run.
Ware, who moved to the Atlanta area for high school, will already get a homecoming of sorts, but the Cardinals are undoubtedly playing with him in mind. Wichita State withstood one of the most intense momentum shifts this tournament has seen when Ohio State nearly washed away a 20-point Shockers lead in their Elite Eight game.
Can the Shockers withstand a narrative so overwhelming that it devastated a typically composed Blue Devils team? Doubtful, but that's why they're the ultimate underdogs.
Advantage: Cardinals
This one's not complicated. Jim Boeheim's zone has dismantled opposing offenses throughout the tournament.
In four wins, opposing defenses have shot 29 percent against the Orange's lanky 2-3 zone. It held two different teams below 40 points. It's forced 16.5 turnovers a game. Its opponents have made 15 percent (14-of-91) of three-pointers, the biggest explanation for the Orange's blowout wins.
Nik Stauskas could very well be Syracuse's kryptonite. Michigan's freshman sharpshooter has been off his game recently, but it doesn't take much for a specialist (45 percent three-point shooter on the year) to catch fire. Against Florida, he lit a blaze.
He was 5-of-5, mostly in the left corner, from three-point range in the first half against the Gators. He hit three in a three-minute span that boosted a 16-point lead to 24 before a TV timeout cooled him off. Stauskas hadn't made more than two threes in a game since Feb. 5, but against Florida, he looked more like the freshman who took Michigan's nonconference opponents by storm.
The Orange are well versed in their three-point defense, knowing full well that's how teams try to exploit them. Syracuse's defense ranks third in the country, allowing just 28.3 percent of opponents' threes to drop.
The Wolverines are a different beast, and when on, Stauskas is a different type of shooter.
Advantage: Wolverines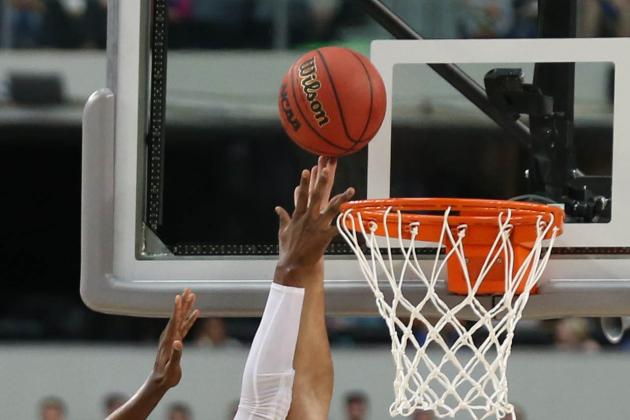 Matthew Emmons-USA TODAY Sports

People wonder why freshman center Mitch McGary waited until the NCAA tournament to put up monster numbers and wreak havoc in the defensive post.
It's not that he couldn't earlier in the season. It's that coach John Beilein was grooming him. He finally unleashed McGary in the heart of Big Ten season against unsuspecting opponents like Indiana and Ohio State, and the results were immediate.
McGary meshes perfectly with Michigan's other athletes, Trey Burke and Tim Hardaway Jr., and his hustle is often the cause of easy fast-break opportunities.
But Syracuse's zone is built to squash any post advantage, and it rarely lets big men get position deep in the zone, anyway. It does, after all, have the best block percentage in the country at 19.4, via KenPom (subscription required).
McGary's only success will come just inside the free-throw line, where Marquette's Davante Gardner (6-of-9 for 14 points) found a soft spot in the Orange's defense. Syracuse bottled up Cody Zeller in its Sweet 16 victory, holding the Hoosiers center to just 3-of-11 for 10 points.
McGary does have a decent shooting touch, but it's more from the baseline than in front of the hoop, and he's not going to be the Wolverines player on offense, sitting at the heart of the zone. That's going to be Tim Hardaway Jr., who's made just seven of his last 24 shots in Michigan's wins over Kansas and Florida.
McGary's success will come in transition, but his biggest impact on the game should be on the offensive glass, where Syracuse has struggled to prohibit second-chance opportunities.
Advantage: Syracuse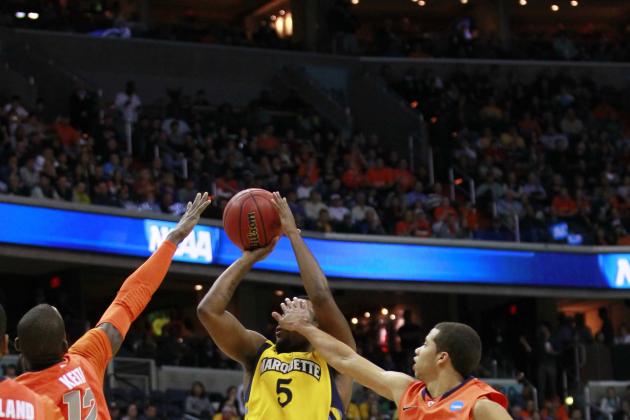 Geoff Burke-USA TODAY Sports

Numerous times this postseason, Jim Boeheim has lauded his team's defense and said that Syracuse's offense has been good enough. But good enough might not cut it against a Wolverines team that has averaged 78.5 points per tournament game.
The only way "good enough" will reserve a spot in the championship game is if Syracuse uses its size advantage.
Michael Carter-Williams has been steadily fantastic in wins over Indiana (24 points, five rebounds, four steals) and Marquette (12 points, eight rebounds, six assists). Once again, he'll have a five-inch height advantage over Trey Burke, and the Orange's starters are too long for Burke to try and guard anyone else.
But Carter-Williams is typically not a shoot-first guard. When on, the Syracuse offense works because of role players James Southerland and C.J. Fair. Southerland will stretch the floor with his outside shooting (40 percent from three on the season), but Fair will be instrumental in breaking down Michigan's ever-improving interior defense.
His matchup against Glenn Robinson III will be the Orange's biggest mismatch. It's not that Robinson (6'6'', 210 lbs) is a bad defender, but Fair, at 6'8'', has size and is a better rebounder than the freshman. Tim Hardaway Jr. will likely draw James Southerland, which is yet another size disadvantage for the Wolverines. The Orange should feed the ball into the paint, force help from McGary and try to bait the freshman into careless fouls.
Even though the Orange have length on the Wolverines, Syracuse's offense has been extremely inconsistent, but it's also played much bigger teams (California, Indiana). If Syracuse wins, it will need to pound the ball inside and not settle for outside jumpers, which removes its decided height advantage.
Advantage: Orange