The Biggest Questions for the Dallas Cowboys Heading into the 2013 NFL Draft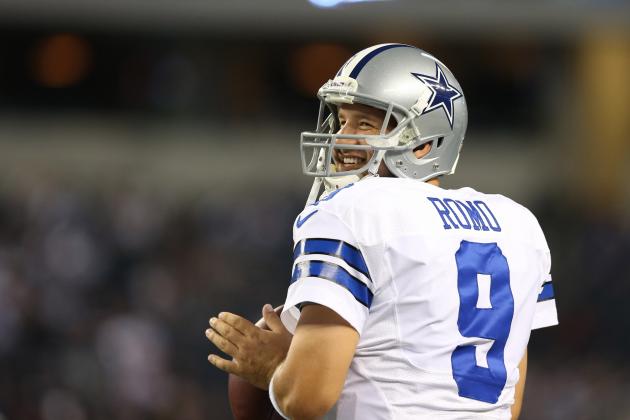 Matthew Emmons-USA TODAY Sports

The Dallas Cowboys are less than a month away from one of the most important drafts in franchise history. It may sound like a bold statement to some, but it's a fair assessment when season after season ends in sheer disappointment.
It's a tougher pill to swallow when you watch the Giants win multiple Super Bowls in recent years and consistently watch the same group of teams maintain their respective levels of success. The Cowboys are never short on storylines or dramatics, but it's time to get down to brass tacks and figure out some serious questions that still exist.
The Cowboys weren't expected to be players in free agency this offseason, but many important variables remain unanswered. One thing the Cowboys have managed to do is lock up Tony Romo to a much anticipated long-term deal.
What remains a mystery is why this deal took so long to consummate considering both parties wanted each other. Why not settle what was going to be the key to the offseason a little earlier? Couple that with the continued impasse of a long-term deal with Anthony Spencer, and this entire offseason has been one big morphine drip.
So where does that leave the Cowboys right now? Are there any plans to sign additional free agents? Will they utilize the cap space created by Romo's contract? Will they strike a deal with Spencer and free up more money in the process?
Yeah, lots of questions but very little in the way of answers. In fact, too many big questions still exist for the Cowboys. It's time to take a closer, harder look at the reality of what they are.
Begin Slideshow

»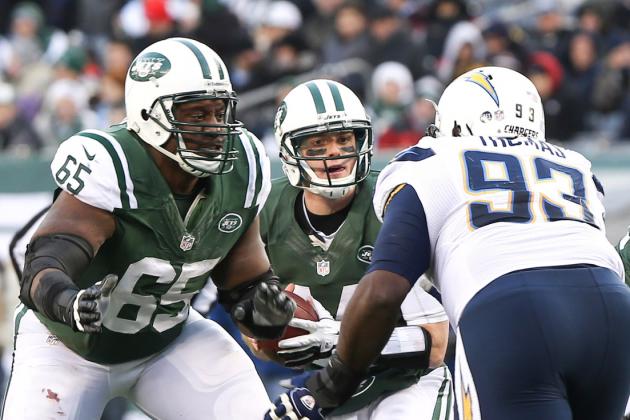 USA TODAY Sports

Nobody expected the Cowboys to target Branden Albert or some other elite offensive lineman—but not even having enough cap room to sign Brandon Moore after his visit to Valley Ranch was definitely a head-scratcher.
He's a 32-year-old lineman with ties to Bill Callahan and a player who has proven to be very durable throughout his career. Perhaps the Cowboys will circle back and sign Moore or another candidate?
With Mackenzy Bernadeau enduring yet another surgery and the Cowboys still needing to find out about youngsters like David Arkin, Kevin Kowalski and Ronald Leary, adding a veteran is just what this team needs. The question: Will this position be addressed?
The answer is that the offensive line requires a two-part solution in the form of free agency and the draft. With many teams such as Dallas in bargain-hunting mode, the time to make a move is right now in free agency.
As far as the draft is concerned, many of the top prospects are gaining momentum, and the reality is that the Cowboys have to wait and see how the draft unfolds. Jonathan Cooper and Chance Warmack aren't guaranteed to be sitting at the 18th pick, but the Cowboys need to be ready to pounce if they are.
The season just might depend on how well the Cowboys address the offensive line.
USA TODAY Sports

DeMarco Murray is a dynamic running back when healthy but staying on the field has proven a difficult task. With the all but certain departure of Felix Jones, and only Lance Dunbar and Phillip Tanner in the mix, it's time for the Cowboys to upgrade the backup position to share the load with Murray.
At one point, Tanner looked like a viable candidate, but his lack of improvement might just be his downfall. Dunbar appears to be a player who could be that change-of-pace back for the Cowboys, someone they can continue to develop, but he is no lock to make this team.
The big concern here is what the Cowboys will do to address this position. Will it be through free agency, the draft or both? What Dallas has to factor in here is the durability of Murray from a realistic point of view. Helping him carry the load will be key in trying to improve the 31st ranked running game, but it will also help Tony Romo.
In 2009, the last time the Cowboys made the playoffs, they had a Top 10 running attack. Coincidence? I don't think so. Some names to keep in mind are Peyton Hillis and college prospects such as Stepfan Taylor, Johnathan Franklin and Ray Graham.
Solidifying this position is just as important as improving the offensive line.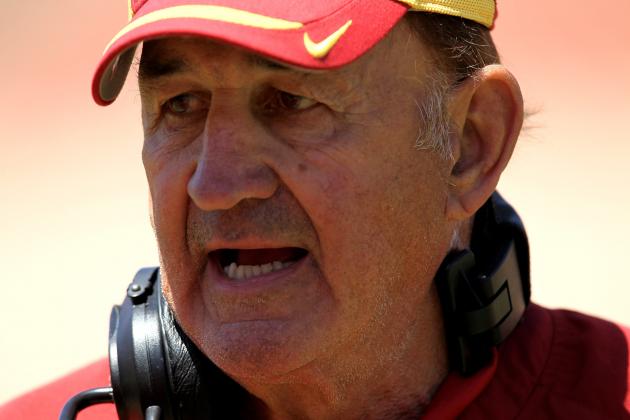 Stephen Dunn/Getty Images

When the Cowboys fired Rob Ryan and replaced him with Monte Kiffin, it represented a clear change in philosophy aimed at finding better results. It's still hard to fault Ryan when he was playing short-handed half the time, but his scheme did appear to be too complex, and the Cowboys defense often looked confused and prone to giving up the big play.
Enter Monte Kiffin and his shot at returning to the NFL along with his trusted assistant Rod Marinelli. Coaching-wise, the Cowboys significantly upgraded their chances at success, but do they have the personnel to match and run the 4-3?
In my estimation, the Cowboys seem a little thin up front to run a successful 4-3 defense, and that causes some concern. Kiffin will line up DeMarcus Ware and Anthony Spencer as bookends along the line and Jason Hatcher, Sean Lissemore and Jay Ratliff along the interior.
The departures of Kenyon Coleman, Marcus Spears, the uncertain future of Josh Brent, and little depth in the mix make this a big remaining question heading into April's draft. The linebacker position received a boost with the signing of Justin Durant, but depth is a concern, and Kyle Wilber is still an unknown.
The cornerback situation is a position of strength, but safety still remains a concern despite the addition of Will Allen. The Cowboys will need to have the type of secondary that focuses on making plays, being aggressive and sound fundamentals.
The bottom line is that this defense is need of some playmakers. And right now those players aren't around in sufficient quantity.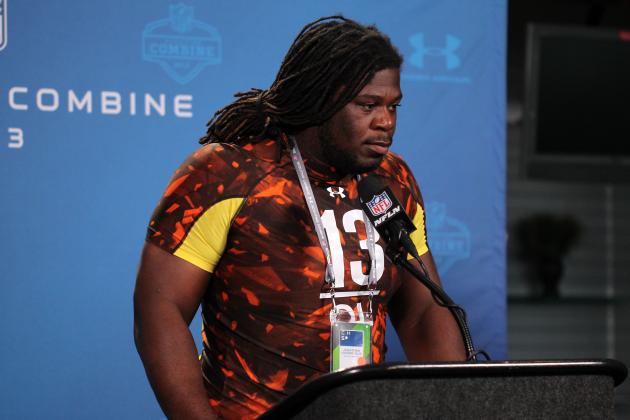 Brian Spurlock-USA TODAY Sports

What will the Cowboys do with the 18th pick in the draft? This could probably be the most significant question of the offseason simply because of the lack of an offseason. Maybe a deal will get done with Spencer to free up more cap space but assume the Cowboys will make minor moves.
This puts an enormous amount of pressure on the 2013 draft and the need to connect on almost every pick. Too much to ask for? Maybe, but other franchises consistently draft well, and it's time for the Cowboys to build on their recent success.
So which way do the Cowboys turn? Do they let the draft play itself out? Will they stick to their board? Do they trade up? Down?
Many, many questions surround this draft, but the sense of urgency to find contributors and impact still remains unwavering in its importance. The overwhelming consensus is to draft an offensive lineman such as Chance Warmack or Jonathan Cooper, but an impact defensive lineman like Sheldon Richardson or a safety such as Kenny Vaccaro would be welcome additions as well.
The Cowboys need to find good football players, but they need to stay away from Jerry Jones' need for the sizzle and not the steak. The biggest needs on this football team are offensive line, safety, defensive line and running back.
The 2013 draft happens to be deep at those respective positions, and there are prospects out there who are capable of contributing immediately. The Cowboys need to continue to inject youth into this lineup, and they also need to build a roster able to sustain injuries and help manage the cap.
Sounds like the Cowboys have a lot of work to do, and the answers are less than a month away.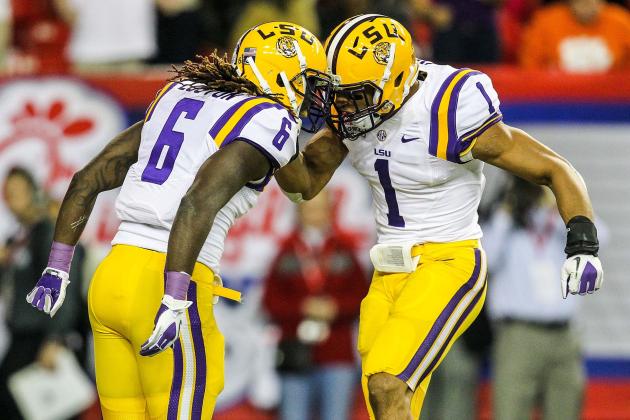 USA TODAY Sports

The release of Gerald Sensabaugh pretty much catapulted the safety position towards an immediate need. I don't want to dismiss the addition of Will Allen as an experienced contributor, but it's no reason for much elation either.
He brings a veteran presence, but the bigger questions center around who else is left.
Matt Johnson never saw the field as a rookie, but the Cowboys need to find out if last year's fourth-round pick is the playmaker they think he is. Barry Church will be coming off an Achilles injury, and it will be interesting to see if he's fully recovered and ready to pick up where he left off.
Danny McCray, Micah Pellerin and Brandon Underwood round out the current depth chart, and excuse me while I vomit all over myself. This simply will not get it done if the Cowboys are serious about winning, and it won't get it done in Kiffin's new system.
Will the Cowboys suddenly find a John Lynch, Ed Reed or Ronnie Lott? Most likely not, but it's time for this franchise to properly find long-term solutions at this position. The Cowboys won't find anything else in free agency at this point, but there are three prospects worth drafting.
Kenny Vaccaro, Eric Reid and Jonathan Cyprien would be perfect fits for the Cowboys, and any of those three players will be well within their grasp. The Cowboys have to seize the opportunity, and they have to realize that watching Danny McCray in coverage is mental suicide.
The Cowboys will transition to a 4-3 in 2013, and the key is to get pressure up front, attack the gaps and help out the back end as much as possible. That formula fueled two Super Bowl runs by the Giants and helped Kiffin experience the same glory with the Buccaneers.
Can the Cowboys experience the same? Without a capable back end, the front end would be wasting their time.