Timeline of Doug Collins' Rise and Fall as Philadelphia 76ers Head Coach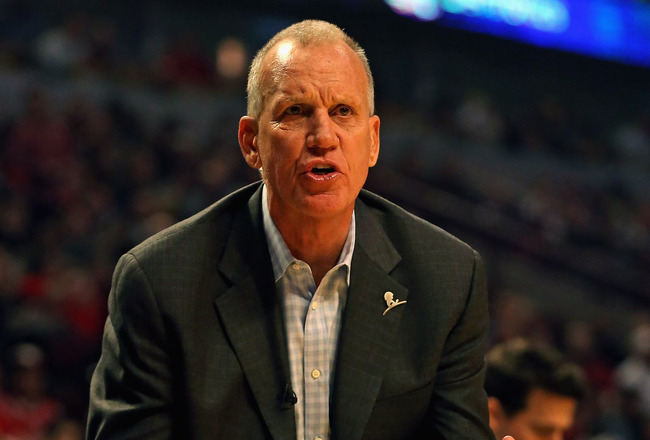 This face tells it all.
Jonathan Daniel/Getty Images
Did anybody else hear that? It was the sound of Doug Collins' rise and fall as the head coach of the Philadelphia 76ers.
The specific noise you're hearing sounds like an alarm clock, and one that won't stop until Collins is no longer the coach of this team.
It's quite wild, actually.
Without doing much research, it's easy to feel like his tenure as head coach has been longer than three years. He was looked at as the savior of the Sixers for the first two years, but something changed this season.
It was almost as if it happened overnight.
Philly fans are frustrated because it feels like he's lost his way, so buckle up.
Here's a look at the rise and fall of Philadelphia's Doug Collins.
Rise: Turning a 3-13 Start into a 41-41 Record and Playoff Spot, Nov. 26, 2010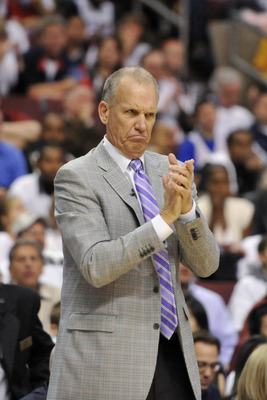 Collins was getting the most out of his players by the end of the season.
Howard Smith-USA TODAY Sports
Starting the 2010-11 season off with a 3-13 record isn't exactly how Collins imagined his first year as Sixers head coach going.
There wasn't much going well.
The makeup of the team was completely different than it is now, and although things weren't going well, it still looked as though Collins never panicked.
Instead of freaking out about losing his job before he even really had it, he looked toward instilling a defensive mindset and one that required his players to always be engaged.
It didn't take long before the results became clear.
Philly took a 27-29 record into the All-Star break and ended up getting to as many as four games above .500 before the year was over as their record hit the 40-36 mark.
A slight end-of-the-season spiral put the team at a 41-41 record, but that was still good enough for the seventh spot in the Eastern Conference and a position in the postseason.
Collins became a Philadelphia favorite in what seemed like an overnight transition.
One that he would continue into the next season.
Rise: Ranking as the Third-Best Scoring Defense During the 2011-12 Season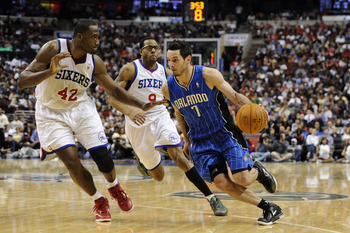 Philadelphia continually shut opponents down.
Howard Smith-USA TODAY Sports
Points per game: 89.4.
That magical number is how many points opponents averaged against the Sixers during the 2011-12 season.
It was good enough to be ranked as the third-best scoring defense in the NBA, only 0.1 points behind the second-ranked team and 1.2 points behind the top-ranked team.
More importantly, however, it showed that Collins' defensive prowess had finally stuck. He preached and preached defense, but the Sixers had never really taken that next step.
This step showed their readiness.
Collins has a defensive mind, and his team holding opponents to 89.4 points per game is proof that he made an impact on his group of players.
An impact that would lead to a great playoff run.
Rise: Winning First Playoff Series Since 2003, May 10, 2012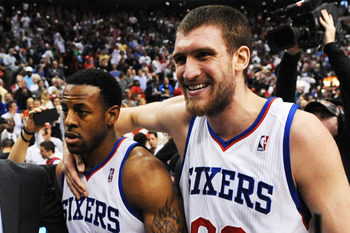 The city of Philadelphia was excited about this one.
Drew Hallowell/Getty Images
Nine years is a long time to wait for anything, really.
Luckily for the Sixers, it's as long as they had to wait to win a playoff series after what seemed like an improbable win over the top-seeded Chicago Bulls in the 2012 NBA playoffs.
OK, maybe it wasn't improbable after Derrick Rose went down with a season-ending injury.
But I dare anybody to say that Philly had a good chance at winning the series before the playoffs even began. To be frank, just getting there was an accomplishment.
Winning was something else.
The bad news is that it's sad to think that this win will most likely be Collins' only playoff series win as the head coach of the Sixers. All the momentum in the world was with this team and nobody really wanted to see the fun end.
The good news is that it didn't for awhile.
Rise: Eastern Conference Semifinals Against the Boston Celtics, May 12, 2012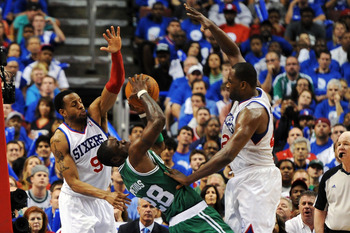 Philadelphia was on a roll and it felt like it wasn't going to stop.
Drew Hallowell/Getty Images
Beating the short-handed Chicago Bulls in the first round of the playoffs was incredibly exciting and most likely all that Philadelphia would be able to accomplish during the shortened 2011-12 season.
That was until the Sixers made a series out of the Eastern Conference semifinals against the Boston Celtics.
There was little hope when the series started. Philly had just beaten the Bulls, and that was more than enough to say that the Sixers had a successful playoff campaign and season.
Collins was about to prove that the best had yet to come.
The Sixers won Game 2 by one point after dropping the first game by the same amount. Game 3 was a blowout win by Boston, but Game 4 looked like the Sixers had figured the Celtics out as they went on to win by nine points and hold them to 83 points.
Just like that this became a three-game series and one that would be pushed to a final Game 7 after splitting the first two.
The final game was close throughout, but the better team ultimately won.
Still though, Collins proved his worth by getting to that point.
By putting his team into a position to win.
He deserves loads of credit for that.
Fall: Andrew Bynum Missing the Entire 2012-13 Season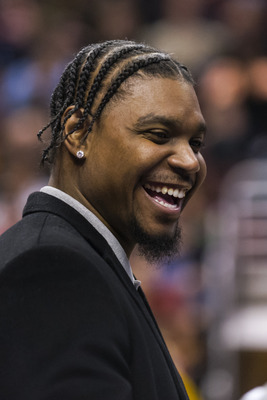 Sixers fans were forced to watch Bynum live it up on the sidelines.
USA TODAY Sports
The smile seen above was supposed to be taking place on the basketball court.
Not from the bench.
Collins has to feel like a large majority of his season was robbed. Philadelphia traded for Andrew Bynum, and he never saw the court.
Well, he "saw" plenty of the court, playing on it was a completely different matter.
There were countless return dates pushed back because of a slight miscue in his recovery, talk of Bynum smoking pot at his residence and an abnormally large amount of questions thrown to who else but Doug Collins.
Trading for the oft-injured center wasn't Collins' responsibility, but he was left to deal with all of his problems and slip-ups.
The 2012-13 season will always be looked at as a "what-if" kind of year, and that's truly a shame.
A shame that Collins went through worse than anybody.
Fall: 2012-13 Season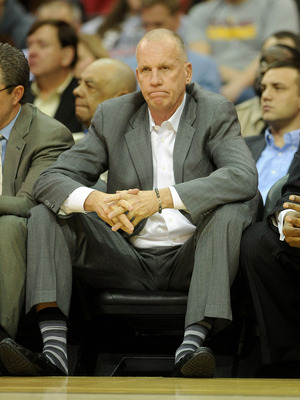 Collins can't help but be disappointed.
Eric P. Mull-USA TODAY Sports
Putting an entire season into one slide as part of his "fall" might seem like a bit of a stretch, but take a step back and really look at it.
Has this entire year felt like something out of the ordinary?
Don't be surprised if you find yourself saying yes. The Bynum trade was the beginning to a house of cards falling that included a lack of effort, poor rotations and a total failure to diagnose the Sixers' problem and work toward fixing it.
Collins has somehow been blind to the majority of the team's problems. No matter what Philadelphia has gone through, it always felt like he could have done more.
Well, feeling like it and seeing it done are two very different things.
And in this case, Collins won't be around long enough to explain what went wrong.
Look back at all of his success and most people would probably tell you that that's a shame.
Keep Reading

Philadelphia 76ers: Like this team?