Philadelphia Phillies: Post-Spring Training Report Card for Top 8 Prospects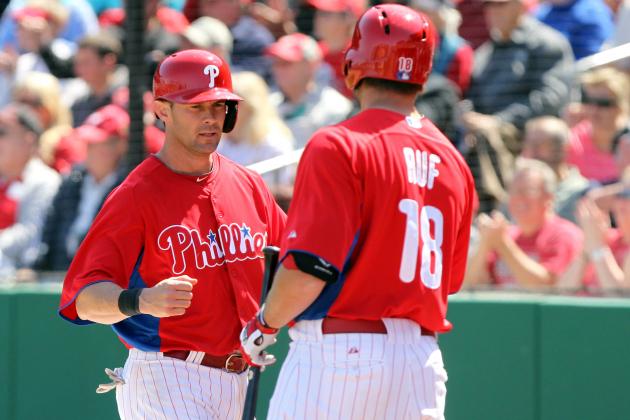 Kim Klement-USA TODAY Sports
Darin Ruf is just one of eight talented prospects in the Phillies farm system.
While spring training is a way for teams and roster players to prepare for the upcoming season, it also gives prospects a chance to get experience at the big league camp and, in some instances, audition for a job with the major league club.
For the Philadelphia Phillies, they invited a handful of their top prospects to camp, some of which were there with a shot to earn jobs, while others were just there so that the team could take a look at its best and upcoming talent.
Of those invited, eight in particular stood out and emerged as top prospects. They include pitching stars Adam Morgan, Jonathan Pettibone and Ethan Martin, future infield types in Cesar Hernandez and Cody Asche and the organization's two best catching hopefuls in Tommy Joseph and Sebastian Valle.
Also in camp was Darin Ruf, who solidified himself as a top prospect with a record-breaking season at Double-A Reading. He was invited to camp with a legitimate shot to become the Phillies' starting left fielder but fell short, as he finds himself still learning the position he spent just weeks having the chance to prepare for.
While Ruf is still a work in progress, his is a special case. Meanwhile, the other seven guys in camp came forward—some in leaps and bounds—to showcase their ability to the organization's top executives.
So considering spring performance and minor league track records, here are the post-spring training report cards for each of the Phillies' top eight prospects.
The grades given to each player are based on five factors. Both hitters and pitchers are judged on the basis of their ETA to the major leagues, skill in most need of work and developmental progress in terms of minor league progression and their spring training sample.
For hitters, they are also graded on their power rate and contact/strikeout rate. For pitchers, they are graded on swing-and-miss stuff and the ability to get hitters out.
Begin Slideshow

»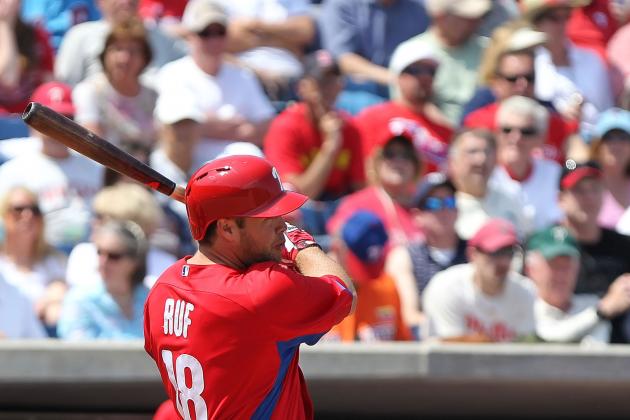 Kim Klement-USA TODAY Sports
Darin Ruf is still a work in progress in left field.
ETA: 2014
Skill in Need of Most Work: learning how to play left field
Power Rating: B+
Contact/ Strikeout Rate: D
Developmental Progress: B
As a whole, Darin Ruf's spring performance was filled with mixed results.
He entered baseball's preseason as one of the Phillies' top offensive prospects, but the problem for Ruf is that his position, first base, is currently being held down by slugger Ryan Howard, who isn't going anywhere anytime soon.
So for Ruf, that meant learning a new position in left field, something that didn't exactly take.
No one expected Ruf would play Gold Glove defense in left, but what was expected was that he could at least be serviceable. Unfortunately, this turned out not to be the case, as he committed two recorded errors and struggled with basic route running.
Ruf's main tool, his bat, was also slow to heat up and therefore did not make up for the outfield mistakes. He finished the spring with 57 at-bats, nine RBI, two home runs, six doubles and nine runs scored. He also struck out 12 times to just 14 hits.
Overall, Ruf is a question mark. He will play the 2013 season in Triple-A Lehigh Valley and will be given every opportunity to learn the left-field position. If he proves he can play average defense, then he will have a shot to be a member of the Phillies' 2014 roster. If he can't, then he will likely be fighting for a roster spot elsewhere.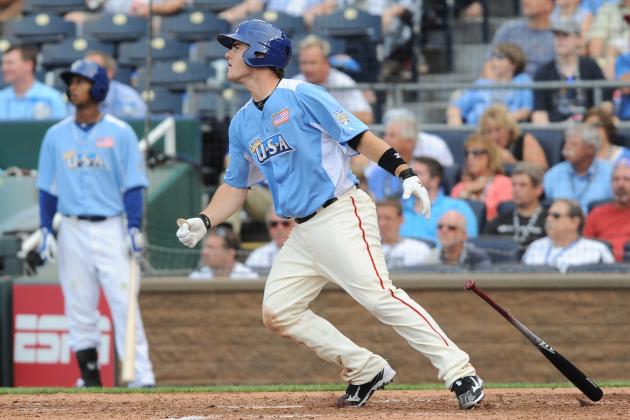 Denny Medley-USA TODAY Sports
Tommy Joseph showed a high level of talent in limited playing time.
ETA: 2014
Skill in Need of Most Work: defense behind the plate
Power Rating: A
Contact/ Strikeout Rate: A
Developmental Progress: A
It is straight A's for Joseph, who used this spring to prove that he is the heir apparent to catcher Carlos Ruiz.
Joseph received very limited at-bats, so it is tough to make much of the sample size. What can be gleaned, however, is Joseph's leadership skills with the staff and the potential of his bat in terms of a power perspective.
In four games, totaling 13 at-bats, the just 21-year-old Joseph hit one home run, two doubles, two RBI and scored two runs.
Behind the plate, he actually performed very well, displaying a range factor of five and allowing just one in three successful stolen base attempts.
While his defense is still a work in progress, it is something that Joseph should have polished enough by the middle of this season to see himself get a September call-up. He is likely going to be the backup catcher for this team, perhaps as soon as next season.
Derick Hingle-USA TODAY Sports
Cody Asche continues to prove he is the third baseman of the future.
ETA: 2014
Skill in Need of Most Work: continued development of isolated power (ISO)
Power Rate: B
Contact/ Strikeout Rate: B
Developmental Progress: A-
Cody Asche took some major strides forward to becoming the Phillies' future third baseman with a strong season in Double-A Reading in 2012. He continued to build off of his numbers with a nice spring debut.
In a limited sample size, just 14 at-bats, Asche recorded five hits, two of which were doubles. He scored three runs, walked twice and struck out twice. He slugged .500 and played solid defense at third, committing just one error and recording 10 assists.
Drafted out of the University of Nebraska, Asche was seen as a power hitter in college, something that he has only recently rediscovered. If he can continue to improve on this power and if Prospect Digest is to be believed, Asche is capable of being a 15-20 home run guy in the major leagues.
Last year, his power manifested in the form of doubles, 33 to be exact. He has a solid contact rate as well, which should translate into a .270-.280 major league average. Asche just needs to continue his progression and with a year likely spent with Triple-A Lehigh Valley, he will be one step closer to making his Phillies debut.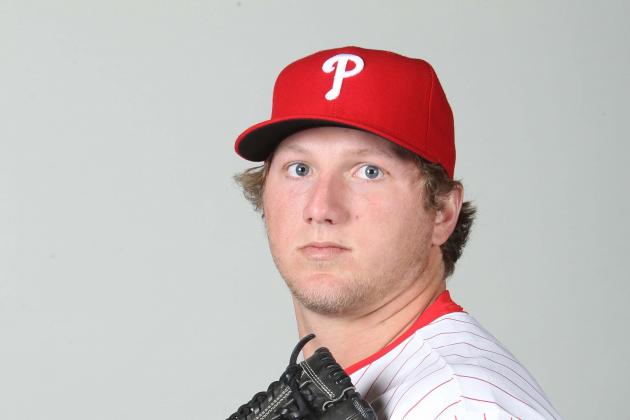 Kim Klement-USA TODAY Sports
Ethan Martin could be called up as a spot starter/injury replacement.
ETA: 2015
Skill in Most Need of Work: control (4.1 BB/9 in Reading last season)
Swing and Miss Potential: A
Ability to Get Hitters Out: B-
Developmental Progress: A-
After struggling for quite some time upon reaching the Class A level of the Los Angeles Dodgers organizational ranks, Ethan Martin vastly improved when he was promoted to Double-A. He built off of this career year by continuing to pitch effectively after being traded from LA to Philadelphia.
Martin pitched to a 5-0 record in his brief time with Double-A Reading and earned a non-roster invitation to spring training. He pitched in just one game, in a bullpen role, and threw two scoreless innings, yielding one hit and striking out one as well.
With this being his only spring action, it is really hard to determine what this means for Martin. While he has seemed to progress, especially in the past few years, he stands in his own way.
Martin will need to lower his walk rate and continue to improve his contact as well as ability to get hitters out with ways other than the strikeout if he hopes to be an effective major league starter. As it is, he could see his major league debut be as a long man out of the Phillies pen.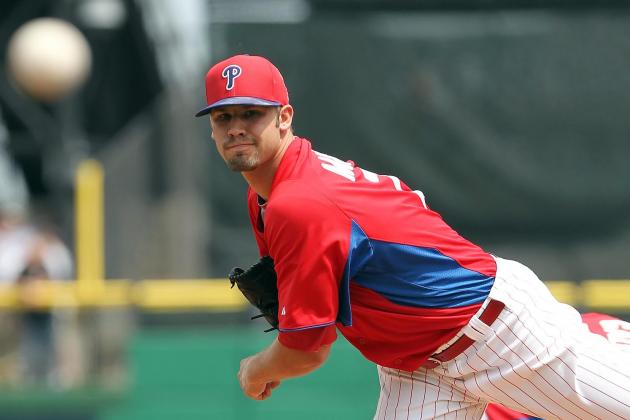 Kim Klement-USA TODAY Sports
Adam Morgan had a great spring debut with the big league club.
ETA: 2014
Skill in Most Need of Work: pitching consistency, continued work on the changeup
Swing and Miss Potential: A
Ability to Get Hitters Out: B+
Developmental Progress: A-
After impressing the Phillies brass with his presence at big league camp this spring, lefty Adam Morgan added himself to a short list of guys that could be called upon to make a start in 2013.
Morgan pitched in three games, just one of which was a start, as he was called up from minor league camp to spot start for Roy Halladay. His spring stats included a 1.93 ERA in 9.1 innings pitched, 11 strikeouts and five walks.
Throughout his short minor league career, Morgan has been known as a strikeout/contact pitcher. With 11 K's in just over nine innings, he continued to be impressive with his stuff. A bit of a red flag, however, is the five walks. Although, throughout his career, Morgan has a solid BB/9 ratio, including giving just 2.2 free passes per nine innings to batters in 2012.
After developing a changeup, Morgan has shown a great ability in better controlling his pitches. One issue, however, is his fastball speed, which would benefit from a few ticks of extra velocity if he hopes to be a successful major league pitcher.
Morgan is not quite ready, but he projects to start at Triple-A Lehigh Valley after posting strong numbers at the Triple-A camp. If he continues to progress at the rate he is, the young prospect could be in pinstripes full time as soon as 2014.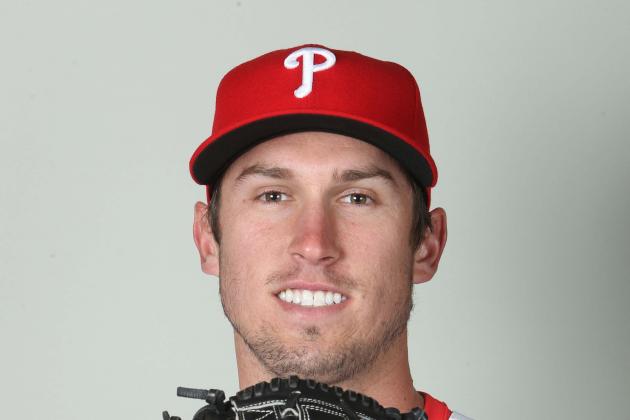 Kim Klement-USA TODAY Sports
Like Martin, Jonathan Pettibone is well on his way to a future spot in the Phils rotation.
ETA: 2013-14
Skill in Most Need of Work: trying not to over-pitch/working with the pitches he has
Swing and Miss Potential: B-
Ability to Get Hitters Out: A
Developmental Progress: A
With a few months pitching at Triple-A Lehigh Valley, righty Jonathan Pettibone could be prepared to make his major league debut as a spot starter as soon as this season.
At just 22 years old, Pettibone has been marketed as one of the Phillies' "Baby Aces," and with the trades of Jarred Cosart and Trevor May, he is the only one left that is said to be almost major league ready.
Again, his spring sample size is very small, so one should probably not make much of his 18 ERA determined by giving up four runs in two innings pitched. After all, Pettibone took some time to adjust to the transition to Double-A Reading, but once he got the hang of it, he was one of the best on the team.
The one thing that can get Pettibone in trouble is the occasional tendency to over-pitch. He isn't a strikeout guy (a career average of 6.4 SO/9), but he has incredible control and command, walking an average of only 2.6 batters per nine innings. He needs to work with that and continue to use it to his advantage.
He doesn't have spectacular stuff, but all of his pitches are solid. Also, Pettibone has never given up more than 10 home runs per season, which is something that is an asset in a hitters' park like Citizens Bank.
Overall, Pettibone is the most polished and ready pitcher the Phillies have. Don't be surprised to see him be the guy called upon if a spot start/injury replacement is needed.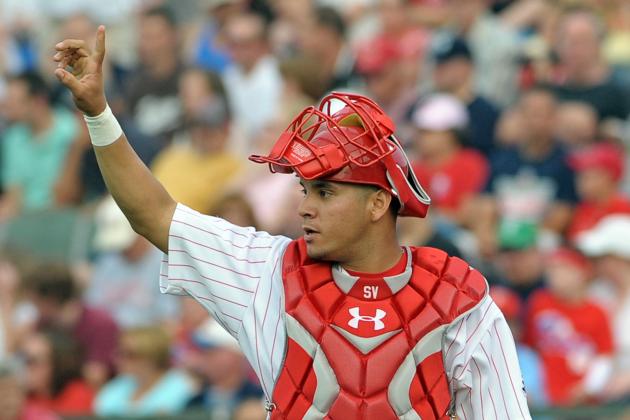 Eric Hartline-USA TODAY Sports
The emergence of Joseph hasn't done much to help Sebastian Valle's chances of making the Phillies roster any time soon.
ETA: N/A
Skill in Most Need of Work: patience at the plate
Power Rate: B+
Contact/Strikeout Rate: C+
Developmental Progress: C
It didn't make much sense at the time why the Phillies' centerpiece of the Hunter Pence trade deal was 20-year-old catcher Tommy Joseph. After all, they had Sebastian Valle, another young guy who was on the track to take over for Carlos Ruiz.
It's possible the Phillies had lost confidence in Valle, or it's possible it was because Joseph is a can't-miss guy. Regardless of the reason, the team now has two catching prospects, with it looking like Joseph as the top guy.
The problems for Valle have been his overaggressive approach at the plate. Yes, he has above-average power for a youngster, but it hasn't quite developed into what the Phillies and many prospect analysts have expected. In fact, according to Baseball Prospect Nation, Valle's ceiling is as a 20-25 home run major league hitter.
Unfortunately, he has yet to notch 20 in a season and seems no closer to getting there then he did when he first hit 16 in Single-A Lakewood.
As a power hitter, Valle's strikeout totals are expected to be high. The problem, however, is that the power has stalled but the strikeouts have not. In 82 plate appearances at Triple-A Lehigh Valley, Valle struck out 31 times, which is approximately once in every 2.6 at-bats.
He will be a major league catcher someday, possibly even as soon as 2014. The thing is, however, with Joseph's emergence and the fact that Valle is likely headed back to Double-A, it doesn't appear that he will be the guy with the Phillies.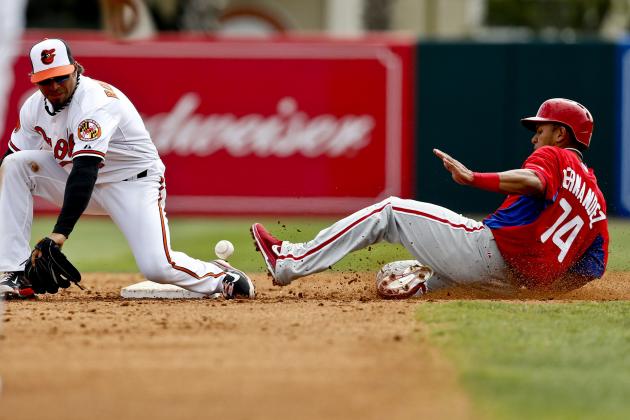 Derick Hingle-USA TODAY Sports
Cesar Hernandez is close to being able to produce for the big league club.
ETA: 2015
Skill in Most Need of Work: learn to take pitches/walk more
Power Rate: D+ (work in progress)
Contact/Strikeout Rate: C (work in progress with room to improve)
Developmental Progress: B
Cesar Hernandez is a talented, high-ceiling prospect, but at the moment, he's still a work in progress.
He initially struggled in a transition from the New York-Penn League to Single-A Clearwater, with his typically low strikeout totals nearly tripling. Now, he is still young, so this is likely just a sign of adjustment and nothing that the Phillies should really be super worried about yet.
Hernandez has almost no home run power, and his doubles power is not that strong, either. What he does have is great speed and great instincts. He is a guy that will steal about 20-plus bases a year. With the proper coach, he will be able to increase his stolen base percentage as well.
The young infielder is also capable of being a double-digit triples hitter, as he showed with 11 last season in Reading.
Unlike most of these Phillies prospects, his spring sample size is closer to having some significance. He had five hits in 16 at-bats, one double, one walk, two stolen bases, two runs and four strikeouts.
While this is still a very minimal amount to judge on, Hernandez has shown progress, which is all the Phillies can really ask for. He has transitioned appropriately through each level of the minor league system and with a few more years of at-bats and continued work, he could be ready to replace Chase Utley in a few short years.