Ranking the 5 Smartest Bets on World Series Odds in Vegas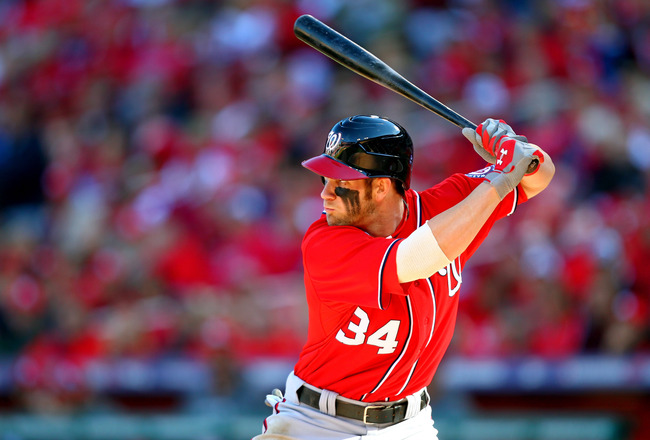 Dilip Vishwanat/Getty Images
Whether you're a betting man or not, we all know you're dying to know who Vegas has deemed as preseason favorites to win the 2013 World Series.
If you watched the game last season and know anything about baseball, you can likely guess which clubs are the favorites to win it all this season.
Then again, Vegas doesn't always get it right.
Or do they?
Odds according to The Linemakers/Sporting News
5. Los Angeles Dodgers (8-to-1)
USA TODAY Sports
Magic Johnson has shown that he's willing to spend lump sums of cash to bring a World Series squad to Los Angeles, and after the $147 million deal for Zack Greinke (via ESPN), the Dodgers are considered a favorite to win a championship in 2013.
After missing the postseason the past three seasons, Los Angeles should make it to the playoffs behind Greinke and Clayton Kershaw on the mound and a lineup that includes Matt Kemp, Adrian Gonzalez and Hanley Ramirez, when he returns to the lineup after suffering an injury during the World Baseball Classic.
The biggest issue for the Dodgers in 2013 will be staying healthy, as Kemp played in only 106 games last season and Carl Crawford played in a mere 31 games for the Boston Red Sox.
Of course, if the Dodgers are going to make a deep run at a World Series ring in 2013, they'll have to go through the San Francisco Giants in the NL West, who have won two of the last three World Series.
We'll see how far Los Angeles' $223 million payroll takes it this season.
4. San Francisco Giants (12-to-1)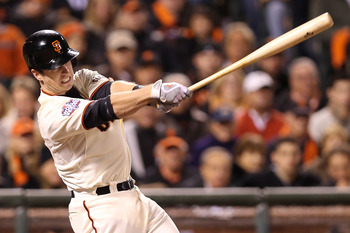 Christian Petersen/Getty Images
The San Francisco Giants have the worst odds of any team on this list, but season after season, the Giants seem to accomplish the improbable in the postseason.
Anchored by a starting rotation of Matt Cain, Madison Bumgarner, Tim Lincecum, Barry Zito and Ryan Vogelsong, and a nasty closer in Sergio Romo, San Francisco has the pitching to contend with any team in baseball.
Pablo Sandoval has proven to be a clutch hitter in the postseason, hitting .364 with six homers and 13 RBI in the 2012 playoffs that saw the Giants win their seventh championship, while Buster Posey is as solid as they come behind the plate, hitting .336 with 24 long balls and 103 RBI during the regular season.
If Lincecum can return to old form and be the pitcher we're accustomed to seeing, the Giants will undoubtedly give the Dodgers a ton of trouble in the NL West.
It's a toss-up as to who ultimately has the edge in that division, but we'll soon find out, as the rivalry will be renewed on Monday.
3. Los Angeles Angels of Anaheim (7-to-1)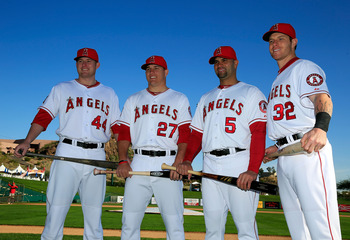 Jamie Squire/Getty Images
Although they missed the postseason in 2012, the Los Angeles Angels of Anaheim look like they'll be one of the top teams in the American League this season.
For one, the addition of Josh Hamilton will provide protection in the lineup for Albert Pujols, who got off to a dismal start last season. Secondly, the Angels will have a full season of the phenom that is Mike Trout, who took MLB by storm last season by hitting .326 with 30 HR, 83 RBI and 49 stolen bases.
With guys like Pujols, Hamilton, Trout and Mark Trumbo, offense won't be an issue for the Angels—it's the pitching that should have some worried.
After losing Zack Greinke to the Dodgers, the Angels' rotation seems to drop off a bit after Jered Weaver and C.J. Wilson, as Joe Blanton is slated to be the third starter for the Angels this season, but the addition of Jason Vargas will help Anaheim.
With an offense like the Angels', it's hard not to like them as a favorite to win it all in 2013.
2. Detroit Tigers (6-to-1)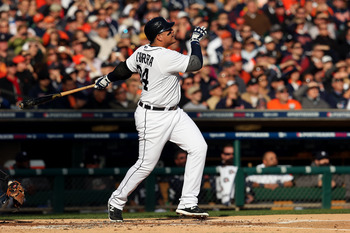 Jonathan Daniel/Getty Images
Heading into the 2013 season, the Detroit Tigers appear to have one of the most balanced clubs in terms of starting pitching and offense.
Led by former Cy Young Award winner and MVP Justin Verlander, the Tigers rotation is solid from top to bottom, with the likes of Anibal Sanchez, Rick Porcello, Doug Fister and Max Scherzer rounding out the starting rotation.
On offense, reigning Triple Crown winner Miguel Cabrera returns to lead an offense that includes Prince Fielder, Austin Jackson and newcomer Torii Hunter. I really think the addition of Hunter will be a positive move for this team, given his postseason experience and leadership skills.
Having made it all the way to the World Series last season and keeping the same key pieces heading into this season, there's no reason to think that Detroit can't win a ring in 2013.
If the Tigers can get their closer situation figured out, watch out for this team come October.
1. Washington Nationals (7-to-1)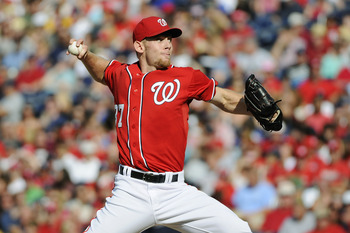 Jonathan Ernst/Getty Images
Of all 30 teams that will compete for a championship in 2013, my money is on the Washington Nationals this season.
The Nationals boasted the lowest starter's ERA last season (3.40) and received the most wins (72) from their starting pitchers in the National League in 2012. With Stephen Strasburg off the leash, Washington's rotation will only be better, along with Gio Gonzalez, Jordan Zimmermann and Dan Haren behind him.
With a full season under his belt, Bryce Harper will likely play a big part in Washington's offense, especially after the scorching spring the 20-year-old had (.478, three home runs, 15 RBI and six stolen bases).
The Nationals also have Adam LaRoche, Ryan Zimmerman, Ian Desmond and Jayson Werth to carry the offensive load and have a new closer in Rafael Soriano, who saved 42 games for the New York Yankees last season after Mariano Rivera went down.
Postseason teams are built on pitching, which is why I have the Washington Nationals as my preseason favorite to win the 2013 World Series.
Follow me on Twitter: Follow @Pete_Schauer
Keep Reading