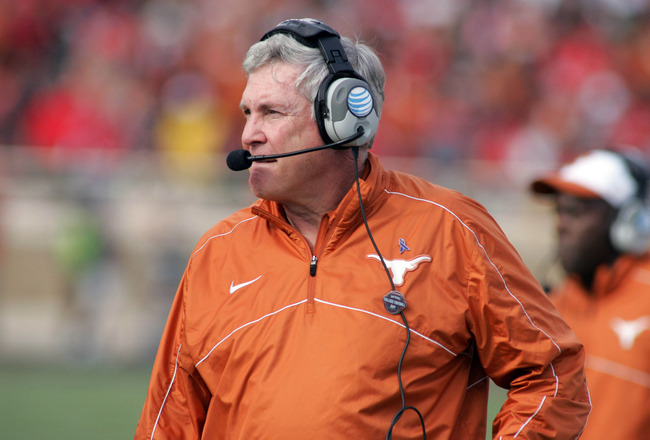 Michael C. Johnson-USA TODAY Sports
Spring practice has now come to a close for the Texas Longhorns following the Texas squad's 30-13 victory over the Longhorns in the Orange-White Game. But if Mack Brown's group is serious about making a BCS run in 2013, the quarterback play and rushing defense must be better.
While not overwhelming, the hurry-up offense was effective in its debut. Both defenses were opportunistic, forcing a total of three turnovers. But the hottest topic following this game was the performance of quarterback Tyrone Swoopes, who led the first scoring drive of the day against the first-team defense in his one series of play.
But there is still a significant amount of work to be done between now and September. The same issues that plagued this team in 2012, including quarterback play, still linger and have humbled the expectations of some of the Longhorn faithful.
While all fixable, there are five major issues with this team that need to be addressed before the onset of this crucial 2013 campaign.
Underwhelming Quarterback Play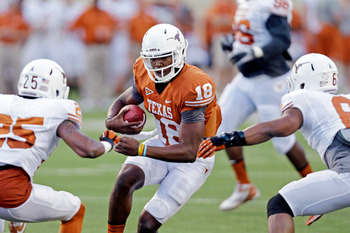 Eric Gray/Associated Press - Tyrone Swoopes was impressive in his Longhorn debut. The same could not be said about the rest of the Texas quarterbacks.
Aside from freshman Tyrone Swoopes, who looks more like the future every day, quarterback play on Saturday was average at best. That is scary for a team that was banking on returning the conference's most experienced player at the position.
In typical Ash fashion, he started his night hitting on 10 of his first 12 passes for two touchdowns only to throw two picks before the second half. A lot was made about Ash's ball security throughout spring practice, but he looked more like the player that botched the TCU game than the one who led a 10-point comeback in the Alamo Bowl.
As for his backups, Case McCoy continues to display the erratic style of quarterbacking that makes fans want to yank their hair out. Hopeful backup Connor Brewer also struggled to complete 50 percent of his passes, while the supremely athletic Jalen Overstreet failed to show any major improvement in his accuracy. In fact, Mack Brown stated after the game that Swoopes has jumped both Brewer and Overstreet on the depth chart after spending only three months in the program.
Major Applewhite's offense is still somewhat new to Ash, but he has to outgrow this inconsistency. And considering he needed injury relief in two games this past year, the backups also need to get their acts together as well. The goods news though is that Swoopes, given his elevation on the depth chart, is in line for some valuable sideline time in his redshirt season.
The Defense Is Still Struggling to Stop the Run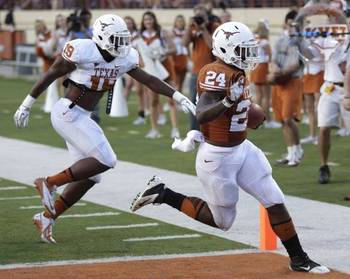 Eric Gray-Associated Press
The main pitfall of Texas' 2012 season was its inability to stop the run. Those issues continued to surface in the spring game.
The defense was opportunistic in the passing game, with both sides combining for three interceptions of David Ash and Case McCoy. But Manny Diaz's unit still could not stop the run as five Texas backs averaged better than 4.5 yards per carry and the quarterbacks repeatedly scrambled for big chunks.
Hopefully these struggles will be alleviated when Texas gets some of its injured players back in the fold. Especially up front when spring standout Hassan Ridgeway returns along with star Jackson Jeffcoat. Otherwise we are going to get a cut copy of 2012 when the fall rolls around.
The Lack of a Reliable Kicker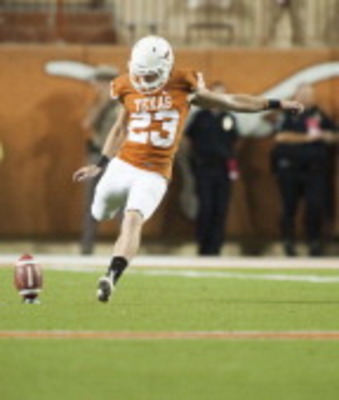 Cooper Neill/Getty Images
After a season that saw them have one of the worst kicking games in the country, the Longhorns close off spring once again without a reliable placekicker.
The Longhorns tried Nick Rose, last season's kickoff man, as its first-team place-kicker on Saturday. The results were mixed, with him driving home a 34-yarder then missing a 42-yarder in the second half. Nick Jordan, last season's kicker, made both of his field goals though were from under 30 yards.
Rose certainly has the leg to be this program's top kicker, but he has considerable work to do on his accuracy. Hopefully by the fall he will have refined his mechanics; otherwise Texas should consider using four downs between the 20- and 35-yard lines.
Blocking on the Edge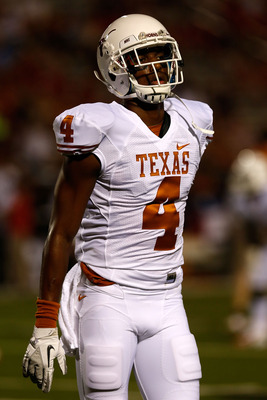 Cayleb Jones' arrest probably cost Texas its best blocking receiver for the season.
Scott Halleran/Getty Images
This offseason saw Texas lose two of its top blocking wideouts on the outside. Without an every-down tight end, this will be an issue for the Longhorns.
For the past two seasons, Marquise Goodwin has been Texas' best blocking receiver on the outside. The team was poised to have the big-bodied Cayleb Jones take his place before his arrest for aggravated assault put his future in serious jeopardy.
Receivers that can block are an overlooked aspect of an offense, but are essential for the outside runs and screens that Texas likes to run. If the 'Horns had a reliable tight end, then this would be less of a problem, but converted receiver John Harris was the only one that proved himself on Saturday.
This will be an area to keep an eye on moving forward. Kendall Sanders is on the skinnier side at 180 pounds, but then again so was Goodwin at around 175. He has the work ethic to get better, and there is still plenty of time for Harris to add some bulk as well.
Expect this area to be shored up before the season begins.
Injuries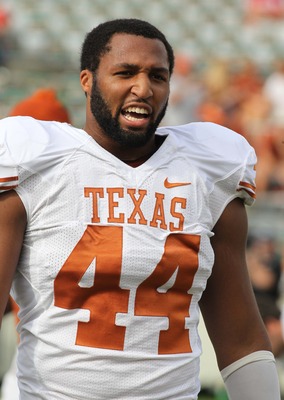 Jackson Jeffcoat is one of many Longhorns who had to spent time on the sideline this spring due to injury.
Tim Heitman-USA TODAY Sports
The Longhorns have had a host of injuries that kept many key contributors on the sideline for the entirety of the spring. Between now and the start of fall camp, their prime focus will to get these guys fully healed and ready to go for the season.
As Adrian Phillips showed us last season, a spring injury can have serious implications for the coming season. Especially if that player is brought back before he is fully healed.
Texas has only had two starters healthy along the offensive line this spring. Jackson Jeffcoat and Jordan Hicks, who each missed most of last season, each missed a bulk of the practices. And there have been a half-dozen other talents whose springs have been marred by injury.
Though these setbacks have allowed players like Caleb Bluiett, who had a stellar spring game, to get some added reps, it is a top priority for Texas to get healthy before the season begins. That way the Longhorns can get everybody ready to go and will be able to better handle whatever injuries occur over the course of the season.
Keep Reading

Texas Longhorns Football: Like this team?
Load More Stories