Georgia Football: 5 Things to Expect for the G-Day Spring Game 2013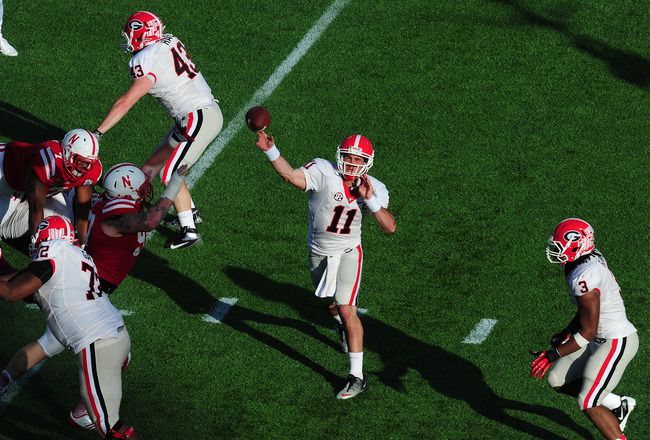 Scott Cunningham/Getty Images
It's almost time for the Bulldogs to go at it between the hedges as the G-Day game kicks off this upcoming Saturday.
Although the Bulldogs have already scrimmaged against each other twice this spring, this will be the first time fans will get a look at the 2013 edition of the Bulldogs.
Fans will have a chance to see if Aaron Murray is ready to take the Bulldogs to the promised land and if Todd Gurley and Keith Marshall are in midseason form.
They will also get to see if new players like J.J. Green and Tray Matthews are ready to contribute. They will be needed when the Bulldogs start the season August 31 against Clemson.
Here are five things to expect from the 2013 G-Day game.
1. J.J. Green Will Be the Feature Back
Speaking of Green, he should see a lot of carries in the G-Day game. In fact, it would not be a surprise if he received more carries than Gurley or Marshall.
In Saturday's scrimmage, Green had 12 carries for 13 yards. In the scrimmage this past Tuesday, Green had six carries for six yards.
The coaches already know what Gurley and Marshall can do, so they want to see if Green can be the specialty back they need to add another wrinkle to the offense.
Odds are Green will see more action at receiver than running back this fall. But during the G-Day game, he will be a workhorse at running back.
2. Hutson Mason Will Be the Quarterback to Watch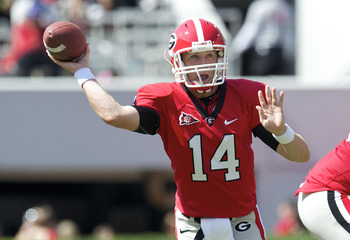 Dale Zanine-USA TODAY Sports
Hutson Mason has had a solid spring practice, and depending on how the teams will be split for the G-Day game, he should see more snaps than any other quarterback.
Mason threw for 114 yards and two touchdowns in the Saturday scrimmage. Mason is gaining the trust of his teammates and has started to take control of the offense.
That is a good thing because the Bulldogs need him to show that he will be ready to lead the squad in 2014.
3. New Look for the Defense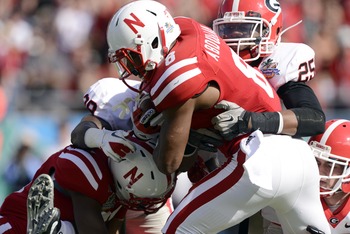 Brad Barr-USA TODAY Sports
This is no surprise to anyone who follows the Bulldogs, but the defense will have a new look this year.
It's not so much about the personnel. Instead, there could be a new scheme as the Bulldogs could play more from the nickel formation than the 3-4.
Instead of having two outside linebackers, the Bulldogs will have three linebackers and a safety who would be a hybrid.
Josh Harvey-Clemons would play the role of the hybrid, and he's the right guy for the job. He has worked a lot at strong safety this spring. But he also has the ability to play linebacker.
With the lack of depth at both positions, it makes perfect sense to have Harvey-Clemons be an outside linebacker/safety.
4. A New-Look Offensive Line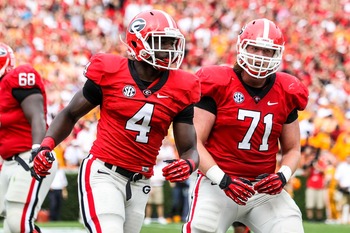 Daniel Shirey-USA TODAY Sports
Because of the injuries along the offensive line, don't be surprised if John Theus and Dallas Lee see limited action on G-Day.
During the Saturday scrimmage, offensive tackle Austin Long went down with a hamstring injury and will miss the remainder of spring practice. This happened shortly after Theus returned to action after suffering a foot injury.
Long was replacing Chris Burnette, who underwent surgery for a broken hand and has not been on the field this spring.
If anything, Theus will see some action at left tackle. That's because he has been playing that position this spring instead of his natural position, right tackle. But if Mark Richt does not let his remaining starting five offensive linemen from last year see the field on Saturday, it would not be a bad thing.
5. Chris Conley Will Be the Featured Receiver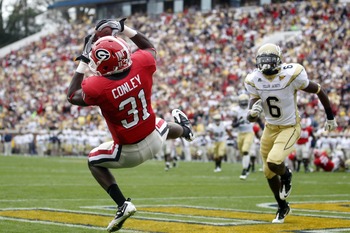 Josh D. Weiss-USA TODAY Sports
If there's a player who is poised to have a huge G-Day, it could be Chris Conley.
The wide receiver from Dallas, Ga., had a huge scrimmage on Saturday, catching six passes for 99 yards and one touchdown. Conley also had a strong showing in the Tuesday scrimmage, catching three passes for 72 yards and one touchdown.
The coaching staff knows what they are getting out of Malcolm Mitchell, and Michael Bennett is still recovering from a torn ACL. So this will be an opportunity for Conley to shine in front on thousands of Bulldog fans.
Keep Reading

Georgia Bulldogs Football: Like this team?