Should the New York Rangers Be Buyers or Sellers at the NHL Trade Deadline?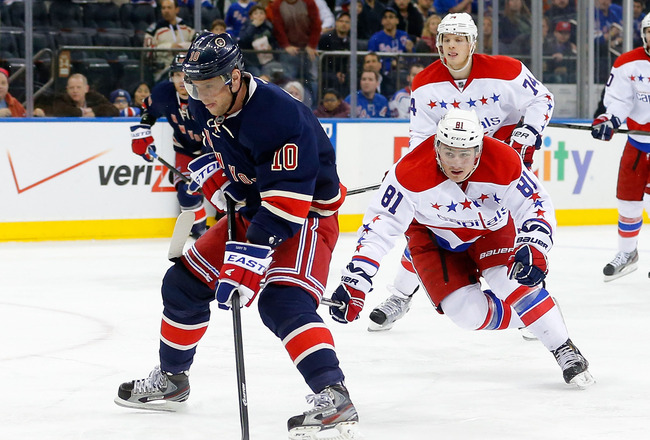 Paul Bereswill/Getty Images
The New York Rangers currently sit eighth in the Eastern Conference standings. Should the team be buyers or sellers at the NHL trade deadline?
Both options are compelling, although the Rangers cannot do both.
Do the Rangers consider themselves just a player away from making a serious Cup run? Or do they think their season is over and want to get rid of some dead weight?
Read on and we'll tell you which option is the best course for the Rangers.
The Case to Be Buyers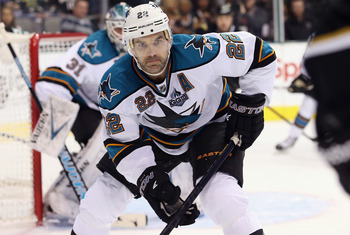 Ronald Martinez/Getty Images
The case for the Rangers to be buyers looks something like this:
First, while the Rangers have struggled, this team is built for the playoffs They have a top goaltender. They have offensive stars in Rick Nash, Marian Gaborik, Carl Hagelin, Derek Stepan, Brad Richards and Ryan Callahan.
The Rangers also have some top defenders—if Marc Staal is able to come back, even better.
If the Rangers can complement that core with a few key pieces, then there's no reason why they can't make a Cup run.
One of those pieces could be Dan Boyle. Boyle, who won a Stanley Cup with John Tortorella in 2004, is not quite the same player he was. But he's still productive, as he has five goals and 11 assists. He would provide an instant boost to the power play and would fill a need in the top-four defensemen.
The Rangers could also look to acquire Ryane Clowe, a terrific grinder with 11 assists this season. Although he has no goals, he did score 17 last year and has a career high of 24. Clowe would be a great addition on the third line, adding grit and energy for a team that has often lacked it.
If Clowe is unattainable, then perhaps Steve Ott would be a nice alternative. He has five goals and 13 assists and would also provide a punch of energy.
He may be 40 years old, but Jaromir Jagr could provide some desperate offense and punch on the power play. The legendary winger has 14 goals and 12 assists. He has nine points on the power play.
Any one of these moves would help the Rangers. The team really needs to improve its grit and energy, which is why Clowe and/or Ott would be appealing. With Clowe having a down year, he certainly wouldn't be too expensive—perhaps a mid-to-late-round pick. Ott would be more expensive, probably requiring at least a second-round pick.
Boyle would also be expensive. He is scheduled to make $6.6 million through next season, and with the cap going down next year, the Rangers would have to send salary back.
That said, the Rangers cannot make a playoff run with Steve Eminger as their fourth defenseman, so taking on the money might not be the worst idea.
Yes, the Eastern Conference is stacked, but the Rangers do have, on paper at least, one of the most talented teams in the league. The Rangers have had issues with slow starts—adding someone like Clowe could fix that.
The Rangers don't have to mortgage their future to do this. They need just a few key pieces to kick themselves into gear. It's certainly doable.
The Case to Be Sellers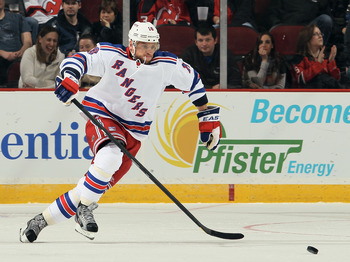 Elsa/Getty Images
The case for the Rangers to be sellers is pretty simple.
Even if they do make the playoffs, they are not going to get past Pittsburgh—a team that didn't lose in March. There are few teams who can beat Pittsburgh, and none of them are named the Rangers.
So it might be wise to realize that this is a lost season and trade some of the most bloated contracts for some young talent.
They could start with Marian Gaborik. Gaborik has struggled mightily this season. The winger has nine goals and 10 assists but just four goals in February and March. He's been largely invisible in most games.
He's still talented, and a playoff team looking for a winger could do worse. Teams like Boston or Chicago, trying to compete with Pittsburgh, might be interested. They could absorb his $7.5 million contract, as well as send back some top prospects. The Rangers would love Bruins top prospect Alexander Khokhlachev, or Blackhawks top prospect Brandon Pirri.
Another candidate to be traded is Brad Richards. The center has struggled this season, scoring just five goals and adding only 13 assists.
Potential playoff teams, like the Los Angeles Kings or Vancouver, could be interested. Nicklas Jensen, the Canucks' top prospect, or Derek Forbort of the Kings would be nice additions.
Trading either Gaborik or Richards would be throwing in the towel. But let's be honest: The Rangers aren't likely to win the Cup this year anyway. They might as well get rid of some big contracts and get some prospects in return.
Verdict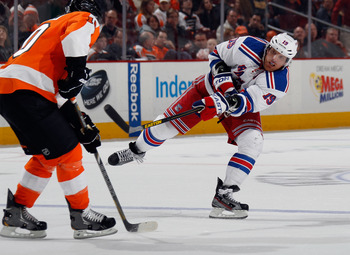 Bruce Bennett/Getty Images
So, what should the Rangers do, be buyers or sellers?
The answer is pretty easy, in my mind: Buyers.
But let me qualify that. I don't think the Rangers should trade the whole house. They should not trade Chris Kreider or J.T. Miller. They should not give up too many high picks.
Still, they can complement their current roster with a few players. Adding someone like Clowe or Steve Ott would be really smart. Adding a depth defenseman or two would be nice.
The Rangers have a lot of talented teams in front of them, namely Pittsburgh, But they have shown, in limited spurts, that they can beat anyone. They have had dominant outings against Philadelphia and have not looked out of place against the Bruins.
The problem for the Rangers is depth and consistency. The Rangers are woefully inconsistent. Adding more depth with more energy who can put the puck in the net would help. That's where Clowe and Ott come in.
If Marc Staal doesn't come back, they would need a defenseman. Dan Boyle is ideal, but don't discount someone like Scott Hannan or Stephane Robidas, who might come a little cheaper.
Selling would be foolish. Marian Gaborik has struggled, but he was a 40-goal scorer last year, and the team would be hard-pressed to find someone with his talent. Brad Richards was dynamic last season, especially in the playoffs. Not many can do what he does.
The Rangers need to get some complementary pieces. If they can get in the playoffs, there's really no reason why they couldn't make a run. Adding a Clowe, or Robidas, would be a good start.
Keep Reading

New York Rangers: Like this team?