Indiana Basketball: Final Report Card for Hoosiers' 2012-13 Season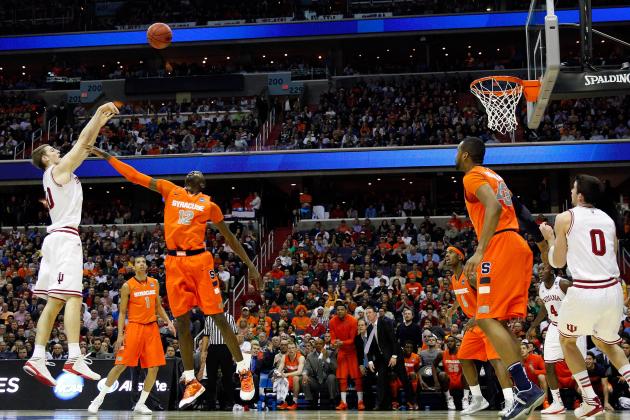 Rob Carr/Getty Images

The Indiana Hoosiers' season ended in Washington, DC rather than Atlanta, and that alone could make some observers look upon it harshly. The NCAA tournament's single-elimination nature tends to make that final loss stand as a symbol of a team's entire body of work, and that would be an unfair depiction of IU's work this year.
If we examine the postseason on its own, Indiana's work was aggressively average. Taken as a part of the whole, however, what does the tourney season do to the Hoosiers' overall grade?
We'll break IU's grades down into regular season and postseason to derive the overall mark for the year. Of course, this won't be a strict average due to the postseason's small sample size.
If the postseason work had been better, the sample size would have been larger, right?
Begin Slideshow

»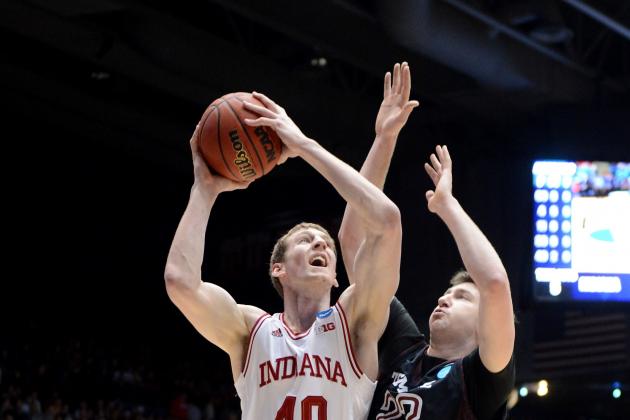 Jason Miller/Getty Images

The Hoosiers lacked a traditional post-up center as Cody Zeller proved ill-equipped to battle every possession with stronger and longer big men, especially late in the season.
Still, the Indiana offense was eminently capable of producing in the paint, especially in transition. Nearly 40 percent of the Hoosiers' shots came near the rim, according to Hoop-Math.com, and IU made 66 percent of those attempts.
Victor Oladipo was able to get to the rack almost at will, taking 60 percent of his shots from close range. Between his ability to spark runouts with his own defensive quickness, his slashing in halfcourt sets, and his putbacks on the offensive glass, opponents struggled to keep Oladipo out of the paint even more than they did Zeller. Oladipo finished second on the team with a 69 percent success rate at the tin.
The leader in close-range shooting percentage wasn't Zeller, but Will Sheehey at 72 percent. Zeller, however, got the most looks inside and made a strong 68 percent himself. His issues often came when opposing big men made him fight for his space, and the NCAA tournament games against Temple and Syracuse reflected that.
The Big Handsome couldn't get much of anything to fall in those two games, shooting a combined 7-of-20 from the floor. Before the Big Ten tournament loss to Wisconsin, Zeller had only four games all season in which he shot 40 percent or worse. He had three such efforts in his last four.
Overall, the Hoosiers were frequently able to get theirs inside. Only six times all season was IU held below 25 points in the paint. Two of those, however, came against Temple and Syracuse.
Regular Season: A
Postseason: B-
Overall: A-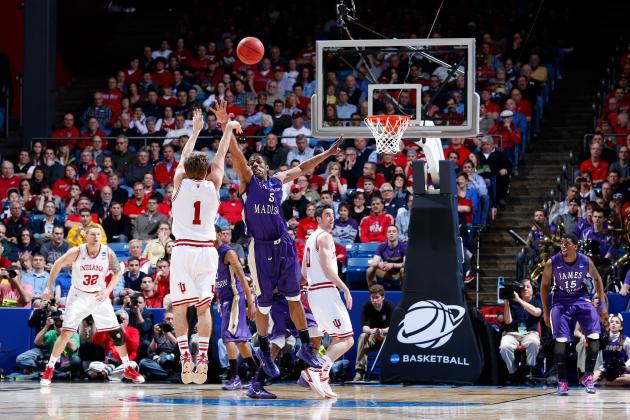 Joe Robbins/Getty Images

Only seven teams in America shot 40 percent or better from three-point range. Only three of those (Indiana, Duke and Creighton) made the NCAA tournament, emphasizing that it can be dangerous to live and die outside the arc.
Indiana took less than 18 threes per game, ranking in the middle of the pack nationally. Those looks that they got were good ones, and the Hoosiers made them count.
IU was the only team to place three players among America's top 65 three-point shooters by percentage, according to TeamRankings.com. Hulls, Victor Oladipo and Christian Watford all sank better than 44 percent from deep.
Unfortunately, the shots stopped falling when the regular season ended, and a large part of the malaise lay in the performance of senior Jordan Hulls (pictured shooting against James Madison). Over the Hoosiers' five Big Ten and NCAA tournament games, Hulls shot an unsightly 4-of-23 from long range (17.4 percent).
As a team, IU made only 27-of-85 in those five games for a success rate of 31.8 percent. Leave out Hulls' miseries and the rest of the team made about 37 percent, respectable but still not at the normal standard.
Whether it was losing their legs over the course of the grueling Big Ten season or defensive mismatches that took Hulls out of the game, both player and team saw their fortunes turn sour once tournament season began.
If the looks weren't there inside, IU had more confidence than most in kicking the ball back out for a long jumper. By season's end, though, something was amiss, and that issue certainly contributed to the Hoosiers' downfall against Syracuse.
After all, 3-of-15 from the arc is no way to spread out the 2-3 zone.
Regular Season: A+
Postseason: C+
Overall: A-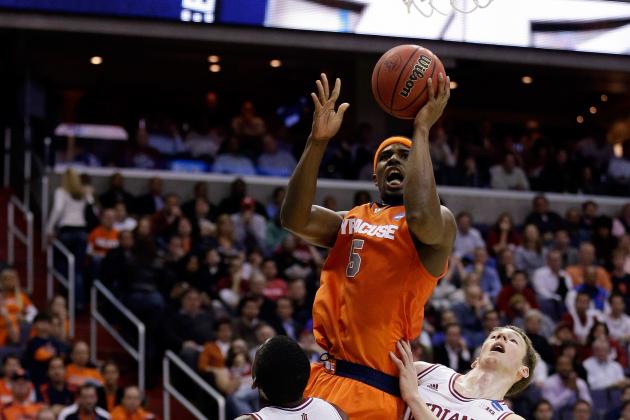 Rob Carr/Getty Images

The Hoosiers' prolific and efficient offense was essential to help mask the team's issues with interior defense. Hoop-Math's numbers show a team whose opponents only took 28 percent of their shots near the rim and made a fairly weak 59 percent of those.
Leaving out the shots that were blocked, though, Indiana's opponents made 67 percent near the basket. Once Big Ten play started, IU began allowing a lot more traffic inside. After allowing only 23.7 paint points per game to their often overmatched non-league opponents, the Hoosiers gave up 27.7 per game to conference foes.
Teams like Butler or Minnesota won games by hitting the Hoosiers on the offensive glass. Even in losses to IU, Michigan's wings and Michigan State's bigs were able to score in the lane with impunity.
Once the postseason began, Wisconsin's patience and Syracuse's athleticism enabled those teams to find enough good inside looks to oust the Hoosiers. Like those two, Temple also scored 30 points in the paint, but was undone by its dog-ugly perimeter shooting (more on that in the next slide).
A team that lacks a burly enforcer in the lane or length in the backcourt can still keep opponents from producing in the lane. A team that lacks both will take a beating in specific matchups.
Unfortunately for the Hoosiers, they found those matchups in both tournaments.
Regular Season: B
Postseason: C
Overall: C+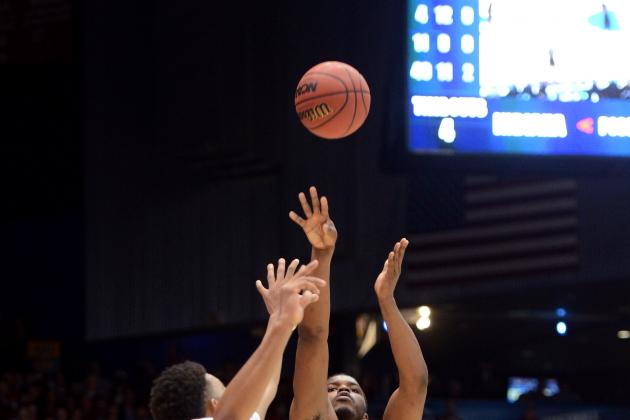 Jason Miller/Getty Images

For the season, Indiana surrendered only 30.4 percent shooting from three-point range. That's a great figure, ranking near the top 30 nationwide.
Thanks largely to the suffocating presence of Victor Oladipo and the versatility of Will Sheehey, there wasn't even a dropoff once conference play began, with IU allowing only 30.2 percent to Big Ten rivals.
Simply put, if the opponent allowed IU to get out to a big lead, there wasn't going to be much of a chance to shoot itself back into the game.
In tournament play, IU's defense allowed outliers in both directions. James Madison shot 40 percent from deep, only the fourth opponent to do so against the Hoosiers since the start of Big Ten play.
Then, there was Temple. Scootie Randall's 0-of-6 effort (he's pictured here hoisting one of said bricks) headed the queue of struggling Owls shooters who slumped to a 3-of-24 effort in the NCAA round of 32. If any Owls could have bought a long jumper, Temple may have ended Indiana's season a few days early.
The Hoosiers allowed the notoriously streaky Michael Carter-Williams to hit 3-of-6 from deep for Syracuse, but the rest of the Orange took only five threes on the night. With a lead for most of the game, Syracuse didn't need to take many risks.
For the whole postseason, Indiana allowed—you guessed it—right around 30 percent.
Regular Season: A
Postseason: A-
Overall: A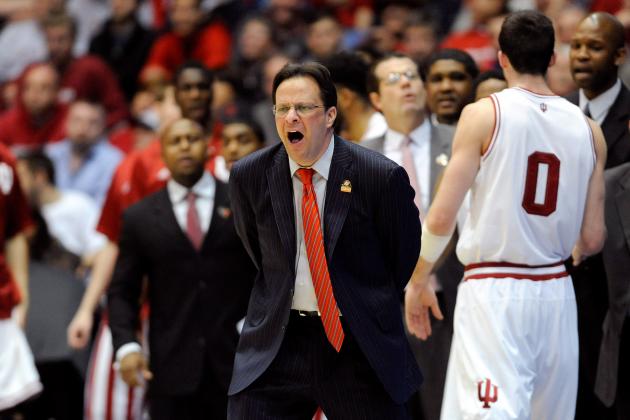 Jason Miller/Getty Images

For all the good Tom Crean did for his Hoosiers during the season, both regular and post, two men simply had his number: Bo Ryan and Jim Boeheim.
Indiana extended a lengthy skid against Wisconsin, falling twice in games where the Hoosiers could not stir the game out of the Badgers' preferred methodical tempo. The first loss was one of only two games IU played all season with fewer than 60 possessions.
Syracuse's zone was something for which IU looked unprepared coming in, and there appeared to be very few halftime adjustments made. Indiana's shooting percentage dropped, easily correlating to Cody Zeller's 1-of-7 second-half struggle.
Crean was slow to turn away from the cold-shooting Jordan Hulls, hoping that the senior had a few more long bombs left in his shooting hand. Unfortunately, that hand was attached to what IU blog Inside the Hall confirmed as a separated shoulder suffered against Temple.
With no long shots falling, the Hoosiers had no way to loosen the zone, which clamped down and choked out Cody Zeller, whether he worked from the low post or high.
Zeller displayed a disturbing habit of crouching in the post instead of keeping the ball high and going up strong, which allowed the Orange to block five of his shots. The inability to break the sophomore star of that trait is another mark against Crean.
To his credit, Crean was able to keep his team conscious against James Madison and focused against Temple. Against the Orange, however, there were simply no answers.
Regular Season: A
Postseason: B-
Overall: B+
Just in time for the Final Four, check out last season's ranking of a half-century's worth of NCAA championship games.