USC Trojans Football: Week 3 Spring Practice Stock Report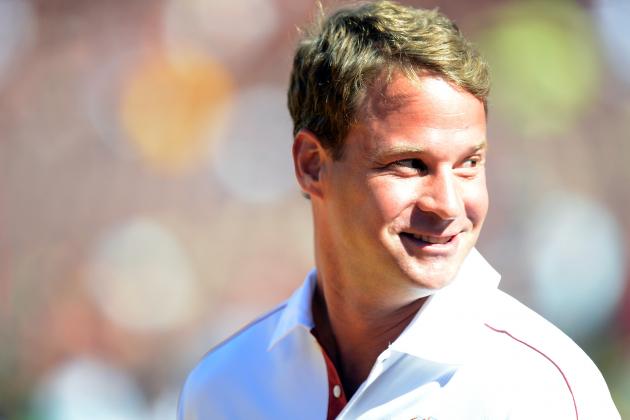 Harry How/Getty Images

With the Trojans' spring break hiatus behind them, USC enters its third week of spring practice with new questions and fresh faces being the focus of Lane Kiffin and his staff's attention.
As can be expected with hard hitting and a depleted roster, injuries have forced new starters to take center stage. They hope to impress their respective unit coaches and be in the top spot when the depth chart is released to start the 2013 season.
This slideshow will look at some of these changes and discuss the fluid nature surrounding the first of these two important practice sessions.
While there is much to do before the roster takes its final shape, here are some of the things that must be considered before Kiffin and his staff send their team out to the field to start what will be a crucial season for the men of Troy.
Begin Slideshow

»
Harry How/Getty Images

Prior to the hiring of defensive coordinator Clancy Pendergast, fans widely assumed that middle linebacker Lamar Dawson would enter the 2013 season as the starter for the Trojans in their revamped defense.
However, redshirt sophomore Anthony Sarao opened up spring camp as Pendergast's "Will" linebacker starter.
Those same people relegated Dawson to "also-ran" status, probably thinking that his abilities at the middle in the 4-3 defense just didn't translate well to the new 5-2 scheme.
Not so fast.
Instead, Dawson came into spring camp in great shape and committed to the change of style his defensive coordinator favors, and his play has shown it.
Meanwhile, Sarao has also been a beast, leading to a spirited competition to see who starts at this critical position.
In fact, ESPN.com's Johnny Curren had this to say about the uncertainty at the spot: "With both players establishing themselves as two of the defense's most promising performers, the competition at WILL linebacker has developed into one of the spring's more interesting position battles."
To be certain, this won't be decided until the end of fall practice and should be watched very closely until then.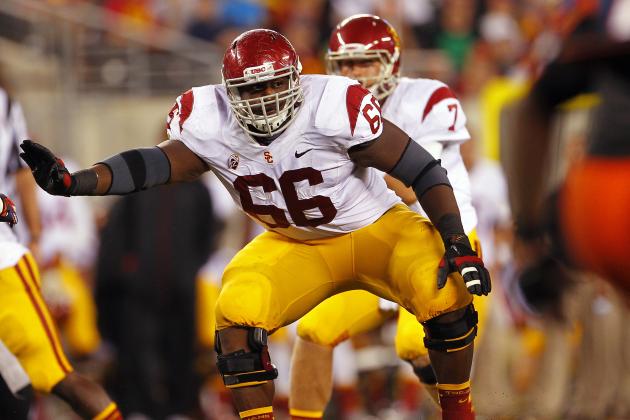 Rich Schultz/Getty Images
Marcus Martin
When Khaled Holmes graduated, it left a gaping hole in the Trojans offensive line at the center position, one that will be an abiding concern for offensive line coaches James Cregg and Mike Summers.
To address the void, true sophomore Max Tuerk was asked to try snapping the ball. While he did well, his inexperience meant that the tinkering at the position was far from over.
Enter last year's left guard Marcus Martin who will now be asked to anchor the offensive line from the center position.
So far, the move looks productive, as Johnny Curren from ESPN reports, "The big news here has been the move of Martin over to center where he ran with the first unit, looking surprisingly comfortable."
So comfortable that Kiffin said after Saturday's scrimmage, "With the way things are going, we're pretty much headed in the direction of going with Marcus Martin at center."
With the move, Tuerk now slides over to Martin's guard position, but it is likely that both players will continue to take snaps at the center position for the foreseeable future.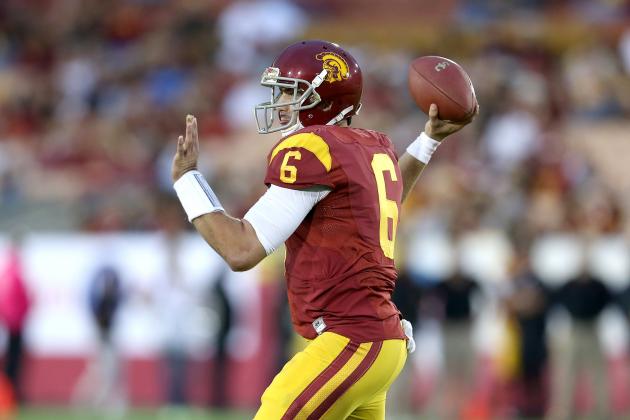 Stephen Dunn/Getty Images
Cody Kessler
One of the most pleasant surprises for the Trojans this spring has been the play of redshirt sophomore Cody Kessler.
Kessler, who took full advantage of increased playing time when Max Wittek went down with a knee injury, has been solid all spring and that continued in Saturdays scrimmage.
Continuing his impressive play, Kessler completed five of nine passes for 99 yards and two touchdowns while the now-returned Wittek went 3-or-5 (84 yards) and one TD.
The other guy in the mix—true freshman Max Browne—also has been improving every time out, and his maturity for such a young player has been impressive.
Still, this looks like a two-horse race, with Kessler and Wittek likely to duke it out through the fall before Kiffin finally pulls the trigger and names a starter.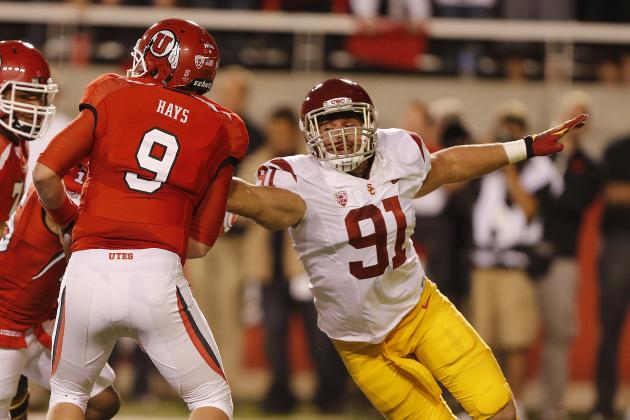 George Frey/Getty Images

Going into 2013, USC needed to find a way to improve its porous defense from the year before.
To that end, the Trojans went out and hired former Cal defensive maven Clancy Pendergast, who scrapped the 4-3 scheme favored by former coordinator Monte Kiffin and replaced it with a 3-4 that often takes a 5-2 alignment.
So far, it seems like a good move.
This is especially true of the front seven, whose aggressive style has lent to improved penetration and far more effective results.
As noted by ESPN's Curren, "As a whole, Ed Orgeron's group continues to shine this spring as a disruptive force in Clancy Pendergast's attacking 5-2 defensive scheme."
However, there still remain some serious concerns, particularly with the cornerbacks, whose depth and experience was a question entering into 2013.
Speaking of the Trojans' most experienced cornerback, Torin Harris, and the unit as a whole, Pendergast said, "He's inconsistent. Everyone needs to get better." (h/t Scott Wolf of the Los Angeles Daily News).
The saga of the defense will not be completed until the end of the fall, and that is especially true of the secondary.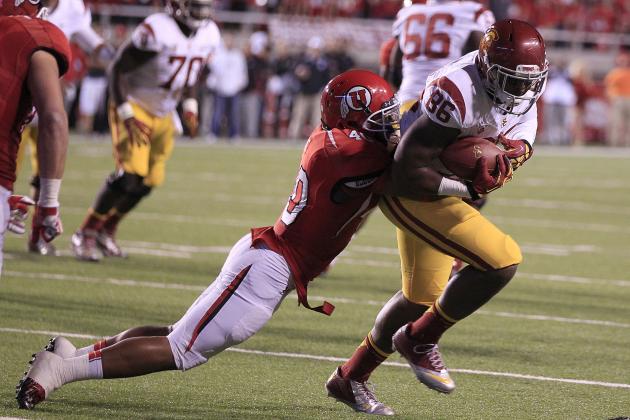 George Frey/Getty Images
Xavier Grimble
Life is a series of trade-offs where things are gained often as a sacrifice of others.
For Lane Kiffin and his staff, the notion of going all out by tackling in practice is mitigated by the risk of injury.
Already operating with a depleted roster due to the NCAA's sanctions, the Trojans have contributed to their roster woes with a series of injuries that have reduced the availability of healthy bodies in the spring session.
The latest to join that ignominious list are fullback Soma Vainuku and tight end Xavier Grimble, both of whom will miss the remainder of the early camp.
With 17 players now being held out due to injury, the Trojans were only able to scrimmage for 52 plays on Saturday.
For the coaching staff, injuries and roster depth will be a serious concern throughout the 2013 season.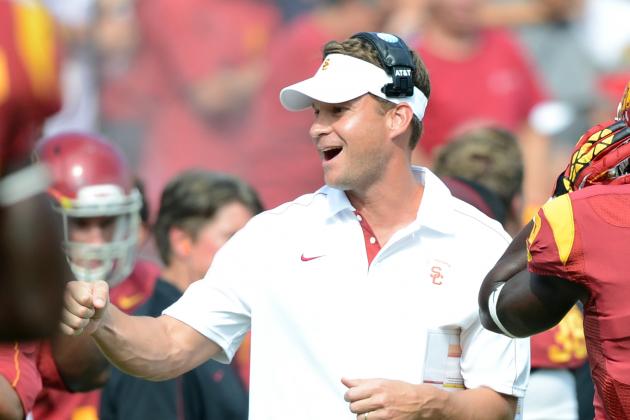 Harry How/Getty Images

As USC nears the end of its spring camp, Kiffin can look back on this session as a mixed bag of success and disappointment.
Certainly, the promise of an improved defense is a reason for optimism as the front seven continues to shine. But that is tempered by a still-shaky secondary that has not been helped by cornerback Kevon Seymour's injury.
Meanwhile, the quarterback battle will continue throughout both practice camps.
And while an increased focus on tackling has lent to better fundamentals, it does so at a high cost of a cadre of injured players whose numbers are increasing daily.
Still, there are plenty of things to build on for the Trojans, and overall, this has been a productive week and an even more beneficial early session.
Stock Report For Week Three: Up, but with managed risks still a serious concern.