Ranking the Best Possible Opponents for Gennady Golovkin's Next Fight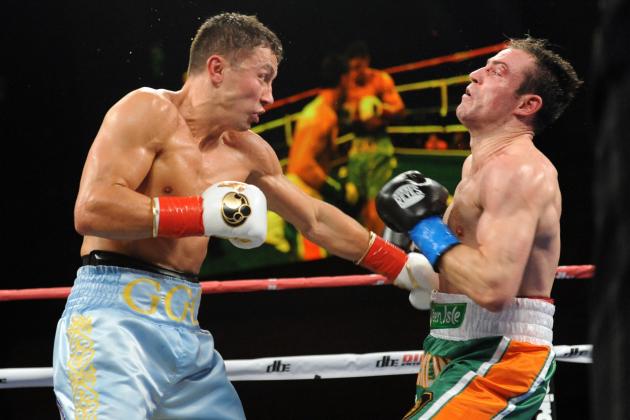 Joe Camporeale-USA TODAY Sports
Gennady Golovkin, pictured left, knocking out Matthew Macklin during their June 29th clash.
Gennady Golovkin is the Eastern European firecracker that's been exploding in the United States since his HBO debut last September.
His latest explosion occurred in the third round with a left hook to the liver of top-rated British middleweight contender Matthew Macklin. Macklin fell on his belly and couldn't get up.
Macklin wouldn't have gotten up for the count even if the referee had counted to 100. With that kind of power, fans want to see it tested against even better fighters, different styles and in title unifications.
With Golovkin potentially fighting two more times before the year's over, here's a look at the middleweight and super middleweight division's best options for Golovkin to face next.
Begin Slideshow

»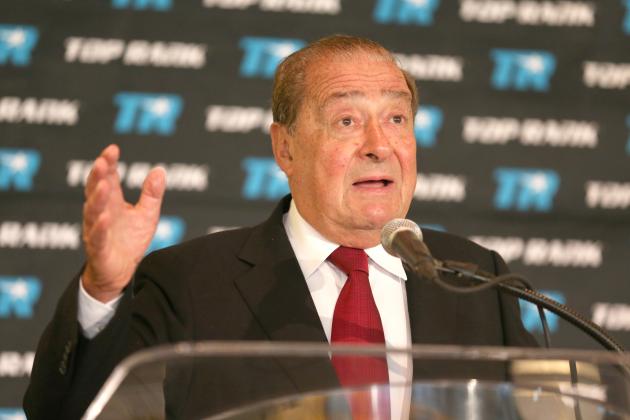 Stephen Dunn/Getty Images
Bob Arum
We must take a look at the intriguing matches that will have to wait until next year.
This list is named after an infamous 2010 quote from Top Rank promoter Bob Arum.
Arum promoted two of the hottest undefeated fighters on the planet, Juan Manuel Lopez and Yuriorkis Gamboa. Both were world champions in the same weight class.
Arum told the media and fans that he wanted to let the fight "marinate" until it got a little bigger.
As boxing fans may know, Lopez would get knocked out in 2011 by Orlando Salido, sucking the mystery and intrigue right out of the potential matchup.
Gamboa-Lopez would never come into fruition.
That doesn't mean that has to happen here. Here's a look at what a few potential rivals have to say about facing Golovkin in the future:
Carl Froch, IBF super middleweight world champ
"Carl Froch will fight any man," Eddie Hearn, Froch's promoter, said, according to ESPN UK. "Whilst Golovkin is largely avoided, Froch will quite willingly step up and ideally that is a fight that could happen in the middle of 2014."
Andre Ward, super middleweight Ring and WBA world champ
"Right now, it doesn't look like those guys want to fight him, so it's not his fault, said Andre Ward, according to Boxing Scene. "But I definitely feel like that could be a big fight down the road."
Sergio Martinez, Ring and WBC middleweight world champ
"After a year without fighting, we would not allow him to go right against Golovkin, so it would be somebody else first," said Sampson Lewkowicz, according to Ring TV. "Then the grand finale, against Golovkin, could be in September. That would be the perfect time."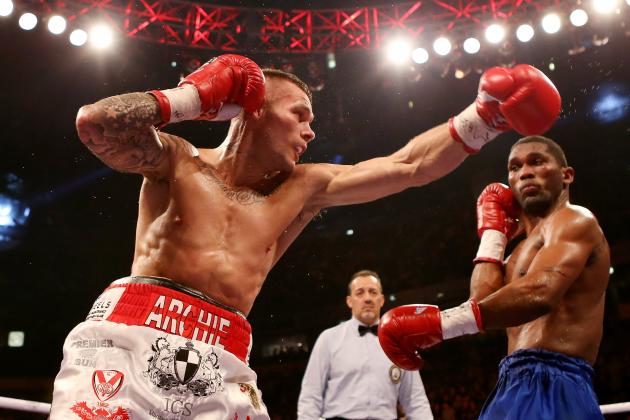 Scott Heavey/Getty Images
Martin Murray
The Appeal:
Murray is the toughest British fighter in the middleweight division. He's coming off an impressive performance against Sergio Martinez in which he dropped the champ in route to losing a close decision.
Murray would provide a much stiffer test than Matthew Macklin in that he would come into the ring with a lot more confidence than his British countryman and with a better defense and chin.
Golovkin's team is in talks with Murray's team for a Nov. 2 showdown on HBO, according to World Boxing News, with a goal of having the showdown take place at Madison Square Garden.
The Difficulties:
After fighting in Martinez's home country of Argentina, Murray told ESPN he's currently getting an early start on applying for a visa to America after his troubles last year with entering the country.
Whether Murray lands his visa or not, Golovkin can accommodate Murray by putting on another fight in Monte Carlo, Monaco. Golovkin did this previously for a fight with Nobuhiro Ishida.
Another option would be to hold the fight in Murray's native England. While Murray's not as big a star as Carl Froch, British fans would show up to support him in a well-promoted fight with Golovkin.
The Appeal:
Sergio Mora is called the "Latin Snake" for a reason. He slithers away from the attacks of big punchers and often makes the hardest punchers look bad.
In his latest fight this past June, Mora defeated a befuddled Grzegorz Proksa, the hard puncher Golovkin made his HBO debut against.
From Vernon Forrest to Shane Mosley, no one has been able to knock him out. If Golovkin could become the first to put Mora away, it's another name and credit he could add to his record.
And Golovkin gets to go a few rounds with an elusive style, something the audience has yet to see him face.
The Difficulties:
Given Mora's history of making even action-packed fighters like Mosley look bad in sometimes boring fights, would HBO approve Golovkin-Mora? That's a serious question.
If Golovkin can't fight Mora on his Nov. 2 fight date, he could face Mora on an independent pay-per-view fight similar to what he did to face Nobuhiro Ishida.
Golovkin's team told Boxing Scene they're looking for a fighter for Golovkin to face some time in August or September before their November 3 HBO date. Mora would likely be up for the challenge.
Matt King/Getty Images
Daniel Geale
The Appeal:
This match was originally supposed to occur last year after Geale unified his IBF middleweight world title with Felix Sturm's Super WBA world title.
Golovkin was the mandatory for Geale's newly collected Super WBA Middleweight world title. The WBA decided to mandate the fight happen sooner than Geale would've liked.
Rather than defend the title, Geale vacated the Super WBA Middleweight title to avenge the only loss of his career against Anthony Mundine in a lucrative Australian superfight.
Should Geale fight Golovkin, the storyline is already there. The intrigue of whether Golovkin can dominate a world champion will carry this one into his highest ratings yet on HBO if promoted right.
The Difficulties:
While Golovkin is fine with fighting up to five times a year, Geale has not fought more than twice a year since 2009, the year he lost to Mundine.
Since he's already scheduled to face Darren Barker on HBO Aug. 17, and he won a rematch with Mundine this past January, fighting may not be on his agenda again until next year.
Even then, Darren Barker, a talented British fighter whose only loss is to middleweight kingpin Sergio Martinez, may upset Geale.
Should Barker win, he may seek to land a big-money domestic fight with any of the number of popular British middleweights. If that is the case, a unification will have to wait.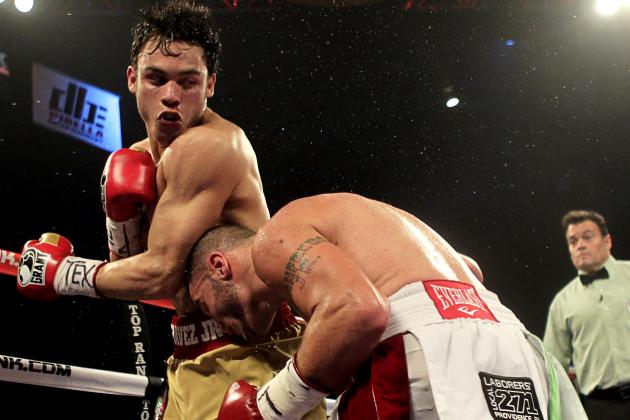 Bob Levey/Getty Images
Julio Cesar Chavez Jr. pummels a crouching Peter Manfredo.
The Appeal:
Chavez is perhaps the biggest superstar of the middleweight division. His fans led his pay-per-view with Sergio Martinez over 450,000 buys, a big hit for anyone not named Pacquiao or Mayweather.
Chavez's skills are questionable in the aftermath of his one-sided decision loss to Sergio Martinez, but his durable chin and ability to put on as much as 25 pounds after a weigh-in make him dangerous.
Golovkin hasn't defended his title against a fighter who didn't wilt under his power. Chavez will stand up to his power and fire back some bombs of his own in what will be a classic war.
The Difficulties:
Chavez's promoter told Boxing Scene he's interested in making the fight after Chavez's Sept. 7 return to the ring against Bryan Vera. If Chavez can overcome difficulties making weight, this one's sure to please.
The problem is Chavez's next fight will be contested at a catchweight of 165 pounds. This is meant to test if he can make weight even close to the middleweight division.
If Chavez should struggle, he could decide to move up to super middleweight where superfights with Carl Froch and Andre Ward await him. That would make a fight with Golovkin less likely to occur.
Scott Heavey/Getty Images
Peter Quillin
The Appeal:
Peter Quillin is the other undefeated world champion and knockout artist of the middleweight division. He's taken out 21 of his 29 opponents inside the distance and at 30 years old, he's in his physical prime.
If Golovkin faces him, he would be the fastest and slickest fighter he's faced thus far.
The Difficulties:
The only reason his star isn't rising as quickly as Golovkin's is due to his affiliation with Golden Boy.
HBO cut ties with Golden Boy, making all Golden Boy fighters exclusive to Showtime. While that doesn't hurt Golden Boy's 140-154-pound fighters, their stable at 160 consists of mainly two fighters.
Quillin is one of those fighters. The other is lesser known Danny Jacobs, a prospect still trying to reestablish himself in the aftermath of his 2010 knockout loss to former champ Dmitry Pirog.
In order for this match to take place, a series of meetings would have to take place. This match may be at least a year off before HBO and Golden Boy come to an understanding.
If you like this article, feel free to follow me on Twitter @justindavidtate.