WWE WrestleMania 29: 7 Things the Casual Fan Needs to Know About the Event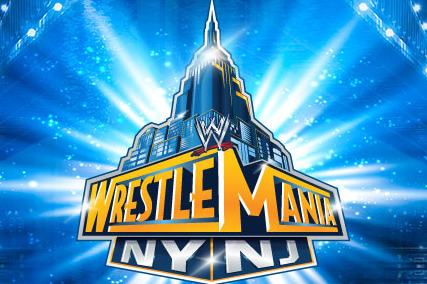 Photo courtesy of WWE.com
While most fans who read pro wrestling sites are hardcore fans, a big chunk of the audience that will be watching WrestleMania 29 consists of casual fans.
WrestleMania is the one pay-per-view of the year that attracts a number of fans who don't regularly watch the WWE. That's obviously good news for the WWE, but the fans that don't consistently watch Raw and/or SmackDown may not fully understand what they're watching.
After all, it's hard to get a genuine sense of what's going on with a TV show if you don't watch it week after week, month after month.
So, for all the casual fans out there, you may be heading to watch WrestleMania 29 without really knowing what you're getting ready to watch. No worries, though, because that's why I'm here.
While the more hardcore fans may already know (or think) most of this stuff, the more casual ones may want to pay attention.
Here are seven things that the casual fan should know about WrestleMania 29.
Begin Slideshow

»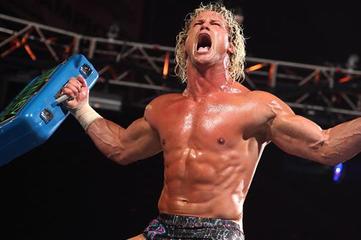 Photo courtesy of WWE.com
If you haven't been watching the WWE for the past several months, then you probably haven't noticed that the WWE is setting up Dolph Ziggler for a Money in the Bank cash-in.
Assuming you at least know what a cash-in is, you should also know that Ziggler is probably going to be the first man to cash in at WrestleMania by doing so at WrestleMania 29.
The WWE is doing all the things with Ziggler that it usually does with its Money in the Bank holder immediately before having him cash in: Booking him to lose a lot, making him an afterthought, killing his momentum, etc.
With the way that Ziggler has struggled to find a spot in one of the top WrestleMania matches, it's become clear that the WWE has a strategy behind this. That strategy is, quite simply, to book Ziggler to look bad so that it comes across as a "surprise" whenever he does cash in.
This is something the WWE has done throughout its history (think Jack Swagger and Daniel Bryan), and though it's certainly a questionable philosophy, it's one that the WWE utilizes fairly often, nonetheless.
You might be thinking to yourself, "This Ziggler guy is good. Why isn't he getting a bigger match at WrestleMania?"
Don't worry, though. As John Cena might say, Ziggler's time is now.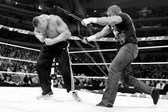 Photo courtesy of WWE.com
The three "main events" of WrestleMania 29 are as follows: The Rock vs. John Cena, Triple H vs. Brock Lesnar and The Undertaker vs. CM Punk.
But just because these guys are main-eventing the WWE's biggest pay-per-view of the year, that doesn't mean you should expect to see them around afterward. In fact, the opposite is true.
The Rock, Triple H, Lesnar and The Undertaker are all considered to be part-timers at this stage of their careers, and though The Rock and Lesnar are apparently going to be at Extreme Rules, those two as well as Triple H and Undertaker aren't going to be around for the long haul.
The Rock, Triple H and Lesnar all show up just a few times per year while The Undertaker only comes around during WrestleMania season.
The casual fan may not quite grasp this concept, but as hard as this may be to believe, four of the six WrestleMania main-eventers are part-time performers who are collecting this big Mania paycheck only to go away again for a while almost immediately afterward.
Is it strange? Yes. But the WWE has shown over the last couple of years that it has absolutely no problem with doing this.
So, let me just sum this up for you in one sentence: If you're watching WrestleMania 29 and expecting to see the show's main-eventers stick around for the long haul afterward, then you're going to end up being extremely disappointed.
Photo courtesy of WWE.com
The WWE loves to bill roughly three or four of its WrestleMania (or even its regular PPV) matches as "main events."
In reality, however, that simply isn't the case.
The World Heavyweight Championship match between Royal Rumble winner Sheamus and Daniel Bryan at WrestleMania 28 was billed as a "main event," but it opened the show and lasted just 18 seconds. The same thing happened at WrestleMania 27 when Royal Rumble winner Alberto Del Rio vs. Edge for the World title was the show-opener as well.
So, don't buy into all this hype that WrestleMania 29 features three or four main events. The truth of the matter is that it only features one: The Rock vs. John Cena for the WWE Championship.
The WWE can try to label five or six Mania matches as the show's "main event" if it wants to, but wrestling pay-per-views do not have multiple main events. They have one main event, and that main event is whatever match closes the show.
At WrestleMania 29, that match will undoubtedly be The Rock vs. Cena for the WWE title, although it probably shouldn't be.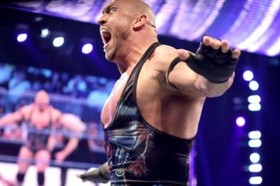 Photo courtesy of WWE.com
Even though none of the WrestleMania 29 main events are going to create new stars, the rest of the show very well might.
There are several matches that the WWE could utilize to create new stars, including Big Show, Randy Orton and Sheamus vs. The Shield, the WWE Tag Team Championship match (Big E Langston), Ryback vs. Mark Henry and Chris Jericho vs. Fandango.
It's expected by many that the WWE will use the established veterans in these matches to put over the up-and-coming stars they're facing, which would be huge for the long-term future of the company.
We all know that the WWE needs to create new stars, and it has plenty of opportunities to do that at WrestleMania 29. Should Fandango, Ryback and/or The Shield win, they could be positioned for monstrous pushes in the second half of 2013.
Throw in the possibility of a Dolph Ziggler cash-in, and suddenly, the WWE has at least four or five chances to turn rising stars into bona fide main-eventers, which is something that doesn't happen every often.
If you're watching WrestleMania 29 as a casual fan, you may be rather unfamiliar with some of the young guns competing on the show. At the same time, though, you just might be witnessing the biggest moments of their young careers and the creation of a few new major superstars.
As much as we think we may know about WrestleMania 29 and as predictable as it may seem, every fan who's watching the pay-per-view should still expect the unexpected.
Why? Because it's WrestleMania.
Every year, we think we know exactly how WrestleMania (or at least most of it) is going to play out. Yet, every year, we wind up being wrong about multiple things that happen on the show.
WrestleMania 29 will be no different.
Even though the average hardcore fan is heading into the PPV thinking that he knows exactly what to expect out of every match, the casual fan is heading into the PPV not knowing exactly what to expect.
That's good, though, because at WrestleMania, you should always expect the unexpected.
Just like the hardcore fan can expect to be surprised, the casual fan—who is already going to be surprised anyway—can expect to be surprised as well. This, of course, will make the PPV much more enjoyable for the casual fan, who goes into the show with a much more open mind and less of a sense about what's going on behind the scenes.
After all, ignorance is bliss, right?
WrestleMania 28 featured eight matches, and the pay-per-view's three "main events" took up a huge portion of the show while the other five matches hardly got any time.
Let's take a look at the specifics: The Rock vs. John Cena (33 minutes), Triple H vs. The Undertaker (30 minutes) and Chris Jericho vs. CM Punk (22 minutes). No other match got more than 11 minutes (Kane vs. Randy Orton), and one (Sheamus vs. Daniel Bryan) lasted just 18 seconds.
In other words, WrestleMania 28's three main events all got a boatload of time while none of the other matches did. We can undoubtedly expect the same at WrestleMania 29.
The show's three main events (The Rock vs. Cena, Undertaker vs. Punk and Triple H vs. Brock Lesnar) will all likely get 20-30 minutes of in-ring time a piece. When you throw the time spent on video packages and the superstars' elaborate entrances into the mix, then you're probably looking at those three bouts taking up at least half, if not more, of the PPV.
What does that mean for the rest of the matches? Well, when you consider that this year's WrestleMania has a whopping nine matches, it likely means that the remaining six matches are all going to be really short.
Odds are that most of the undercard bouts will go less than 10 minutes while many may not even get five minutes. That, of course, means that the undercard probably won't produce a ton of quality matches.
Yeah, most casual fans are buying WrestleMania 29 because of the show's main event performers anyway. But when you're sitting through a bunch of short matches and wondering why, I'll be the guy saying, "I told you so."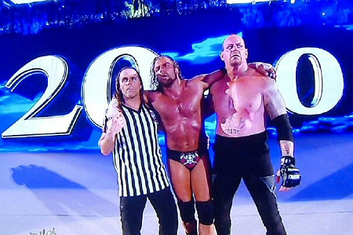 Photo courtesy of WWE.com
If you don't consistently visit wrestling news sites or regularly watch WWE programming, then there are a lot of things about the WWE that you are probably unaware of.
For example, you may not realize how obvious it is that John Cena is going to beat The Rock or how apparent it is that Triple H is going to beat Brock Lesnar. That will make you think this pay-per-view is unpredictable when, in reality, it isn't.
Though we can certainly expect some surprises (as noted in an earlier slide) at Mania, the fact of the matter is this: Most of the major matches at WrestleMania 29 are very predictable.
The winners of the show's three main events (HHH/Lesnar, Rock/Cena and Punk/Undertaker) are all rather obvious to the more diehard fans. The casual fans may not notice this as much or even at all, but predictability is the theme of this PPV.
While the undercard is a bit less predictable and some of those matches could go either way, the big issue with WrestleMania is that we've "known" the outcome of the show's main events for quite some time. In turn, that's really hurt our interest level in seeing the PPV.
The good news for casual fans is that they probably don't know or don't care about predictability. But that doesn't change the fact that WrestleMania 29 is shaping up to be one of the most predictable WrestleManias in recent memory.
Drake Oz is a WWE Featured Columnist for Bleacher Report. Follow him on Twitter!