Michigan State vs. Duke: Live Score, Highlights and Sweet 16 Game Reaction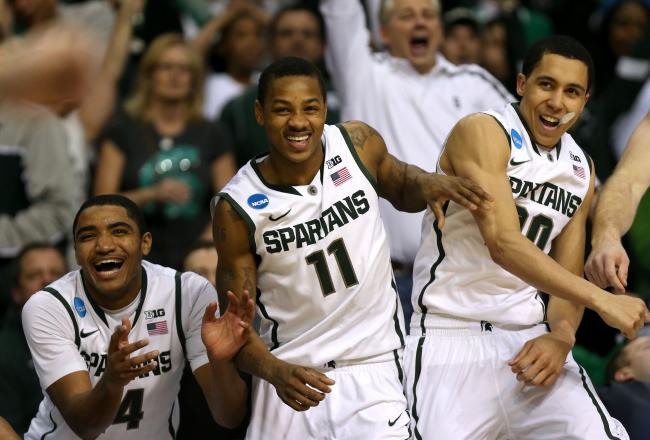 Will be a sweet or sour finish for MSU during its Sweet 16 clash with Duke?
Jonathan Daniel/Getty Images
The Michigan State Spartans, simply put, didn't have enough energy and consistency in the second half of Friday's 71-61 Sweet 16 loss to the Duke Blue Devils.
The No. 3-seeded Spartans hung around in the first half, entering the break down 32-31, but poor shooting, undisciplined defense and a lack of offense cost them a trip to the Elite 8.
The No. 2-seeded Blue Devils were fueled by a fantastic first half from Seth Curry, who finished with a game-high 29 points. However, he was held at bay for most of the second half -- but that didn't matter, because Duke buckled down with great defense and locked down Michigan State.
Duke guard Rasheed Sulaimon didn't get enough credit from CBS announcers during the telecast. He scored 16 points and made 12-of-14 attempts from the line. Mason Plumlee was able to shed Derrick Nix and Adreian Payne long enough to put up 14 points and grab seven rebounds.
The Spartans' offense couldn't buy a bucket during the final 20 minutes. Gary Harris was ice cold and Nix's foul trouble didn't help, either. Harris scored six points after putting up 23 against Memphis in the Round of 32.
Keith Appling led Michigan State with 16 points. Payne scored 14.
Duke faces Louisville in the Elite 8.
Follow Bleacher Report's Michigan State Spartans basketball writer Adam Biggers on Twitter @AdamBiggers81
Duke 71, Michigan State 61 (final)
The Spartans didn't have enough gas to run with the Blue Devils. A poor second half and stifling defense from Duke cost the Spartans a trip to the Elite 8.
Duke faces Louisville in the next round.
Rasheed Sulaimon hasn't been talked about much by CBS analysts; he's been huge for Duke tonight.
Sulaimon has 16 points and has shot 12-for-14 from the line.
The Spartans have wasted a handful of possessions tonight, that's clear. But shooting 2-for-12 from beyond the arc has absolutely stalled the offense tonight.
Desperation and lack of energy was Michigan State's downfall.
Duke 65, Michigan State 58 (1:34, 2nd)
Time is at a premium, and Michigan State needs Keith Appling to slash his way to the rim, draw contact and sink a couple of baskets. This game just hasn't played out the way I thought it would for Michigan State, which failed to flex its muscle against Duke.
Duke 63, Michigan State 56 (1:50, 2nd)
Travis Trice walked.
But Michigan State will take that basket plus the foul shot.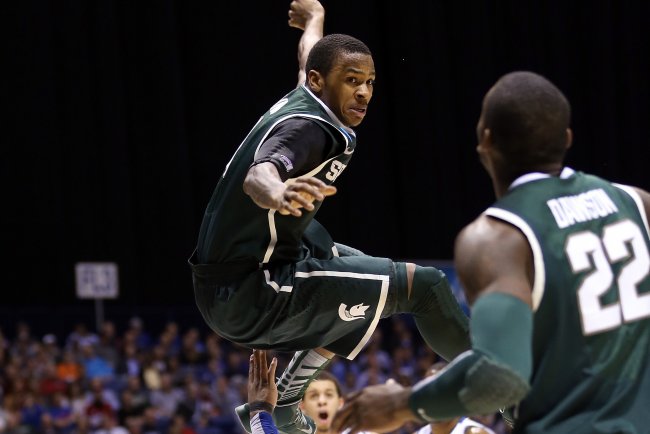 Streeter Lecka/Getty Images
Can Michigan State string together a Michigan-like comeback? The Spartans are in nearly an identical scenario as the Wolverines were against the Kansas Jayhawks earlier tonight.
Duke 60, Michigan State 49 (3:52, 2nd)
Well, this tournament hasn't been a great example of my prediction talent. Typically, I'm pretty consistent. However, I was wrong about Michigan's ability to hang with Kansas, and I was wrong about Duke's style of play -- I didn't give the Blue Devils enough credit when it comes to playing a physical brand of basketball.
Michigan State just doesn't have much energy left. Duke knows it. I know it. You know it. The Spartans are in dire need of some type of spark.
The Spartans have one basket since 17:10 mark of second half. Duke has owned the boards and has capitalized on second-chance opportunities -- that's how Michigan State typically operates.
Duke 60, Michigan State 49 (5:19, 2nd)
Gassed.
The Spartans are slow and look defeated -- and there are still over five minutes to play.
Had Adreian Payne finished that alley-oop, the Spartans would have been re-energized. One basket impacts confidence -- a make boosts confidence, a miss keeps morale down and a team second-guessing itself when trying to rally.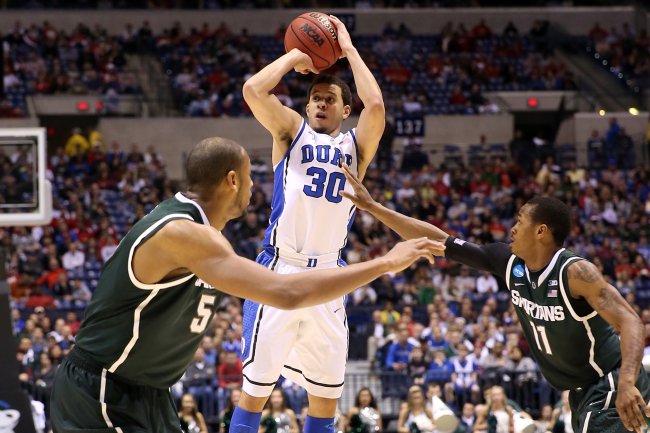 Andy Lyons/Getty Images
Good news for Michigan State: Seth Curry's hot hand has cooled down a bit. He's been quiet for most of the second half but still leads all scorers with 25 points.
Duke 56, Michigan State 48 (8:12, 2nd)
In an article that I published earlier this week, I said that Duke's Mason Plumlee wouldn't have much of a chance of handling Adreian Payne and Derrick Nix.
So far, Payne has been a problem, but Nix hasn't really challenged Plumlee the way I thought he would. Nix has to step up or the Spartans are going home. Overcoming an eight-point deficit isn't impossible, but the Spartans are shooting themselves in the foot with needless basket-interference calls and incredibly reckless fouls.
However, Plumlee now has four fouls, so that should open up something for the Spartans in the middle.
Spartans offense is in shambles right now, but somehow Duke hasn't ran away with this one.
Gary Harris is one guy that Michigan State can count on for a rampant pace. Not one other player has demonstrated the ability to really score in bunches other than Keith Appling.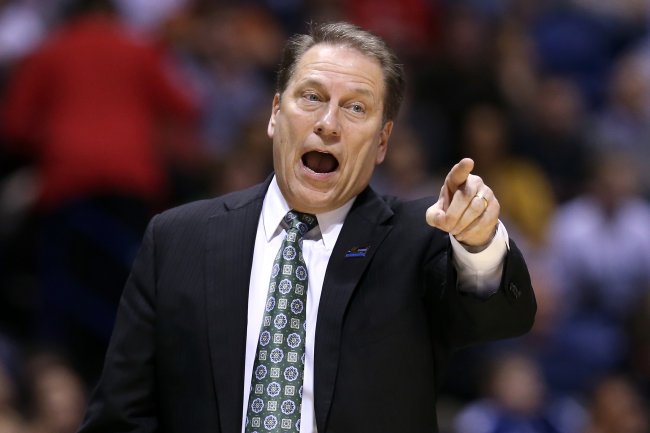 Streeter Lecka/Getty Images
The look on Tom Izzo's face says it all -- he's not thrilled by the way calls have gone against his team. Izzo looked like he was ready to explode on the sideline.
Duke 51, Michigan State 46 (10:11, 2nd)
Gary Harris averages 16.5 points per game in the tournament compared to 13 in the regular season.
Want a favorable matchup? How's Mason Plumlee, a senior, versus Spartans frosh Matt Costello?
Plumlee wins that one every time -- guaranteed.
Duke 49, Michigan State 45 (11:39, 2nd)
Derrick Nix is a key to the Spartans' success. However, with three fouls, his absence invites Duke to have a field day. Adreian Payne, as great as he is, can't handle duties alone in the paint.
Both teams are in the bonus. It's free-throw extravaganza time.
Josh Hairston and Duke have done a respectable job of keeping Michigan State out of rhythm tonight.
Josh Hairston draws a charge on Keith Appling in transition, and that's 3 offensive fouls in four possessions for MSU.

— Duke Basketball (@dukebasketball) March 30, 2013
Duke 47, Michigan State 43 (11:45, 2nd)
Gary Harris came out from the shadows with a nice move to the rim, inching the Spartans back into striking distance. Harris has been defended well by Duke tonight.
Gary Harris is M.I.A due to foul trouble. He scored 23 points against Memphis, but has two tonight against Duke. Keith Appling and Adreian Payne have been Michigan State's most reliable with 12 points each.
The Spartans need Adreian Payne to go on a hot streak of his own, just like he did during the final 3:35 of the first half when he scored seven points.
Michigan State clings to a 47-41 deficit.
Duke 47, Michigan State 38 (13:34, 2nd)
Michigan State is its own worst enemy right now.
Duke is on a 9-0 scoring spree and the Spartans look gassed.
DUKE 41, MICHIGAN STATE 38—Curry is unbelievably hot from deep and MSU's bigs are getting more involved on offensesports.chronicleblogs.com/2013/03/29/duk…

— Duke Basketball (@dukebasketball) March 30, 2013
Derrick Nix picks up his third foul after being called for a push on Mason Plumlee. The Spartans can't afford to have Nix on the bench for long.
Game update: No. 15 FGCU 24, No. 3 Florida 22
Is your bracket worthless?
Mine sure is. I picked Kansas to win it all, and I had Indiana beating 'Cuse.
That's the magic of March, I suppose. Nothing is ever as it should be.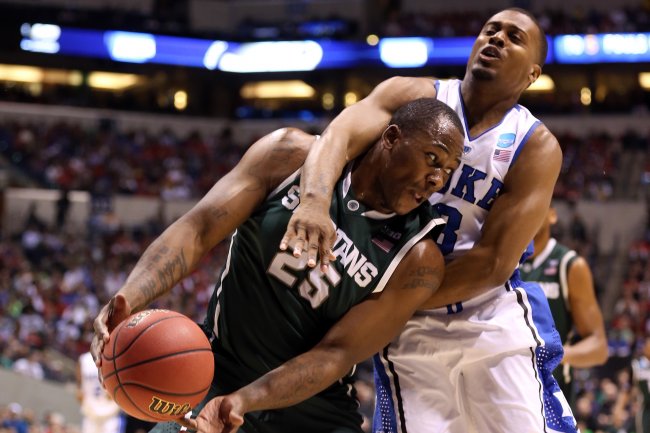 Andy Lyons/Getty Images
Duke 41, Michigan State 38 (15:10, 2nd)
Derrick Nix was far too hesitant on his last possession. He had Mason Plumlee beat, but opted to kick out the ball. Nix has to use his authority and do what he does best -- go hard to the rim.
Plumlee just picked up his third foul, so Michigan State will certainly try to exploit that and attack the paint in attempt to pile on more fouls.
I don't know what's more impressive, Seth Curry's shooting or the fact that Michigan State is down just three points.
This article is
What is the duplicate article?
Why is this article offensive?
Where is this article plagiarized from?
Why is this article poorly edited?