WWE Wrestlemania 29 Fight Card: Power Ranking the Main-Card Fights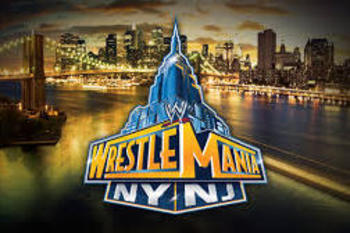 Photo courtesy of WWE.com
The WrestleMania 29 card certainly isn't the best one ever, but it's not as bad as many fans are making it out to be.
Even though it reeks of rematches and predictability, the show is also giving some up-and-coming stars a golden opportunity, features a ton of star power, and will climax with a few matches that we're actually anticipating.
Some matches, of course, are more appealing than others, but that depends largely upon who you ask. Although many fans may really want to see Ryback vs. Mark Henry, many other fans be dreading the thought of two big men facing each other.
Whereas one fan might be dying to see Triple H vs. Brock Lesnar, another may be on the edge of his seat waiting to see The Shield in its first WrestleMania match. So, which matches are you most anticipating?
Your answers to those questions may all be different, but let's take a look at mine. Here are my power rankings of all 10 WrestleMania matches.
NOTE: These rankings will be based on a variety of factors, including buildup, hype, star power and expected match quality, among others. They will NOT be based purely on the (expected) quality of the in-ring action.
9. Tons of Funk and Funkadactyls vs. Team Rhodes Scholars and the Bellas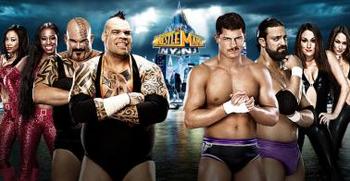 Photo courtesy of WWE.com
The least anticipated match on the card is the Eight-person mixed tag team match pitting Tons of Funk (Brodus Clay and Tensai) and the Funkadactyls against Team Rhodes Scholars and the Bella Twins.
Perhaps the biggest issue with this match, other than it being a nearly criminal waste of Damien Sandow and Cody Rhodes, is that it simply doesn't mean anything to anyone involved.
If Team Rhodes Scholars and the Bella Twins win, big whoop. If Tons of Funk and the Funkadactyls win, whatever.
While I understand that this is one of those matches that is meant to get a lot of talent on the card, the bottom line is that it just doesn't benefit either the fans or the wrestlers involved in it. The match quality will probably be OK at best, and the story behind it isn't that great, either.
Other than Naomi finally getting a much deserved chance to shine, there doesn't seem to be much of a reason for us to be invested in this feud.
On one side, you have two dancing big men who have woefully underachieved and two Divas who have hardly wrestled on TV, and on the other side, you have a team that should probably be the tag team champs (but isn't because they're booked so badly) and a set of twins who have never been very good in the ring.
This isn't really a WrestleMania-caliber match. In fact, it's something I probably wouldn't even want to see on Raw or SmackDown.
8. WWE Tag Team Championship: Team Hell No vs. Dolph Ziggler and Big E Langston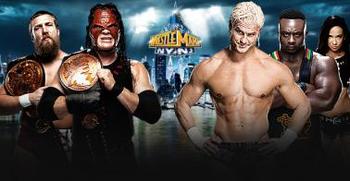 Photo courtesy of WWE.com
The WWE Tag Team Championship match features two of the WWE's most talented superstars in Dolph Ziggler and Daniel Bryan as well as a very underrated Kane.
The thing is, there were countless other and better ways to use these guys at the biggest pay-per-view of the year.
Team Hell No probably should have ended by now, so seeing Bryan vs. Kane in a singles bout (perhaps to crown the tag team "champions") at WrestleMania would have been logical. As far as Ziggler is concerned, his reignited feud with Chris Jericho should have led to a match between the two at WrestleMania as well.
Instead, we're getting a tag team match that, although it will probably be pretty good in terms of match quality, seems awfully rushed and just randomly thrown together. It didn't have to be that way, but there obviously weren't any real plans in place for this feud to happen until pretty recently.
Now, we're getting a match for the WWE Tag Team Championship that isn't really going to benefit anyone involved, except for perhaps Big E Langston.
If Kane and Bryan retain, that just means they keep the titles they should have dropped a while ago. If Ziggler and Langston win, Ziggler gets saddled with a worthless tag team belt when he should become World Heavyweight Champion soon.
Let's just call this situation what it is: A decently booked rivalry that will probably be OK in terms of match quality. That's all.
7. World Heavyweight Championship: Alberto Del Rio (c) vs. Jack Swagger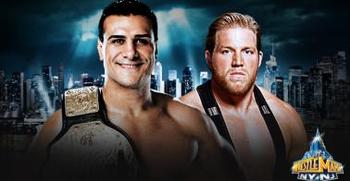 Photo courtesy of WWE.com
The WWE clearly had high hopes for the rivalry between the xenophobic Jack Swagger and the Hispanic hero, Alberto Del Rio.
At least on paper, the story between the two is a very good one after all. Unfortunately, Swagger and Zeb Colter's racist rants really haven't translated to TV all that well, likely because the vast majority of fans simply don't understand the issues they're addressing.
It seems that the WWE realized that by making this rivalry more about Ricardo Rodriguez, but ultimately, the feud has still been somewhat disappointing. The reason behind it? It lacks the star power you would expect out of a WrestleMania World title match.
Del Rio and Swagger are both great performers, but they don't have the star power that guys like Randy Orton could have added to this match if they were in it instead. As a result, the feud has suffered because the fans just aren't into it as much as they should be.
While it's great to see new guys getting a chance to be in the spotlight at WrrestleMania, it's been hard to buy into Swagger as a main-eventer after he struggled so much for the last two or three years. Similarly, not everything is reacting all that well to ADR as a babyface, even though he's doing great in that role.
Although this match should be very good (a potential show-stealer, in my opinion), the lackluster buildup to it as well as its lack of star power aren't bringing the hype to this bout that those within the WWE probably thought it would have.
Expect a fine match between Swagger and ADR, but don't be surprised if the crowd is sitting on its hands for most of it.
6. Chris Jericho vs. Fandango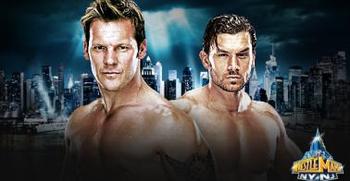 Photo courtesy of WWE.com
Although plenty of fans seem to be disappointed that Chris Jericho isn't in a main-event caliber match at WrestleMania, just consider what he's done in the past.
Y2J has made a career out of entertaining and, more specifically, out of putting others over. If he can do that for a totally unproven character like Fandango, then the WWE is really going to benefit from it.
Clearly, the creative team wants to push Fandango and build him up as a top heel, and that's what his match with Jericho seems to be all about. Is it the ideal situation for Y2J? Of course not, but I'm sure he doesn't mind at all.
He's all about entertaining, and even though this feud has been rushed because it started so late, it's actually been pretty good so far. While not everyone is going to be a fan of Fandango's gimmick, he's getting good heat and has shown a lot of intensity during his beatdowns of Jericho.
Fandango showed some serious potential during his time as Johnny Curtis. But now, he's getting the opportunity of a lifetime as Fandango and is performing pretty well so far.
WrestleMania 29 will be a huge test for him, however, as he wrestles his first match under the Fandango character. It's probably make or break time for Fandango because if he can't put on a show with Jericho, then his push might be ended immediately.
There's a lot of anticipation surrounding Fandango's in-ring debut and the possibility of Jericho doing the unthinkable and putting him over in his first match. We'll find out if that's going to happen at WrestleMania in what should be a quality match with the potential to surprise a lot of people.
Fandango's got a ton of talent. Let's see what he can do.
5. Triple H vs. Brock Lesnar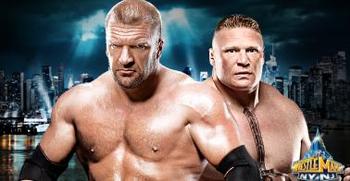 Photo courtesy of WWE.com
The storyline involving Triple H and Brock Lesnar has been an awfully predictable one that, quite frankly, hasn't been all that exciting.
The main issue here is that this is a rivalry involving two part-timers, so the hardcore fans can't really get too invested in it. In other words, unless Triple H loses and retires (highly unlikely), the outcome of this match ultimately means nothing.
Still, there are reasons why many are interested in this rivalry. For starters, the retirement stipulation that's been added to the match will give the casual and younger fans a reason to be a bit more emotionally invested in it.
Also, regardless of the predictability of this match, it features a ton of star power. Triple H is a bona fide legend whose appearances are becoming rarer these days while Lesnar is a top draw and one of the most polarizing figures in all of pro wrestling.
It seems like the WWE's logic is that, though this match may be predictable and the buildup to it may be lackluster, the company is making up for it with its sheer star power. That may be true in a way, but the fans still have a sour taste in their mouths after the first HHH/Lesnar match was incredibly disappointing.
Lesnar vs. Triple H: The Rematch has the potential to disappoint once again, but it also features two talented stars who could wind up putting on a great show this time around.
Although I think this match is ridiculously predictable and totally unnecessary, I look for it to be a big improvement upon the last one, and I'm sure that the star power alone will make this match more highly anticipated than most others on the card.
4. Ryback vs. Mark Henry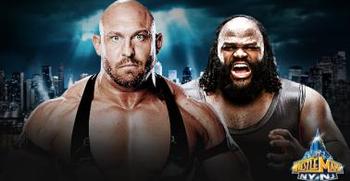 Photo courtesy of WWE.com
Some of WrestleMania 29's biggest matches have had very poor buildup, but I've been pleasantly surprised by the way the feud between Ryback and Mark Henry has been booked so far.
While a rivalry like Alberto Del Rio vs. Jack Swagger might be a bit too complicated for many fans to comprehend, the story behind Ryback vs. Henry is a very simple one: the desire to prove who is the king of the WWE's jungle.
There is no lame backstory here. All we're getting is a colossal battle between two beasts. It's incredibly simple, but it works.
Ryback and Henry are both hell-bent on proving that they're bigger, stronger and better than each other, and at WrestleMania 29, they'll both get the chance to prove it. Ryback will attempt to show that he's the most unstoppable force in the WWE and unseat Henry from that position in the process.
This story obviously doesn't take a genius to write, but it's working in the sense that it's making some fans (myself included) excited about the possibility of what will happen when these two finally have a match with one another.
The outcome (Ryback winning) is pretty predictable and the match quality probably won't be very good, but this feels like one of those "old school" matches where it's more about the hype and the moment than it is about the match quality.
In some cases, that's better, and this is one of those cases. Ryback vs. Henry won't be a classic by any means, but it will be a bona fide brawl between two absolute monsters.
It's something different on a WrestleMania 29 card that feels mostly like more of the same.
3. The Shield vs. Big Show, Randy Orton and Sheamus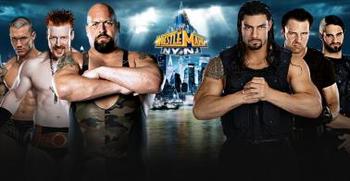 Photo courtesy of WWE.com
While many fans are disappointed that guys like Randy Orton and Sheamus aren't getting big singles matches at WrestleMania 29, this match is huge for both of them and also for The Shield.
For The Shield, this will be its biggest match since its in-ring debut at WWE TLC. They'll be performing on the biggest stage in pro wrestling against three of the biggest names in the business, which is a pressure-packed situation no matter how you look at it.
For Sheamus, Orton and Big Show, this match could ultimately play a huge role in determining both their short and long-term futures. Because of the way this feud has been built up so far (with both Show and Orton being overly babyface-like as of late), it just feels like something big is going to happen during the match.
Will it be a Sheamus or Orton heel turn? Will we get a major curveball and see Sheamus heel turn instead? We don't know, and that's precisely what makes this match more anticipated than other Mania matches that might seem more important.
Although the booking of this rivalry certainly hasn't been perfect, the way its been built up so far seems to be leading toward a major moment at WrestleMania 29 that could change the careers of more than one guy.
That's the type of excitement you want surrounding a match that leaves a lot to be desired otherwise because of the simple fact that it's a six-man tag match and those matches don't draw like major singles bouts do.
What's very reassuring about this match, though, is that the babyface side consists entirely of proven veterans while The Shield features three young studs who have delivered in every major match they've had so far.
The match quality here should be excellent, but the potential for a major moment is what will really make it worth watching.
2. WWE Championship: The Rock (c) vs. John Cena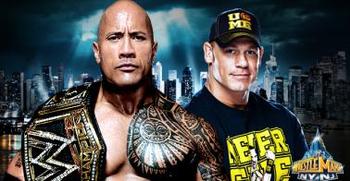 Photo courtesy of WWE.com
The buildup to The Rock vs. John Cena at WrestleMania 28 was significantly better than it has been for their match at WrestleMania 29.
A big reason why that's the case is because The Rock's simply missed too much TV time to make this feud seem as important as it should, especially when you consider that it now involves the WWE Championship.
The WWE clearly could have put more effort into this feud, but the bottom line is this: It's a huge rivalry that drew an astronomical PPV buyrate at WrestleMania 28 and features two of the biggest stars in pro wrestling history.
While some of us may not agree with this philosophy, the simple fact is that the WWE booked this feud because it knew it would draw no matter what. Yeah, the booking leading up to this rematch has been very underwhelming, but that doesn't really matter.
It does for just about every other match on the WrestleMania 29 card. But not this one.
The Rock vs. Cena: The Rematch is simply about two of the WWE's biggest stars ever going one-on-one a year after one of the stars beat the other one. Nothing more, nothing less.
It's certainly not the ideal situation from a fan's perspective, but as The Rock might say, it just doesn't matter. What matters is that the star power alone is what's selling this match.
The booking doesn't matter one bit to those within the WWE, even though it should. The only thing the WWE is worried about is people buying the PPV, and people will buy it because The Rock and Cena are wrestling on it--although not necessarily because they're wrestling each other.
Even if you don't want to see it again, the WWE doesn't care. So, just sit back and watch what will probably be a pretty good match that is much better than its build has been.
1. The Undertaker vs. CM Punk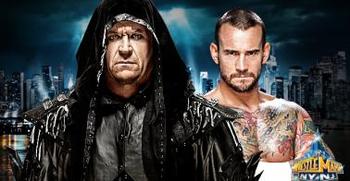 Photo courtesy of WWE.com
Most of the WWE's major WrestleMania 29 feuds have had rather lackluster build, and that includes The Undertaker vs. CM Punk.
It's not that this angle has been booked absolutely terribly, it's just that is hasn't been booked nearly as good as most thought it would. Perhaps it's centered too much on Paul Bearer's urn (I'm not sure), but it just hasn't clicked all that well.
Still, the disappointing build is overshadowed by one fact: There is actually legitimate talk that "The Streak" might end.
While many think that "The Streak" will never end, Punk has, for maybe the first time ever, created legitimate feelings of doubt in the minds of fans across the world. That's something that not even Triple H or Shawn Michaels could do.
With Undertaker apparently not 100 percent and with Punk at the top of his game, many are thinking that this might be the chance for the WWE to end "The Streak" and give a monstrous push to the man who ends it.
Could it be Punk who does it? It's very possible.
Although I think the WWE could have done a much better job with building up this rivalry, there's no doubt that the intrigue surrounding this match is much more apparent that it is for any other match on the WrestleMania card.
Every Mania match has some serious drawbacks, but Punk vs. Undertaker is the only one that benefits from the added mystique and anticipation that accompanies Taker's defense of "The Streak."
If for no other reason, that's why this will be the most must-see match on the WrestleMania 29 card.
Drake Oz is a WWE Featured Columnist for Bleacher Report. Follow him on Twitter!
Keep Reading