Trey Burke Wills Michigan to Sweet 16 Victory over Kansas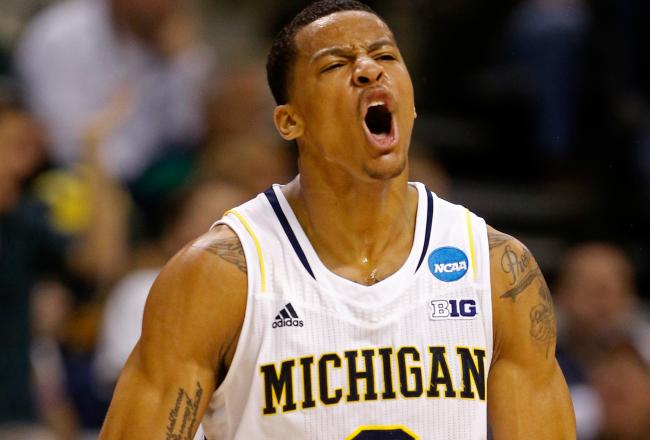 Will Trey Burke and the Michigan Wolverines be able to top the Kansas Jayhawks tonight?
Gregory Shamus/Getty Images
If there was any debate about who deserves to take home the Wooden Award, sophomore point guard Trey Burke appeared to end it by willing the Michigan Wolverines back from 14-point deficit to take down the Kansas Jayhawks 87-85 in overtime in the South region semifinals.
Burke struggled with his shot early in the game, but caught fire in the closing minutes. The Big Ten Player of the Year scored eight points, including the game-tying three-pointer, in the final 1:16 of regulation to send the game to overtime.
The Columbus, Ohio native extended his hot streak into the extra session by scoring Michigan's first five points. Burke finished the game with 23 points and 10 assists.
Freshman power forward Mitch McGary turned in yet another career night for the fourth-seeded Wolverines, in his toughest test to date. McGary made 12-of-17 shots for 25 points and grabbed 14 rebounds to help Michigan stun the top-seeded Jayhawks.
The Wolverines were able to overcome Kansas' barrage of points in the paint by forcing 13 turnovers and contesting shots late in the contest. Grabbing 11 offensive rebounds also helped Michigan escape.
Head coach John Beilein and co. have the Wolverines back in the Elite Eight for the first time since 1994, which is a testament to how far the program has come under his watch.
Michigan now awaits the winner of the Florida Gulf Coast Eagles vs. Florida Gators matchup.
Follow me on Twitter: @Zach_Dirlam.
Mich. 87, KU 85 - End of Game
Elijah Johnson passes up a chance to lay it up over Morgan and kicked it out to Naadir Tharpe for a contested three-pointer instead. The shot if off the mark and Michigan is moving on. What a performance by Trey Burke and Mitch McGary tonight.
The Wolverines await the winner of the Florida Gulf Coast vs. Florida game.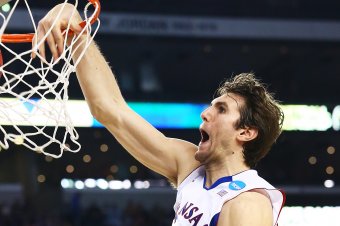 Ronald Martinez/Getty Images
Mich. 87, KU 85 - 9.4 seconds remaining in OT
Burke drove the lane, but Withey made an outstanding defensive play and came up with a block. McGary grabbed the board, but missed everything on his put-back, which led to a shot-clock violation.
Jordan Morgan in the game for McGary. I don't know if I like that substitution the way McGary has played on Withey. I'd sub Morgan in and get Stauskas, or LeVert off the floor instead.
John Beilein takes a timeout to gather the troops and get a play in. This ball should not wind up with Burke. No one else has earned the right to have the ball with the game on the line more than Burke tonight.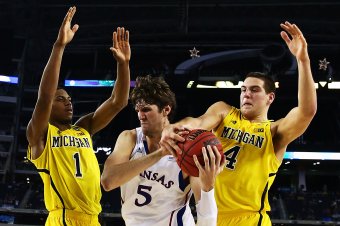 Tom Pennington/Getty Images
Mich. 87, KU 85 - 45.0 seconds remaining in OT
The much maligned Michigan defense made some big plays in the closing minutes of regulation, and Glenn Robinson III's steal can be added to that list.
Elijah Johnson hits a three to keep Kansas within one possession. Still plenty of time for Kansas.
Mich. 85, KU 82 - 1:00 OT
Greg Anthony continues the McGary praise:
How good has McGary been? Wow #DifferenceMaker Career high 25!!!

— Greg Anthony (@GregAnthony50) March 30, 2013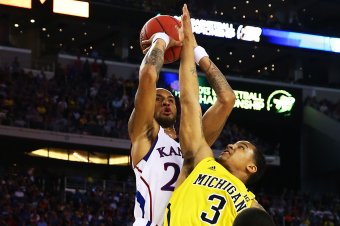 Tom Pennington/Getty Images
Mich. 83, KU 82 - 1:30 OT
Michigan's offense right now is simply give the ball to Burke and let him shoot it. Burke pulled up right in McLemore's face and made a long jumper for two. This Michigan rally has been 90 percent Burke.
Stauskas misses another open three, which turns into Young running in transition for two points.
McGary continues to play great basketball. He now has a career-high 23 points. The future looks bright for that young man.
KU 80, Mich. 79 - 3:34 OT
Burke is on fire! Another three-pointer drops. All of a sudden Burke cannot miss after starting the game 3-of-11.
Michigan doing a better job defending Withey (I can't remember the last good look he had), but Perry Ellis and Kevin Young are still scoring inside without resistance.
Mich. 76, KU 76 - End of Regulation
We are headed to overtime! All the momentum is in Michigan's favor right now. Burke has it going and the Wolverines came back from a 14-point deficit. Unbelievable game.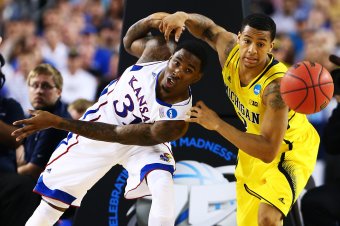 Tom Pennington/Getty Images
Mich. 76, KU 76 - 4.2 seconds remaining
WOW! Absolutely incredible finish going down at Cowboys Stadium. Burke pulls up from nearly 30 feet away, but gets it to fall. Burke made a lay-up on the previous possession to cut the lead to three, and Elijah Johnson's missed one-and-one free-throw made it all possible. What a shot by Burke.
KU 74, Mich. 71 - 28.9 seconds remaining
Michigan gets the stop it needed. Jordan Morgan makes the play of the night by stepping in front of McLemore on the drive, which caused a miss.
Robinson III grabs a Hardaway miss and finishes with a reverse lay-up to cut Kansas' lead to three. The Wolverines need a steal, or quick foul on the upcoming inbounds pass.
KU 74, Mich. 69 - 1:12 2nd Half
Burke hits a big three-pointer after Travis Releford got bailed out by the officials and cashed in two freebies for the Jayhawks. McGary had all ball on the block, but the referees whistled him for a foul.
Michigan still hanging around, but it needs a stop on this possession, or it will be in dire straights.
KU 72, Mich. 66 - 1:36 2nd Half
Trey Burke refuses to let Michigan go down without a fight. He forced a 10-second call, which turned into a dish and layup for McGary on the ensuing possession. The Wolverines are still very much in this one.
It's now or never for Burke and Hardaway. Either their shots fall and Michigan makes the comeback of the tournament, or the Wolverines go down with their stars' shooting woes.
KU 70, Mich. 62 - 3:00 2nd Half
McGary is looking like the player everyone expected him to be coming out of Brewster Academy. Once a top five prospect, McGary has been getting in the passing lanes to come away with steals and runs the floor well for a big man. He also just finished another bank shot over Withey.
Michigan is chipping away, but it is running out of time.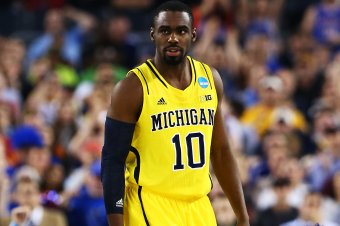 Tom Pennington/Getty Images
KU 70, Mich. 59 - 3:47 2nd Half
Michigan is hanging around by getting to the free-throw line, but Burke's jumper is not going down at all. The lone bright spot for Michigan tonight has been McGary. Stauskas is scoring well, but his poor defense cancels that out.
The Wolverines need stops if they are going to come back. There's really nothing else they can do to get back in the game.
KU 68, Mich. 58 - 5:40 2nd Half
Burke dishes out his ninth assist in transition after hitting a step-back mid-range jumper. Burke is trying to put the Wolverines on his back right now, but Hardaway Jr. needs to start hitting shots. Everyone needs to stay in front of their man on the defensive end.
Kansas Gameday provides you with the statistic that is likely going to result in the demise of the Wolverines tonight:
The Jayhawks have scored 52 of their 65 points in the paint…pretty sure that's a lot. #kubball

— Kansas Gameday (@KUGameday) March 30, 2013
KU 65, Mich. 54 - 7:47 2nd Half
Burke has taken too many outside shots tonight. Shooting threes is not Burke's game. He needs to penetrate the lane, finish at the rim, or knock down mid-range shots. Burke is 1-of-7 from distance tonight.
Kansas is still dominating the paint, but McGary is doing a much better job guarding Withey and making him take longer shots.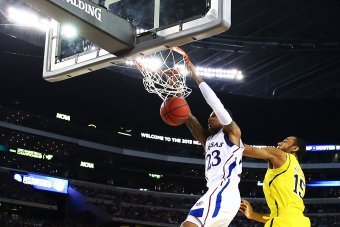 Tom Pennington/Getty Images
KU 63, Mich. 52 - 9:59 2nd Half
Glenn Robinson III has not been able to contain Perry Ellis at all tonight. The two freshmen have done battle in the post on several occasions tonight, and Ellis has won each time. More evidence Robinson needs to return to Michigan for his sophomore season. He has all the tools, but is simply not ready.
KU 63, Mich. 52 - 10:10 2nd Half
Burke gets doubled up, but finds an open Hardaway Jr. for an open two along the baseline. Great decision there by Michigan's point guard. Kansas ran the same trap on Hardaway, who got it to Burke, but his shot did not go down. That has to drop for Michigan to come back.
McLemore now with 20 points and he does not look like he is ready to cool off anytime soon. Hardaway has to stay with him.
The rave reviews about McGary's game continue to come in from around the country. Jason King of ESPN is the latest to mention the freshman big man:
Love everything about Mitch McGary's game/skill-set.

— Jason King (@JasonKingESPN) March 30, 2013
KU 56, Mich. 46 - 13:18 2nd Half
Spike Albrecht got lost guarding McLemore, which led to an open three for the Jayhawks' star. Stauskas answers for Michigan with a strong take to the rim, which draws a foul. Folks, I've said it before and I will say it again, Stauskas is much more than a three-point shooter.
Johnson torches Stauskas in transition, though. Stauskas has to get better defensively for Michigan to contend for a Big Ten title again next season.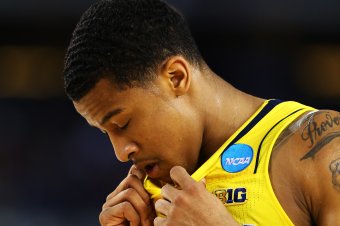 Tom Pennington/Getty Images
KU 46, Mich. 43 - 15:48 2nd Half
Burke is starting to get it going. Burke went coast-to-coast off of a McGary defensive rebound and finished over McLemore for the Wolverines. He followed it up by blowing past Withey and finishing at the rim.
Michigan coming back and its because Burke is starting to play like he's the best player on the floor.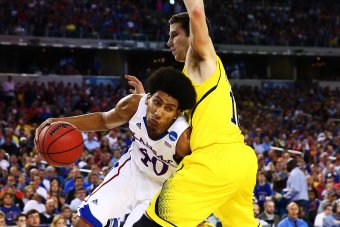 Tom Pennington/Getty Images
KU 44, Mich. 39 - 18:00 2nd Half
Trey Burke wets a three from NBA range, which is a major boost for the Wolverines. Glenn Robinson III came out aggressive as well. Michigan could not have started the second half much better.
One mistake, a turnover by Robinson, costs Michigan a bucket at the other end, though.
Rod Beard of The Detroit News makes an interesting point about Burke:
Tough existence for Trey Burke...goes 0-of-4 in the first half and people pile on. If he shoots 5-of-9, he's a ball hog.

— Rod Beard (@detnewsRodBeard) March 30, 2013
This article is
What is the duplicate article?
Why is this article offensive?
Where is this article plagiarized from?
Why is this article poorly edited?

Michigan Wolverines Basketball: Like this team?