Edmonton Oilers at the Trade Deadline: A Few Things to Consider
Jonathan Daniel/Getty Images
The Edmonton Oilers go into this year's trade deadline without being clear-cut buyers or sellers. If 54 points is the magic number to secure the last playoff seed in the Western Conference, the Oilers will need 23 points in their last 16 games—a record resembling something close to 11-4-1 or 10-3-3.
While their playoff chances are slim at best, tanking down the stretch is not an option for this team either. These young players have too much pride to find themselves in the basement of the NHL (or close to it) for the fourth consecutive year, and fans in Edmonton are demanding to see some progress in the standings at this point in the rebuild.
The Oilers will not be overhauling the roster in the coming days—especially not for picks or prospects. Any major trade they make will be for proving talent and immediate help. A large part of the Oilers' core for the future is already set. Management now needs to find the right supporting cast to help them to continue to develop while still finding some amount of immediate success.
Danny DeKeyser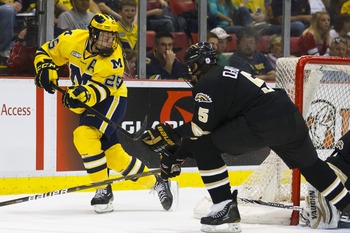 Rick Osentoski-USA TODAY Sports
Steve Tambellini and company are making a hard push to sign college free agent Danny DeKeyser. TSN's Bob McKenzie (h/t Jonathan Willis of the Edmonton Journal) reported that the Oilers are one of four teams considered front-runners to sign the young rearguard.
The 6'3", 198-pound defenseman out of Western Michigan University is in the same position Justin Schultz was last summer in that he can sign with any team at the same price point.
DeKeyser is far from a lock to turn into a top-four defenseman, but he plays a simple stay-at-home game that would fit nicely into the Oilers' future plans. He has very good mobility for his size and is also said to be an excellent shot-blocker. His offensive numbers are not anything to drool over, but he has a good first pass and makes smart decisions with the puck.
He would be an interesting option to play with Justin Schultz in the future and would greatly increase the organization's depth on the back end.
DeKeyser is expected to make a decision by the end of the week.
Ryan Whitney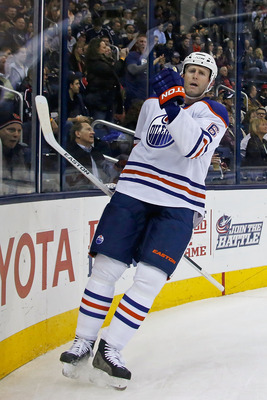 Kirk Irwin/Getty Images
It's been rumored (per a report by David Staples of the Edmonton Journal) that the Boston Bruins' are interested in the 30-year-old Boston native.
Ryan Whitney has struggled with the Oilers since returning from injury and could benefit from a fresh start on a team that already boasts the likes of Zdeno Chara and the up-and-coming 19-year-old Dougie Hamilton.
Whitney has been a healthy scratch on multiple occasions this season, and his frustration is becoming more and more apparent. While he's been outspoken about how much he enjoys playing in Edmonton, he would be under less pressure to produce playing for the Bruins' already established blue line.
That said, the Oilers will only trade Whitney for an immediate return. It does not make sense for the team to move their second-best offensive defenseman if the piece coming back does not fill one of the team's current needs.
Ales Hemsky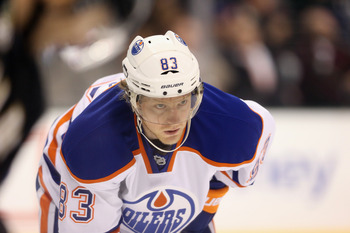 Ronald Martinez/Getty Images
In the aforementioned Edmonton Journal article on Ryan Whitney, David Staples also discussed the rumor reported by Joe Haggerty of CSNNE.com that Ales Hemsky could be in play in a deal with Boston. If Hemsky and Whitney are to be a packaged together, one would expect the return to be a significant and proven piece, or some combination thereof.
With the changing of the guard in Edmonton's top six, Hemsky has been the subject of trade rumors for a while now. He is one of the players that fans might be the least surprised to see go, but a deal will only get done if it's for some piece missing from the proverbial puzzle in Edmonton.
Sam Gagner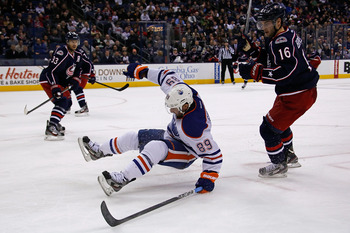 Kirk Irwin/Getty Images
Sam Gagner is enjoying his best NHL season to date, which makes him even more valuable in a trade.
He's been one of the Oilers' most consistent offensive forwards, but there is a widespread belief that the team needs to get bigger in their top six—especially down the middle. With Ryan Nugent-Hopkins here to stay, Gagner becomes the odd man out in the Oilers' future plans.
But Sam isn't going anywhere—not unless a proven top-six forward or second-pairing defenseman is the return. Until the kids find their offensive game at the NHL level, the team can't afford to give up the kind of production that Gagner has been able to offer it this season.
Magnus Paajarvi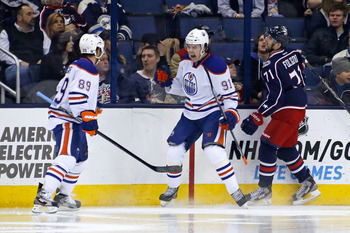 Kirk Irwin/Getty Images
Magnus Paajarvi is, perhaps, the most interesting trade option on this Edmonton Oilers team. He's been playing well as of late, and his trade value is leaps and bounds better than it was at the beginning of the season.
While Teemu Hartikainen plays a game similar to Paajarvi's—doing so with a little more grit—the organization is probably not ready to give up on the young Swedish winger. His combination of speed and size offers a mountain of upside, and management has to be patient with him.
The flip side of the argument is that Paajarvi is one of the most valuable assets that the Oilers can potentially afford to part with. There's a chance that, if the Oilers make a blockbuster deal for proven talent in the coming days, Paajarvi could be included in a package.
Keep Reading

Edmonton Oilers: Like this team?