Minnesota Twins: 10 Questions for the 2013 MLB Season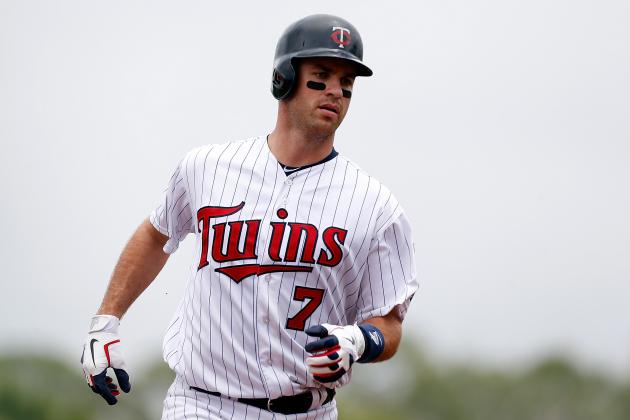 J. Meric/Getty Images

When the first pitch of the Minnesota Twins' 2013 season is thrown at Target Field on April 1, there will be plenty of questions that need to be answered between now and the end of September.
The stage for the 2013 season was set by several moves by the front office that saw several new coaches join the staff and a pair of fan favorites leave the team.
Despite some initial grumblings (mostly in the case of the Ben Revere and Denard Span trades), the moves have given optimism to the long-term state of the team. Six Twins prospects are ranked in Baseball America's Top 100 list.
But that leaves the short-term state of the team cloudy.
Several players on Monday's Opening Day roster won't stick around. Others will show general manager Terry Ryan that they are vital pieces to the team that can help complement the incoming prospects.
With the Twins expected to be at the bottom of the American League Central, the success on the field will not be a true indicator of how intriguing this team can be going forward.
Here is a look at what will shape the Twins in 2013 and in the future.
Begin Slideshow

»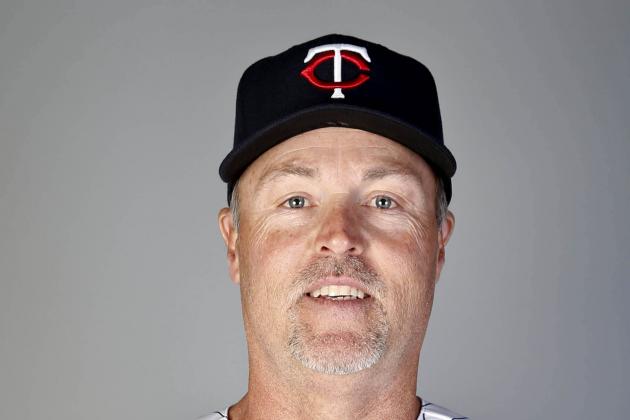 Derick E. Hingle-USA TODAY Sports

After the 2012 season, the Twins decided to make changes to their coaching staff. For most teams around Major League Baseball, that means that the manager and a bunch of their staff are sent packing.
For the Twins, they dig deeper into the "Twins Way."
Instead of reaching outside the organization for a breath of fresh air, the Twins shuffled their staff around while firing first base coach Jerry White, bullpen coach Rick Stelmaszek and bench coach Steve Liddle.
Former hitting coach Joe Vavra was moved to third base to fill in for Scott Ullger, who moved across the diamond to replace White at first base. Meanwhile, former big league catcher Terry Steinbach was brought in to become the new bench coach.
While those moves are nice, a pair of coaches brought up from Triple-A Rochester will make more of an impact with the major league club.
New hitting coach Tom Brunansky hit 271 home runs over his major league career, and was able to unleash the potential of Trevor Plouffe and Chris Parmelee during his stay in Rochester. A similar performance will improve what was a power-starved unit from a year ago.
The Twins' new bullpen coach, Bobby Cuellar, did a similar trick. He turned several mediocre pitchers (such as Liam Hendriks) into dominant pitchers at the minor league level. With the Twins rotation being a mess, anything positive from the former Triple-A pitching coach will help.
Brunansky and Cuellar's presence creates pressure on manager Ron Gardenhire and pitching coach Rick Anderson, as they had their roles unchanged during this makeover.
If the reconfigured staff works, there will be improvement. If not, there could be another change coming at the end of the season.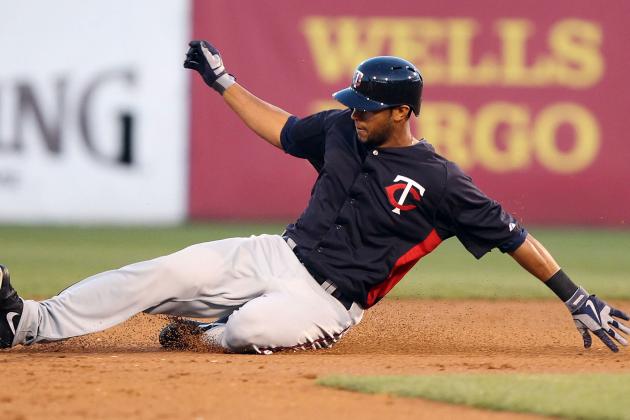 Kim Klement-USA TODAY Sports

For years, the Twins have housed several solid center fielders in their organization. What started with Kirby Puckett trickled down to Torii Hunter, Denard Span and as the 2013 season begins, it may be time to include Aaron Hicks.
The first-round pick from the 2008 entry draft won the starting center field job in spring training and has the tools to keep his position for a long time.
Last year at Double-A New Britain, all of Hicks' tools were on display. A .286/.384/.460 line was nice, but he also showed power that was missing from the center field position with 13 home runs.
Hicks also has a knack for getting on base and working his way around the diamond. He earned 32 stolen bases in 44 attempts last year and is a perfect fit to replace Span at the top of the Twins' lineup.
With Hicks being able to play excellent defense in center field, he has everything needed to become the next great center fielder for the Twins.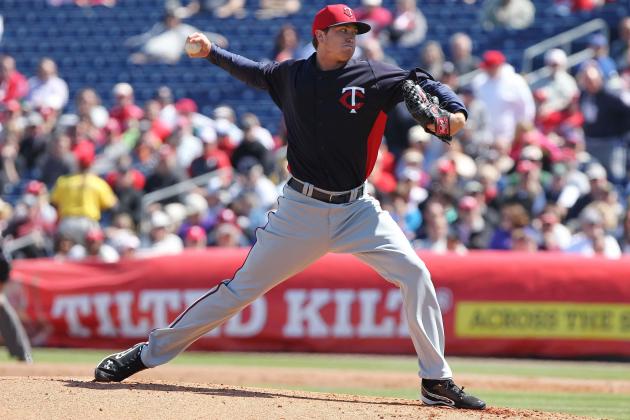 Kim Klement-USA TODAY Sports

While the Twins may be a wreck at the major league level in 2013, the minor leagues can present more entertaining options if the season becomes unbearable to watch.
The Twins have six players listed in Baseball America's Top 100 prospects list, and with the team holding the fourth pick in this June's entry draft, it has a chance to become even deeper.
Several of these players can have the opportunity to make their major league debut in 2013. With Aaron Hicks poised to do so as the Twins' starting center fielder, it appears that Kyle Gibson will be the one who is next in line.
The weak Twins pitching staff needs help, and Gibson can provide it. He cruised through the lower levels of the organization before undergoing Tommy John surgery late in 2011 but has the kind of arsenal that the team has been lacking over the past several seasons.
The Twins will also hang their future rotation hopes on Trevor May and Alex Meyer. Both pitchers were acquired in offseason trades, and both were highly regarded by their previous organizations. They'll even have the same starting point at Double-A New Britain.
While it'll be interesting to keep an eye on these future arms, the position players do not lack intrigue.
Oswaldo Arcia has feasted on minor league pitching over the past two seasons and will start this year a call away at Triple-A Rochester.
Miguel Sano will start at High-A Fort Myers, where his offensive skills will be tested in the pitcher-friendly Florida State League.
Finally, the second overall pick in last June's entry draft, Byron Buxton, will begin his career at Low-A Cedar Rapids along with pitcher Jose Berrios.
It will be an exciting time to watch some of the future Twins, but it will also be a while before they make their way to Target Field.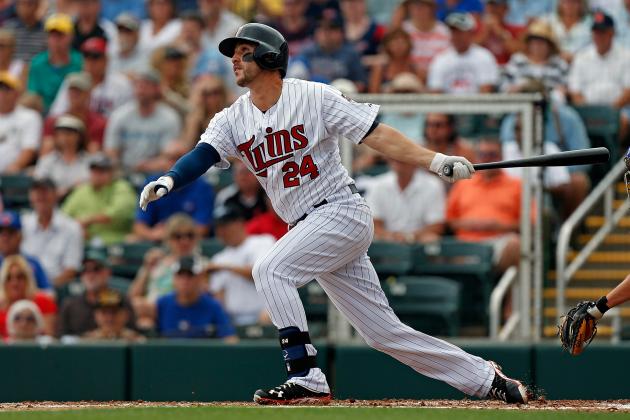 J. Meric/Getty Images

There have been many enigmatic Twins players, but perhaps the streakiest of them all has been third baseman Trevor Plouffe.
His career has had its ups and downs, but last season he was finally able to secure a spot on the major league roster when he took over for Danny Valencia at third base.
He hit a career-high 24 home runs, fueled by a torrid month of June. While channeling his inner Roy Hobbs, Plouffe put up a line of .327/.391/.735 while bashing 11 home runs and driving in 21.
The problem hasn't been Plouffe's ability to go on offensive tears. It's the issue of doing it on a consistent basis.
When Plouffe gets cold, he gets ice cold. He began the 2012 season by hitting .133 over his first 22 games, and he finished the season by hitting .212 in the second half while dealing with a bruised thumb.
Who is Trevor Plouffe? In 2013, the Twins need to find out.
Miguel Sano is rapidly rising through the Twins minor league system and has made improvements defensively at third base. He also has the offensive capabilities to make everyone forget that Plouffe existed.
With Plouffe adding 19 errors to his offensive inconsistencies, he'll need to make a consistent effort on both sides of the plate to become a part of the team's future and make Sano's future somewhere other than third base.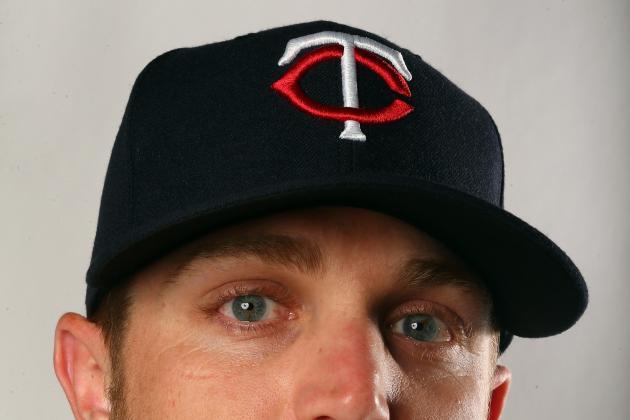 Elsa/Getty Images

During the 2005 season, the Twins needed to find a solution at third base to replace the departing Corey Koskie. With the team unable to find a suitable free agent with the small revenue stream from the Hubert H. Humphrey Metrodome, they decided to move outfielder Michael Cuddyer from right field to third base.
Cuddyer had played several positions in the minor leagues and was developing into a solid utility player after being drafted with the ninth pick of the 1997 entry draft. With that in mind, the learning curve of a new position wasn't supposed to be steep.
But it was one of the most glaring mistakes in recent Twins' history.
Cuddyer struggled at the hot corner in 2005, hitting .263 with 12 home runs and 42 runs batted in over 126 games. Where he really had problems was in the field, as he committed 15 errors in 95 games while playing third base, according to Baseball-Reference.
The next season, the Twins stopped screwing around and decided to place Cuddyer in his natural position of right field. The result was a season with career highs in average (.284) and runs batted in (109) while hitting 24 home runs.
The story of Cuddyer is one of caution when it comes to the status of converted right fielder Chris Parmelee.
With the Twins rushing to find a replacement for Ben Revere in right field while trying to find a spot for Parmelee's electric bat, they've decided to place him in right field. Justin Morneau blocks his path at first base.
The Twins wanted to try this experiment a year ago, but 18 games later they decided to use Revere's speed instead.
If Parmelee can make the transition, there's a chance that the Twins lineup will add a player who hit .338 with 17 home runs and 49 RBI at Triple-A Rochester a year ago. If he can't, it will mean that the team will have to trade Morneau to return Parmelee to his natural position.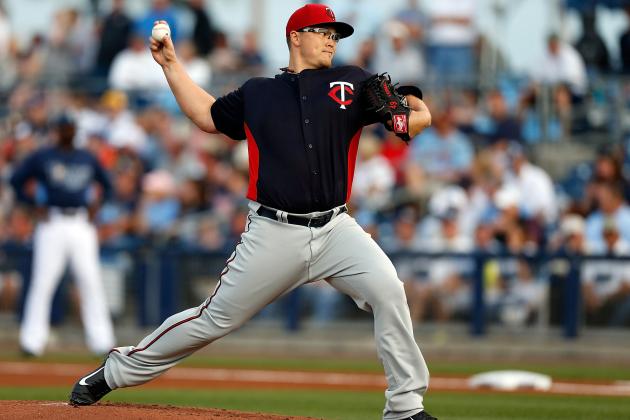 J. Meric/Getty Images

In order to win baseball games, a team must be able to score runs and prevent the other team from scoring. Starting pitching plays a huge role in getting deep into ballgames and letting their bullpen slam the door.
It's safe to say that the 2012 Twins' rotation did not do their job.
Twins starters were hideous a year ago. They were 29th in Major League Baseball with a 5.40 earned run average, according to ESPN. They also were 29th in quality starts (according to Baseball-Reference) and last with a 5.53 strikeouts-per-nine ratio.
After that performance, general manager Terry Ryan went to extremes to fix the problem. He traded starting center fielder Denard Span and his apparent replacement Ben Revere for top prospects Alex Meyer and Trevor May.
However, neither May or Meyer are expected to reach the major leagues this season. That leaves the 2013 rotation looking like it's tied to a pair of train tracks.
Vance Worley is the only piece that was acquired through those trades. He will start Opening Day for the Twins. That's what you need to know about this rotation.
After that, the Twins will rely on a Jason Marquis clone in Kevin Correia, a pitcher 12 months removed from Tommy John surgery in Mike Pelfrey and two holdovers from last year's staff in Liam Hendriks and Cole DeVries.
There are reinforcements on the way. Scott Diamond will begin the season on the disabled list, and Kyle Gibson will refine his game at Triple-A Rochester before making his debut.
Still, there is nothing about this rotation that signals that there will be a remarkable turnaround in 2013.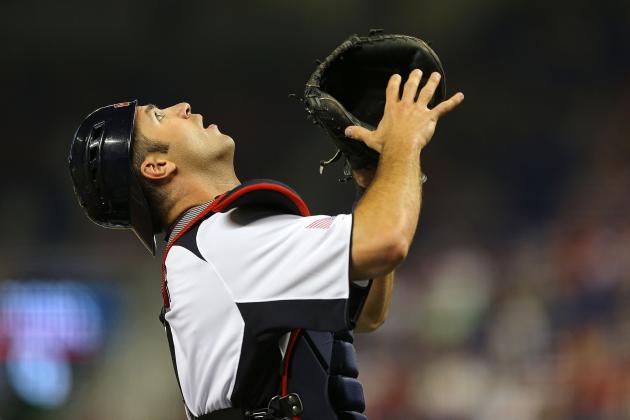 Mike Ehrmann/Getty Images

Joe Mauer has been put under the microscope by Twins fans since he signed an eight-year, $184 million contract extension prior to the 2010 season.
At the time, Mauer appeared to be worth the contract. He was coming off an MVP season and was the best catcher in baseball. But he's struggled since then, with his reputation becoming marred after a 2011 campaign where he played in just 82 games.
Mauer rebounded in 2012, hitting .319 with 10 home runs and 85 runs batted in, but fans still want more from their highly paid superstar.
This offseason, Mauer didn't have any lingering injuries or surgeries to recover from. That means that Mauer will be poised to have a bigger season than he had a year ago.
He may never come close to the insane numbers he put up in 2009, but a high average with 15 to 20 home runs will be enough to silence some of his critics.
Christian Petersen/Getty Images

In a perfect world, the Twins' front office would be cold-blooded assassins and trade Justin Morneau to the highest bidder for high-caliber prospects.
However, the more realistic scenario is that the Twins will have some emotions involved with what to do with the first baseman at the July 31 trade deadline.
Morneau has been one of the leaders of the franchise since he became the full-time first baseman in 2005. The 31-year-old won the American League Most Valuable Player award in 2006 and may have had another one coming in 2010 if it weren't for a concussion that has derailed his career.
While the concussion hasn't made Morneau useless by any means, he is certainly not the player that hit .345 with 18 home runs and 56 runs batted in during the first half of that season.
That's what makes a Morneau decision difficult.
If Morneau returns to his 2010 form and hits the cover off the ball, do the Twins attempt to sell high and revamp their rotation with more top prospects? Or do they try and hammer out an extension as he enters the final year of his contract?
The Twins need to make room for outfielder Oswaldo Arcia in the future, and with Chris Parmelee (a converted first baseman) occupying that position, it is easy to wonder if a Morneau trade is imminent.
This will be one of the biggest storylines of the first half of the season and may signal the end of one of the greatest players in franchise history tenure in Minnesota.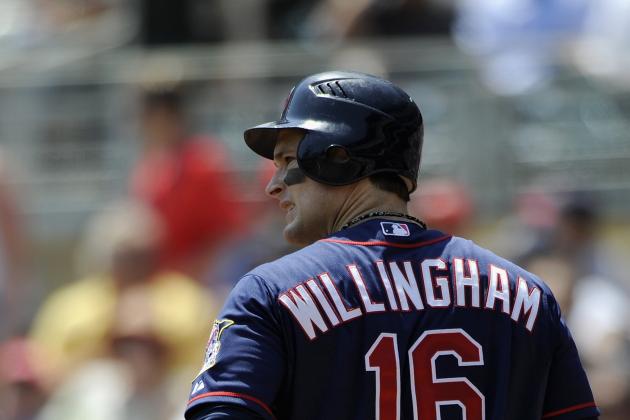 Hannah Foslien/Getty Images

After a decade of success in the 2000s, the Twins have been brutal to watch. They've compiled back-to-back losing seasons. With a series of lackluster moves over the offseason, it's easy to question whether a third straight season in the basement is a possibility.
Personally, I think the Twins will hit a lot better in 2013. Aaron Hicks and Chris Parmelee will add power to a lineup that desperately needed it, and the team will score runs.
The problem is going to be the pitching staff. As mentioned previously, the Twins rotation was awful in 2012. The addition of a soft-tossing National League pitcher and another recovering from Tommy John surgery will not help this team become the Oakland Athletics of 2013.
Even the bullpen, outside of Glen Perkins and Jared Burton, plans to be a disaster. This will be especially true if the Twins decide to bounce should-be left-handed specialist Brian Duensing between the rotation and the bullpen.
Most Twins fans would like to see some progress, but they're not going to see it in terms of wins and losses.
The last run of successful Twins teams were built on a 90-loss team that let their youngsters play and learn at the major league level. The 2013 season is going to fall into that same category.
It may not be fun to watch, but it will benefit the Twins heading into next season and beyond.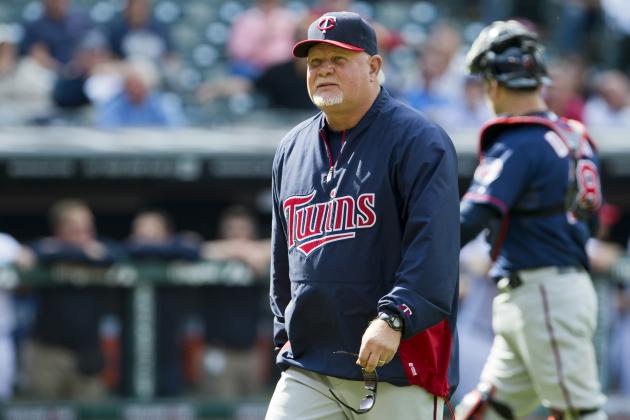 Jason Miller/Getty Images

With the Twins poised to have another sub-.500 season, the question has to be raised whether manager Ron Gardenhire's job would be lost if there is no progress in the standings.
There are several things to consider before making a potential move.
The Twins will look at Gardenhire's legacy with the team, which includes six division championships and an appearance in the 2002 American League Championship series.
Despite winning one playoff series since his hiring in 2002, he's been able to take a young team and turn them into a mini-dynasty (in terms of the AL Central) and perennial contender.
So is Gardenhire to blame for the recent failures of the team? That's for Terry Ryan and the front office to decide.
Gardenhire has a decision to make as well. His predecessor, Tom Kelly, gave him the opportunity to become manager when he decided he didn't have the energy to keep managing.
There's a possibility that a third consecutive 90-loss season would leave Gardenhire burned out. That would open the door without the Twins having the task to tell him to pack his bags.
Will Gardenhire manage another wave of Twins? The team has six months to figure that out.